This post may contain affiliate links at no additional cost to you. As an Amazon Associate I earn from qualifying purchases. Click to view our full disclosure.
In this article, we will compare Ghost Greens and Athletic Greens, two popular green superfood blends.
If you've made it to this page, you're probably looking to up your nutrition with a greens powder. Maybe you struggle to eat enough fruit and vegetables, don't have time to cook many meals, or just want to experiment with a new supplement.
No matter the reason, it's important to do some research to find the best product for you.
As a dietitian, I value the importance of providing unbiased and informative reviews of health and wellness products.
That way, you can find the best product based on its benefits, ingredients, and customer reviews without having to make a decision with little direction.
At a Glance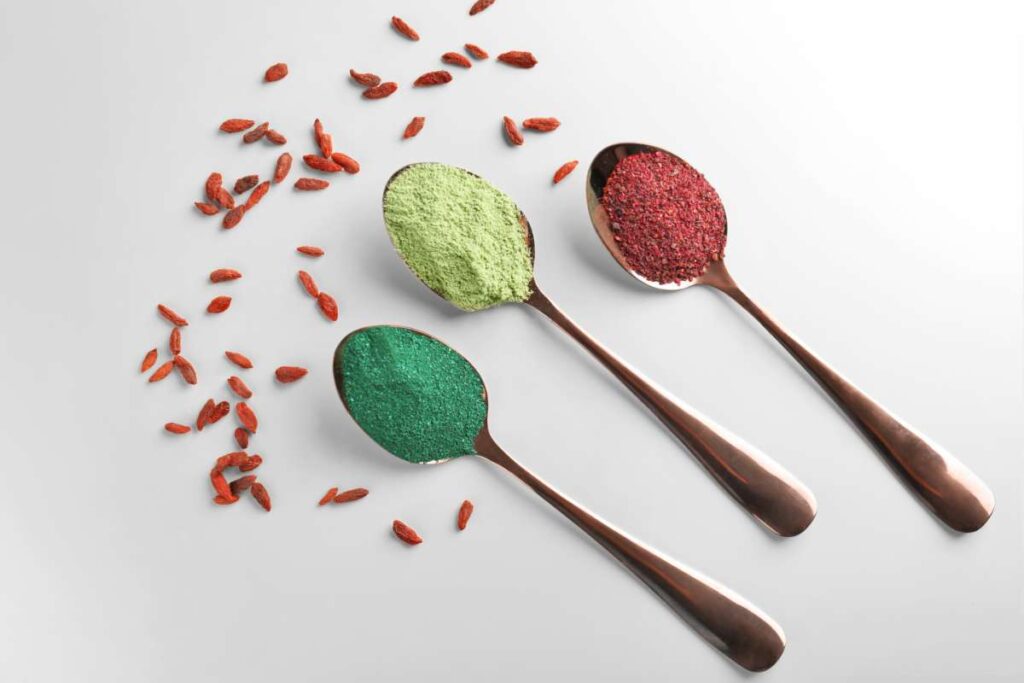 When it comes to Ghost Greens vs. Athletic Greens, Athletic Greens is a pretty clear winner.
Based on its comprehensive formulation, good reputation, and advanced production processes, Athletic Greens is definitely better in terms of overall quality and effectiveness.
That being said, Ghost Greens may offer a more streamlined approach for those who prefer a more minimalist product.
Ghost Greens' ingredient list is a little more transparent than Athletic Greens, but both are still proprietary blends.
There's a lot more information below about each of these products, their benefits, and why I think AG1 is better, so keep reading!
Athletic Greens + 5 Free Travel Packs
Quick Facts: Face To Face Comparison
Ghost Greens
Athletic Greens
Major Health Claims
– Greens and Reds
– a full 100mg dose of Spectra™ Prebiotics
– 10 Billion CFU Probiotic
– BioCore® Optimum Complete Digestive Enzymes
– Promotes Gut Health
– Supports Immunity
– Boosts Energy
– Helps Recovery
Dietary Preferences
Vegan, Soy-free, Gluten-free
Dairy-free, Wheat-free, Gluten-free, Corn-free, Lactose-free, Sucrose-free, Egg-free, Peanut-free, and Vegan
Ingredient Count
19
75
Probiotic Count
10 Billion CFU
7.2 Billion CFU
Calories per Serving
30 Calories per scoop
50 Calories per scoop
Macronutrient Count per serving
7g Carbohydrate, No protein or fat listed
6g Carbohydrate, 2g Protein, No fat listed
Net Carbs Per Serving
4g
4g
Serving Recommendations
Mix each scoop (1 serving) with 8-10 oz of water or beverage of choice. Vary the amount of liquid to taste. Consume daily.
Take one scoop (12g) per day with 8-10 ounces of water first thing in the morning.
Flavors
Original
Lime
Guava Berry
Iced Tea Lemonade
Vanilla Pineapple
Price Per Serving (One-time purchase)
$1.50
$3.30 – $3.63
Certifications
None listed
– NSF Certified for Sport
– Third-party tested by NSF
– Manufactured in a TGA-registered, NSF (GMP) registered facilities
Ghost Greens vs Athletic Greens: Introductions
What is Ghost Greens?
Ghost Greens is a powdered greens supplement produced by a supplement company called Ghost.
It contains a blend of powdered fruits and vegetables, prebiotics, probiotics, and digestive enzymes.
This supplement is one of many produced by Ghost, and it comes in five different flavors.
What is Athletic Greens?
Athletic Greens, now called AG1, is a superfood blend of 75 ingredients, including produce, adaptogens, roots, herbs, probiotics, and prebiotics.
AG1 is the primary product made by the company. It doesn't contain any artificial flavoring or sweeteners, so it only comes in one form.
Athletic Greens + 5 Free Travel Packs
Ghost Greens vs Athletic Greens: Standout Features
Ghost Greens
Five different flavors
10 Billion CFU probiotics
Athletic Greens
75 Ingredients
NSF Certified for Sport
Manufactured in a TGA-registered, NSF (GMP) registered facilities
Third-party tested by NSF
Travel packs available
Sustainably sourced
Five major benefits
Ghost Greens Overview
Ghost, or Ghost Lifestyle, is the company that makes Ghost Greens. Founded by Ryan Hughes and Daniel Lourenco, Ghost has a mission to be seen and heard.
They offer tons of nutrition and lifestyle products on their website, from protein powders to t-shirts.
That being said, I personally felt like they have so many products on their site that specific product information was lacking.
I found it difficult to learn a lot about Ghost Greens or any other product. There were no FAQs, production reports, or even intended health benefits for many products.
Plus, it doesn't seem like any of their products are third-party tested, which means that there is no telling what's actually in their supplements.
Main Benefits
Might Improve Gut Health: Many ingredients in Ghost Greens, like prebiotics, probiotics, and enzymes, have the potential to improve gut health. Its 10 Billion CFU of probiotics especially can help the growth and balance of good bacteria in the gut.
This protection can help you reduce your risk for illnesses and chronic diseases like Type 2 Diabetes and cardiovascular disease.
Pros
Cheaper than other greens on the market
Comes in five different flavors
Offers sample size
More transparent with ingredients than other blends
Cons
Not much information listed on their website
Not third-party tested
No research supporting their supplements
Athletic Greens Overview
Athletic Greens has established itself as a well-known and highly regarded green superfood blend.
With a comprehensive formula of fruits, vegetables, mushrooms, probiotics, and much more, Athletic Greens aims to provide a wide range of benefits. It might support things like gut health, athletic performance, and cognitive function.
Athletic Greens the company was formed in 2009 by Chris Ashenden. After a long struggle with GI issues, Chris decided to create a product that would offer a daily dose of essential nutrition.
Since then, Athletic Greens has been improving its blend for over a decade (even with a name change to AG1) and now focuses on more than just greens.
Not only are they NSF certified for sport and third-party tested, but Athletic Greens also takes initiatives in other areas, including sustainability
Main Benefits
Prebiotics feed good bacteria, while probiotics promote the growth and balance of good bacteria in your gut.
Digestive enzymes, on the other hand, help to improve digestion and nutrient absorption in your gut.
Polyphenols and adaptogens in AG1 have the ability to improve recovery after exercise, reduce soreness, and enhance muscle rebuilding.
Pros
75 nutrient-dense ingredients
Third-party tested by NSF
Travel packs and subscription purchase options
NSF certified for athletes
7.2 billion CFU probiotics
Manufactured in a TGA-registered, NSF (GMP) registered facilities
Vegan-friendly
Free of wheat, gluten, corn, egg, peanut, sucrose, soy, and dairy
No artificial ingredients
Cons
Only one flavor
More expensive than other supplements on the market
No iron or vitamin D in the product
Athletic Greens + 5 Free Travel Packs
Ghost Greens vs Athletic Greens: Ingredients Breakdown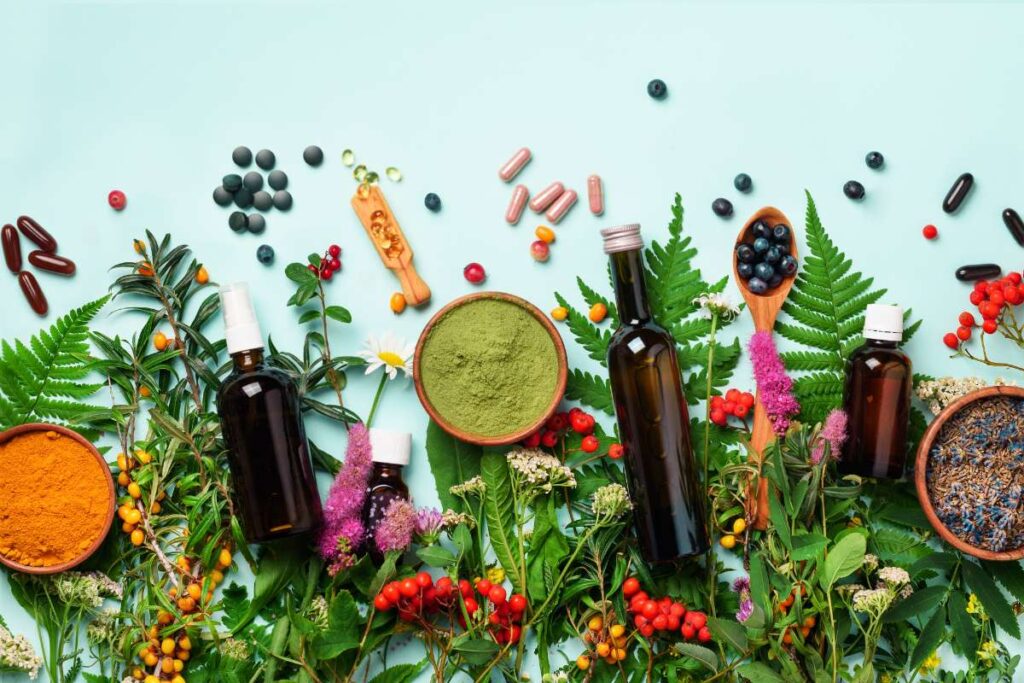 Ghost Greens
Ghost Greens is made of two blends, the Ghost Fruits x Vegetables blend and the Ghost Gut Health Blend.
The Ghost Fruits x Vegetables blend is then broken down into three subcategories: Super Greens, Antioxidant Reds, and the Spectra Total ORAC blend.
The greens and reds are pretty self-explanatory. Super Greens include things like kale, wheat grass, and spirulina, while Antioxidant Reds include ingredients such as pomegranate, goji berry, and cranberry.
However, I did need to dive a little deeper into the ORAC blend. It seems like this is their own trademarked blend that includes various antioxidant ingredients. It is important to note that this additional blend is only a small fraction of your serving, so you probably won't get very much nutrient density from it.
It's also the only proprietary blend on the ingredients list, which is usually a sign that some of the ingredient amounts are quite low.
And it's even harder to tell because the only micronutrient listed on the label is iron, so there's no telling how much (or how little) the measurements of other vitamins and minerals are.
Meanwhile, Ghost Greens has a lot of gut-healthy ingredients, especially its 10 Billion CFU probiotics. That's a lot of probiotics, but is similar to AG1's 7.2 Billion CFU.
List of Ingredients
Ghost Fruits x Vegetables, 6640 mg

Super Greens, 4340 mg

Kale Powder (1390mg), Organic Matcha (500mg), Organic Wheat Grass (500mg), Organic Spirulina (500mg), Organic Cracked Cell Wall Chlorella (500mg), Organic Barley Grass (250mg), Organic Oat Grass (250mg), Organic Alfalfa Grass (250mg), Broccoli Powder (100mg), Organic Astragalus 10:1 (100mg)

Antioxidant Reds, 2200 mg

Açai Juice Powder (500mg), Pomegranate Juice Powder (500mg), Blueberry Juice Powder (350mg), Cranberry Powder (350mg), Jabuticaba Power (100mg), Camu Camu Juice Power (100mg), Aronia Fruit Powder (100mg), Organic Noni 5:1 (100mg), Organic Goji Berry Powder (100mg)

Spectra Total ORAC Blend, 100 mg

Coffea Arabica Extract, Green Tea Extract, Broccoli Sprout Concentrate, Onion Extract, Apple Extract, Quercetin, Tomato Concentrate, Broccoli Concentrate, Camu Camu Concentrate, Maltodextrin, Acerola Extract, Açai Concentrate, Turmeric Concentrate, Garlic Concentrate, Basil Concentrate, Oregano Concentrate, Cinnamon Concentrate, Carro Concentrate, Elderberry Concentrate, Mangosteen Concentrate, Blackcurrant Extract, Blueberry Extract, Sweet Cherry Concentrate, Raspberry Concentrate, Spinach Concentrate, Chokeberry Concentrate, Kale Concentrate, Blackberry Concentrate, Silicon Dioxide, Bilberry Extract, Brussels Sprout Concentrate

Ghost Gut Health

Inulin (Prebiotic from Chicory Root), 2000 mg
Ghost Probiotic (providing 10 Billion CFU), 115 mg

B. subtilis DE111° (5 billion CFUs), L. acidophilus (2.5 billion CFUs), S. boulardi (250 million CFUs), B. coagulans (1 billion CFUs), B. lactis (1.25 billion CFUs)

BioCore Optimum Complete, 110 mg

Amylase (from A. oryzae) 3500 DU, Protease (from A. oryzae) 21,000 HUT, Protease (from A. oryzae) 4000 PC, Alpha-Galactosidase (from A. niger) 150 GalU, Glucoamylase (from A. niger) 9 AGU, Lactase (from A. oryzae) 1000 ALU, Protease (from A. niger) 50 SAPU, Invertase (from S. cerevisiae), 400 SU, Lipase (from C. rugosa, A. niger and R. oryzae) 500 FIP, Acid Maltase (from R. oryzae) 14 MaltU, Peptidase (from A. oryzae) 2 AP

Other Ingredients

Natural Flavor, Organic Whole Leaf Stevia Extract
Athletic Greens
Athletic Greens boasts a comprehensive blend of 75 ingredients, including fruits, vegetables, vitamins, antioxidants, probiotics, and digestive enzymes.
They are split into four different categories on the ingredient list:
The superfood complex
The extracts, herbs, and antioxidant complex
The digestive enzyme and mushroom complex
7.2 Billion CFU of probiotics
You can tell Athletic Greens prioritizes ingredient quality and effectiveness, offering a more diverse and nutrient-rich profile than Ghost Greens.
That being said, I am always disappointed by Athletic Green's lack of transparency in their blends, as they are all proprietary.
Hopefully, one day, they will add this improvement to their ever-evolving product.
List of Ingredients
Alkaline, Nutrient-Dense Raw Superfood Complex, 7,388 mg

Spirulina, lecithin, apple powder, inulin, wheat grass juice powder, alfalfa, chlorella, barley leaf, broccoli flower, papaya, pineapple, bilberry fruit extract, grape seed extract, green tea leaf extract, licorice root, lycium berry extract, ginger rhizome, slippery elm, kelp

Nutrient-Dense Extracts, Herbs, and Antioxidants, 2,732 mg

Alkaline pea protein isolate, citrus bioflavonoids extract, artichoke leaf extract, citric acid, rhodiola root, eleuthero root, milk thistle seed, R, S alpha-lipoic acid, ashwagandha, dandelion, hawthorn berry, beta-glucans, policosanol, coenzyme Q-10, stevia, vitamin K2

Digestive Enzyme and Super Mushroom Complex, 154 mg

Astragalus root, bromelain, burdock root, reishi mushroom, shitake mushroom

Probiotics 7.2 billion CFUs, 38 mg

Lactobacillus acidophilus UALz-01, Bifidobacterium bifidum UABb-10

21 Vitamins and Minerals

Vitamin A: 555mcg, 62% DV
Vitamin C: 420mg, 467% DV
Vitamin E: 83mg, 553% DV
Thiamin: 3mg, 250% DV
Riboflavin: 2mg, 154% DV
Niacin: 20mg NE, 125% DV
Vitamin B6: 3mg, 176% DV
Folate: 680mc DFE, 170% DV
Vitamin B12: 22mcg, 917% DV
Biotin: 22mcg, 1110% DV
Pantothenic acid: 4mg, 80% DV
Calcium: 118mg, 9% DV
Phosphorus: 130mg, 10% DV
Magnesium: 26mg, 6% DV
Zinc: 15mg, 136% DV
Selenium: 20mcg, 36% DV
Copper: 195 mcg, 22% DV
Manganese: 400mcg, 17% DV
Chromium: 25 mcg, 71% DV
Sodium: 45mg, 2% DV
Potassium: 300mg, 6% DV
Athletic Greens + 5 Free Travel Packs
Ghost Greens vs Athletic Greens: Taste Test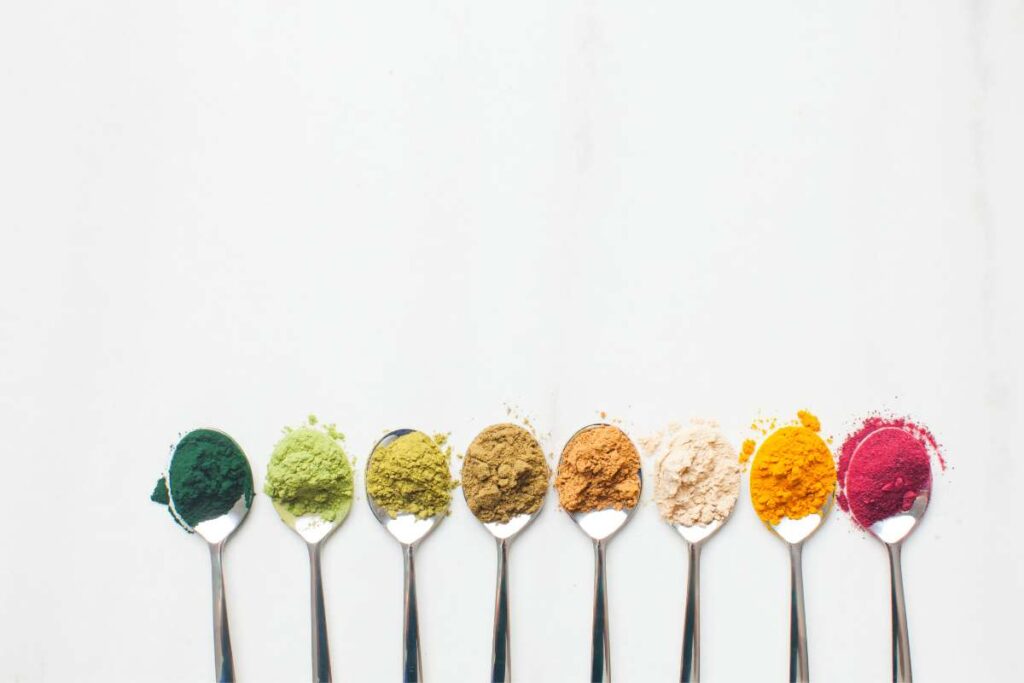 Ghost Greens Taste
User reviews of Ghost Greens are varied depending on the user preferences and which of the five flavors they choose.
Some people really like the flavor. Others find it less appealing, noting a strong earthy undertone and gritty texture.
I did see that Guava Berry and Pink Lemonade were highly rated, while the original and lime were not crowd favorites.
Athletic Greens Taste
The taste of Athletic Greens is generally well-received, often described as refreshing and light. The product's vanilla pineapple essence (not quite flavor, I'd say) is frequently praised by customers.
However, with any greens product, taste preferences may vary among individuals.
Ghost Greens vs Athletic Greens: Pricing Comparison
Ghost Greens
Price

It's $44.99 for one container of Ghost Greens, which has 30 servings
You can get a sample size of Ghost Greens for $2.49 if you want to try it

Price Per Serving
Container Size
Athletic Greens
Price

It's $99 USD for a one-time buy of 30 servings or one container of Athletic Greens
It's $109 for a one-time purchase of 30 packets
You can opt for a monthly subscription to Athletic Greens will cost $79 per container or $89 per box of 30 travel box

Price Per Serving

$3.30 per serving without a subscription
$2.63 per serving with a subscription

Container Size

12.7 oz per container
12g per single-serving travel pack
Comparison of Side Effects and Safety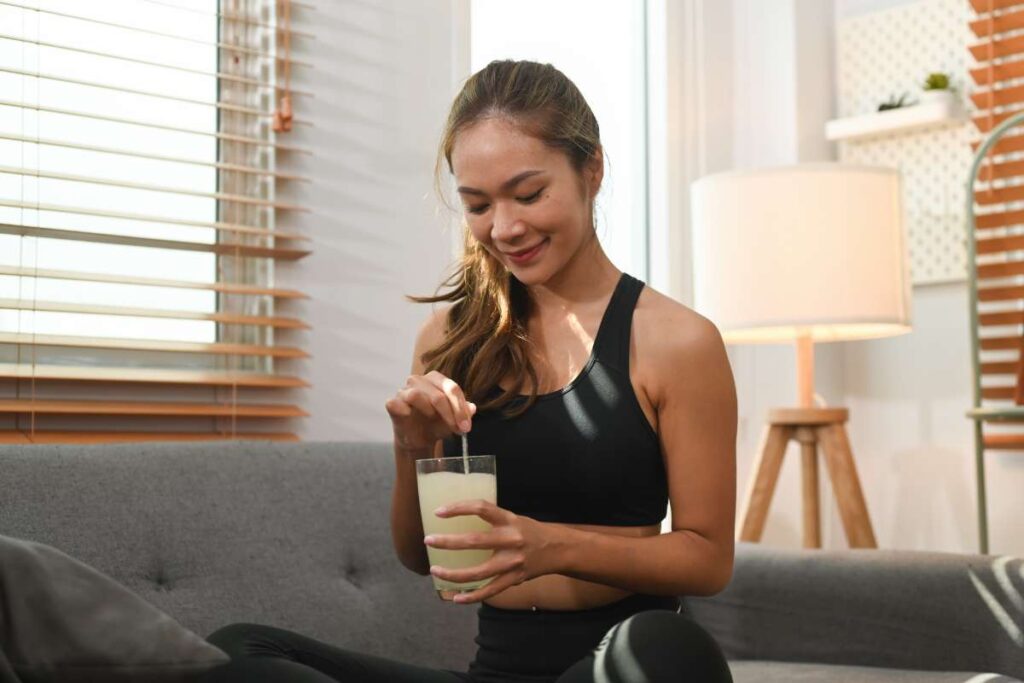 Ghost Greens only states that it is meant for healthy adults over 18, which isn't very clear.
Athletic Greens recommends anyone who is on medication, pregnant, or breastfeeding should check with a medical professional before taking it. It is also only intended for adults.
Ghost Greens users have reported diarrhea, gas, and bloating. Ghost doesn't mention anything about side effects on their site, however, Athletic Greens does mention that some users may experience similar symptoms.
They explain this may be due to new high doses of probiotics, so users are recommended to reduce their serving and gradually work back up.
Athletic Greens + 5 Free Travel Packs
Ghost Greens vs Athletic Greens: Which Is the Best Option?
When comparing Ghost Greens to Athletic Greens, it is evident that both products have different features and perks.
However, based on my research, I believe Athletic Greens is the better option. Although it is pricier than Ghost Greens, it has so much more research and testing backing it.
Not only that, but its comprehensive panel of 75 ingredients and many potential (and well-researched) health benefits put this product on top.
Why We Think AG Is the Better Option
With all of that information, it's clear that Athletic Greens is the better choice.
Its blend of ingredients, long standing reputation, and commitment to quality assurance make AG1 stand out.
Although, with drawbacks like proprietary blends and high cost, it can leave you still wondering. However, Ghost Greens also uses proprietary blends, and even though it has a lower price, is it worth it to not know what exactly is in your supplement?
Final Thoughts on Ghost Greens vs Athletic Greens
So, to sum it up, while Ghost Greens may be a better choice for those on a budget, AG1 may be worth the investment to ensure you know what's in your supplement.
I recommend making sure all of the supplements that you are taking are third-party tested. You can find more about how to tell here.
And if you want the better, third-party-tested supplement, click here to try Athletic Greens.
Frequently Asked Questions
Is Athletic Greens as good as they say it is?
What is equal to Athletic Greens?
What does Ghost Greens do for your body?
Ghost Greens have the potential to help fill any gaps in your nutrition, promote better gut health, and may even reduce inflammation.
Why is Athletic Greens so expensive?
Athletic Greens could be pretty expensive due to its vast list of quality ingredients, many hours spent testing, and evolving research and development.
Does Ghost Greens have caffeine?
Ghost does not state on its website that Ghost Greens has caffeine, but that doesn't mean it doesn't. With ingredients like coffee and green tea extracts, there's a good chance there's caffeine in Ghost Greens, even in trace amounts. 
Is Ghost Greens good for you?
Yes, Ghost Greens contains many beneficial ingredients that can improve your health. 
Popular Product Reviews: