This post may contain affiliate links at no additional cost to you. As an Amazon Associate I earn from qualifying purchases. Click to view our full disclosure.
In this article, we will compare Morning Complete and Athletic Greens, two popular superfood blends designed to support your gut, energy levels, and more.
As a dietitian, I understand that it can be tough to stay on top of your nutrition day in and day out. And while you can't skip fruits, vegetables, and other whole foods too often, you can use a supplement to help you top up.
But which one is the best? I'm here to provide unbiased and research-based information for you to make the best decision for your health journey.
At a Glance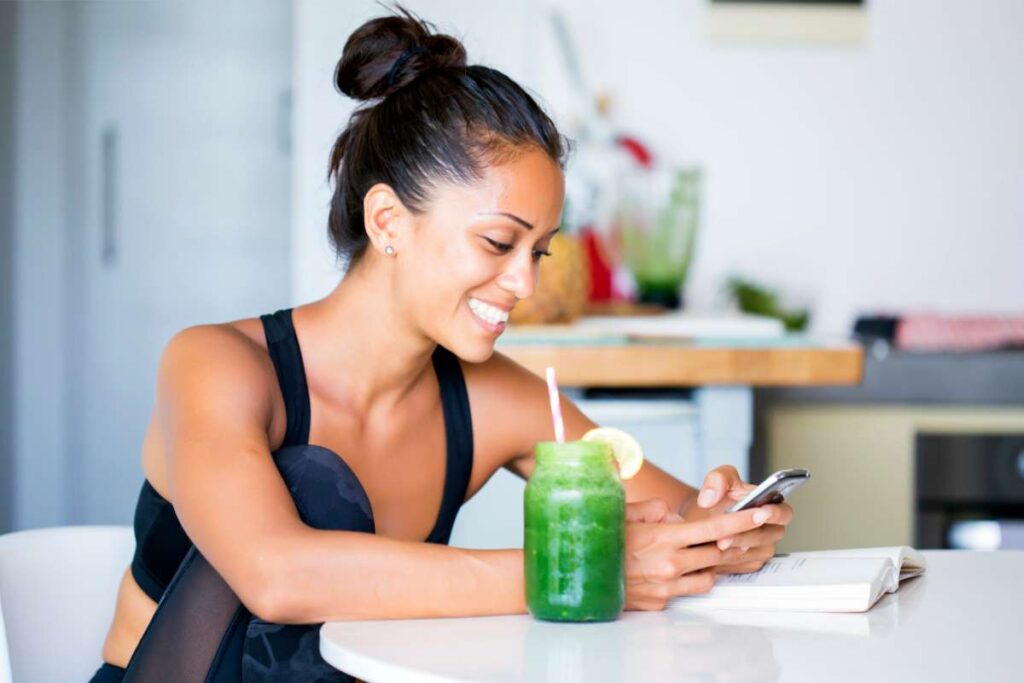 When considering Morning Complete vs. Athletic Greens, both products offer unique benefits. However, Athletic Greens stands out with its vast panel of ingredients, transparent labeling of micronutrients, certified testing, and positive reviews.
While Athletic Greens takes the lead in terms of ingredients, evidence, and reputation, Morning Complete might be the better option for you if you want a cheaper product with similar health claims.
Keep reading to explore specific features of each supplement, including benefits, ingredients, taste, and side effects.
Athletic Greens + 5 Free Travel Packs
Quick Facts: Face To Face Comparison
Morning Complete
Athletic Greens
Dietary Preferences
Dairy-free, Artificial Sweetener-free, and Vegan
Dairy-free, Wheat-free, Gluten-free, Corn-free, Lactose-free, Sucrose-free, Egg-free, Peanut-free, and Vegan
Ingredient Count
35
75
Probiotic Count
10 Billion CFU
7.2 Billion CFU
Calories per Serving
15
50 Calories per scoop
Macronutrient Count per serving
5g Carbohydrate, No fat or protein listed
6g Carbohydrate, 2g Protein, No fat listed
Net Carbs Per Serving
1g
4g
Serving Recommendations
Mix a scoop (7.6g) of our easy-dissolve powder in with the liquid of your choice – we suggest water or iced green tea – and drink.
Take one scoop (12g) per day with 8-10 ounces of water first thing in the morning.
Flavors
Apple Cinnamon
Vanilla Pineapple
Price Per Serving (One-time purchase)
$2.13 – $2.63
$3.30 – $3.63
Certifications
Made in USA
Third-Party Tested
– NSF Certified for Sport
– Third-party tested by NSF
– Manufactured in a TGA-registered, NSF (GMP) registered facilities
Morning Complete vs Athletic Greens: Introductions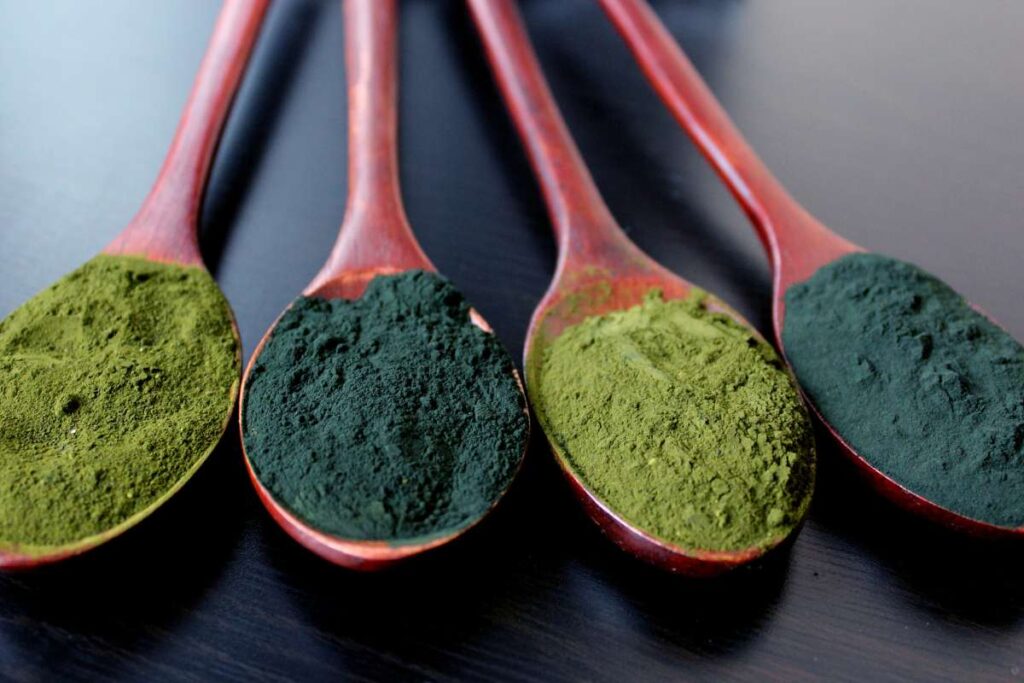 What is Morning Complete?
Morning Complete is a daily superfood blend that aims to support various areas of health and wellbeing. These include gut health, energy production, metabolic function, liver support, and blood sugar management.
It is made of about 35 ingredients and nine proprietary blends, all created for each health benefit that Morning Complete may offer.
What is Athletic Greens?
Athletic Greens, now sold as AG1, is a very popular superfood supplement known for its high quality. It has gained recognition for its well-researched formula and positive customer reviews.
AG1 boasts major benefits for healthy aging, immunity, digestion, energy, athletic performance, and cognition. It is made of 75 ingredients, which are split into four different blends.
Morning Complete vs Athletic Greens: Standout Features
Morning Complete
Made in the USA
10 Billion CFU Probiotics
Nine Proprietary Blends
Athletic Greens
75 Ingredients
Manufactured in a TGA-registered, NSF (GMP) registered facilities
Option to buy travel-sized packets
NSF Certified for Sport
Certified Third-Party Tested
Certified Allergen-Free
Athletic Greens + 5 Free Travel Packs
Morning Complete Overview
Morning Complete is produced by a company called ActivatedYou. Its mission is to create scientific wellness products to support overall health.
On their website, they state "purity" is their number one priority, so they do ensure their products are third-party tested. That being said, I couldn't find who on their website.
Along with the purity, Morning Complete is free of artificial sweeteners or flavors.
Main Benefits
Other ingredients like ginger root and green tea extract have been used traditionally to reduce bloating. Together, they can all promote better GI health.
Chromium especially has been associated with improved energy metabolism.
Both ingredients have been shown to reduce stress and related cognitive disorders.
Might Support Healthy Liver and Cellular Function: Morning Complete contains ingredients like milk thistle extract, N-acetyl cysteine (NAC), and D-mannose, all known for their protective qualities for the liver and other cells.
Milk thistle especially is known for its ability to support liver function.
It is a plant-based ingredient known for its potential benefits for supporting healthy blood sugar.
Pros
10 Billion CFU Probiotics
Third-Party Tested
Made in USA
Cheaper than AG1
Cons
No micronutrient daily values listed on label
Testing unclear
Still costs much more than some other greens supplements
Athletic Greens Overview
Athletic Greens, or AG1, is produced by a company of the same name based in New Zealand. They have gained popularity for their focus on comprehensive daily nutrition, gut health, and athletic performance.
The company's mission is to provide a convenient daily dose of nutrition filled with all of the essential nutrients in a carefully curated blend.
They also share their methods of third-party testing, heavy metal testing, and research to back up their product.
Main Benefits
Might Have Immunity Support: Antioxidants listed above, along with other immune-supporting ingredients like zinc and elderberry extract, play a role in keeping our immune systems strong.
Research shows these micronutrients even work together to improve immune cell function.
May Lead to Sustained Energy: Green tea extract, ashwagandha, and Rhodiola are all known for their potential to support energy levels and ward off fatigue.
Green tea extract has been studied for its impact on energy expenditure, while ashwagandha and rhodiola are both adaptogens that may help your body adapt to stress and promote energy.
Pros
75 Ingredients
Nutrition panel lists micronutrient values
Caffeine-Free, Dairy-free, Wheat-free, Gluten-free, Corn-free, Lactose-free, Sucrose-free, Egg-free, Peanut-free, and Vegan
Marketed as Keto and Paleo-friendly
Third-party tested by NSF
Manufactured in a TGA-registered, NSF (GMP) registered facilities
No artificial ingredients
Option to buy travel-sized packs
Option to make a one-time buy or sign up for a subscription
Tested for heavy metals
Cons
More expensive than many other supplements
Flavor has been reported to differ slightly between each product
Athletic Greens + 5 Free Travel Packs
Morning Complete vs Athletic Greens: Ingredients Breakdown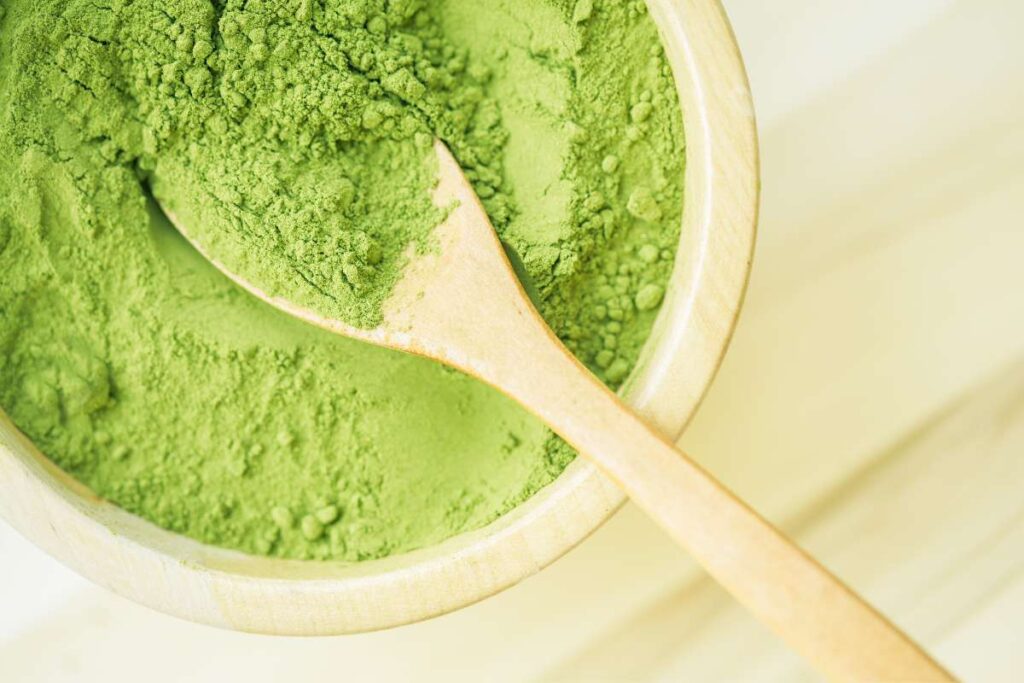 Morning Complete
Morning Complete is made of nine proprietary blends to deliver each of its claimed benefits. While specific amounts of each ingredient is not on the label, here are some key components:
Prebiotic Fiber Blend
Something that sets Morning Complete apart from AG1 is this specific blend of prebiotics and fiber. Each serving of Morning Complete packs in 4 grams of fiber, which is about 7% of your daily needs.
Green Superfoods and Antioxidants
Various superfoods are used in Morning Complete, which contribute to antioxidants, vitamins, and minerals. However, compared to AG1, this blend is low in diversity and variety of superfood ingredients.
10 Billion CFU of Probiotics
There are 10 Billion CFU of probiotics in Morning Complete, which is a little more than AG1. Probiotics are live bacteria that help to grow the good bacteria in your gut.
However, taking such a large amount can cause stomach issues at first, so take it with caution.
It's also worth noting the Morning Complete doesn't include any daily values of vitamins or minerals on their panel. This means you don't know how much of each nutrient you are truly getting.
Unfortunately, that's a red flag for me, because you could either be getting a lot less nutrition than you thought, or too much.
List of Ingredients
Prebiotic and High Fiber, 4.05 g

Organic tapioca fiber, cinnamon bark

Green Superfoods Blend, 735 mg

Spinach, broccoli, kale, mulberry leaf extract, alfalfa leaf, barley grass, berberine HCI (from Berberis aristata root)

Metabolic Enhancing Blend, 390 mg

Green tea leaf extract, ginger root, white tea leaf extract, turmeric root extract, bitter melon fruit extract, black pepper

Antioxidant Blend, 100 mg

Lycium berry, pomegranate fruit extract, Polygonum cuspidatum root extract (50% resveratrol)

Sugar Balancing Support, 100 mg

Gymnema sylvestre leaf, fennel seed, pine bark extract

Adaptogens, 55 mg

Astragalus root extract, Rhodiola rosea root extract, diindolylmethane

Cellular Function and Liver Support, 30 mg

Aloe vera leaf, milk thistle seed extract

Probiotic Blend, 10 billion CFU

B. coagulans, L. gasseri, L. plantarum, L. rhamnosus, B. bifidum, B. longum, L. acidophilus, L. casei, S. thermophilus
Athletic Greens
Athletic Greens prides itself on a comprehensive formula that they have improved over the last 14 years. Some of my favorite components include:
Adaptogens
You'll have read the word adaptogens a few times now, and these are just ingredients that help your body adapt to stress, whether physical or mental. They have been studied for their effects on balancing hormones and improving stress levels.
These ingredients can therefore help to enhance muscle recovery and cognitive performance.
Superfoods
There are so many superfoods in AG1, which is part of the reason why they changed their name. Before they changed to AG1, Athletic Greens was mainly focused on their blend of just greens (i.e. kale, spirulina, spinach, etc).
However, now that their blend is focused on a plethora of superfoods, they wanted to change the name to encapsulate them all.
Digestive Enzymes
AG1 has a blend that contains many digestive enzymes, including bromelain and burdock root. These digestive enzymes are able to help you digest your food, which means less bloating and more nutrient absorption.
List of Ingredients
Alkaline, Nutrient-Dense Raw Superfood Complex, 7,388 mg

Spirulina, lecithin, apple powder, inulin, wheat grass juice powder, alfalfa, chlorella, barley leaf, broccoli flower, papaya, pineapple, bilberry fruit extract, grape seed extract, green tea leaf extract, licorice root, lycium berry extract, ginger rhizome, slippery elm, kelp

Nutrient-Dense Extracts, Herbs, and Antioxidants, 2,732 mg

Alkaline pea protein isolate, citrus bioflavonoids extract, artichoke leaf extract, citric acid, rhodiola root, eleuthero root, milk thistle seed, R, S alpha-lipoic acid, ashwagandha, dandelion, hawthorn berry, beta-glucans, policosanol, coenzyme Q-10, stevia, vitamin K2

Digestive Enzyme and Super Mushroom Complex, 154 mg

Astragalus root, bromelain, burdock root, reishi mushroom, shitake mushroom

Probiotics 7.2 billion CFUs, 38 mg

Lactobacillus acidophilus UALz-01, Bifidobacterium bifidum UABb-10

21 Vitamins and Minerals

Vitamin A: 555mcg, 62% DV
Vitamin C: 420mg, 467% DV
Vitamin E: 83mg, 553% DV
Thiamin: 3mg, 250% DV
Riboflavin: 2mg, 154% DV
Niacin: 20mg NE, 125% DV
Vitamin B6: 3mg, 176% DV
Folate: 680mc DFE, 170% DV
Vitamin B12: 22mcg, 917% DV
Biotin: 22mcg, 1110% DV
Pantothenic acid: 4mg, 80% DV
Calcium: 118mg, 9% DV
Phosphorus: 130mg, 10% DV
Magnesium: 26mg, 6% DV
Zinc: 15mg, 136% DV
Selenium: 20mcg, 36% DV
Copper: 195 mcg, 22% DV
Manganese: 400mcg, 17% DV
Chromium: 25 mcg, 71% DV
Sodium: 45mg, 2% DV
Potassium: 300mg, 6% DV
Athletic Greens + 5 Free Travel Packs
Morning Complete vs Athletic Greens: Taste Test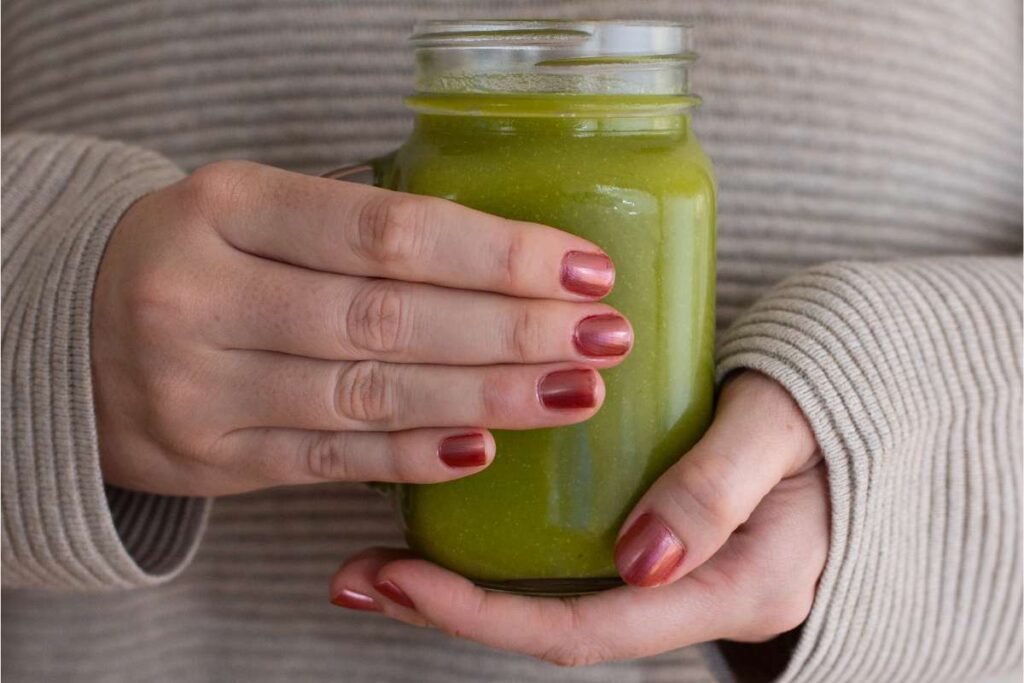 Morning Complete Taste
Morning Complete is described as having a light taste with a hint of sweetness. It states it has an apple cinnamon flavor that is not artificially sweetened. They do use a natural sweetener called monk fruit extract.
From my research, the majority of consumers like the taste. Some have even compared it to iced tea.
Morning Complete is also advertised as an easy-mixing formula, so it might have a finer texture than other greens supplements.
That being said, with all supplements there will be user preferences, so some didn't like the flavor very much.
Athletic Greens Taste
Athletic Greens markets their mild and pleasant taste profile of tropical vanilla and pineapple. They also use a natural sweetener called stevia leaf.
Many users appreciate the smooth and refreshing taste, which makes AG1 easy to consume daily.
However, taste is subjective, and some mentioned a grassy or earthy undertone. So, no matter what supplement you choose, the best flavor will come down to your own preferences.
Athletic Greens + 5 Free Travel Packs
Morning Complete vs Athletic Greens: Pricing Comparison
Now, let's compare the pricing. Something to note is Morning Complete does not offer a subscription service, but you can buy multiple jars at a discount.
Meanwhile, AG1 offers a monthly subscription service and travel packs.
Morning Complete
Price

It's $79 per jar of Morning Complete, which contains 30 servings
They don't offer a monthly subscription, but you can buy three or six jars for a discount of $213 and $403, respectively

Price Per Serving

$2.63 without buying multiples
$2.36 for three jars and $1.49 for nine jars

Container Size
Athletic Greens
Price

It costs $99 USD for a one-time buy of 30 servings or one container of Athletic Greens
If you choose the single-serving travel packets, it will cost $109 for a one-time purchase of 30 packets
The monthly subscription to Athletic Greens will cost $79 per container or $89 for 30 travel packs per month

Price Per Serving

$3.30 per serving without a subscription
$2.63 per serving with a subscription

Container Size

12.7 oz per container
12g per single-serving travel pack
Comparison of Side Effects and Safety
Morning Complete does not list any safety disclaimers on their website. AG1 states that anyone who is under medical supervision, on medication, is pregnant, or breastfeeding should check with their doctor before taking.
I'd recommend that for any new supplement, so check with your doctor no matter which supplement you choose.
Some users reported bloating or gas while taking either Morning Complete or Athletic Greens, especially at the start. As mentioned above, these effects are usually due to the high intake of probiotics and are often temporary.
It's recommended to start with a lower dosage and gradually increase overtime to grow accustomed to it.
Athletic Greens + 5 Free Travel Packs
Morning Complete vs Athletic Greens: Which Is the Best Option?
When comparing Morning Complete and Athletic Greens, both offer some unique features that set them apart.
For example, Morning Complete is more affordable and has more probiotics and fiber per serving.
However, Athletic Greens offers a lot more ingredients, is third-party tested by the NSF, includes nutrient daily values, and offers a subscription program.
So, even with the higher cost, I think Athletic Greens is better.
Why We Think AG Is the Better Option
After reviewing both products, I would recommend Athletic Greens over Morning Complete.
Its comprehensive list of ingredients, solid reputation, and in-depth information on their site allows me to get all of the information I need to trust this product.
While it is more expensive, I'd rather invest a little more in my supplement and know what I'm taking rather than just guess.
On top of that, they offer a subscription service, travel packs, and are free of most allergens.
Final Thoughts on Morning Complete vs Athletic Greens
When you're taking any supplement, it's important to make sure it's one that you trust. That means checking for third-party testing, research, and reputable sources before investing in that product.
It's also key to understand that greens powders cannot replace whole, fresh foods. No matter which superfood supplement you choose, you still need fresh produce in your daily diet for best results.
In general, Athletic Greens tells us more about the quality, safety, and efficacy of their product. They offer tons of great info on their site to make sure I have all of the details I need before making a recommendation. See for yourself here.
Frequently Asked Questions
Is morning complete FDA approved?
No, Morning Complete is not FDA approved. The FDA doesn't regulate supplements.
What is equal to Athletic Greens?
Is Athletic Greens as good as they say it is?
Yes, Athletic Greens has a good reputation for a reason. Many customers report positive health benefits like better energy, digestion, and workout recovery.
Should I take Athletic Greens in the morning or night?
Athletic Greens states on their website that you should take it in the morning. However, any time of day will work as you're still getting good, essential nutrition.
How does morning complete taste?
Morning Complete is described as a light, apple and cinnamon flavor. It is also marketed as an easy-mixing formula, so it shouldn't be too grainy.
More Product Reviews: