This post may contain affiliate links at no additional cost to you. As an Amazon Associate I earn from qualifying purchases. Click to view our full disclosure.
Consuming all the recommended portions of fruits and vegetables plays an essential role in health. If you're short on time or don't have access to great products, greens powders can help.
However, which is the best green powder on the market? What should you look for?
As a Registered Dietitian, I'm guiding you through the best greens powder supplements out there. I'll help you analyze the ingredients, its features, and if it's really worth your money.
I've found that Primal Greens is the best option since it's made with 50 ingredients to help improve your health. It's complex formula of superfoods, herbs, digestive enzymes, and probiotics is the best for those with stomach issues.
Keep reading to determine if Primal Greens is the best option for you of if another of the 6 options fits your needs.
The Best 3 Greens Powders
Before we talk about all the greens powders available, I want to establish the three best options: Primal Greens, AG1 and Supergreen Tonik.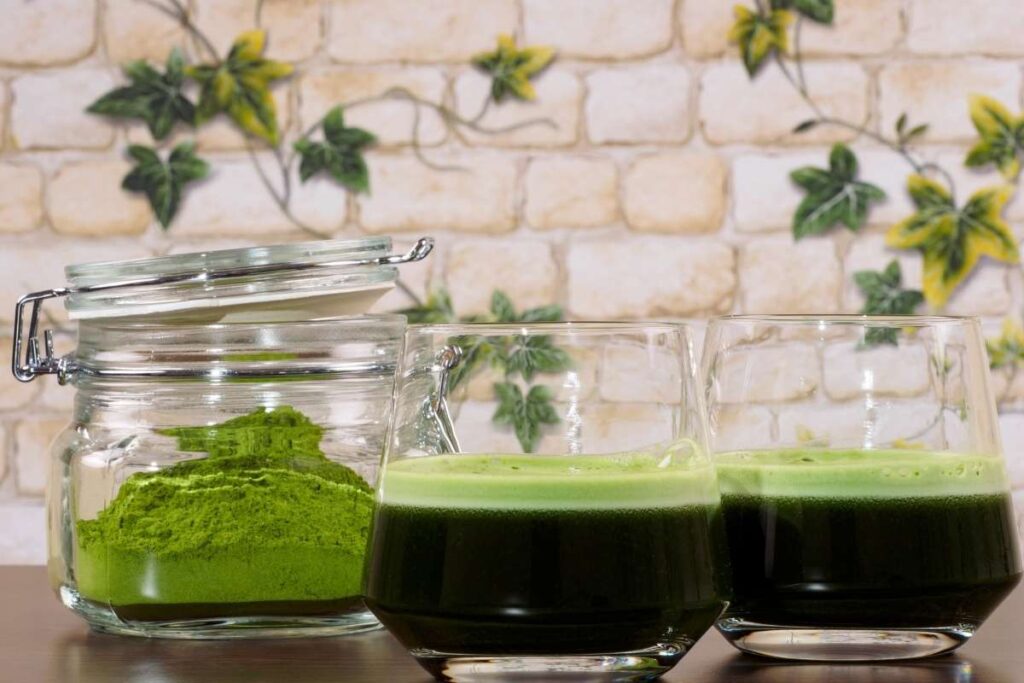 1. Primal Greens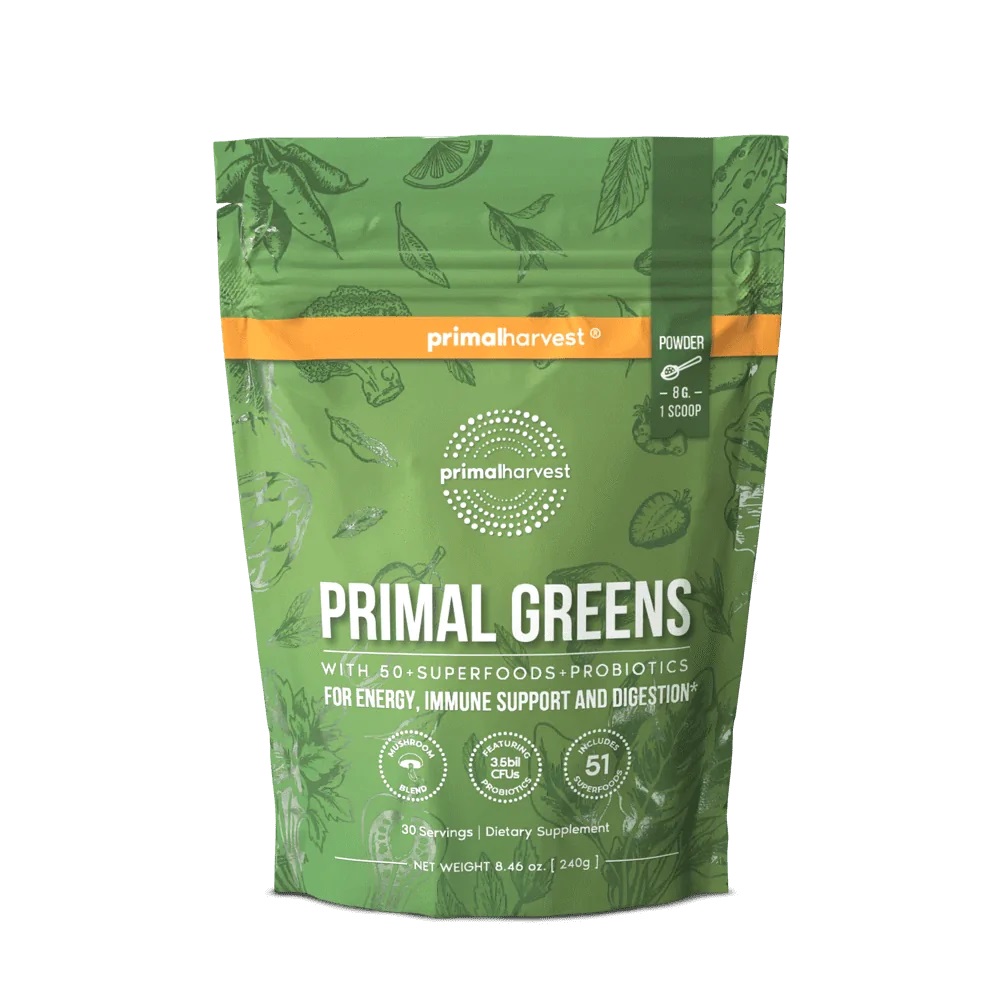 Primal Greens is a superfood blend made with over 50 ingredients.
The supplement claims to help improve digestion, boost immune function, and support weight control.
Primal Greens offers the following ingredients:
Superfood, antioxidant, and mushroom blend: Alfalfa leaf, carrot, wheat grass, spinach, spirulina, banana, coconut juice, broccoli, tomato, beet, cucumber, Brussel sprouts, cabbage, celery, kale, blackberry, raspberry, cranberry, pineapple, concord grape, cherry, apricot, orange, strawberry, chlorella, camu camu fruit, reishi mushroom, and maitake mushroom.
Herbs and extracts: Acacia gum, acerola cherry extract, turmeric root, green tea leaf, cinnamon bark, Eleuthero root, ginger root, stevia, mangosteen extract, ashwagandha root, Korean ginseng root, and chlorophyllin.
Digestive complex: Apple fiber, inulin, amylase, protease, glucoamylase, lipase, and cellulase.
Probiotic blend: B. longum, L. acidophilus, and L. rhamnosus.
Green tea leaf has several good properties. For example, it is a powerful antioxidant that helps reduce inflammation. Additionally, it might increase fat burning slightly. So, it can promote weight loss or weight management.
Also, their custom blend of mushrooms like reishi and maitake can help boost your energy levels without giving you a crash.
Primal Greens is ideal for people who want a green powder that can help slightly promote weight loss and boost energy levels.
Primal Greens Pros
Made with more than 50 ingredients.
May support weight loss or weight management.
Might improve gut health.
May boost the immune system.
Affordable.
Primal Greens Cons
Some people don't like the taste.
Only one available flavor.
Not organic.
Comes in a proprietary blend.
2. AG1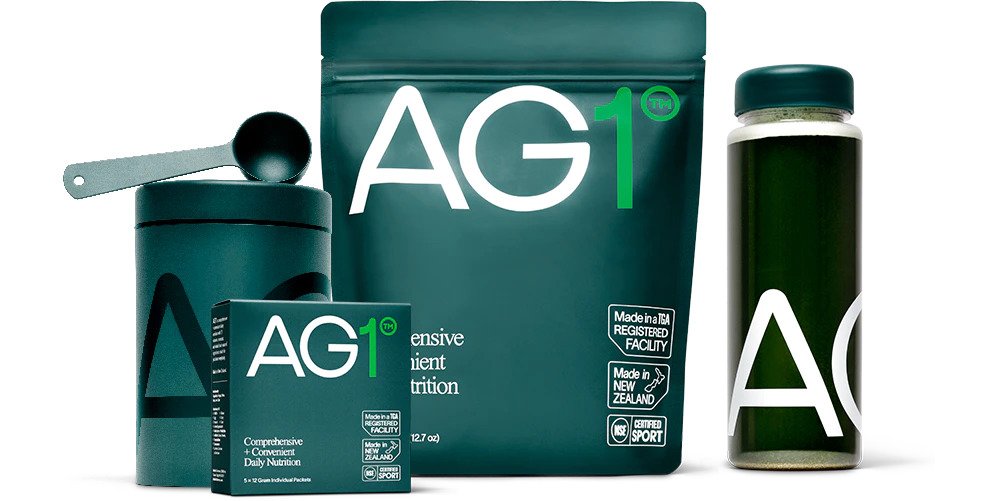 AG1 is the next best green powder.
The supplement might help promote good digestion, may support immunity, and can help increase energy levels.
It provides ingredients such as:
Raw superfood complex: Organic spirulina, organic apple powder, inulin, organic wheat grass powder, organic alfalfa powder, acerola fruit juice powdered extract, broccoli flower powder, papaya fruit powder, pineapple fruit concentrate, bilberry fruit extract, beetroot powder, rose hip fruit powder, carrot root powder, spinach leaf powder, cocoa bean polyphenol extract, grape seed extract, green tea extract, licorice root powder, Lycium berry fruit extract, ginger rhizome powder, slippery elm bark powder, and kelp whole plant powder.
Herbs and antioxidants: Alkaline pea protein isolate, citrus bioflavonoids extract, artichoke leaf extract, citric acid, Rhodiola root dry extract, Eleuthero, milk thistle seed extract, alpha-lipoic acid, ashwagandha root extract, dandelion whole plant dry concentrate, hawthorn berry extract, beta-glucans, policosanol, coenzyme Q-10, stevia, and vitamin K2.
Digestive enzymes and super mushroom complex: Astragalus root powder extract, bromelain, burdock root extract, reishi mushroom powder, and shiitake mushroom powder.
Dairy-free probiotics: L. acidophilus and B. bifidum.
As mentioned before, antioxidants can help reduce inflammation in the body. As a post-workout snack, this trait allows the body to recover better. You'll have the best post-workout meal if you drink this and add some protein (like a protein shake) and some carbs (like oatmeal).
Also, reishi mushroom may potentially help boost immune function, decrease fatigue, and improve mood. However, more research is needed to back it up.
AG1 is ideal for those that want to have the best post-exercise recovery, get an energy boost, and improve immune function.
AG1 Pros
Might aid digestion.
Good antioxidant content.
Can improve recovery post-workout.
May support liver function.
Might boost immune function.
Made with organic ingredients.
No artificial colors or flavors.
AG1 Cons
Proprietary blend.
Higher priced supplement.
Not organic
3. Supergreen Tonik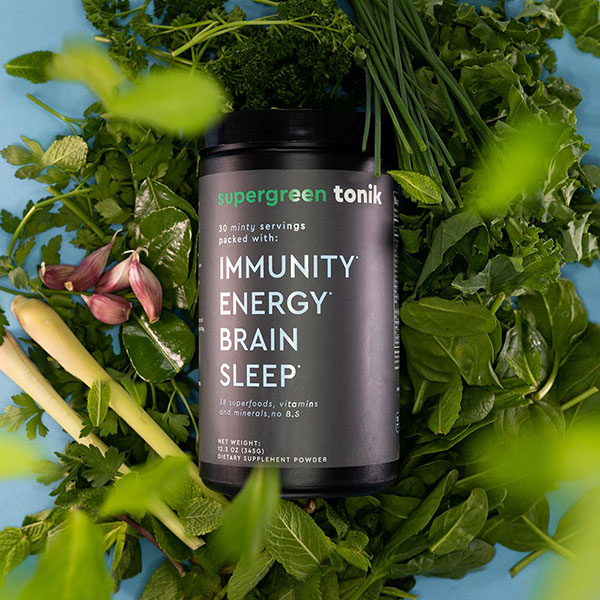 Now, let's dive deeper into the number one product, Supergreen Tonik.
Supergreen Tonik is one of the most popular greens powders available.
One of the things that really stands out against the other greens powders is that it has a transparent label. All other supplements come in a proprietary blend, so we don't know how much of the good stuff it contains.
However, Supergreen Tonik determines the dosage for each ingredient they use.
Supergreen Tonik has the following ingredients
Greens blend: Organic spirulina powder (2,000 mg), organic collards leaf powder (2,000 mg), organic spinach leaf powder (1,000 mg), organic barley grass powder (1,000 mg), organic chlorella (1,000 mg), and organic horseradish tree leaf powder (500 mg).
Nootropic blend: Ashwagandha root extract (500 mg), L-Theanine (250 mg), ginkgo leaf powder (240 mg), bacopa herb extract (150 mg), bacopa leaf extract (150 mg), Rhodiola root extract (150 mg), and Rhodiola root extract (150 mg).
Immune blend: Dandelion leaf extract (500 mg), garlic bulb extract (250 mg), olive leaf extract (250 mg), and black pepper fruit extract (150 mg).
As seen from the ingredients, Supergreen Tonik offers a wide range of nutrient-dense foods that will boost your vitamin and mineral intake. Most ingredients are organic, so rest assured you are getting a high-quality supplement.
It's also a good pick for those with busy, stressful lifestyles. The nootropic blend with ashwagandha and L-Theanine can help reduce stress and make the day easier.
Finally, if you are looking for a way to boost your immune system and prevent you from getting sick, its combination of dandelion and garlic can help increase your natural's defense mechanism.
Supergreen Tonik Pros
Transparent label.
Third-party tested.
Most ingredients are organic.
Great adaptogenic blend.
Might improve immune function.
Supergreen Tonik Cons
Higher priced supplement.
Comes in two flavors only: mint and berry.
Not organic
4. BULLETPROOF GREENS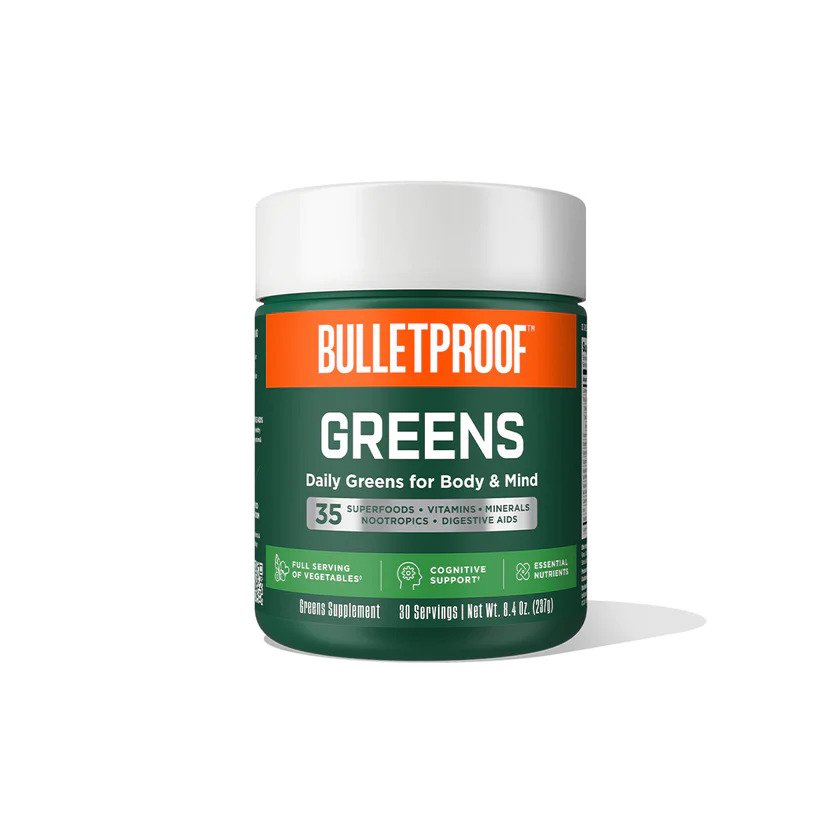 Bulletproof Greens is a green powder made by the Bulletproof company. It has 35 superfoods (some of which are organic) that provide essential vitamins, minerals, and antioxidants. It comes in jar form or packet form.
It comes in proprietary blends with ingredients like:
Vegetable and fruit powder: Organic spinach, organic kale, broccoli, organic celery, cauliflower, cabbage, kelp, organic cucumber, limes, lemons, organic blueberries, and organic strawberries.
Superfood and mushroom complex: Spirulina, chlorella, green tea extract, acai berry, acerola cherry extract, lion's mane, and cordyceps extract.
Nootropics: Citicoline and Panax ginseng extract.
Digestive aids: Bacillus coagulans (probiotic) and digestive enzymes (amylase, protease, alpha-galactosidase, glucoamylase, lactase, invertase, lipase, acid maltase, and peptidase).
In each scoop, you get one serving of fruits and vegetables. So, a couple of packets per day might suffice for people who don't have enough time to consume enough fruits and vegetables.
Also, it contains probiotics and enzymes that can help improve digestion. If you feel bloated or gassy after every meal, taking Bulletproof Greens might help reduce these symptoms.
Bulletproof Greens is ideal for people that want to fill in their nutritional gaps and boost their health.
Bulletproof Greens Pros
Contains 35 different superfoods to help fill in nutritional gaps.
Has enzymes to aid in digestion.
One scoop represents one serving of fruits and vegetables.
Might improve cognitive function.
Good taste.
Bulletproof Greens Cons
Only one probiotic strain.
Not all the ingredients are organic.
Some people might have an aftertaste due to stevia.
Comes in only one flavor (pineapple).
5. Enso Supergreens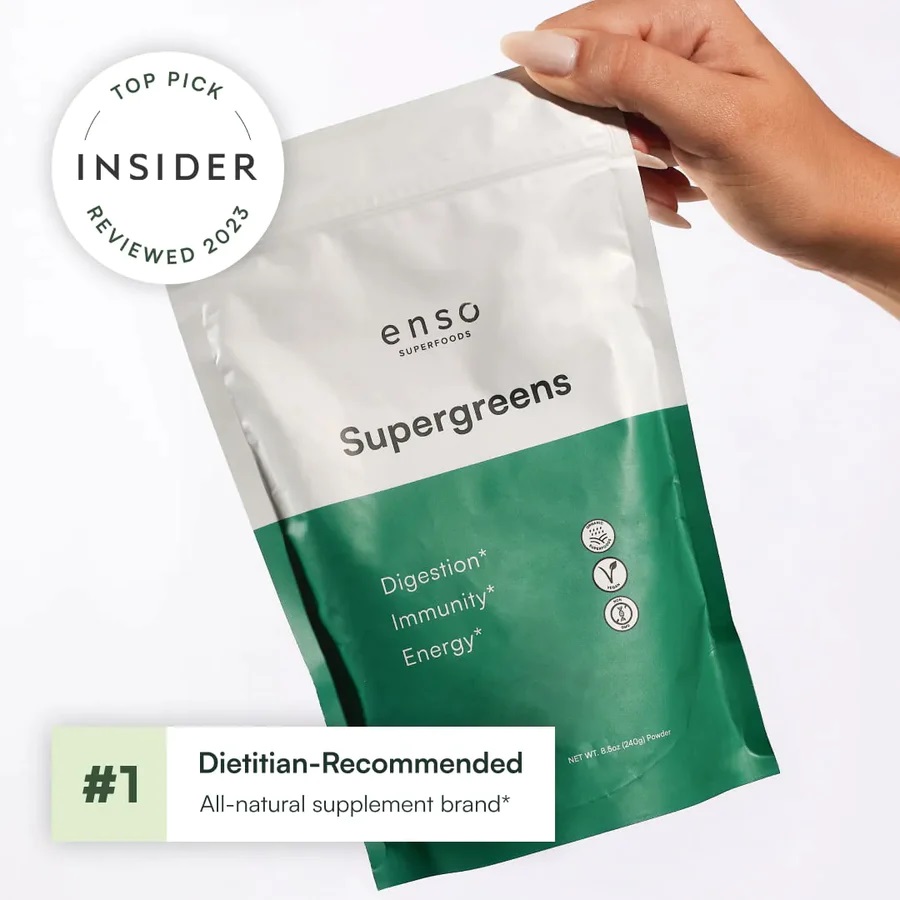 Enso Supergreens is a green powder supplement made with over 20 ingredients. Thanks to its wide range of ingredients it can help improve digestion, reduce inflammation, improve gut health, and boost energy levels.
The formula is divided into four proprietary blends.
Healthy and nutritious organic supergreens proprietary blend: spirulina powder, chlorella powder, whole leaf wheatgrass, whole leaf barley grass, barley grass juice powder, monk fruit extract, peppermint leaf powder, spinach powder, moringa leaf powder, alfalfa leaf, broccoli powder, nopal cactus powder, kale powder, oat grass juce powder, dandelion leaf, nettle leaf powder, burdock root, horsetail, parsley leaf powder, kelp powder, dulse powder, and ginger root.
Digestive enzyme complex: papain, bromelain, and vegetarian pepsin.
Dairy-free probiotics: L. acidophilus, L. casei, B. bifidum, and B. lactis.
Enso Supergreens contains several foods with high antioxidant content that can help reduce inflammation, promoting overall wellness and better post-exercise recovery. It also offers several ingredients such as ginger root, digestive enzymes, and probiotics to help improve digestion.
What makes this one of the top notch options is that it can also give you an energy boost by providing essential vitamins and minerals for the body to function properly.
Enso Supergreens Pros
Made with 100% organic ingredients.
Third-party tested.
No added sugars or artificial sweeteners.
Made in GMP-certified facilities.
Sugar, caffeine, nut, and caffeine-free.
Offers a 30-day money back guarantee.
Enso Supergreens Cons
Only one flavor is available.
Made with proprietary blends.
6. ActivatedYou Morning Complete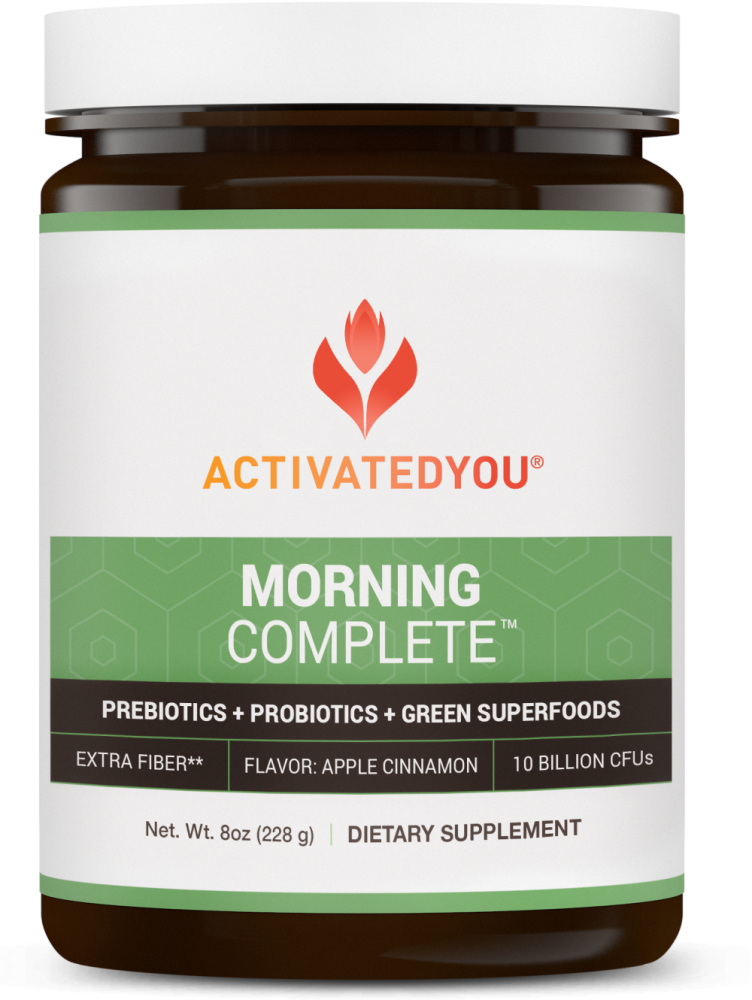 In the number two spot, we have ActivatedYou Morning Complete.
Its custom blend of ingredients might help promote good gut health, improve digestion, and naturally boost energy levels.
It offers ingredients such as:
Prebiotic and high fiber: Organic tapioca fiber and cinnamon bark.
Green superfood blends: Spinach, broccoli, kale, mulberry leaf extract, alfalfa leaf, barley grass, and berberine HCl.
Metabolic enhancing blend: Green tea leaf extract, ginger root, white tea leaf extract, turmeric root extract, bitter melon fruit extract, and black pepper.
Antioxidant blend: Lycium blend, pomegranate fruit extract, and Polygonum cuspidatum root extract.
Sugar balancing support: Gymnema Sylvestre leaf, fennel seed, and pine bark extract.
Adaptogens: Astragalus root extract, Rhodiola Rosea root extract, and diindolylmethane.
Cellular function and liver support: Aloe vera leaf and milk thistle seed extract.
Probiotic blend: B. coagulans, L. gasseri, L. plantarum, L. rhamnosus, B. bifidum, B. longum, L. acidophilus, L. casei, and S. thermophilus.
One feature that stands out is its ingredients to help balance blood glucose levels. Ingredients like Gymnema Sylvestre and fennel seed helps balance glucose levels which leads to more stable glucose levels and reduces cravings.
Also, its high blend of probiotics and prebiotics can promote good gut health and improve digestion.
ActivatedYou Morning Complete is ideal for those who want better digestion and improve blood glucose levels.
ActivatedYou Morning Complete Pros
Supports stable blood sugar.
Includes both probiotics and prebiotics for digestion.
Might help boost immune function.
Can help increase energy levels.
Money-back guarantee.
ActivatedYou Morning Complete Cons
Not all ingredients have scientific evidence.
Only available in one flavor (apple cinnamon).
Higher priced supplement.
Not organic.
Top 3 Greens Powder Comparison
Now, while Primal Greens is the best available green powder on the market, everyone can have different needs or tastes.
For that reason, it is always good to have options.
The following table compares the top three greens powders to help you make the best decision.
| | | | |
| --- | --- | --- | --- |
| Feature | Primal Greens | AG1 | Supergreen Tonik |
| Supply cost | $49.95 | $99.00 | $87.00 |
| Price per serving | $1.66 | $3.30 | $2.85 |
| Money-back guarantee | 90 days | 60 days | 365 days |
| Subscription savings | Yes | Yes | No, only bulk savings |
| Application | Powdered form | Powdered form | Powdered |
| How many per day | 1-2 | 1-2 | 1-2 |
| Organic ingredients | No | Some | Some |
| Vegan | Yes | Yes | Yes |
| Probiotics | Yes – 3 strains | Yes – 1 strain | No |
| Proprietary blend | Yes | Yes | No |
Greens Powder Buying Guide Recommendations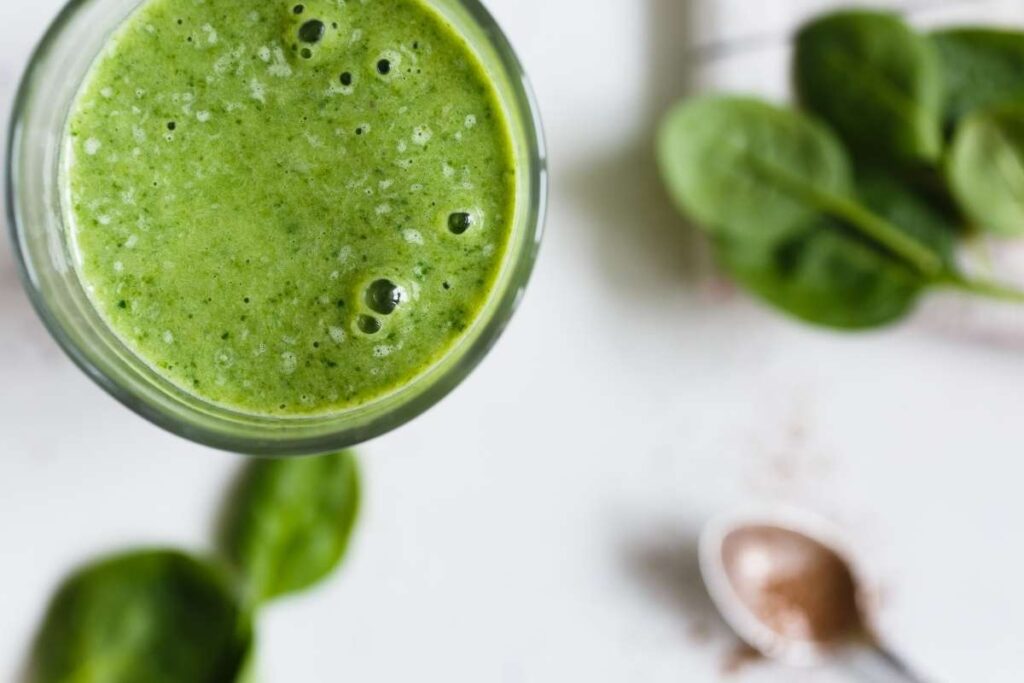 It seems there's a new greens powder supplement every day. For that reason, it is always good to know how to choose the best.
So, if you want to try one that is not on the list, here are some factors you need to consider when buying greens powder supplements.
Value
The first on the list is value.
Value means those extra things a company does to add value to the purchase. For example, it can come with free shipping or gifts, a money-back guarantee, or bundle savings.
Safety
A very important one to consider is safety.
The FDA doesn't regulate supplements. While it can ban certain ingredients, it doesn't regulate which ingredients and at what doses companies can use.
For that reason, look for certifications that guarantee the supplement's safety. It can mean having a GMP or FDA certification.
Ingredients
Natural does not always mean better.
However, it does decrease the risk of a side effect. For that reason, check the supplement's nutritional label and see which ingredients they are using.
Hidden Proprietary Blends
While proprietary blends are not bad, it makes it harder to determine if the supplement works or not. You solely rely on reviews to help determine if the supplement is as effective as it claims.
However, when it comes with a transparent label, you can check if their doses are within the recommended guidelines.
Dosage
Even if it has the best ingredients, you might not get the desired outcomes if the doses are not the right ones. So, make sure that all (or most) ingredients are within clinically recommended dosages.
Reviews
Customer reviews can be a great way to determine if the product is as effective as it claims. Also, it can help you determine any possible side effects, taste, consistency, or any other feature only customers experience.
Price
Some supplements are not cheap, and greens powders come in a wide range of prices. The price might go up depending on the ingredients used, the manufacturing process, and the dosage of the ingredients.
You need to determine your price range if you are on a tight budget.
How do greens powders work?
We are now almost at the end of the best greens powders review. However, you might still wonder how green powders work.
There are several ways green powders are helpful. Here is a list of how they might benefit you.
Dietary supplement contains vegetables, fruits, algae, or grasses.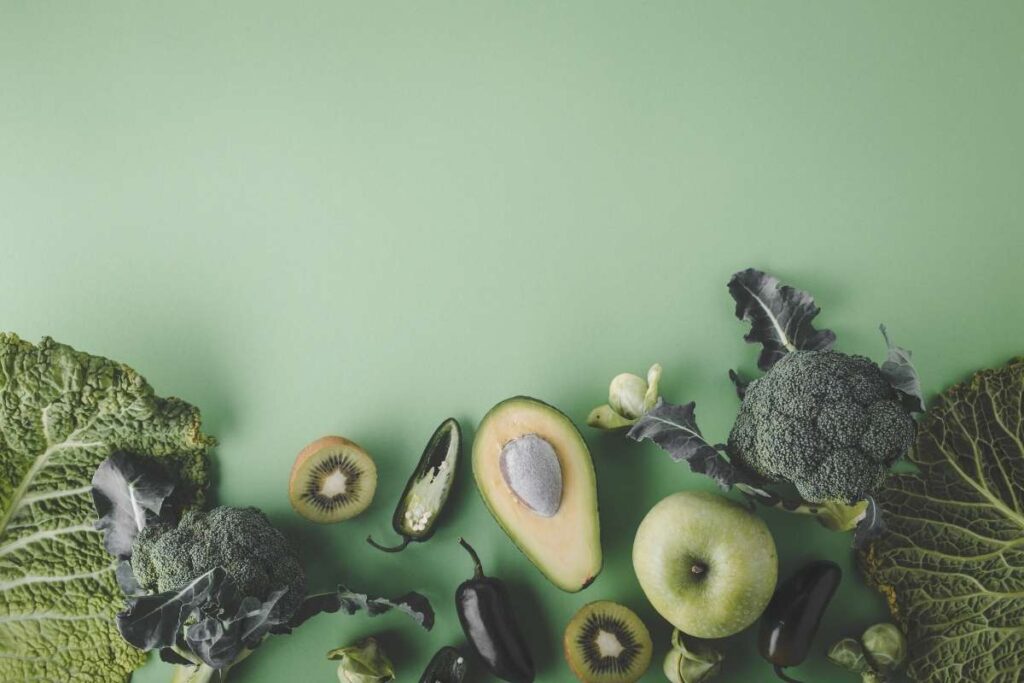 Greens powders combine different vegetables, fruits, algae, and grasses to provide specific benefits.
Fruits and vegetables help increase the nutrient content of the supplement, while algae, grasses, and herbs have distinctive characteristics.
However, more on that later in the article, where I discuss which are the best ingredients for a green powder.
Support your body's immune system and energy levels.
They are high in vitamins and minerals like vitamins C, A, and B complex. This trait helps reduce inflammation in the body and boost the immune system.
The addition of ingredients like green tea or green coffee can help provide you with an energy boost.
While vitamins and minerals won't directly increase energy levels, they help convert the food you eat into usable energy in the body. Thus, these can indirectly increase your energy, too.
How are they made?
Greens powders are blends of ingredients that get converted into powdered form. During the manufacturing process, they remove all the water in each ingredient until it gets dehydrated. Once it is dehydrated, they pulverize it until you get a fine powder.
Remember that to remove water, you must apply some heat. This can reduce some of the nutritional properties of the food.
So, while they are a great way to increase your fruit and vegetable intake, they are not the same as having natural foods.
Top 10 Most Effective Ingredients in Greens Powder
There is an endless variety of ingredients you can use in green powders. However, this doesn't mean you should use all of them. Some don't have enough scientific evidence or might produce some side effects.
The best ingredients are those that have enough evidence to back up their claims and, hopefully, a clear dosage.
When it comes to green powders, you want to use natural ingredients that can replace the fruits and vegetables you might not be getting daily.
Here, you can find a list of those ingredients I recommend should be present in a green powder supplement.
Leafy Greens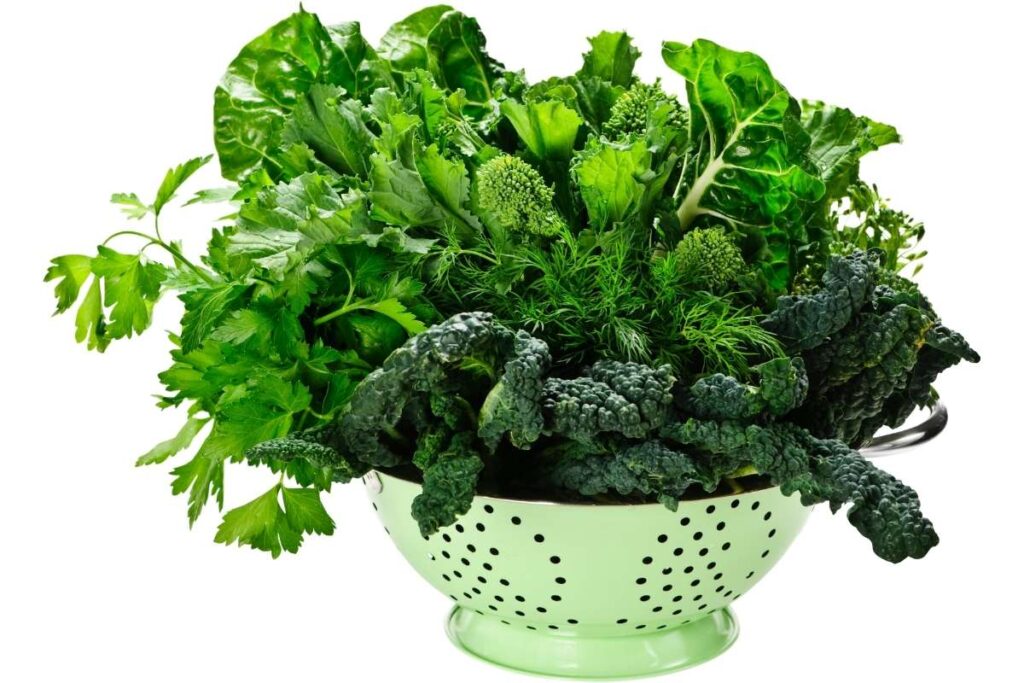 Leafy greens are very nutrient-dense. They provide essential vitamins and minerals for the body. Spinach and kale are one of the most nutrient-dense leafy greens.
Seaweed
Algae is another great nutrient-dense product. It can help detoxify and boost your energy levels. Options like chlorella and spirulina are some of the best seaweed ingredients.
Grasses
Grasses are an excellent addition to reducing digestive issues. Wheat grass or lemon grass can help reduce digestive issues such as bloating or gas.
Antioxidant-Rich Fruits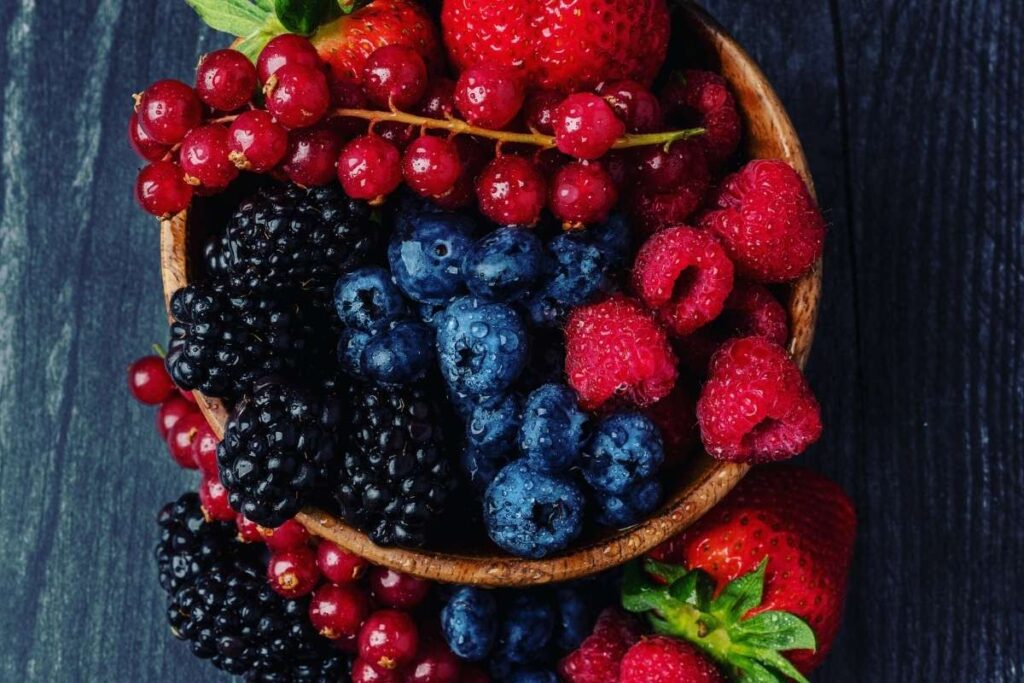 Antioxidant-rich fruits like berries (strawberries, blueberries, and raspberries) can help reduce inflammation and boost immune function.
Probiotics
A good gut microbiome impacts the digestive system and immune function. When you add probiotics, you promote good gut health.
Nutritional Extracts and Herbs
Finally, nutritional extracts and herbs can add a specific quality or feature to the blend. For example, cinnamon can help regulate glucose levels and ginger can aid digestive issues.
Benefits of Using Greens Powder
There are several reasons why you might benefit from taking a green powder supplement.
Remember that they don't replace fruits and vegetables. For fiber and maximum nutrient content, a healthy diet is still the way to go.
However, they might help boost health, improve digestion, or boost the immune system.
Increase Fruit and Vegetable Intake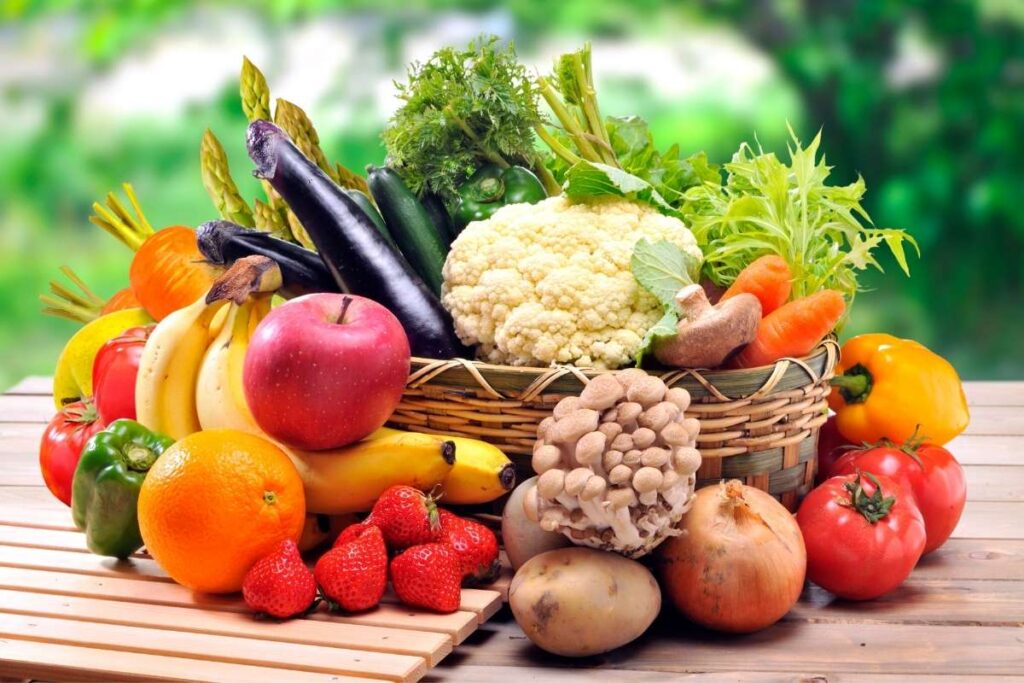 As a Registered Dietitian, one of the challenges I see most people have is with their fruit and vegetable intake. In most cases, people often consume far less than the recommended amount, which is at least five to six portions of fruits and vegetables per day.
The most common reason for not consuming them is due to lack of time or no available options.
Green powders allow you to reach the recommended intake in powdered form. That way, you don't have to worry about washing, chopping, cooking, and chewing. Still, you get the majority of the nutrients and benefits that fruits and vegetables possess.
Other Health Benefits
Besides being a source of fruit and vegetables, there are other health benefits. Here is a list of the benefits you might get from taking green powders.
Source of vitamins and minerals such as vitamin A, magnesium, and B complex.
Might improve heart health.
May slow cognitive decline.
Might help lower blood pressure.
May boost immune function.
Can improve digestion and help the body detoxify.
What are the side effects?
While green supplements might bring you many benefits, there might be ingredients you don't tolerate. This can increase the risk of side effects.
The most common side effects are related to stomach issues.
Diarrhea is the most common side effect often seen. This might be because concentrating ingredients can irritate the intestines. Hence, the ingredients draw water to the intestines resulting in diarrhea.
There are other side effects like:
Stomach cramps
Bloating
Blood medication interference
Overconsumption
Gas
If you're on medications or concerned about the side effects of a greens powder, speak to a healthcare professional first.
Our Final Recommendation
That concludes our reviews of the best greens powders currently on the market.
There are some excellent green powder options for you to choose from. However, the top options are Primal Greens, AG1 and Supergreen Tonik.
For those ready to get all the health benefits from Primal Greens, head over to their website to make a purchase.
Frequently Asked Questions
Can greens powder help you lose weight?
Yes, they might help you lose weight but it depends on the ingredients used. 
For example, Glucomannan is a fiber that can increase fullness levels. This leads to less snacking and smaller portions, which helps to lose weight. 
Can green powders replace vegetables?
No, they cannot replace vegetables. While they can help you add more fruits and vegetables to your diet, they shouldn't replace natural food. During the processing, some nutrients are lost. For that reason, green powders should supplement the diet, not replace foods. 
Do greens powder help with bloating?
Yes, there are some ingredients like ginger and lemongrass that can help reduce bloating.
How often should I take green powders?
You can take green powders once a day along with a healthy diet high in whole grains, fruits, and vegetables. 
Can you take too much green powder?
Yes, consuming too much green powder can cause stomach problems like stomach cramps, diarrhea, bloating, and gas.
More Product Reviews: