This post may contain affiliate links at no additional cost to you. As an Amazon Associate I earn from qualifying purchases. Click to view our full disclosure.
Welcome to my Vous Vitamins review.
Multivitamins are one of the strongest supplement categories. There are so many available on the market you might get lost in all the options.
As a Registered Dietitian, I know that multivitamins are not necessary for everyone. But if you have poor fruits and vegetables consumption, they may help fill in any nutritional gaps.
However, how do you know you're choosing the right one?
The biggest thing to watch out for is waste – nutritionally and financially. In most cases, the body ends up discarding the excess nutrients it doesn't need. So why buy multivitamins with nutrients you might not end up using?
Vous Vitamins are the perfect way to ensure you only take the nutrients you need. With their specialized quiz, they can determine which vitamins, minerals, probiotics, and other ingredients you might need according to your age, sex, and underlying conditions.
In the end, you only get the nutrients necessary to keep your body healthy.
Keep reading as I review everything about Vous Vitamins to determine if it's as amazing as it sounds.
About Vous Vitamins
Vous Vitamin LLC is a company created by physicians Arielle Levitan, MD, and Romy Block, MD. They noticed their patients were confused whenever they bought supplements since they didn't know what they really needed.
They realized there weren't many great supplement alternatives offering high-quality ingredients and nutrients tailored to their needs. To help improve their patient's overall wellness and give them what they needed, Vous Vitamins was born.
The company is "built on quality, honesty, and transparency." They also have decades of medical training in endocrinology, metabolism, and preventative health.
What are Vous Vitamins?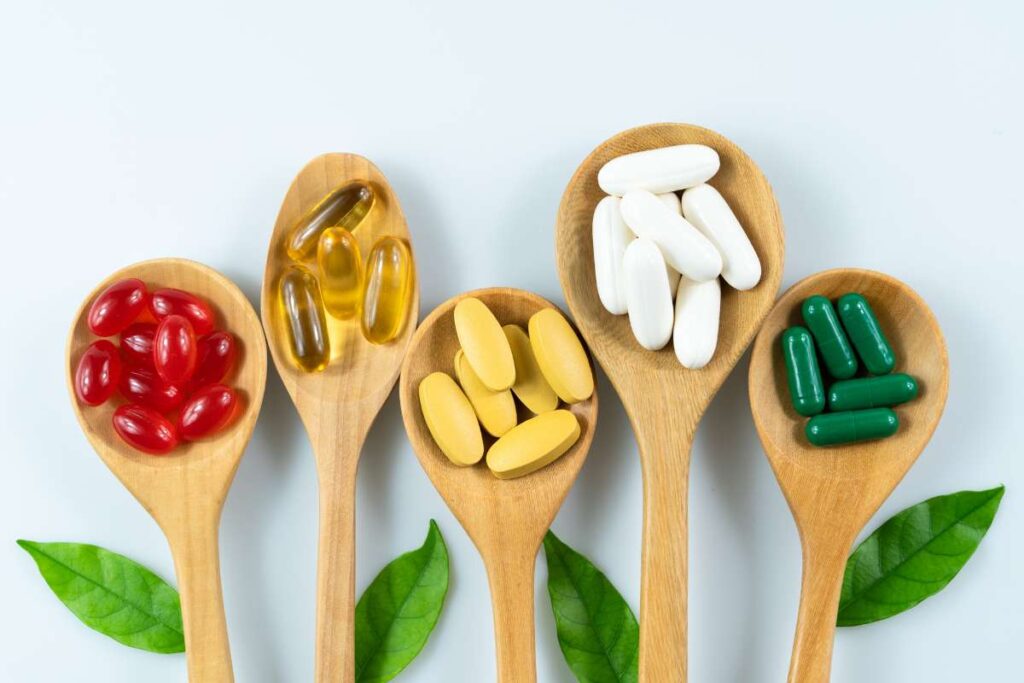 Vous Vitamins are personalized supplements you can take to fill your nutritional gaps. There are two types of supplements. First, there are already-blended nutrients that are intended for a specific need, like immune-boosting. Or, you can get a personalized option based on your needs.
For the personalized approach, you need to fill out a quiz. But, more on this later in the article.
Who are Vous Vitamins for?
Vous Vitamins are for people who want a more personalized approach to their supplement intake. It might be good for those with special needs (like athletes) or some health concerns (gut problems) that you want to address specifically.
So, if you are tired of getting generic over-the-counter supplements that don't include the right amounts of what you really need, Vous Vitamin is the right choice.
Are Vous Vitamins safe?
Yes, Vous Vitamins are safe to take.
While the FDA doesn't regulate dietary supplements, the vitamins are formulated by physicians and made in GMP-certified facilities.
Things To Consider Before Buying Vous Vitamins
Vous Vitamins seem to be a promising supplement. However, before you make the first purchase, there are some things you need to consider.
Personalized Approach
What makes this option stand out over the rest is the fact that you get a personalized vitamin and nutrient supplement based on your needs.
If you are not looking for something personalized and prefer a cheaper alternative (less than $40), consider another option.
Subscription Package
One of the advantages of Vous Vitamins is that it offers a subscription. The more months you purchase (three to six), the cheaper the supplement. This is also convenient for those of us who forget to regularly reorder the essentials.
You may also only purchase one month if you just want to try them out.
Lifestyle Choices
Finally, before you make any purchase, make sure you are making adjustments to your nutrition and exercise. While the supplement can fill in the nutritional gaps, it's not the same as eating fresh ingredients.
So, make sure you maintain an adequate intake of fruits, vegetables, lean protein, whole grains, and healthy fats.
On top of that, remember that exercise plays an essential role in good health. Try to strive for at least 150 minutes of exercise per week.
Vous Vitamins Features
Moving on in this Vous Vitamins review, let's talk about what makes this supplement stand out over the rest.
Personalized Vitamin for Your Lifestyle
It doesn't always make sense to get what everyone else is getting. Especially if you have different dietary habits, activity levels, or underlying conditions.
In the end, you might be wasting your money on supplements that are not going to provide any positive results.
Vous Vitamins makes you a personalized vitamin and nutrient supplement tailored to your needs. So, you know you are getting exactly what you need. Not more or less.
Convenient Dosing Options
A lot of multivitamins either come in extremely large doses or are underdosed. Either way, you are not getting what you need.
In one scenario, your body can excrete the excess through urine, so why pay for ingredients you won't use?
The other option, a dose being too low, might not produce the desired result.
Vous Vitamins give you the necessary nutrients in the right doses for your needs. So, you know that you are taking what the body needs to recover, stay healthy, or help manage existing conditions.
All-In-One Pill
Finally, you might be getting different pills to address different areas. You need to take one in the morning, another in the afternoon, and another in the evening.
At the end of the day, this can be difficult to keep track of. Vous Vitamins provide all the nutrients you need in one dose, streamlining your routine and making it easier to stay on top of your wellness.
Types of Supplements Offered by Vous Vitamins
There are two types of supplements you can get at Vous Vitamins. One branch offers supplements to supply different needs like improving recovery or boosting the immune system.
The other branch offers personalized supplements.
Mountain Rescue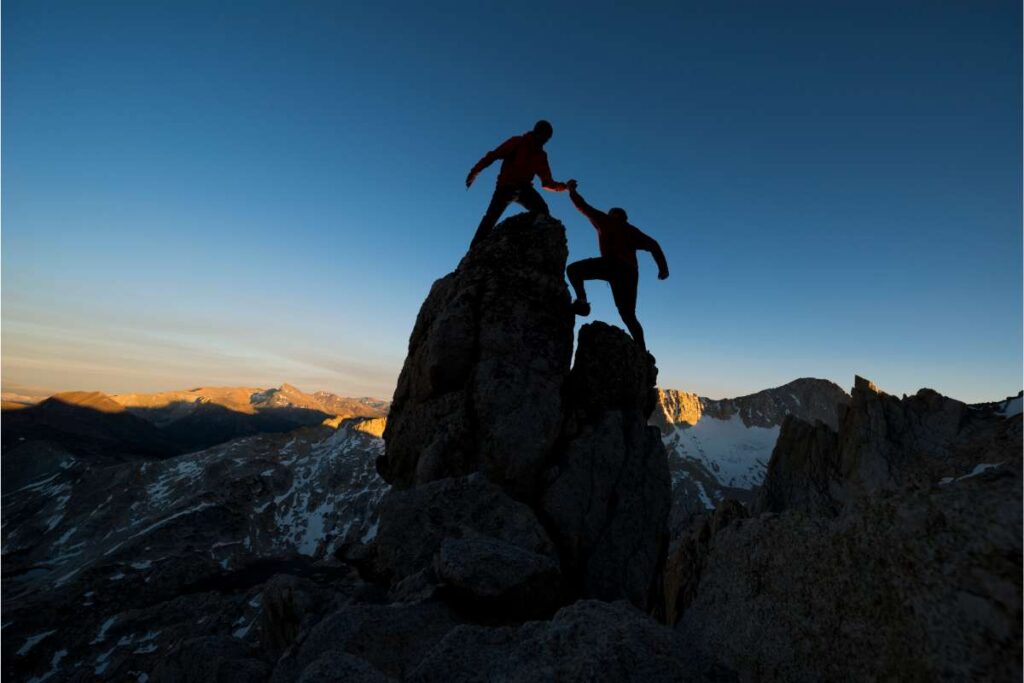 Mountain Rescue is their solution to deal with altitude problems. One packet contains four tablets (two yellow and two blue). You'll take one yellow tablet in the morning and one blue tablet in the evening when you are at higher altitudes.
The yellow pill contains thiamin, magnesium oxide, and folate. Thiamin plays an essential role in energy formation. Thus, it can provide you with an energy boost without relying on caffeine.
The blue pill contains thiamin, riboflavin, vitamins B6, B12, magnesium, sodium, and potassium. Key electrolytes like sodium and potassium to help prevent muscle cramps and keep good hydration levels.
One thing to stand out is their use of magnesium oxide. There are better and more absorbable options for magnesium (like magnesium glycinate). In fact, research shows magnesium oxide has one of the lowest absorption rates in the body.
As a result, it makes you wonder about the quality of the ingredients used in the formulation.
Recovery Act
Recovery Act is a supplement to help you recover after a night out. They claim to have different electrolytes, but reading the nutritional label it only contains thiamin, folate, and magnesium.
It doesn't contain any potassium or sodium, which are key electrolytes that can improve hydration. Thus, it might not be as effective as Vous claims it is.
Immune Blast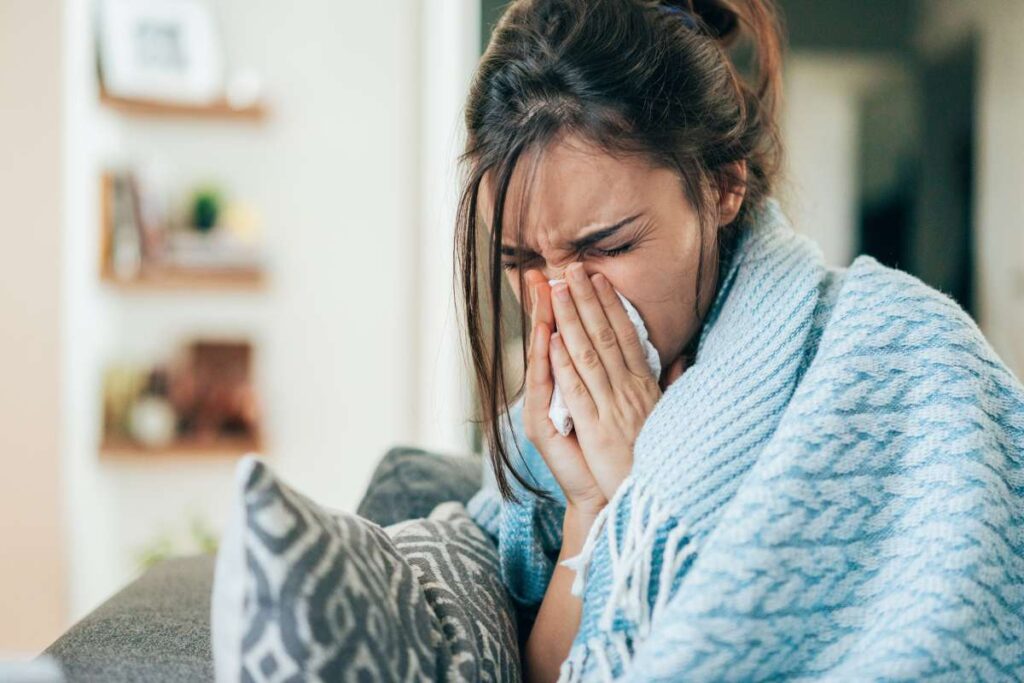 Immune Blast is their immune-boosting supplement. It contains vitamin D, zinc, and vitamin C. Research shows that vitamin C can help reduce the duration of a common cold, while vitamin D can help increase the immune system.
As for zinc, it is a powerful antioxidant that can help reduce inflammation, which can help the immune system.
Power Up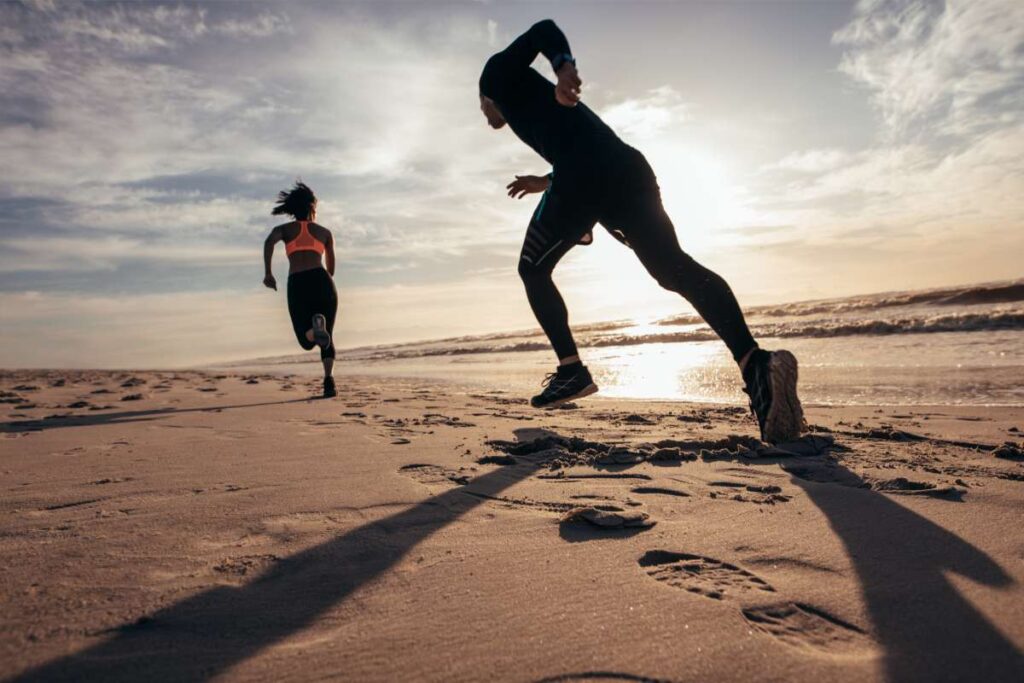 Power Up is a supplement that can help increase energy. One pill has thiamin, riboflavin, vitamins B6, B12, magnesium, sodium, and potassium.
Vitamins from the B-complex can help turn the food you need into usable energy in the body. As a result, it can give you an energy boost without relying on caffeine.
Personalized Multivitamins
Finally, their biggest supplement branch is their personalized multivitamins. By taking a test, they can formulate which nutrients you might need. In the end, it can create personalized supplements with adequate nutrients and dosage for your needs.
I'll tell you more about this coming up.
Do Vous Vitamins really work?
Vous Vitamin may work since it gives you the necessary nutrients according to your needs. It also gives you adequate doses.
However, it is unclear what ingredients they consider when formulating the supplements. You only know which ones you get after you finish the test.
So, you cannot analyze if they are using the appropriate ingredients and at what doses.
How do Vous Vitamins work?
To create your custom-made supplements, first, you need to take the custom vitamins quiz.
Here, you'll get asked questions such as how many fruits and vegetables you eat, your activity levels, any underlying conditions, and any other thing that might affect which ingredients you need and at what doses.
After you are done with the quiz, you'll receive a vitamin recommendation from a physician. Finally, when you approve the selection you can choose a three-month or six-month subscription.
Vous Vitamins Pros and Cons
Let's review what's good (and not so good) about Vous.
Vous Vitamin Pros
Formulated by physicians
30-day money-back guarantee
Made in the USA
Gluten and lactose-free
Contains non-GMO ingredients
Vegan-friendly
Subscription savings
Vous Vitamin Cons
May not be suitable for everyone
Possible side effects
Overuse of certain vitamins and minerals may lead to toxicity
Can be expensive
No transparency on all the ingredients they use
How To Use Vous Vitamins
The company recommends taking two vitamins per day. You can take one in the morning and another in the evening.
Recommended Dosage
Follow the dosage instructions given by the company. Taking more can increase the risk of side effects.
Real Customer Vous Vitamins Reviews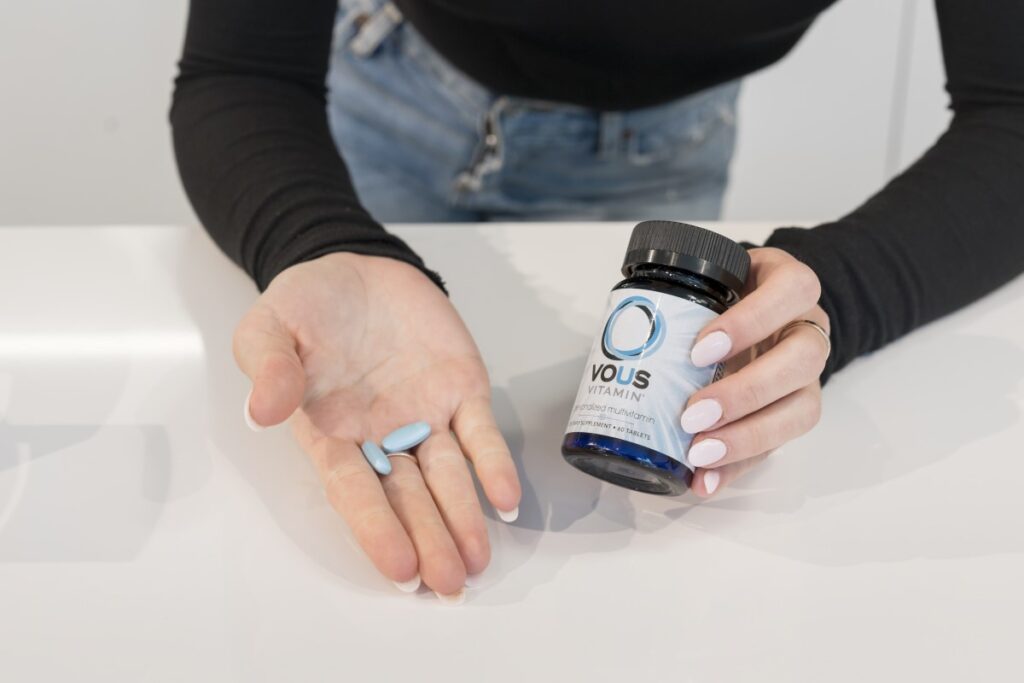 There are currently no third-party reviews regarding Vous Vitamins.
However, there are several reviews on the Vous Vitamin website, but all of them have a 5-star rating.
Let's check what some people are saying.
"Several years ago, I was not living as healthy of a lifestyle as I lead today. I weighed more than I wanted to, felt sluggish and tired. I wanted to feel better and get healthier.
One of my first steps on this journey was cleaning up my food choices, incorporating daily movement into my routine and starting to take Vous Vitamin personalized vitamins. It felt good to know that they were created by physicians and addressed my individual needs. Overtime, I lost 45 pounds; more importantly, I have maintained this healthy lifestyle for years and continue to take Vous Vitamin as a part of my healthy lifestyle.
These small, sustainable changes have been so profound that I became a health coach and advise others on their individual health journeys."
"I have been taking Vous Vitamins for over 6 years, and I have never felt better. Right away, I noticed that I didn't get the seasonal colds that I got every year. I felt energized plus my hair stopped falling out! I can't say enough about the efficacy of Vous Vitamins, they give me the health boost that I need!"
"Excellent service. The Vous Vitamin service is fun to use and the questionnaire won't stress you out or take up too much of your time. You have some control over what you receive and I appreciate that they ask about your needs.
From the time I filled out the questionnaire to the time I received my vitamins it may have been a little less than a week. The bottles are sun-protected and easy to open for people who may have disabilities. The pills are not huge nor heavy and I was able to swallow them easily. The ingredients are clearly listed on the back of the bottle. Customer service was extremely responsive.
I would use the Vous Vitamin personalized all-in-one vitamins over vitamins off of the shelf any day. I plan to repurchase."
Alternatives To Vous Vitamin
Vous Vitamins' lack of reviews and the fact they are not transparent with all the ingredients they could possibly use can create some concerns.
As a result, you might be looking for another alternative to Vous Vitamins. Here are three options for you to consider.
Persona
Persona is another personalized daily vitamin pack. You take a quiz to determine which nutrients and doses you need, or you can also purchase one of their pre-made combinations.
There are several packs for you to choose from, such as immunity, hair and nails, and cravings control.
Pros
Has certified board medical doctors.
Uses environmentally-friendly packaging.
Donates a percentage of every order.
Gives you one-on-one consultations with nutritionists.
Cons
Higher-priced supplement.
Only available through subscriptions.
You need to take the supplement daily.
Nurish By Nature Made
Finally, the last alternative is Nurish by Nature Made. It is another personalized vitamin daily supplement where you take a quiz to help the company create a tailor-made supplement.
Based on your needs, it recommends the ingredients you need to take daily to improve overall well-being.
Pros
Personalized vitamins and minerals.
30-day money-back guarantee.
Subscription servings.
You can choose which nutrients to add or remove.
Cons
You cannot consult with a professional.
You might need to take several pills a day.
Higher-priced supplement.
ONNIT Total Human
ONNIT Total Human is a complete supplement to provide you with support in the morning and the evening. One packet contains all the nutrients you need to get going in the morning and those you need for a good night's sleep.
However, keep in mind this is not a personalized program. It provides you with a set of ingredients and doses per package.
Pros
Contains all the nutrients you need.
It is not a personalized approach.
Offers a 90-day money-back guarantee.
Has high-quality ingredients.
Cons
You might need to take several pills during the day.
Need to remember to take a packet in the morning and at night.
Higher-priced supplement.
Health Benefits of Vous Vitamins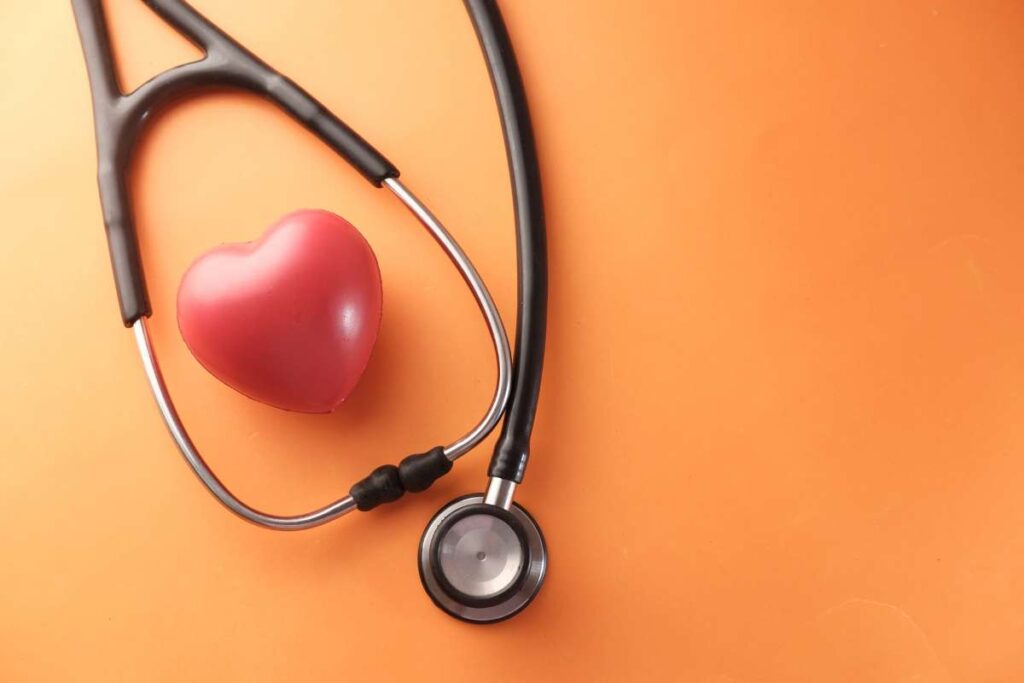 There are several benefits of Vous Vitamins. However, the benefits you get depend on the nutrients the company determines you need, so results vary for each person.
Here are some of the potential health benefits of taking Vous Vitamins:
Fills nutritional gaps.
Supports overall health and well-being.
Supports the immune system.
Increases energy levels.
Boosts cognitive function and brain health.
Promotes healthy skin, hair, and nails.
Supports heart health.
Boosts metabolism.
Supports joint health and mobility.
Reduction in menopause symptoms.
Reduced PMS symptoms.
Potential Side Effects of Vous Vitamins
As with any other supplement, side effects are possible. Some of the most common side effects include nausea, diarrhea, headaches, and dizziness.
You might also experience an allergic reaction due to certain ingredients in the supplement.
Finally, some nutrients might interact with some medications or you might end up overdosing on some nutrients. This is why it's always best to clear a supplement with your doctor before taking it.
Vous Vitamin Price
There are three options for you to purchase Vous Vitamins. You can do a one-time purchase or you can opt for subscription savings. Here are the prices for the personalized packages:
One-month trial: $40 per bottle
Three-month subscription: $30 per bottle
Six-month subscription: $25 per bottle
Where To Buy Vous Vitamins
You can purchase Vous Vitamins through their website after taking their personalized quiz.
Vous Vitamins Shipping and Returns
Vous Vitamin offers a full refund within 30 days of the initial purchase. You cannot request a refund for the situational supplements (immune boosting or recovery packs).
Company Details
Vous Vitamins Verdict
We've reached the end of this Vous Vitamins review.
Vous Vitamin has a good approach to personalized nutrition. By taking a quiz, the company can determine the nutrients (and what doses) you need to improve overall wellness and provide any additional help to any underlying condition.
However, the lack of reviews and the fact there is no transparency regarding all the possible ingredients they might use, makes you wonder about the effectiveness of the supplement.
Also, I have doubts about some of the situational supplement formulas.
Still, if you want a personalized approach to multivitamin supplements, meaning you won't get more or less than what you need, Vous Vitamins might be a good alternative.
If you want to try it, check out the official Vous Vitamin website, and let me know if you like them.
Frequently Asked Questions
What is the healthiest multivitamin brand?
This depends on the conditions and necessities of each person. However, HUM, Persona, Nurish, and Klean Athlete have high-quality multivitamin supplements worth considering.
What is the best vitamin supplement to take?
The best vitamin supplements depend on each one's needs. Make sure you consult with your doctor for guidance on which is the best supplement to take based on your needs and medication.
Can Vous Vitamins interact with medications?
Yes, depending on the ingredients you get they may interact with some medication. Make sure you consult with a doctor before taking any new supplement. 
How long does it take for Vous Vitamins to work?
It might take a couple of weeks before you notice any changes. For other people, it might take several months to get all the health benefits. 
More Product Reviews: