This post may contain affiliate links at no additional cost to you. As an Amazon Associate I earn from qualifying purchases. Click to view our full disclosure.
You've made it to my Ka'Chava review, which is a deep dive into this highly popular superfood supplement.
Ka'Chava contains a boatload of healthy nutrients and other compounds, many of which I've recommended in my time as a holistic health practitioner.
This supplement appears to be a high-quality product due to the many different superfoods, herbs, micronutrients, and other ingredients it contains. Plus, a ton of customers have left positive Ka'chava reviews.
With that said, it's important to really take a close look and see if it's effective and beneficial.
Dietitian Approved
About Kachava
Kachava, or Ka'Chava, is made by a company called Tribal Nutrition, which was founded by Simon Malone. His goal was to create a product that helped people get high-quality nutrition in today's fast-paced world.
The makers of Ka'Chava were determined to make a formula that aligns with nature's healing properties and the ways of our ancestors. This led to the inclusion of many nutrient-dense superfoods such as maca root and sacha inchi.
The end result is a formula that acts as a superfood and meal replacement at the same time.
Tribal Nutrition also claims to take many steps to ensure product quality and safety. For example, Ka'Chava is vegan, non-dairy, gluten-free, soy-free, and preservative-free. It doesn't contain any artificial colors, flavors, or sweeteners.
What is Kachava?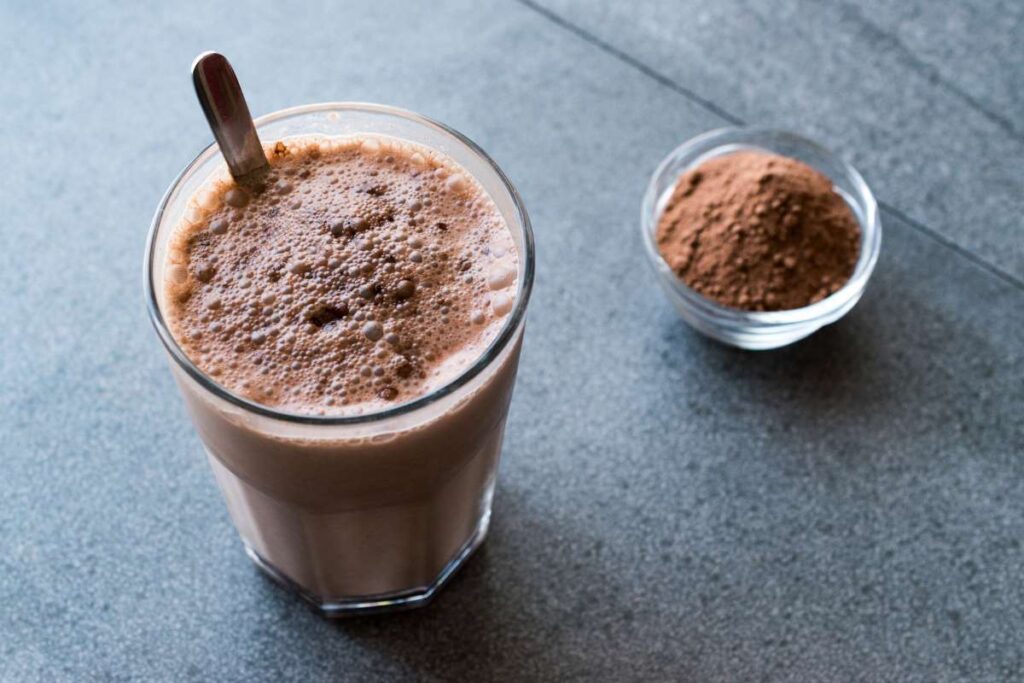 Ka'Chava is a daily superblend supplement for total body wellness. The formula contains over 85 superfoods, nutrients, and plant-based ingredients.
The makers state that Ka'Chava includes the most powerful superfoods on planet Earth. This includes a variety of plant proteins, super greens, antioxidant berries, healthy fats, vitamins, minerals, probiotics, adaptogens, mushrooms, and more.
All of these ingredients are designed to support so many areas of health. Kachava is said to be good for your skin, gut, muscles, brain, heart, hair, and pretty much every area you can imagine!
Plus, it can even act as a meal replacement as it contains 25g of protein and 240 calories per serving.
Oh, are you worried about the taste? Well, Ka'Chava claims to actually taste good, so it can be something that you enjoy rather than plug your nose and chug down.
In just a little bit, we'll see what real customers have to say about the flavor and if they saw any benefits.
Who is it best for?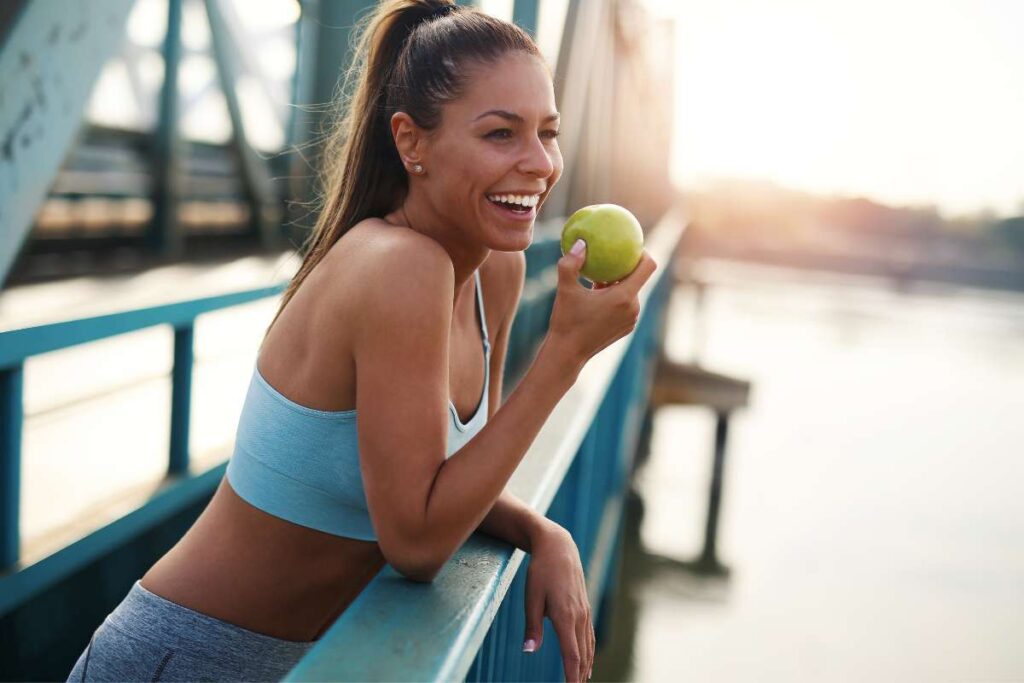 Kachava is an all-in-one supershake that can be used in many different ways.
Some people treat Kachava as a nutrient-dense protein powder to support exercise recovery and muscle growth.
Many people may also use Kachava for weight loss by switching out one of their daily meals for this superfood supplement.
Additionally, Ka'Chava is simply meant for anyone who wants to include more nutrient-dense foods in their diet to promote optimal health.
It may be a good choice if you're very busy, stressed, or on the run. It can be a convenient way to get high-quality nutrition on a tight schedule.
Is Kachava legit?
Whenever a supplement becomes highly popular, it's important to not jump right on the bandwagon. You first have to make sure it's not another garbage supplement with a really good marketing strategy.
But when it comes to Kachava meal replacement, this supplement definitely seems legit. It's made in an FDA-registered, GMP-certified facility.
It undeniably contains many healthy ingredients. Plus, there are over 40,000 positive Ka'Chava reviews, which is honestly one of the highest numbers I've ever seen for a product.
Dietitian Approved
Things To Consider Before Buying Kachava
Kachava is a rather unique supplement because it could be classified as a meal replacement, superfood, protein powder, or any combo of those three.
Now, there are some things to consider before buying Kachava to determine if it's worth buying for you personally.
This includes your intended use, budget, taste, and allergies.
Intended Use
Kachava has many different ingredients, making it very versatile.
With that said, there are some things to consider. For example, based on the Kachava nutrition facts, it contains 240 calories, 7 to 8g* of fat, 25g of protein, and 21 to 25g* of carbs.
This can be a fine meal replacement for some people, especially if you're looking to lose weight.
However, people with more muscle mass or anyone looking to get in a high number of calories per day, such as athletes, may not want to use this as a meal replacement. It simply may not be filling enough.
For those individuals, it's better used as a post-workout shake or something along those lines.
*depends on flavor
Budget Concerns
Kachava is priced on the higher end. The regular price costs $4.66/serving whereas the subscription option costs $3.99/serving.
You'll have to determine whether this fits into your budget, and this is also where intended use comes into play. If you're using it as a meal replacement, that price seems much more reasonable than, say, a serving of protein powder.
Taste
It doesn't matter how healthy a product is if you can't manage to drink it down. Many superfood supplements out there can taste very earthy or bitter.
But Ka'Chava claims to taste very good, like an actual smoothie. It comes in five different flavors, so you have the option to see which one matches best with you.
That said, many customers are big fans of the taste, especially the chocolate flavor, which is the most popular.
Allergies
Kachava is free from many allergens, but it does contain coconut. Additionally, with so many ingredients in the formula, you have to be careful that there isn't anything you're allergic or otherwise sensitive to.
After scanning the label, I can see that chlorella, certain mushrooms, and adaptogens may cause issues for some people.
Kachava Features
In this section of my Kachava review, I'm going to detail the main features that make it stand out. You'll see that there are many potential benefits that go along with these features, too.
Great Blend of Plant Proteins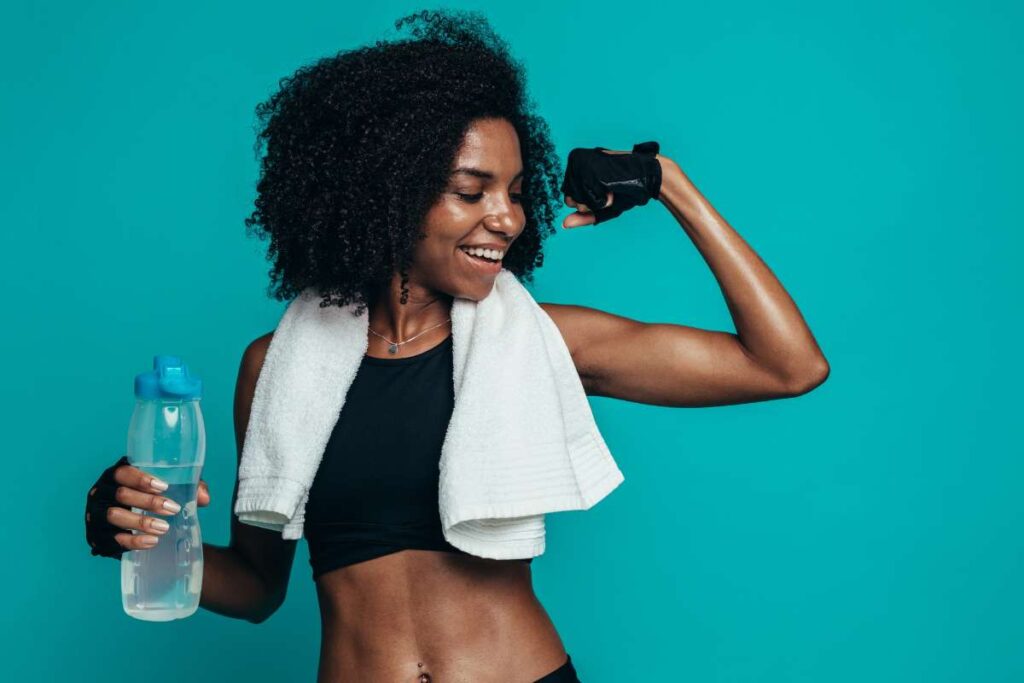 Getting enough protein can be difficult if you're really busy or on the go. These situations often lead to quick gas-station snacks or even no meal at all.
Ka'Chava claims to offer a superior blend of plant proteins to provide the nourishment and strength your body needs. It contains 25g of protein from a variety of plant proteins, such as yellow pea, brown rice, and sacha inchi.
This helps to create a complete protein with all the amino acids your body needs for health and function.
Contains Immune-Boosting Nutrients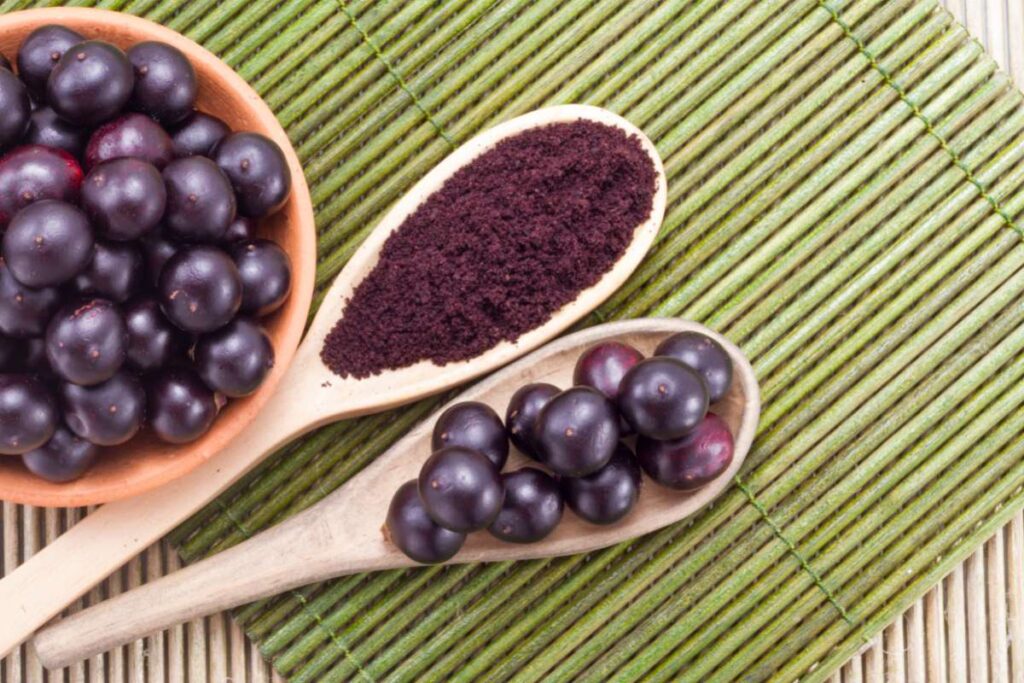 A lack of quality nutrition may compromise your immune system. This may lead to more sick days and less time being at your best, for whatever it is you want to do.
Ka'Chava is advertised to contain many different immune-boosting nutrients. This includes vitamins and minerals, such as vitamin C, vitamin D, and zinc.
There are many nutrient-rich plant compounds that may generally support immune function too, such as acai berry and spinach.
Filled with Ingredients for Energy
So many people struggle to get through the day in our fast-paced world. This often leads people to load up on energy drinks, coffee, or other stimulants.
But these can cause many problems, such as jitters, anxiety, and trouble sleeping. Not to mention, the sugar, artificial ingredients, and other garbage sometimes included.
Rather than putting you on a rollercoaster, Ka'Chava claims to give you a steady, all-day energy boost. They say that B-complex vitamins, iron, and other nutrients will give you the energy you need to tackle all that comes your way.
Plus, many superfoods and adaptogens may naturally increase energy too, such as cordyceps mushroom and maca root.
Mood-Boosting Compounds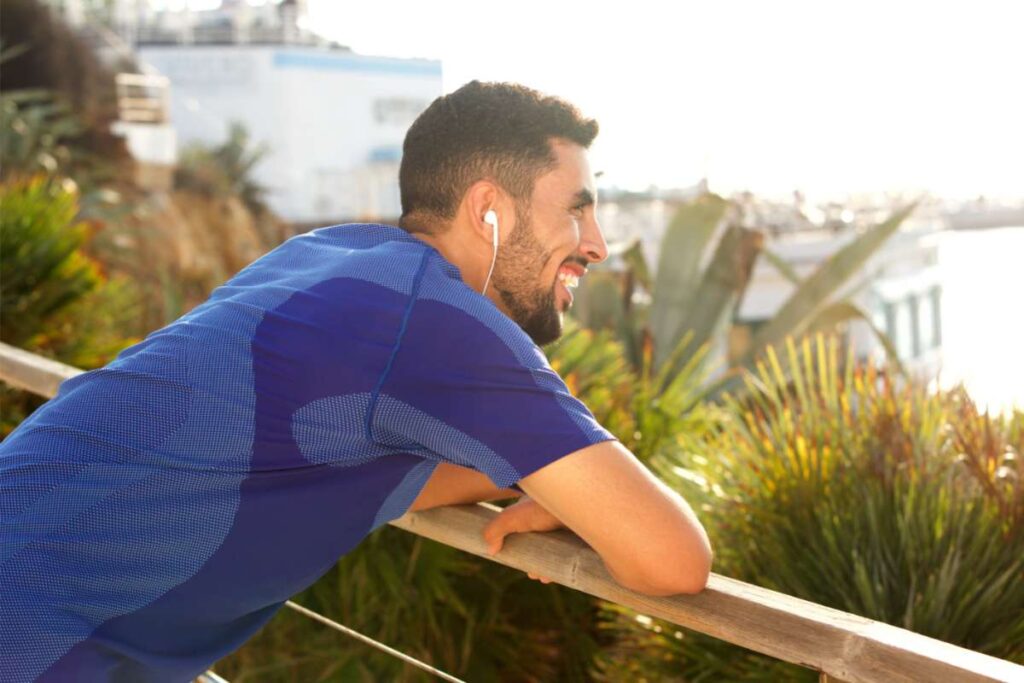 We often think of poor nutrition as a driver of physical ailments. But an unhealthy, low-nutrient diet can also increase the risk of mental problems and mood disorders, such as depression.
Ka'Chava superfood claims to boost your mood and improve overall mental health with key nutrients, such as magnesium and vitamin D. On top of that, Kachava is filled with antioxidants, probiotics, and other nutrients that may support mental well-being.
Adaptogens for Stress Management
It's no question that people are faced with increasing stress levels. Perhaps you know this all too well, whether that's from your hectic job, family obligations, health issues, or lack of sleep.
It's safe to say that the modern world isn't very conducive to peace and relaxation. And that's why extra measures often need to be implemented.
Well, Ka'Chava is advertised to help your body deal with stress, both physically and mentally. This is due to the inclusion of adaptogen compounds, such as reishi mushroom and maca root. These are meant to balance the stress response and help your body achieve balance.
Many other nutrients in Ka'Chava may provide a stress-busting experience too, such as magnesium.
Diverse Mix of Ingredients for Digestive Support
Poor gut health is a really common problem due to poor diet, stress, and other factors.
Unfortunately, an unhealthy gut increases the risk for other health problems, such as inflammation, obesity, depression, and metabolic dysfunction.
As you can see, there's more to it than just the uncomfortable digestive symptoms like bloating or stomach pain.
The makers of Kachava claim that this formula will improve gut health from all angles. Ka'Chava utilizes probiotics, prebiotics, and digestive enzymes. They say this will improve the health of your gut, reduce bothersome symptoms, and improve overall digestion.
Loaded with Nutrient-Dense Fruits and Veggies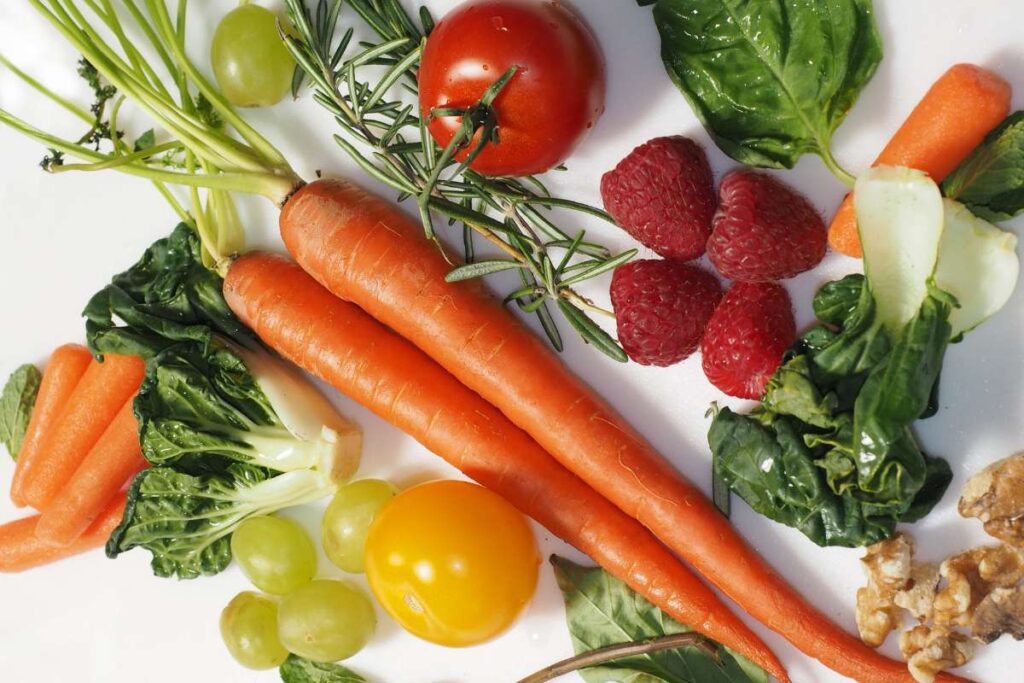 It can be hard to get the daily recommended amount of fruits and vegetables. Maybe there are days where you're busy and don't have time to prepare fresh meals.
Or you're worried about the cost of produce. Not to mention, the many temptations at work or school that can drive you away from eating healthy.
Whatever the case may be, it's important to counter those factors and get enough nutrition. Kachava may help you do that as it claims to be loaded with nutrient-dense superfood fruits and vegetables.
Some of the foods you'll find in this formula are strawberry, tart cherry, blueberry, carrot, broccoli, spinach, and cucumber, among many others.
These are all blended up in powdered form to provide you with a highly convenient way to get in many vitamins, minerals, antioxidants, and other nutrients.
Does Kachava really work?
Alright, let's cut right to it. If you're wondering if Kachava works, I can tell you that it's very likely an effective supplement for overall health.
Now, it depends on your specific goals, health problems, and other individual factors. Whatever the case, Ka'Chava does include a lot of nutrients your body needs for total wellness.
I also like that it's a diverse range of ingredients, many of which are organic. Many customers seem to enjoy it, too. There are tens of thousands of positive reviews on Kachava that outline the benefits.
Continue reading this Ka'Chava review to learn more about the ingredients and possible health effects.
Ka'Chava Nutritional Label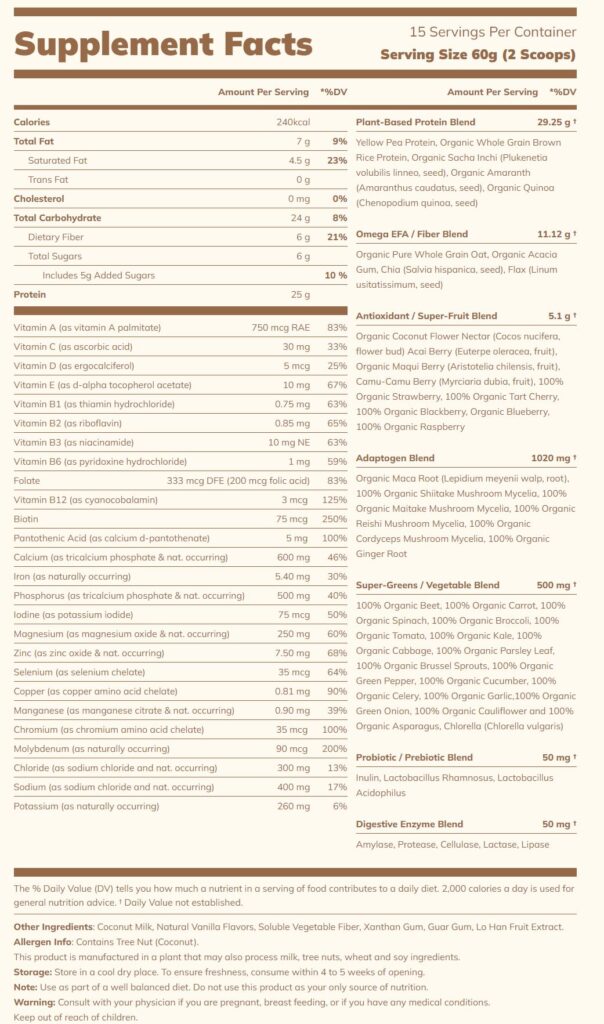 Ka'chava Ingredients
Grab a snack and sit back for this next – and very important – section of my Kachava review. There are many different ingredients to go over, so this will be pretty long. But I've grouped the ingredients based on specific blends to make it easier to follow.
Here are Kachava's ingredients:
Plant Protein Blend
Adaptogen Blend
Antioxidant/Super-Fruit Blend
Omega EFA/Fiber Blend
Super Greens/Vegetable Blend
Digestive Enzyme Blend
Probiotic/Prebiotic Blend
Vitamin Blend
Mineral Blend
Other ingredients in Kachava are:
Coconut Milk
Natural Flavors
Soluble Vegetable Fiber
Xanthan Gum
Guar Gum
Lo Han Fruit Extract
Plant Protein Blend (27.75 to 30.4g*)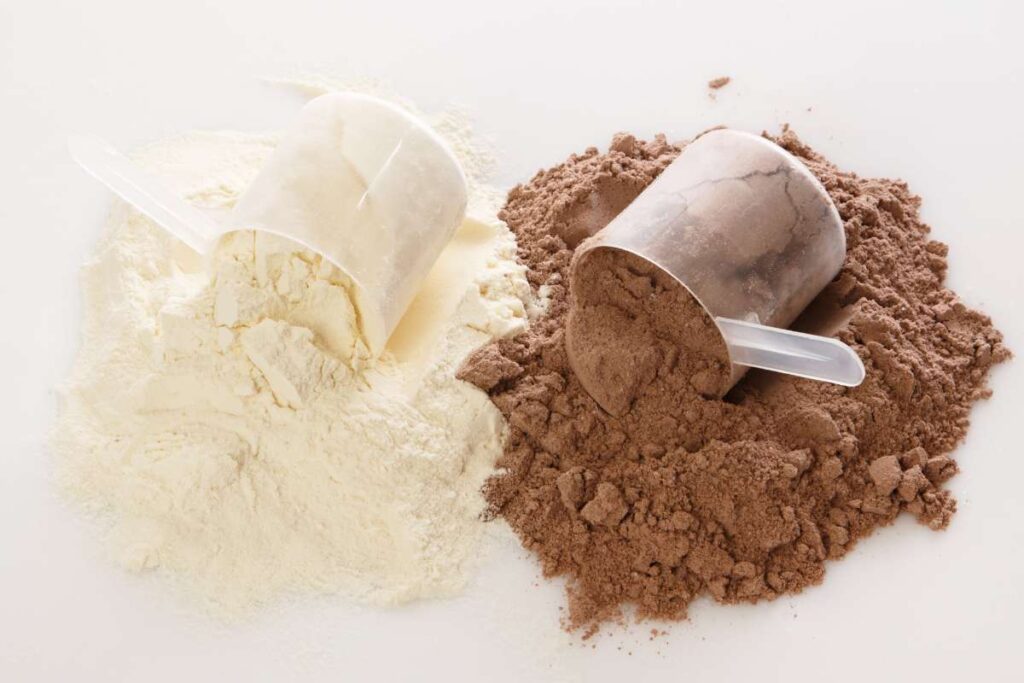 The Plant Protein Blend consists of five different protein sources:
Yellow pea protein
Organic whole grain brown rice protein
Organic sacha inchi seed
Organic amaranth seed
Organic quinoa seed
The total weight of the blend varies from flavor to flavor, but they all provide 25g of protein per serving.
This combination of proteins seems to provide a complete amino acid profile. For example, both pea protein and brown rice protein are rich in essential amino acids and have a high protein digestibility.
They complement each other because pea protein is low in methionine but high in lysine, whereas brown rice protein is low in lysine but high in methionine.
So, it's an intelligent combo. And there is evidence that these proteins can improve muscle recovery, boost strength, promote fullness, and improve overall health.
The other ingredients are beneficial, too.
Sacha inchi, amaranth, and quinoa seeds contain a variety of healthy fats, protein, and various vitamins, minerals, and phytochemicals (plant compounds).
These plant foods may have benefits for metabolism, inflammation, antioxidant support, heart health, and much more.
Adaptogen Blend (1,020mg)
The Adaptogen Blend is made up of six different herbs and mushrooms:
Organic Maca Root
Organic Shiitake Mushroom Mycelia
Organic Maitake Mushroom Mycelia
Organic Reishi Mushroom Mycelia
Organic Cordyceps Mushroom Mycelia
Organic Ginger Root
Organic Maca Root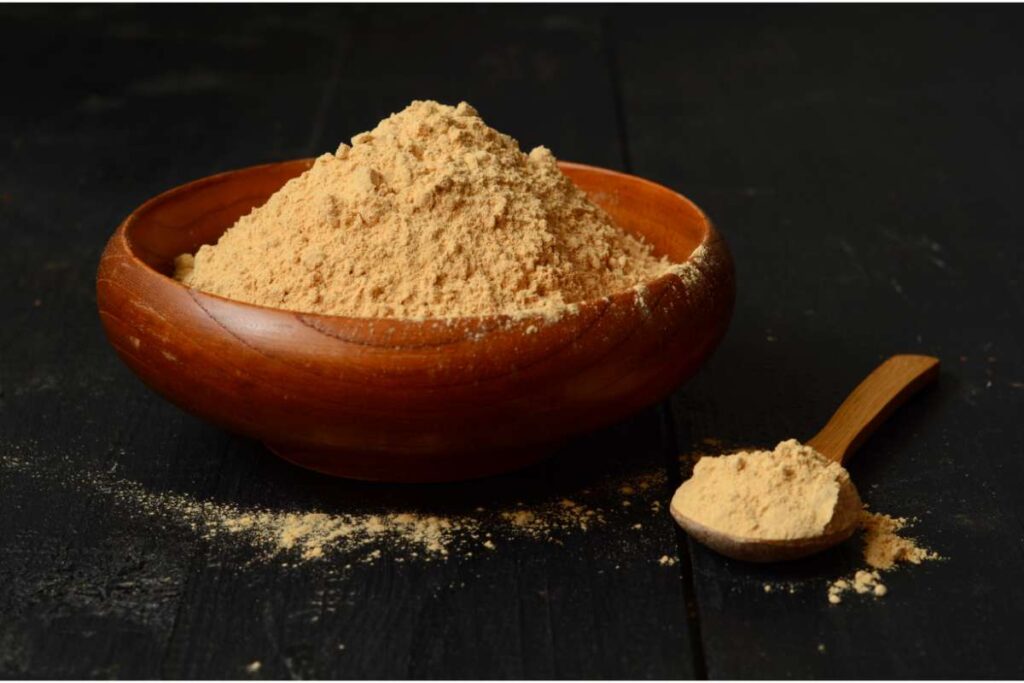 Maca root has been used for many years in traditional medicine. It's filled with vitamins, fiber, minerals, and bioactive compounds.
Possible benefits include improved sexual function, better brain health, hormonal support, anti-inflammatory effects, and others.
Effective dosage according to Examine: 1,500 to 3,000mg
Organic Medicinal Mushrooms
Kachava contains four organic medicinal mushrooms that offer similar benefits. All of these are rich in beta-glucan, fiber, vitamins, minerals, antioxidants, healthy fats, and other compounds.
Medicinal mushrooms may have benefits for immunity, gut health, brain function, energy, fatigue reduction, inflammation, and more.
Effective dosage according to Examine (based on evidence for reishi): Around 1 to 5g
It's likely that this dose holds true for most mushrooms given their similar effects, but we need more evidence.
Organic Ginger Root
Ginger root is packed with bioactive compounds, vitamins, and minerals. There is evidence that this herb reduces nausea and vomiting, improves metabolism, decreases inflammation, and improves overall digestive health.
Effective dosage according to research: 1 to 3g
Antioxidant/Super-Fruit Blend (5.1 to 6.1g*)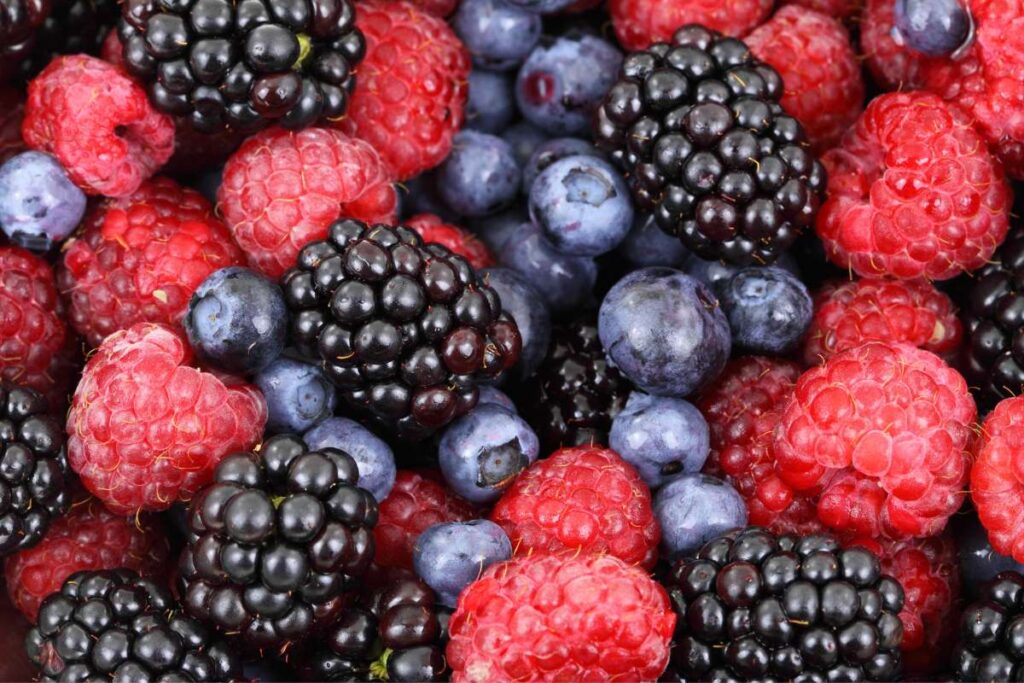 The Antioxidant/Super-Fruit Blend is filled with nine antioxidant-rich superfoods:
Organic Coconut Flower Nectar
Acai Berry
Organic Maqui Berry
Organic Camu-Camu
Organic Strawberry
Organic Tart Cherry
Organic Blackberry
Organic Blueberry
Organic Raspberry
Organic Coconut Flower Nectar
Coconut flower nectar is a healthy sugar source to provide natural energy. Evidence shows that coconut flower nectar is rich in vitamin C, antioxidants, and electrolyte minerals, such as sodium and potassium.
All of these may improve inflammation and benefit exercise.
Exotic and Common Berries
The rest of this blend features eight different berries. All of these are loaded in antioxidant compounds such as anthocyanins, ellagic acid, and resveratrol.
Moreover, they contain vitamins, minerals, fiber, and healthy sugars.
Acai, maqui, and camu-camu are sometimes referred to as superfruits due to their exceptional concentration of antioxidants.
But make no mistake, all of these berries are beneficial. Generally speaking, berries provide many health benefits, such as improved heart health, enhanced brain function, lower inflammation, and improved metabolism.
This is due in part to the potent antioxidant and anti-inflammatory effects of berries.
Effective dosage (based on evidence for blueberries): Around 5.5g
Omega EFA/Fiber Blend (9.5 to 11.12g*)
The Omega EFA/Fiber Blend contains four plant foods:
Organic Pure Whole Grain Oat
Organic Acacia Gum
Chia Seed
Flaxseed
Organic Pure Whole Grain Oat
The common oat contains many healthful substances, such as fiber (e.g. beta-glucan), many minerals, and bioactive compounds.
Research suggests that consuming oats reduces cholesterol, improves metabolism, and boosts gut and immune health.
Organic Acacia Gum
Acacia gum is a type of prebiotic fiber, which helps feed the good bacteria (probiotics) in your gut. This may lead to improved gut health, digestion, and immunity, among other things.
Chia Seed and Flaxseed
Chia seeds and flaxseeds are rich in essential omega fatty acids. Plus, they contain an abundance of vitamins, minerals, fiber, and bioactive compounds.
Evidence points to many benefits of chia and flax, such as improved gut health, heart support, decreased inflammation, and brain support.
Effective dosage: Unclear at this time
Super Greens/Vegetable Blend (500 to 655 mg*)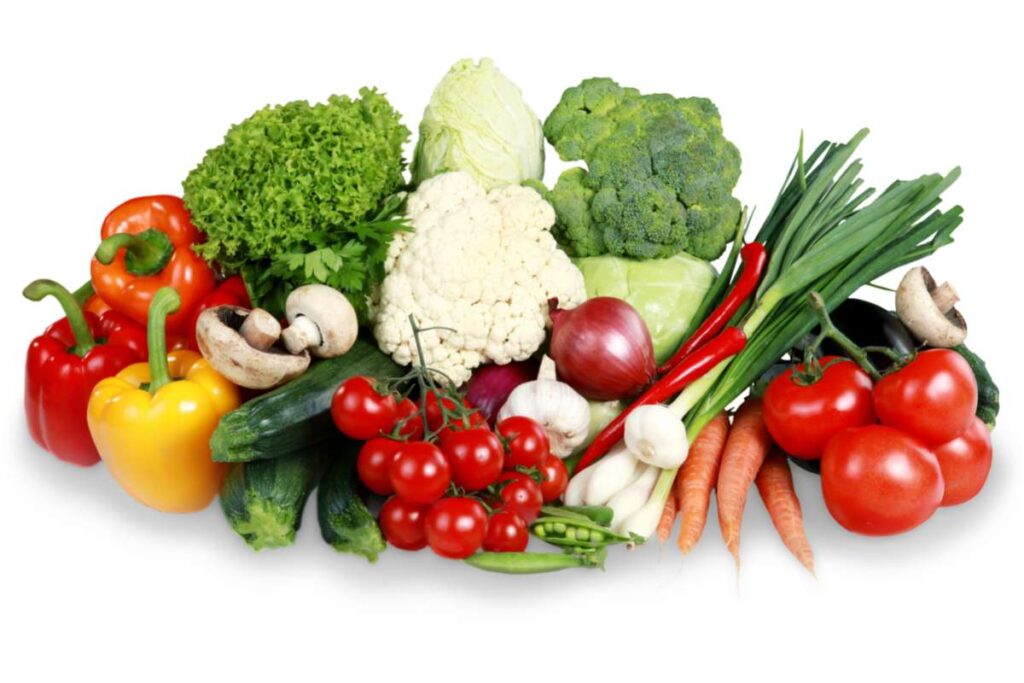 The Super Greens/Vegetable Blend consists of a wide array of vegetables and greens:
Organic Beet
Organic Carrot
Organic Spinach
Organic Broccoli
Organic Tomato
Organic Kale
Organic Cabbage
Organic Parsley Leaf
Organic Brussel Sprouts
Organic Green Pepper
Organic Cucumber
Organic Celery
Organic Garlic
Organic Onion
Organic Cauliflower
Organic Asparagus
Organic Chlorella
Most flavors contain 500 to 655 mg of these ingredients. The exception is the Matcha Green Tea flavor which comes in much higher at 1,950mg. This is because this flavor has two extra ingredients which make up most of the blend in this flavor:
There are clearly many different vegetables in here, but they all have the same general benefits. Mainly, vegetables contain numerous vitamins, minerals, fiber, and perhaps most importantly, phytochemicals. These include flavonoids, carotenoids, polyphenols, carotenoids, and many others.
Altogether, the diverse nutrients in vegetables seem effective for reducing inflammation, improving gut health, aiding vision, boosting heart health, improving brain function, and warding off disease.
Listed below are some brief ways these vegetables stand out from each other.
Organic Broccoli, Cabbage, Brussel Sprouts, Cauliflower, & Kale
Broccoli, cabbage, brussel sprouts, cauliflower, and kale are all cruciferous vegetables. These veggies are high in cancer-fighting compounds and contain a lot of vitamin A, K, fiber, and folate.
Organic Garlic and Onion
Garlic and onion are allium vegetables. One of their unique benefits is the inclusion of flavonoids such as quercetin, which reduces inflammation. They also are helpful for lowering blood pressure and improving metabolism.
Organic Spinach and Parsley
Spinach and parsley are leafy greens. They contain a lot of minerals, vitamins, and antioxidants such as carotenoids. Leafy greens are helpful for many areas of health, such as gut health, brain function, metabolism, and bone health.
Organic Carrot and Beet
Carrots and beets are root vegetables. They are filled with prebiotic fibers, vitamin A, carotenoids, and polyphenols, among many other nutrients.
Root vegetables are beneficial for gut health, vision, heart health, and many others.
All Others: Cucumber, Tomato, Bell Pepper, Celery, & Asparagus
The rest of the vegetables can't be grouped very well. But these certainly still provide many benefits just like the others, as we know about vegetables in general.
All of these are rich in vitamins, minerals, antioxidants, and phytochemicals supportive of many areas of health.
Chlorella
Chlorella is a freshwater algae. It contains chlorophyll, healthy fats, and many vitamins, minerals, and antioxidants.
It seems effective for lowering blood pressure, reducing inflammation, and improving immune function, to name a few.
Effective dosage based on research: 6 to 10g (tentative)
Digestive Enzyme Blend (50mg)
The Digestive Enzyme Blend contains five digestive enzymes:
Amylase
Protease
Cellulase
Lactase
Lipase
These enzymes are necessary for breaking down nutrients and helping the body absorb them. Amylase digests starches; protease digests protein; cellulase breaks down plant fibers; lactase improves lactose digestion; and lipase helps digest fats.
Altogether, the digestive enzymes may reduce digestive symptoms and improve nutrient absorption.
Probiotic/Prebiotic Blend (50mg)
The Probiotic / Prebiotic Blend in Kachava is made up of three ingredients:
Inulin
Lactobacillus rhamnosus
Lactobacillus acidophilus
Inulin
Inulin is a prebiotic fiber which feeds the good bacteria and improves gut health. There is evidence that inulin improves digestive health, enhances fat metabolism, and controls blood sugar.
Lactobacillus Rhamnosus and Lactobacillus Acidophilus
Lactobacillus rhamnosus and Lactobacillus acidophilus are two very well-researched probiotics. These two types of good bacteria colonize in the gut and digestive system where they provide health benefits.
Probiotics may reduce digestive symptoms, such as bloating, nausea, gas, and indigestion. They also seem to improve general gut health and other areas of health.
Vitamin Blend
Ka'Chava includes every vitamin except for vitamin K. So, it has vitamin A, all eight B-complex vitamins, vitamin C, and vitamin D.
Below are some brief benefits of these vitamins:
The effective dosage for these depends on how much you're getting from your diet. Essentially, you want to supplement with whatever dose is necessary to reach the RDI when accounting for dietary intakes.
Mineral Blend
There are 14 minerals in Ka'Chava, too. These are:
Calcium
Phosphorus
Iodine
Iron
Magnesium
Zinc
Selenium
Copper
Manganese
Chromium
Molybdenum
Chloride
Sodium
Potassium
Listed below are some ways that each mineral stands out. Keep in mind that all minerals generally provide benefits for cellular function and major systems of the body.
The effective dosage for any of these is similar to vitamins. That is, whatever dose is needed to reach the RDI, after accounting for dietary intake.
Available Flavors
Kachava protein powder comes in five flavors:
Vanilla
Chocolate
Coconut Acai
Chai
Matcha
After reading many Kachava reviews, most people bought the chocolate flavor and said it was very tasty. The other flavors generally got good reviews as well.
Kachava Pros
Alright, so far in this Kachava review, I've gone over most of the main aspects of this superfood supplement. Now, it's time to break down the biggest positives.
Pros
25g of protein
Gluten-free, dairy-free, soy-free
Plant-based, vegan
Free of preservatives and artificial colors, flavors, and sweeteners
Great mix of superfruits and antioxidants
Includes many supergreens and vegetables
Adaptogens for stress support
Many different ingredients for gut health
Has vitamins and minerals to help reach RDI
Five flavors
30-Day 100% Money-Back Guarantee
Kachava Cons
No supplement is perfect. Even though this is overall a good product with positive reviews, there are some cons, too. This section of my Kachava superfood review lists the main cons to be aware of.
Cons
Priced on the higher end
Might not be filling enough as a meal replacement
Possible allergies/sensitivities
Uses proprietary blends
Only available on Ka'Chava website
Dietitian Approved
How to Use Kachava
Kachava is a powder that comes in a bag. You can mix the powder with water or other beverage of choice, either in a blender or in a shaker bottle.
Kachava recommends using cold water and ice to bring out the best flavors. You can also use almond milk or another non-dairy milk. Feel free to put in extra ingredients to make a smoothie, such as nut butters or frozen berries.
Recommended Dosage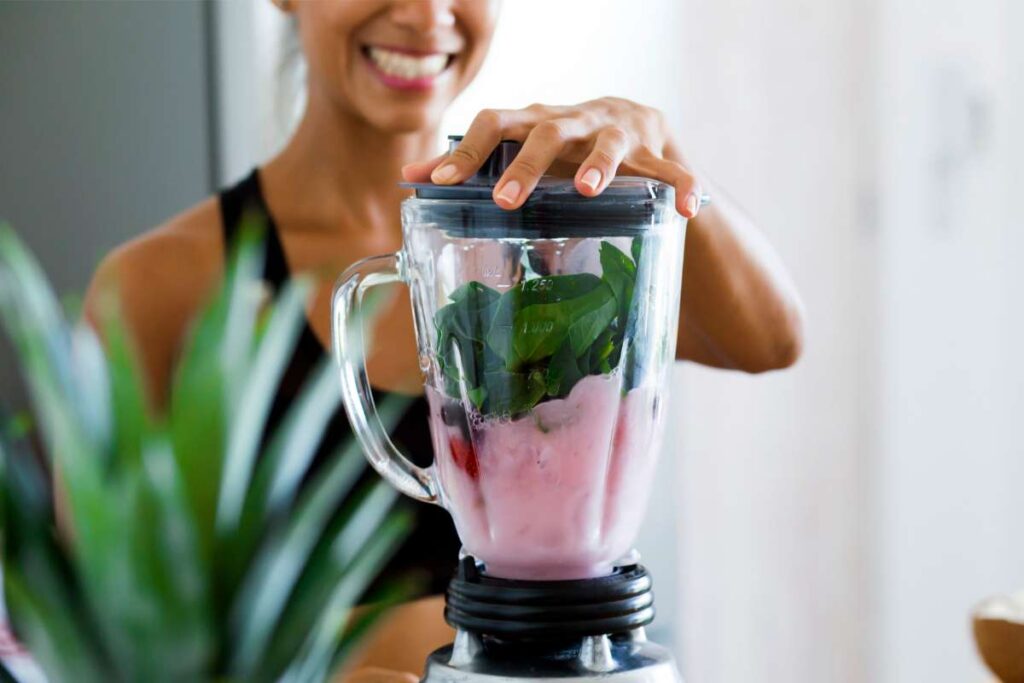 The recommended dosage is two heaping scoops mixed with 12 to 14 ounces of water. Again, you can mix it into your smoothies or another liquid.
Do not exceed the recommended daily dosage as this could increase the likelihood of side effects.
Real Customer Kachava Reviews
Do you want to know what other customers are saying about Kachava? Ultimately, it's one of the most popular products on the supplement market. On the official website, it's rated 4.6 out of 5 based on over 56,000 reviews. You see what I'm saying?
There were many positive comments from customers. Here are some of the main ones I saw after reading through hundreds, if not thousands, of Ka'Chava reviews:
Many customers said it helped them lose weight
A lot of buyers enjoyed the taste, regardless of which flavor
Seemed to improve energy levels
Helped to reduce hunger and satisfy cravings
Many people said it was a nice option for a convenient meal when busy
Provided good fuel for workouts or as a workout recovery product
Customers noted improvements in overall sense of well-being
Some people said it improved clarity and general brain function
Not all of the Kachava shake reviews were positive, though. Listed below are some things people didn't like:
A lot of customers said it was too expensive, even those that rated it highly otherwise
Some people said it didn't taste great, particularly with just water
Some buyers said Kachava was hard to mix; left a "gritty" feeling.
Quite a few people stated that they felt hungry a little after; didn't fill them up well.
This product has the most reviews I've ever seen, which helps to ensure validity and legitimacy.
Here are some specific Ka'Chava reviews from real customers:
"More energy through the day and the great taste is a plus! Will order more!" -Miguel R.
"Delicious, digests well, satisfies hunger, stops my sugar cravings, and gives me energy. Pure magic!" -Linnea L.
"I Ka'Chava every morning for a nice quick start to my day! It makes me feel full and energized! No sugar rush/crash. It is wonderful!" -Christine L.
"Love that it has all of the good things I want in a shake. I've actually been able to save money because I don't have to buy other supplements, like greens/fruits/veggies, that I had to add to my previous shakes. Great product, definitely worth the money. I really like the taste & consistency of the chocolate shake. I find myself wanting more as soon as I'm done!" -Kimberly H.
"The taste is great and the consistency awesome. But what really impressed me is the way I feel after I drink it. I don't know what kind of magic fairy dust you have in it but I immediately feel healthier. My body must've been craving the nutrients." -Dagney S.
"This is an absolutely outstanding product…I mix mine with Vanilla Almond milk, ice and either an apple or mixed berries. My energy level is up and I'm losing weight, all a plus. However, their 30[-day] schedule for auto delivery is misleading because by using two scoops of powder as recommended, the bag only lasts 15 days…two bags per month instead of just one as I was led to believe. I love the product and will continue to use it but $122 per month is a bit pricey!" -Perry G.
"This is a great product which provides awesome nutrition for your body and health. It tastes and blends great with water. I have noticed it has eased stomach ailments and provides a boost for working out." -Darryl K.
"Taste is ok. I enjoy it better mixed with other things in blender. But it does fill me up and I don't need a meal if I drink it for breakfast or lunch. The cost is high compared to similar protein powder drinks." -Joshua B.
"it's a good product…. it's just too high of a cost compared to similar items in the marketplace. Taste is good" -Chris D.
Kachava Alternatives
There are a lot of superfood supplements and protein powders out there. In this section of my review, I'm sharing a selection of Kachava alternatives.
Since Kachava is such a diverse supplement, there are many possible alternatives, such as protein powders, superfood supplements, and more. Here are some details on Power Life Plant Protein, Athletic Greens, and Supergreen Tonik.
Power LIfe High Impact Protein
Power Life High Impact Plant Protein contains a mixture of vegan proteins, such as pumpkin seed, flaxseed, sunflower seed, and mung bean. It contains 15g of protein per serving.
It also comes with HMB and vitamin D3, which they claim offers additional support for muscle growth and maintenance.
Finally, chlorella and digestive enzymes might improve gut health and total wellness.
Pros
High-quality plant protein sources
Pretty good dose of protein per serving
90-Day Money-Back Guarantee
Third-Party Tested
Includes HMB and muscle-supportive nutrients
Cons
Really high priced
Not a meal replacement on its own
Some may want a higher protein dose
Read our Power Life High Impact Protein review.
Athletic Greens
Athletic Greens is a supercharged green supplement that contains over 75 different ingredients. It is filled with prebiotics, probiotics, and digestive enzymes for gut health. And there are so many others, such as superfoods, adaptogens, and antioxidants.
All of these ingredients are advertised to improve total wellness. Specific benefits include decreased fatigue, improved immune function, better recovery, stress management, and optimal gut health.
Pros
NSF-certified for sports
Contains well researched ingredients
Great mix of superfoods
Suitable for vegans, vegetarians, paleo, and keto diets
Non-GMO ingredients
Available in sachets, which is convenient for on the go
60-day money-back guarantee
Cons
Higher priced supplement
Uses proprietary blends
Only available online
Low amount of some minerals
Read our Athletic Greens review.
Supergreen Tonik
Supergreen Tonik is loaded with 38 superfoods, adaptogens, and other ingredients. Examples include spinach, theanine, ashwagandha, rhodiola, chlorella, and dandelion leaf. It is designed for immunity, energy, brain function, sleep, and total wellness.
The ingredients in Supergreen Tonik are meant to slash brain fog, reduce anxiety and stress, and simply give you a better quality of life.
Pros:
Fully transparent label
Clinically researched ingredients (38 in total)
No artificial ingredients
One-year guarantee
Dairy-free, caffeine-free, egg-free, soy-free
Cons
Higher-priced
No fruits in the formula
Some customers do not like the taste
Read our Supergreen Tonik review.
Health Benefits of Kachava
Kachava has many possible health benefits, which we can attribute to the 85+ ingredients in the formula:
Boosts Immune System
Increased Energy
Improved Brain Function
Muscle Recovery & Strength
Enhanced Digestion & Gut Health
Stress Reduction and Sleep Improvement
Reduced Inflammation
Weight Management
Supports Heart Health
Bone and Joint Support
Boosts Immune System
Kachava may boost immune system function due to many immune-supportive nutrients, such as vitamin C, zinc, and vitamin D. It also includes numerous superfoods that may improve immune health, such as reishi mushroom, various berries, and deep-colored vegetables.
Increased Energy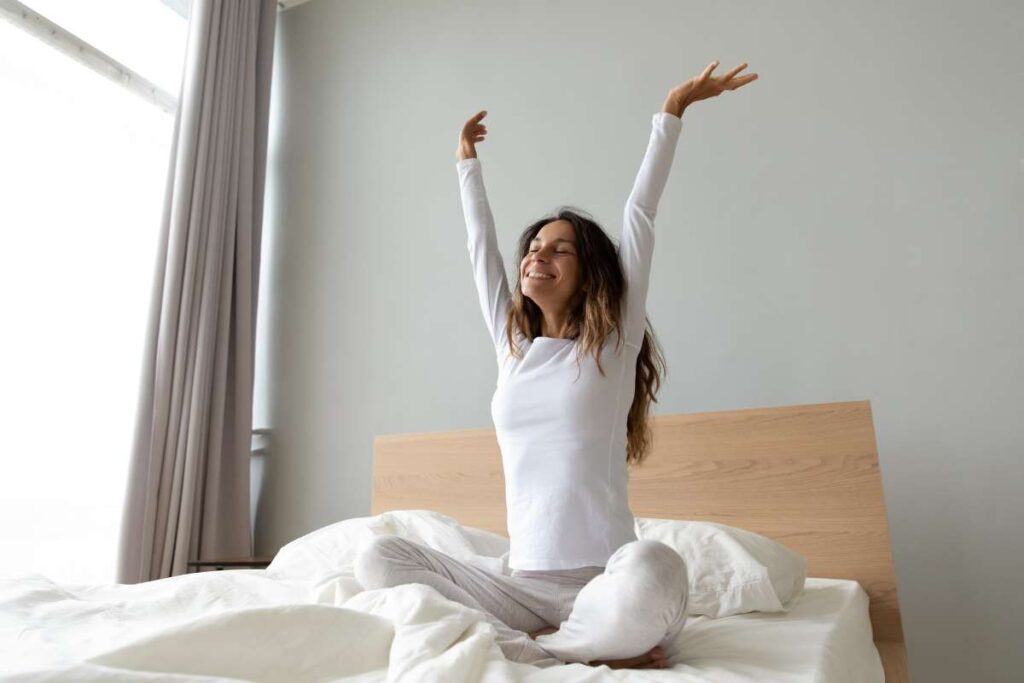 Increased energy may occur due to the various superfoods included, as well as B-complex vitamins and iron. Basically, Kachava helps to give your body more nutrients, which improves overall energy.
Improved Brain Function
Kachava meal replacement may also enhance brain function and mental clarity. There are antioxidants in here which could decrease stress in the brain.
Not to mention numerous nutrients generally supportive of cognitive function, such as B vitamins, magnesium, and zinc.
Muscle Recovery & Strength
This supplement may support muscle recovery and strength due to the inclusion of high-quality plant protein sources. These have all of the amino acids that your muscles need.
Plus, Kachava includes various compounds for muscle function, such as electrolyte minerals and vitamin D.
Enhanced Digestion & Gut Health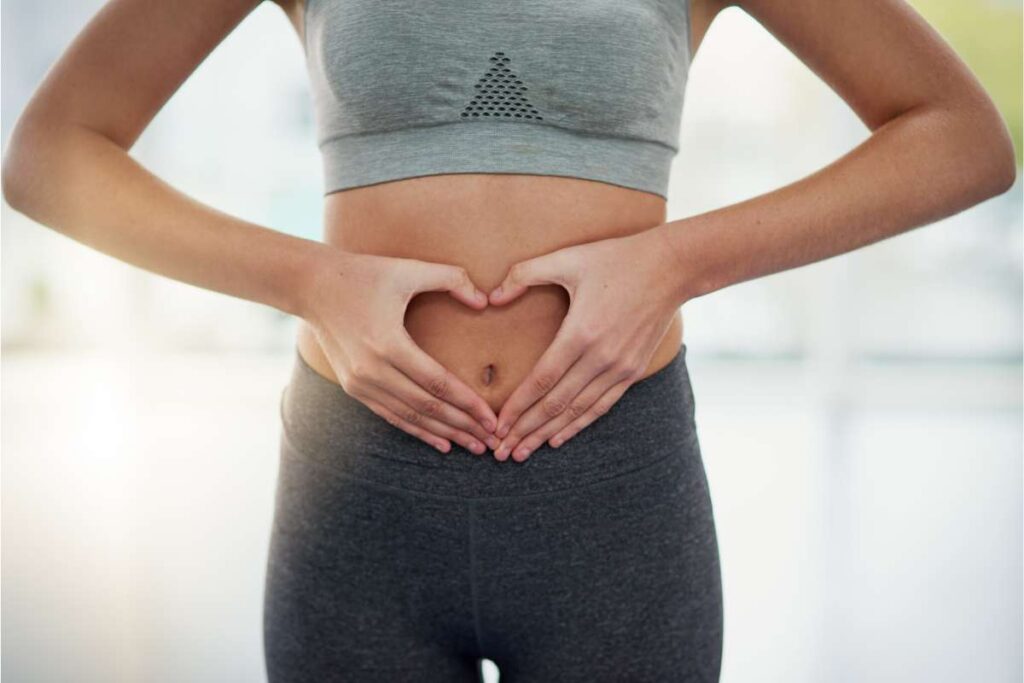 Kachava is filled with ingredients that may improve digestion and enhance overall gut health, including probiotics, prebiotics, and digestive enzymes.
These may work together to improve digestion, reduce gut problems, and promote digestive balance.
Stress Reduction & Sleep Improvement
It's possible that Ka'chava benefits sleep quality and reduces stress. This is due to the inclusion of adaptogens, which reduce stress.
Other compounds here may also offer stress and sleep support, such as magnesium, B vitamins, and zinc.
Reduced Inflammation
Kachava may reduce inflammation thanks to the antioxidant-rich foods it contains. Examples of anti-inflammatory foods in Kachava are the berries, leafy greens, and omega-3s from chia and flax seeds.
Weight Management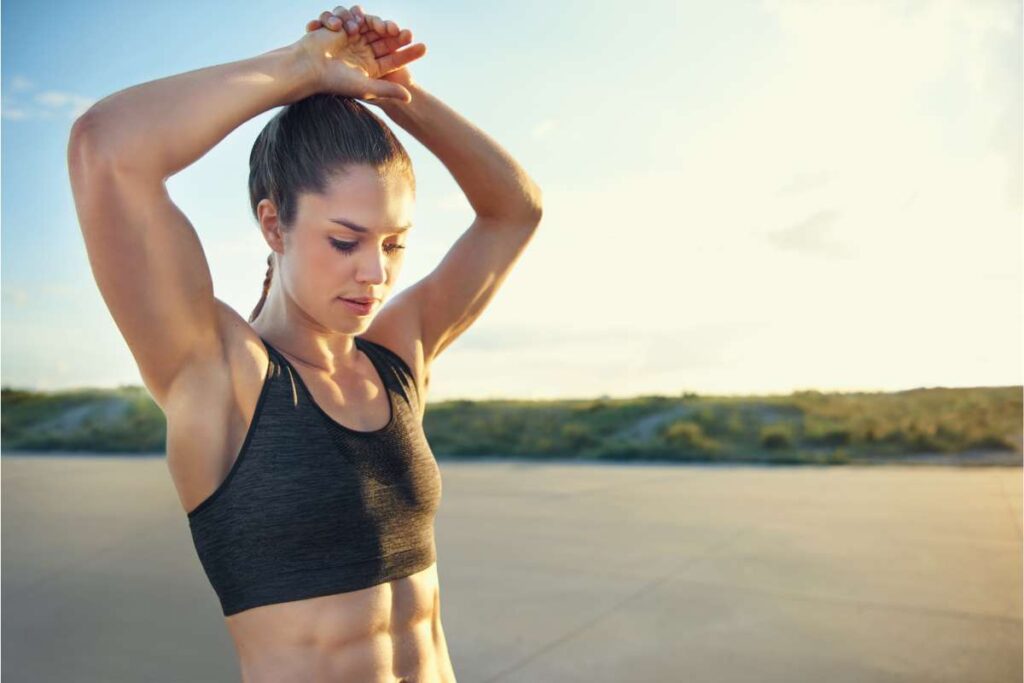 Kachava contains only 240 calories yet has a substantial amount of protein, healthy fats, and fiber, which may increase fullness and reduce cravings.
Not to mention, you can get the general benefits that fruits, vegetables, and other superfoods have on metabolism and weight loss.
Supports Heart Health
Kachava may generally support heart health thanks to a variety of healthful ingredients, such as oats, berries, leafy greens, and fiber.
Beets may also improve circulation and blood flow. Plus, there are many other ingredients generally supportive of heart health, such as calcium, magnesium, and potassium.
Bone and Joint Support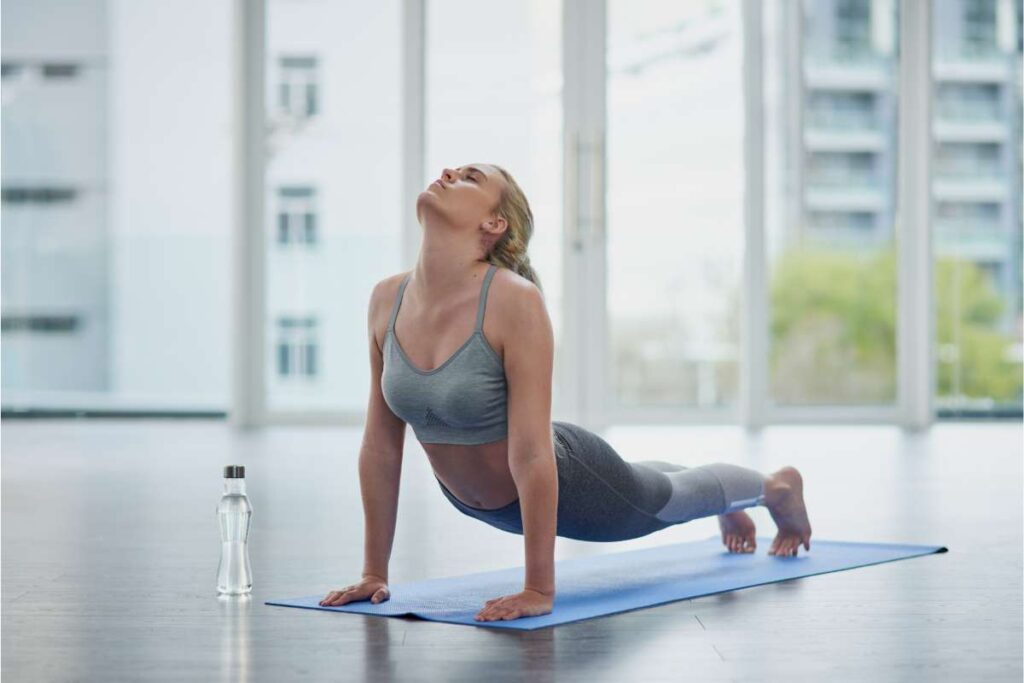 Kachava could provide general benefits for bone and joint support. This is due to a selection of minerals, such as calcium, phosphorus, and magnesium, as well as vitamin D.
The antioxidant and anti-inflammatory effects of various fruits, vegetables, and other foods may also protect the joints and keep them healthy.
Potential Side Effects
With over 85 Kachava ingredients, there are some possible side effects. All of the ingredients are generally safe to consume, and they are all-natural.
With that said, some users may experience digestive symptoms, such as bloating, gas, or stomach discomfort.
Other possible side effects are allergic reactions and headaches. B-complex vitamins, maca, and adaptogens may cause increased anxiety, jitters, or nervousness in some people.
If you're unsure, it's always best to run a supplement by your doctor before taking it, especially if you're on medication or have a known health condition.
Kachava Price
Earlier, I stated how many customers were concerned about Kachava's cost. And after looking at the price myself, it definitely is on the higher end.
You get 15 servings (30 heaping scoops) per bag. The regular price is $69.95 ($4.66/serving).
You can choose the Subscribe & Save option to save $10, which lowers the price to $59.95 ($3.99/serving). You can get it delivered every 15, 30, or 45 days.
This price definitely seems steep, but keep in mind the product utility. If you're using it as a meal replacement, four to five bucks is actually pretty affordable. But things change a bit if you want to use it as a wellness drink or protein shake, as there are generally lower-priced options out there.
Dietitian Approved
Where to Buy Ka'Chava
Currently, Kachava is only available for purchase on the official website.
It's best to buy from the main site, anyway, to reduce the chances of getting a counterfeit product.
Ka'Chava Shipping & Returns
Ka'Chava offers free shipping on orders of two or more bags.
They currently only ship to the 50 states in the USA.
Ka'Chava also has a 30-Day Money-Back Guarantee. If you're not satisfied, let them know within 30 days of receiving your product, and you will get your money back. You can return one bag of each flavor, even if they're empty.
Company Details
Ka'Chava is a US-based company out of Henderson, Nevada.
You can contact customer support with questions, comments, or concerns at this email: [email protected].
Kachava Final Verdict
Well, you've finally made it to the end of my Kachava review. We sure have covered a lot!
One of the most unique things about this supplement is its diverse ingredient profile. And that's likely why so many different kinds of people are looking to buy it.
So many people are struggling with health issues that Kachava claims to deliver on. This includes weight gain, low energy, poor gut health, brain fog, and excessive stress, just to name a few.
If you find yourself dealing with any of those problems, it's truly an all-in-one product worth looking into.
It has berries and other antioxidant-rich fruits, vegetables and supergreens, fiber, plant-based protein, and healthy fats.
Oh, and there's also probiotics, prebiotics, digestive enzymes, adaptogens, and a wide blend of vitamins and minerals.
Kachava certainly isn't a magic bullet. But it does contain loads of nutrients that you can give your body in a convenient, efficient manner. And I really like that Kachava is sourced with good ingredients thoroughly tested for quality and safety.
Overall, Kachava seems beneficial for most people, whether you use it as a high-class protein powder, meal replacement, superfood, or daily wellness drink.
You can purchase your first bag of Ka'Chave here.
Frequently Asked Questions
Does Ka'Chava help with weight loss?
Ka'Chava may help with weight loss if used as a meal replacement. It only has 240 calories and includes protein, fiber, and fats to keep you full. 
Is Ka'Chava heart healthy?
Ka'Chava contains several ingredients that are supportive of heart health, such as berries, oats, magnesium, potassium, and leafy greens.
What does Ka'Chava do for the body?
Ka'Chava has over 85 ingredients that may improve total wellness and overall health. Possible benefits are more energy, improved gut health, better brain function, muscle recovery, and much more.
Does Ka'Chava have caffeine?
No. Ka'Chava is caffeine free. 
Does Ka'Chava cause diarrhea?
Ka'Chava may cause diarrhea in some people, although this isn't an established side effect.
How many times a day can I drink Ka'Chava?
It is recommended to consume Ka'Chava once daily. 
Does Ka'Chava have lots of sugar?
Ka'Chava contains 6 to 7g of sugar depending on the flavor.
What liquid do you mix with Ka'Chava?
The makers of Ka'Chava say to mix the powder with water. It can also be used with other liquids, such as non-dairy milk. 
Does Ka'Chava boost metabolism?
Ka'Chava has some ingredients that generally support metabolism, such as B vitamins, fiber, and all of the fruits, vegetables, and whole grains.
More Product Reviews: