This post may use affiliate links. As an Amazon Associate I earn from qualifying purchases.
This is our Colon Broom Review.
With over 10 years of health and fitness experience, I spend my time reviewing and researching products that help people with everyday health issues and I have spent some time exploring the Colon Broom brand.
My research found that the brand is relatively new and is creating waves in the influencer world on Instagram.
The superstar ingredient in Colon Broom is Psyllium Husk, a natural colon cleanser that may aid in a healthier gut, easier weight loss, and regular bowel movements.
If you are looking for a product that may help improve toilet visits and weight loss, then read on because Colon Broom does much more than helping you poop!
Let's get started!
What is Colon Broom?
Colon Broom is a US-made dietary supplement that may help relieve bloating, irregular bowel movement, or digestive conditions.
Colon Broom may improve your gut microbiome with natural prebiotics from the Psyhlum Husk and may aid in the body's detoxification cleansing process that removes accumulated toxins inside the gastrointestinal system.
Who should use Colon Broom?
Did you know, less than 5% of Americans actually consume the recommended daily fiber intake?
Of course, if you don't consume enough fiber in your diet, you should consider Colon Broom to make sure you are eating the recommended daily intake of 25 to 30 grams of fiber each day.
Fiber is essential for a healthy gut and digestive tract, so it makes sense to use a fiber-boosting supplement in our diet.
You should consider Colon Broom if you experience these conditions below as it may help.
Don't consume enough daily fiber
Heaviness in your gut
Irregular bowel movement
Poor gut health
Difficulty losing weight
Lack of energy
Excess gas
Risk of bloating
Considering 42 million people in the United States suffer from frequent constipation and is the most common gastrointestinal complaint.
Worldwide that number increases by a lot.
Colon Broom claims they have helped over 100,000 people suffering from gastrointestinal problems with their digestive support formula.
Of course, consult with your primary healthcare physcian prior to using any new dietary supplements to be on the safe side.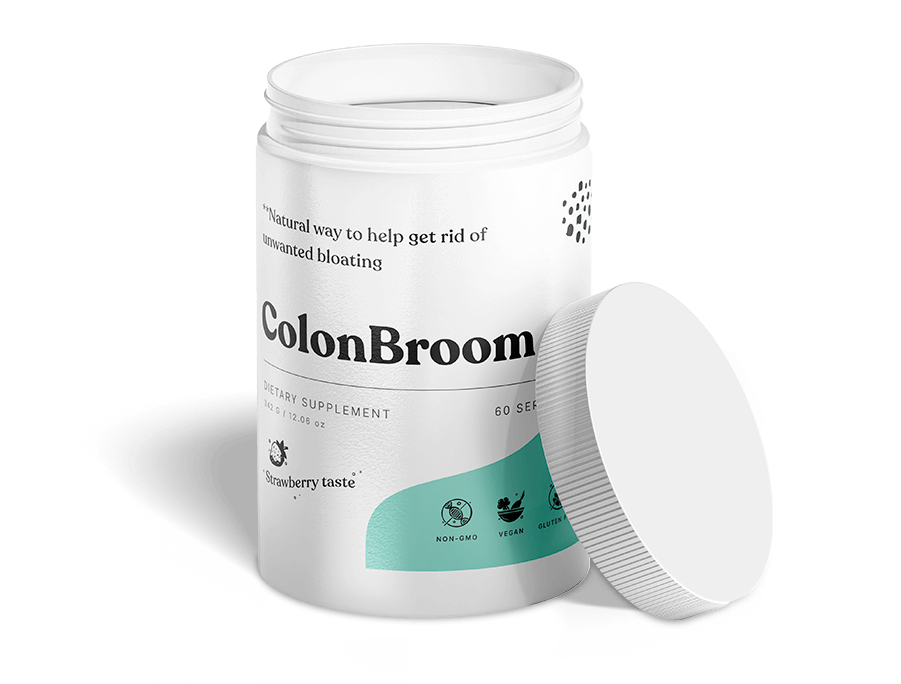 Colon Broom is manufactured in the US and currently are only shipping within the United States. They plan to ship into new regions such as Canada and Australia.
---
Want to take the Colon Broom Quiz Now?
---
How does it work?
Colon Broom provides consumers with a healthy intake of fiber and prebiotics, which is the essential ingredient for a healthy digestive system and strong immunity.
Depending on your condition, whether bloating, constipation, or diarrhea, Colon Broom may relieve these conditions.
This is because of Colon Brooms essential ingredient, Psyllium Husk.
Psyllium Husk is a form of fiber from the husk of the Plantago ovata plant's seeds. Psyllium Husk is most known as a bulk-forming laxative as it soaks up water in the gut and may help bowel movements pass much easier.
In terms of constipation, drinking plenty of water while using Colon Broom is recommended to help soften the stool and may prevent conditions such as hemorrhoids and anal fissures.
Using Colon Broom daily may help form solid regular stools because of the fiber in the Psyllium Husk.
Colon Broom Quiz
Colon Broom has created a short quiz for people who are suffering from digestive issues. Answer their short quiz with 8 key questions that provide you with a personalized analysis of your health and bowel movement summary.
The summary is your projected health and bowel movements after using Colon Broom.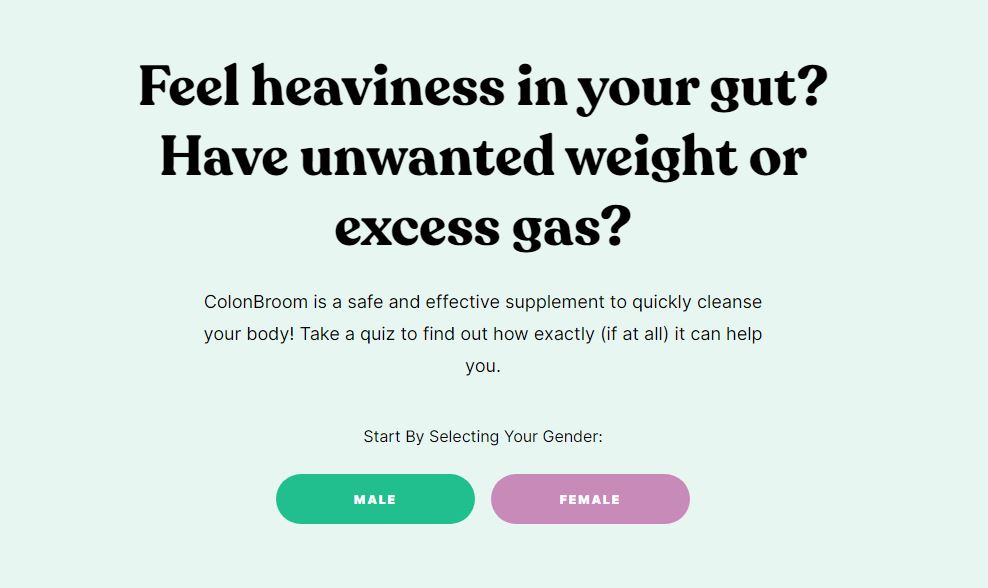 The questions Colon Broom ask in the quiz are:
How often do you poop?
How long do you think the food stays in your stomach?
Do you experience any of these symptoms (Lists 9 symptoms)
How healthy do you eat?
What is your body type?
How physically active are you?
How stable is your body weight?
Ask for your body metrics and how much weight you want to lose.
---
Want to take the Colon Broom Quiz Now?
---
What is Colon Broom Ingredients
The main ingredient in Colon Broom is Psyllium Husk and is the essential fiber compound that may cleanse and support the entire digestive health.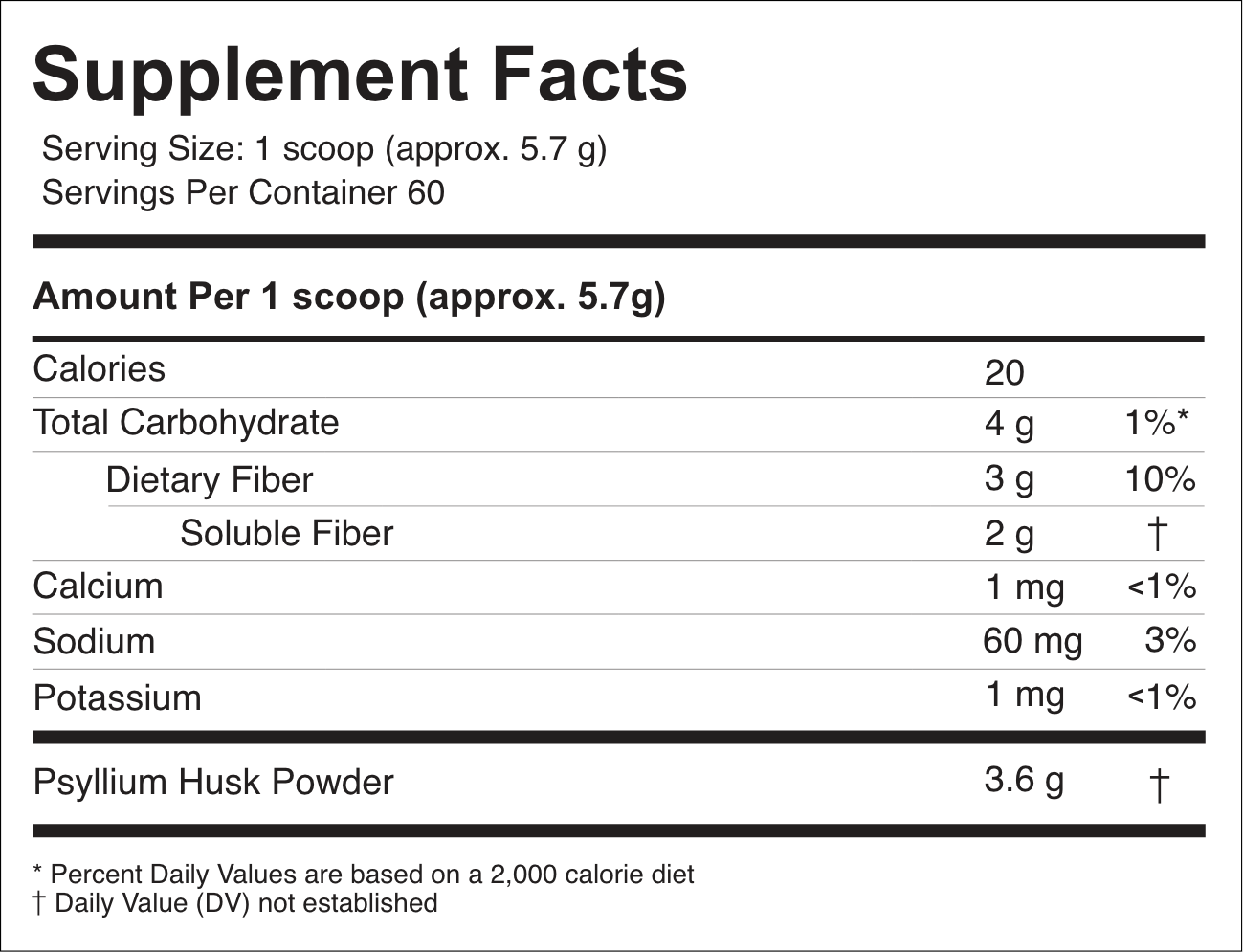 Other ingredients: Natural Flavor, Citric Acid, Crystallized Lemon (citric acid, lemon oil, lemon juice), Fruit & Vegetable Juice (color), Sea Salt, Silicon Dioxide, Sucralose
---
What are the benefits of colon broom?
The overall health benefits to Colon Broom are much more than just great bowel movements. Because of the ingredients inside Colon Broom, the detoxification process may remove toxins within the body and can aid in improving the gut microbiota.
You may start to feel your overall health improve, increasing energy levels, boosted metabolism, and weight loss.
Here are the key benefits of Colon Broom:
Colon Broom may decrease hunger and sugar cravings
May aid with weight loss
It may aid in a healthy gut and digestive system
Colon Broom may support body detoxification
It might improve skin health
It may lower blood glucose levels and the risk of developing diabetes
May decrease symptoms of constipation
Possibly enhance mood and boost energy levels
It might increase body resistance to oxidative stress and inflammation
It may aid with regular more consistent bowel movements
It may increase metabolic function and support the immune system
---
How do I take it?
With any new supplements you should always consult a doctor before usage.
Colon Broom recommends a dosage of one tsp of powder with 250mls of water followed by one extra glass of water. Use once or twice a day, 1 hour before or 30 minutes after your meal.
Because of the increase of fiber, you may experience slight bloating, but after a few days, this should subside as the body adjusts to increased fiber consumption.
Colon Broom claims you will feel lighter after 12-72 hours of using their product.
---
Want to take the Colon Broom Quiz Now?
---
What are people saying about Colon Broom?
Colon Broom has generated a buzz in the online influencer world with happy customers listed on the official page. It is a new brand so finding customer reviews was a challenge, however on their website I found some testimonials.
It's common for new supplement brands to accumulate reviews, after some time these tend to become easier to find.
Here is a screenshot from their website.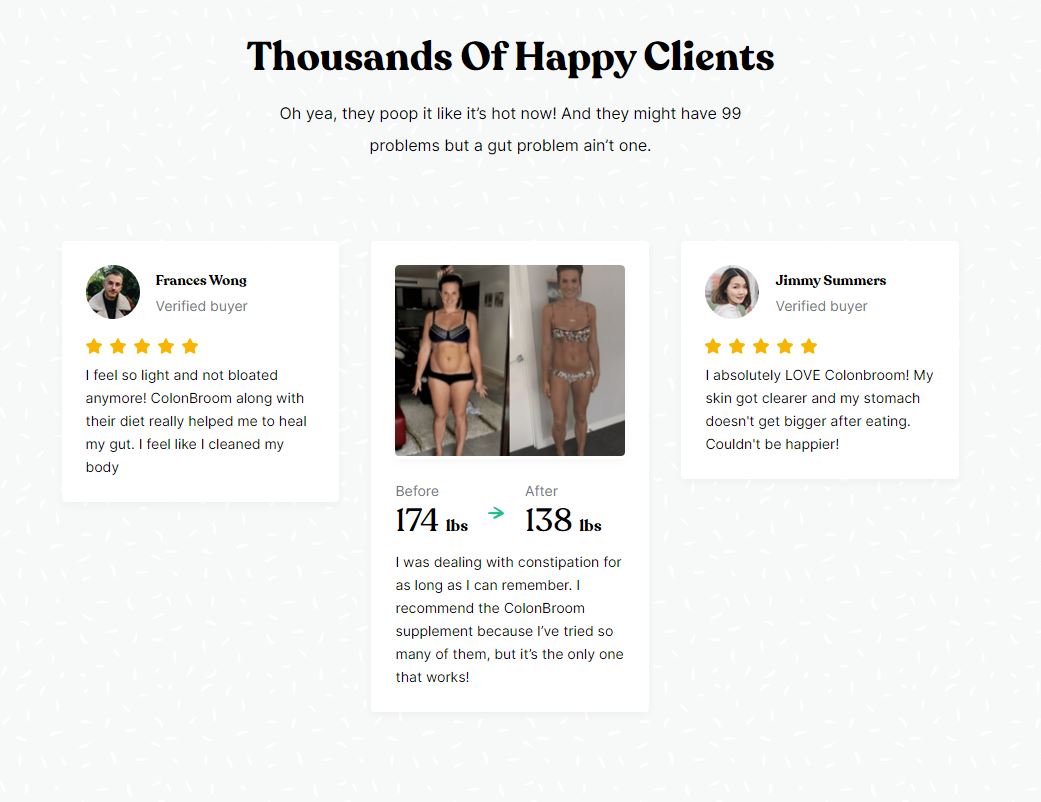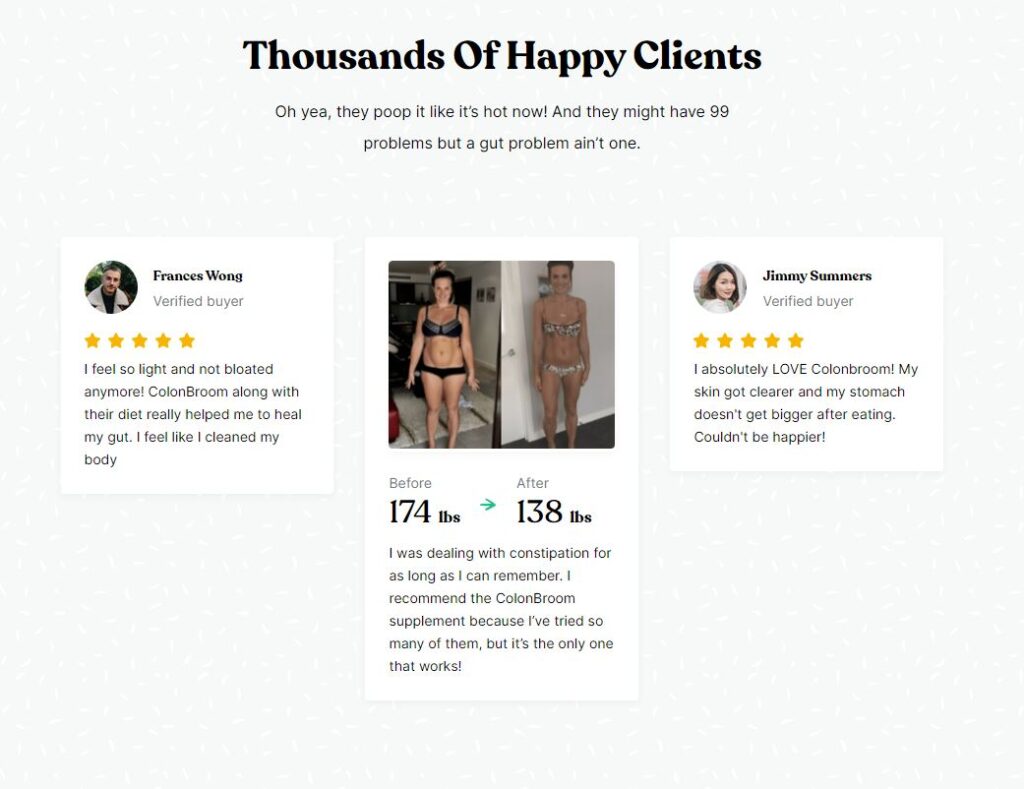 "I felt the differences in my bowel movements after 12 hours! And what's even more exciting, in two weeks, I've lost -13 lbs!"
"I have lost 10 pounds in first 2 weeks! It's a game-changer for anyone trying to deal with constipation and lose weight at the same time."
---
What's Included With Colon Broom?
When you buy from Colon Broom, you also receive a free ebook, Diet Guide to healthy living and is written based on the latest nutrition science. I find this to be a great bonus because it helps educate readers on how to improve your overall gut health through your diet.
You also receive free shipping when you provide Colon Broom an email address; that is worth it for free shipping.

---
Want to take the Colon Broom Quiz Now?
---
Final Verdict
Everyone suffers from digestive conditions at some point in their life. Colon Broom may allow people to improve the digestive system's overall health which may prevent or help relieve irregular bowel movements and with the bonus of better toxins removal, weight loss and increased energy levels.
It's a no brainer for those who need a fiber booster or who want to improve their bowel movements or if you suffer from constipation, diarrhea, excess gas and bloating Colon Broom may be a good choice. You can buy it here on the Official Colon Broom Website.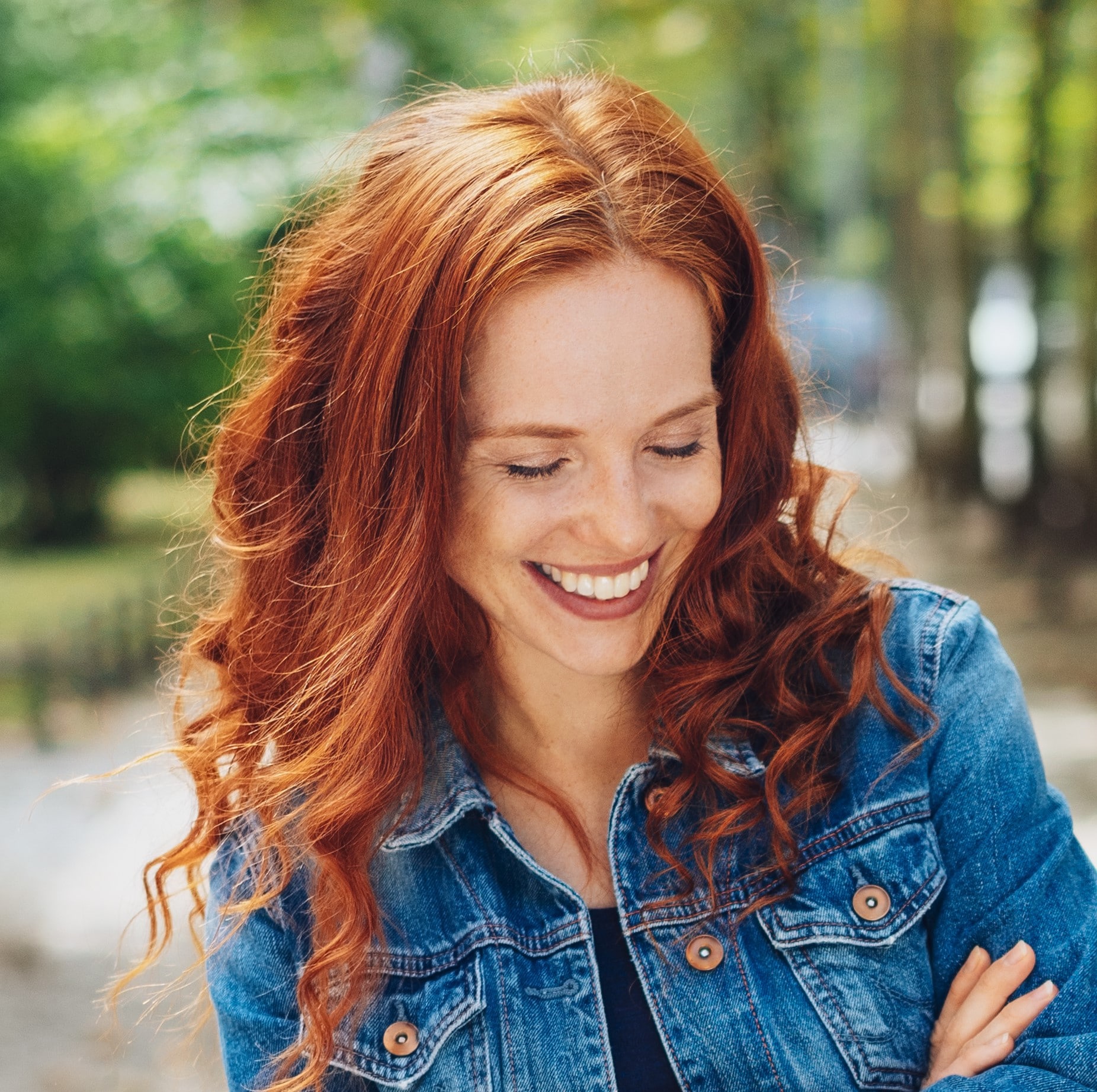 Miranda loves outdoor activities like hiking, bike riding and swimming. With over 10 years of healthy living, she loves researching and testing new health products and enjoys writing about her experiences. Miranda is also the Editor and Contributor for EWS website.