This post may contain affiliate links at no additional cost to you. As an Amazon Associate I earn from qualifying purchases. Click to view our full disclosure.
Let's step into the world of glam, health, and fitness with the queen of curves, Kim Kardashian.
Her presence in the TV show Keeping Up with the Kardashians shaped her fame, but her diet and workout regime has helped shape her tip-top physique.
With over nine years of experience as a pro trainer under my belt, I know which workouts and diets spike your energy and get you pumped up. Kim's is one of them.
Keep reading to get the scoop on Kim Kardashian's workout routine and diet plan. I'll also share some Kim-inspired exercises and delicious vegan meals to try for yourself.
Kim Kardashian Current Bio and Stats
Kimberly Noel Kardashian was born in Los Angeles, California October 21st, 1980 to Robert Kardashian, an attorney and Kris (Houghton) Kardashian.
She first gained media attention as the friend of the already-famous Paris Hilton. Not long after, the family made waves with their own reality TV show, Keeping up with the Kardashians (2007).
Since then, Kardashian has become world famous as a media personality, influencer, and entrepreneur. Most notably, her clothing line, Skims has contributed to a staggering net worth of 1.8 billion.
The pop culture icon has received accolades from the Teen Choice Awards, People's Choice Awards, the Council of Fashion Designers of America (CFDA) Influencer Award, and the Webby Awards.
While her fame primarily stems from the TV show and her beauty and fashion brands, we can't ignore the impact her curvy physique has had.
She often posts workouts and healthy lifestyle choices on social media, which probably was the main reason you came here. I'm about to spoil you, so keep reading.
Age: 42
Height: 5′ 2″ (157 cm)
Weight: 120 pounds (54.4 kg)
Birthday: October 21, 1980
Occupation: Media and TV personality, model, businesswoman, socialite
Retired/Active: Active
Kim Kardashian Workout Fundamentals
Read More: Kendall Jenner Workout Routine
Before I show you her workout, let's chat about Kim's figure.
If there are cosmetic enhancements, I'm not passing judgment. My focus is purely on her workout routine – and let me tell you that it is seriously on fire!
Those killer abs and quads don't just magically appear through surgery. Laser tummy tightening may firm the skin, but to have visible muscle definition, you have to put in the work and sweat.
Even that famous Kim Kardashian booty is doubted by many. The fact remains that her challenging, versatile workout plan is effective to get your unique dream body, matched to your genetics.
Regarding results, it's important to set healthy and realistic expectations for yourself. Training forms us all in a different way.
Kim's glute, abs and conditioning workouts will help you burn fat, get a rounder butt, tone up, and get stronger. Other things, like the width of your hips, are limited by your genetics and bone structure.
So, if you were blessed with naturally narrow hips, training will define you differently. You might not achieve that exact curvy look like Kim Kardashian, even if you train for years.
Always aim for your personal best!
As for Kim, she trains five to six times a week for one to two hours with her personal trainer, Senada Greca. Her routine consists of 85% of weight training. She also does steady state cardio and high intensity interval training.
Kardashian is an early bird, starting her workouts at 5:30 – 6 am. Occasionally, Kim even trains twice a day, especially when prepping for important events. She goes an extra mile to "make weight" and show the best side of herself at all times.
PRO TIP: If your aim is to make your hips look wider, train your back (latissimus dorsi), your glutes and obliques to build muscle. A strong, wide back can give the illusion of a slimmer waist and wider hips.
Speaking of gym secrets, let's peek at Kim's workout routine. What she trains and when and how all that jazz adds up to her stunning look and feel.
Kim Kardashian Workout Routine
Read More: Kate Hudson's Workout Routine
I've spied on Kim's content and found out many things about her conditioning training, abs workouts, and glute/lower body workout routine.
I understand not everyone has the time to train twice a day. Unless you're an athlete, two daily sessions can be too intense on top of being unnecessary.
Also, don't worry; you can train at a time that you prefer. Below, I'm sharing a once-a-day training plan for five days, plus two rest days with all the awesome exercises she does.
Kim Kardashian Workout Plan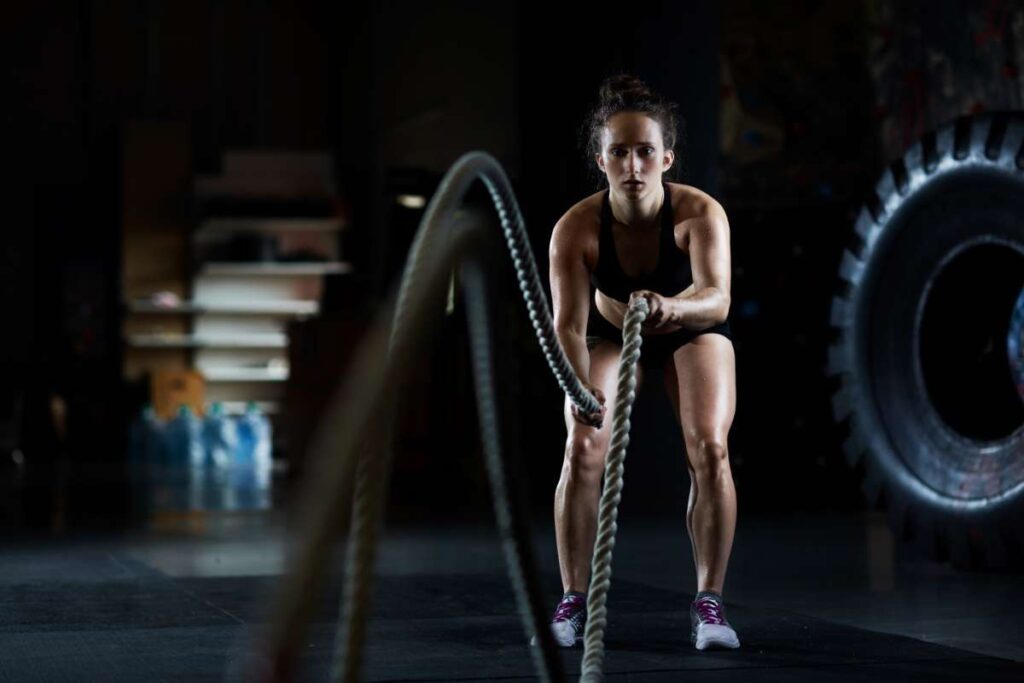 It's time to reveal Kim's fun and challenging workout routine and her weekly schedule.
Her goal is to gain muscle and feel stronger.
For us to achieve this and a rounder, toned booty, I have you repeating her lower body workout twice a week.
This will not only give you the butt of your dreams, but as the biggest muscle on our body, training the legs can give you a more toned appearance overall.
That's because intense training like a leg workout helps release more growth hormone and testosterone. These hormones stimulate the whole body, leading to more muscle gain.
Additionally, I added cardio, HIIT, and more weight training routine with her abs workout for better results!
| | | | | | | |
| --- | --- | --- | --- | --- | --- | --- |
| Monday | Tuesday | Wednesday | Thursday | Friday | Saturday | Sunday |
| Lower body | Full-body conditioning | Steady cardio and abs | Lower body and abs | Upper body workout and Sprints | Rest | Rest |
Monday and Thursday: Lower body workout and abs workout
Exercise
Sets
Reps
Rest
Clamshells with thrusts
3
16 each side
1 minute
Band resisted, lateral goblet squats
3
12 reps each side
1 minute
Belted squat
4 normal sets and 1 drop set of 12 reps
12 reps
1 minute
Seated abduction
4
12 reps
1 minute
Sumo RDLs
4
12 reps
1 minute
Hip thrusts
4
12 reps and 8 half reps finisher
1 minute
Banded monster walk
30 reps
Exercise
Duration
Hollow body alt leg raises
Side planks
Butterfly crunches
Plank hip dips
Bicycle crunches
V-sit w/ flutter kicks


4 rounds of 30 seconds on each exercise
Tuesday: Full-body conditioning
Exercise
Sets
Reps
Rest
Static lunge with medicine ball overhead press
4
20
30 seconds
Chest press
3
12
30 seconds
Heel elevated goblet squats
4
14
30 seconds
Leg extension
4
15
30 seconds
Hex bar jump squats
3-4
4-8
90 seconds
Sled pull and push
4-6 x 30 seconds push and pull
Farmers walk
4 x 100 m
Wednesday: Steady cardio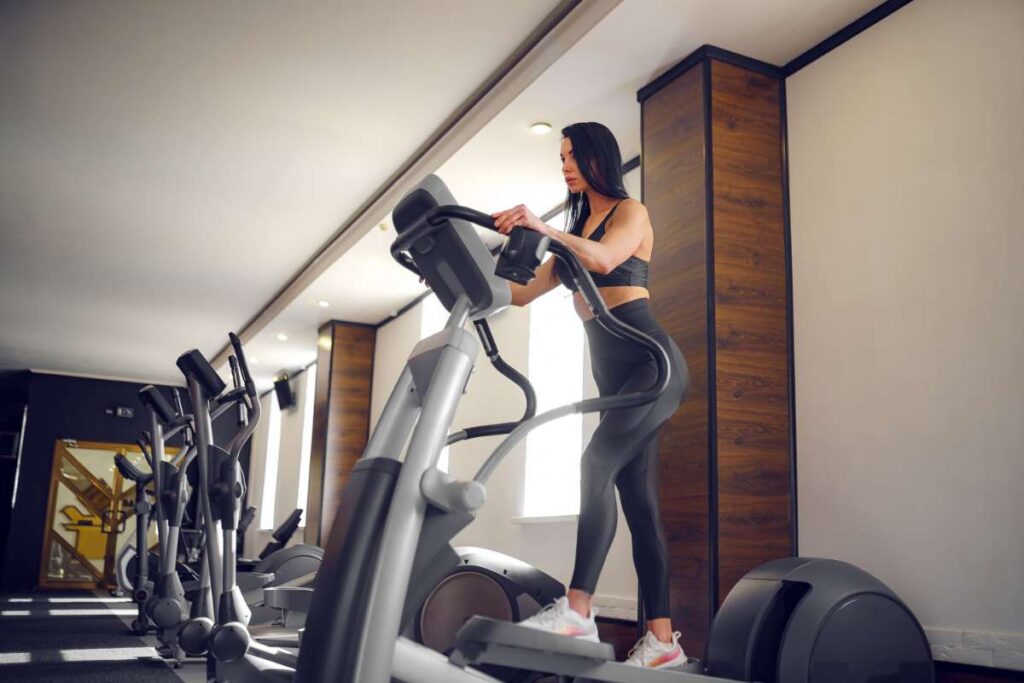 Spend 25-45 minutes on a stepper, cross trainer, or simply have a brisk walk outside.
Thursday: Upper body workout
Exercise
Sets
Reps
Rest
Overhead press
3
12
1 minute
Triceps dips
3-4
15
30 seconds
Pull-ups (banded)
3
8-12
1 minute
Chest press
4
12
1 minute
Bent over reverse flies w/ rear delt raise combo
3
12 on each as a superset
1 minute
Sprints
15-minute sprints with 30 seconds work and 30-60 seconds rest, depending on your fitness level.
Additionally, you can perform hill sprints outside and add lunges to your recovery. Kim often goes out to sprint.
Kim Kardashian Dieting and Food Preferences
Read More: Jenna Ortega Workout Routine
Since 2020, Kim Kardashian follows a "mainly vegan diet" inspired by one of her sisters. She loves it, saying she feels much more energized and healthier.
She doesn't give her exact diet, but she shares some of her meals on social media. Here's an example of what she prefers to eat and when.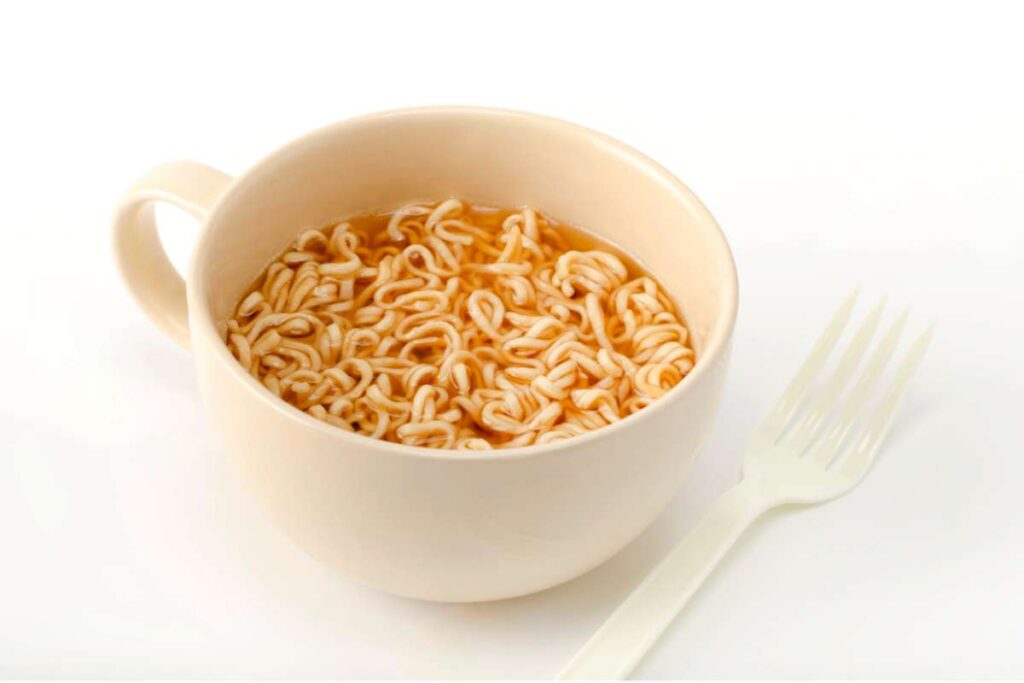 | | |
| --- | --- |
| Breakfast | Coffee with oat milk, chia pudding with plant-based milk and berries, oatmeal, vegan sausage |
| Lunch | Health Nut Chinese chicken salad, vegan tacos |
| Dinner | Top Ramen, Eggo waffles, sweet potato hash topped with avocado, eggplant parmesan |
| Snacks | Sea moss smoothie, acai bowl made of dragon fruit, strawberries, banana and pear, dragonfruit smoothie bowl, yogurt |
Kim Kardashian Diet Plan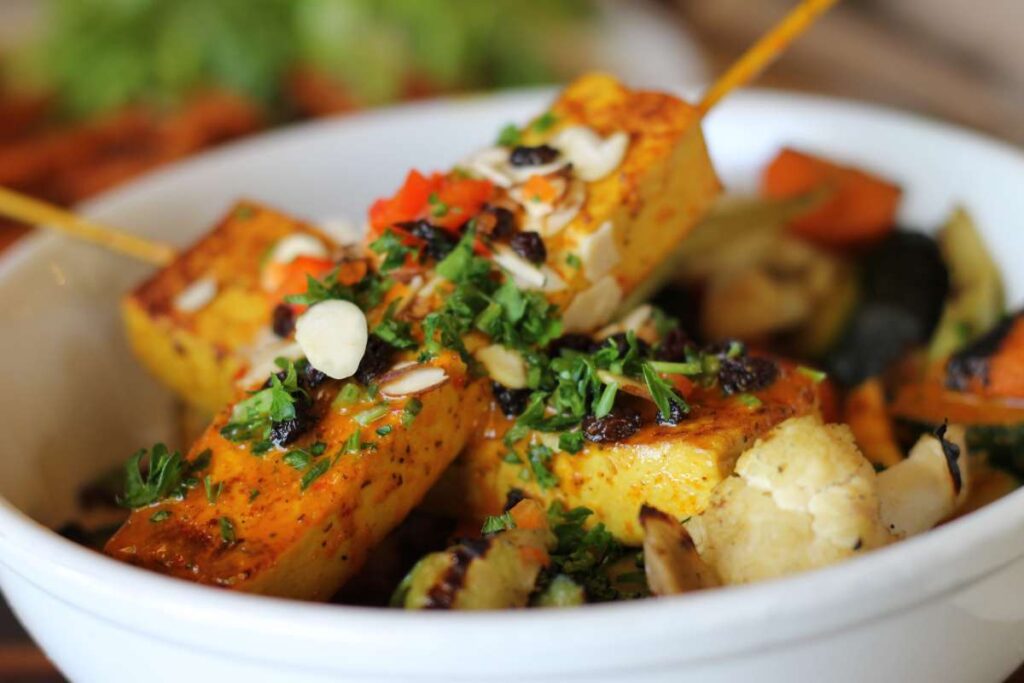 Ready to try it for yourself? Here is a Kim Kardashian-inspired vegan day of eating based on her preferences.
Breakfast: Chia pudding with berries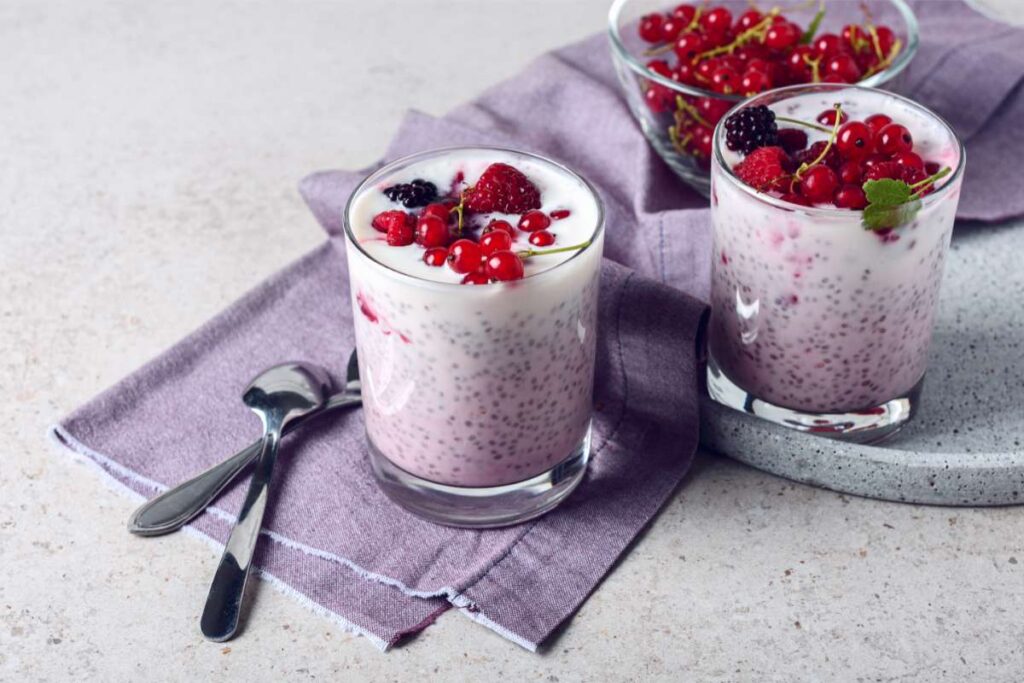 2 tbsp Chia seeds
Half cup dairy-free milk/plant based milk
60 g Berries
40 g Banana
Pour the milk in a bowl and add the chia seeds. Let it soak for a few hours or overnight. Add the toppings and enjoy.
Snack: Dragonfruit smoothie bowl
You can make a frozen acai bowl with the same toppings if you don't have access to dragonfruit.
For the smoothie bowl base:
1/3 cup organic plant based milk
3.5 ounce frozen organic dragon fruit
1 cup frozen organic banana slices
1 cup frozen strawberry slices
Optional: 1 scoop of your favorite protein powder
Topping options:
Sliced grapes
Halved blueberries
Sliced bananas
Gluten-free granola
Pitted cherries
Toasted coconut chips
Optional seed:
Flax seeds
Nuts (almonds, walnuts, cashews)
Chia seeds
NOTE: You can add any other fruit and toppings you like!
Add the frozen fruit, protein powder, and a splash of milk or coconut water to a food processor. Blend until smooth and get a thick, creamy texture. Add your toppings and enjoy.
Lunch: Chinese chicken salad
A handful of hand-torn romaine lettuce and iceberg lettuce (mixed)
About 1/2 cup of shredded vegan "chicken" breast (optional)
A small handful of dry chow mein noodles
1-2 tablespoons of pickled ginger (to taste)
A few thin slices of carrots
Dressing Ingredients:
1 tablespoon of apple cider vinegar
1 tablespoon of sesame oil
1 teaspoon of soy sauce
1 small garlic clove, minced
1 tablespoon of finely chopped onion
1 teaspoon of sesame seeds
1/2 teaspoon of sugar (optional)
Please adjust the dressing to your taste and preferences.
Preparation:
Add the lettuce, pickles ginger, chicken, carrots, noodles in a bowl. Add the dressing and shake it Kardashian style.
For a low-calorie option, leave the dressing and drizzle with only olive oil instead.
Dinner: Vegan tacos
Kim shared this recipe on POOSH, her sister's Kourtney's lifestyle platform.
1 tablespoon avocado oil
2 pounds Beyond Meat plant-based ground "beef"
2 tablespoons cumin
2 tablespoons chilli powder
1 tablespoon garlic powder
1 tablespoon onion powder
1 1/2 teaspoons oregano
1 teaspoon kosher salt (more to taste)
1/4 teaspoon ground black pepper
1/4 cup water (more as needed)
2 tablespoons organic ketchup
2 tablespoons agave
For the tacos:
Avocado oil
16 Cassava or almond flour tortillas
Vegan "cheddar" shreds
Dairy-free sour cream
Diced tomatoes
Shredded lettuce
Sliced avocado
Preparation:
Heat avocado oil and cook the vegan beef alternative with the spices, water, ketchup, and agave. Simmer until cooked and the liquid reduces.
Season to your taste. Heat the tortillas and fill with the ingredients, including cooked meat, dairy-free cheese, sour cream, tomatoes, and lettuce.
Kim Kardashian Bikini Diet
When Kim Kardashian has a bikini shoot or important fashion event coming up, she takes weight loss pretty seriously.
Ahead of the Met Gala in 2018, Kim did a ten-day "cleanse" where she had nutrient-filled shakes as well as meals such as butternut squash with soup and salad.
For the 2022 gala, Kim cut out carbs and sugar and went even stricter on her diet and exercise to fit into Marilyn Monroe's dress. Her diet consisted of veggies and protein that she combined with regular cardio and weight training.
She lost 16 pounds in only three weeks!
While exercise was always part of her weight loss success, I would not recommend intense crash diets like Kim's.
Instead, create healthy long-lasting health and fitness habits that allow you to drop weight slower, but keep it off longer!
To achieve long-lasting health and fitness results, weight loss and muscle growth, use our advanced macro calculator! It calculates your daily calorie intake and macro requirements!
Kim Kardashian Supplement Preferences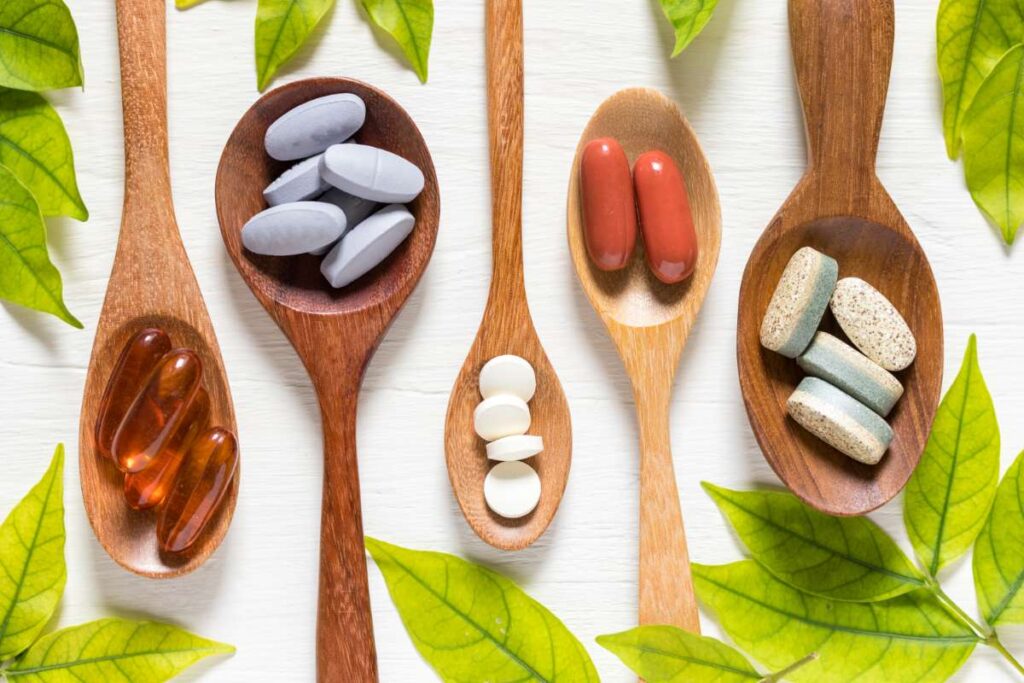 Outside of her influencer gig, Kim doesn't speak about supplements often. But I found some supplements it seems she regularly takes, including:
Final Thoughts
Kim Kardashian's rise to global fame came down to her successful businesses and social media presence.
While genetics and cosmetic enhancement may play a role in her bombshell physique, her strict workout routine and commitment to diet showcase her dedication to her health.
Kardashian enjoys weight training, high-intensity intervals, and steady-state cardio, and all are key to her beautiful figure.
However, it's crucial to recognize that everyone's journey is unique.
Her workout and diet tips are worth a try and are highly effective, but focusing on what works best for you is essential.
Comment below and share your unique Kim-inspired adventures with us!
Frequently Asked QuestionS
What does Kim Kardashian do?
Kim Kardashian is a businesswoman, reality TV star, and social media influencer with over 363 million Instagram followers. She often posts fitness and healthy living content on her page. 
How do the Kardashians get their curves?
Some of the Kardashian sisters have genetically wider hips and smaller waists. Following a strict diet and fitness routine is also important. 
The Kardashians have never confirmed having surgical procedures.
If you would like wider-looking hips, follow a workout routine with two days of lower body in addition to training back and upper body. A wider back and slimmer waistline (with a good diet), can give the illusion of a wider hip. 
How to get a thick body like Kim Kardashian?
Consistent weight training combined with high intensity workouts and steady state cardio around five times a week will give you a thick and toned body like Kim's. 
Also, you should follow a healthy balanced diet with adequate protein.
How to get a curvy body like Kim Kardashian?
How curvy training will make you depends on your genetics and bone structure. Those with more narrow hip structure might not be able to get as curvy as Kim even with years of training. 
Still, by following a weight lifting routine with high intensity intervals, plus a diet high in protein, you can burn fat and tone up. This will make your glutes bigger and more rounded, and your waist smaller. 
You will have a stronger and more toned overall appearance.
How to get a Kim Kardashian body in 2 weeks?
You cannot, unless you are already pretty athletic. Progress is about consistency. Aim for regular training with healthy meal habits, and you will be able to get a fit body. Moreover, you will be able to maintain it. 
Too sudden a drop in calories may not be sustainable. You will eventually return to your old eating habits, burn out from training, and gain weight. 
What is Kim Kardashian's exercise routine?
Kim's training routine consists of 85% of weight training. This includes:
Glute/lower body workouts
Upper body workouts
Full-body conditioning 
Additionally, she does hill sprints outside with some lunges, or on the treadmill. Kim also does low-intensity cardio such as stepper for 30-45 minutes two to three times a week.
How many hours a week does Kim Kardashian workout?
Kim Kardashian trains five or six times a week for one to 1.5 hours a day, so between 6-9 hours a week.
How many squats does Kim Kardashian do a day?
One of her Instagram stories claimed she does 1,000 squats a day. This more likely is bodyweight. Her weightlifting routine includes Goblet squats, belted squats, and box squats. 
How did Kim Kardashian lose weight?
Kim Kardashian avoided carbs and sugar to lose 16 pounds in three weeks and fit into a vintage Marilyn Monroe dress for the Met Gala. 
She wore a sauna suit twice a day, ran on the treadmill, completely cut out all sugar and carbs, and ate veggies and clean protein. 
How many hours a day does Kim Kardashian workout?
Kim trains one to 1.5 hours a day five or six times a week. Occasionally, she will train twice a day if she has a goal in mind. 
What is Kim Kardashian's diet and exercise?
Kim Kardashian follows a plant-based diet. She likes her food mainly grilled. She eats salads from Health Nuts, plant-based tacos, chia seed pudding, and drinks plenty of water.
She trains five times a week including weights, HIIT, and steady state cardio workouts with a personal trainer.  
Popular Celebrity Workout Routines: