This post may contain affiliate links at no additional cost to you. As an Amazon Associate I earn from qualifying purchases. Click to view our full disclosure.
There are a lot of fitness influencers out there, but not many of them stand out like Lilly Sabri!
Known for her bubbly personality and hardworking spirit, Lilly Sabri's workout routine has influenced millions of people worldwide who desire to get into better shape from their homes.
Lilly has been relentless with the number of workouts and recipes she has provided the public, and she has an amazing physique to show that everything truly works!
Let's dive into what exactly Lilly does to create her lean and athletic look. I'll even share a Lilly Sabri workout plan and diet you can try yourself.
Lilly Sabri Current Bio And Stats
Lilly Sabri is a physiotherapist and certified Pilates instructor. She's taken her expertise and applied it to help millions on her social media platforms.
She has hundreds of thousands of followers on Instagram and millions of subscribers on YouTube, and this is all for good reason!
Lilly shares a wealth of information and countless workouts for free to help her community become happier and healthier.
She also created a fitness app, launched a line of fitness equipment and food items, and more to continue to build her empire.
Age: 32
Height: 5'10"
Weight: an estimated 132 pounds
Birthday: July 4, 1990
Occupation: fitness instructor and entrepreneur
Retired/Active: active
Lilly Sabri Workout Fundamentals
Read More: Sommer Ray Workout Routine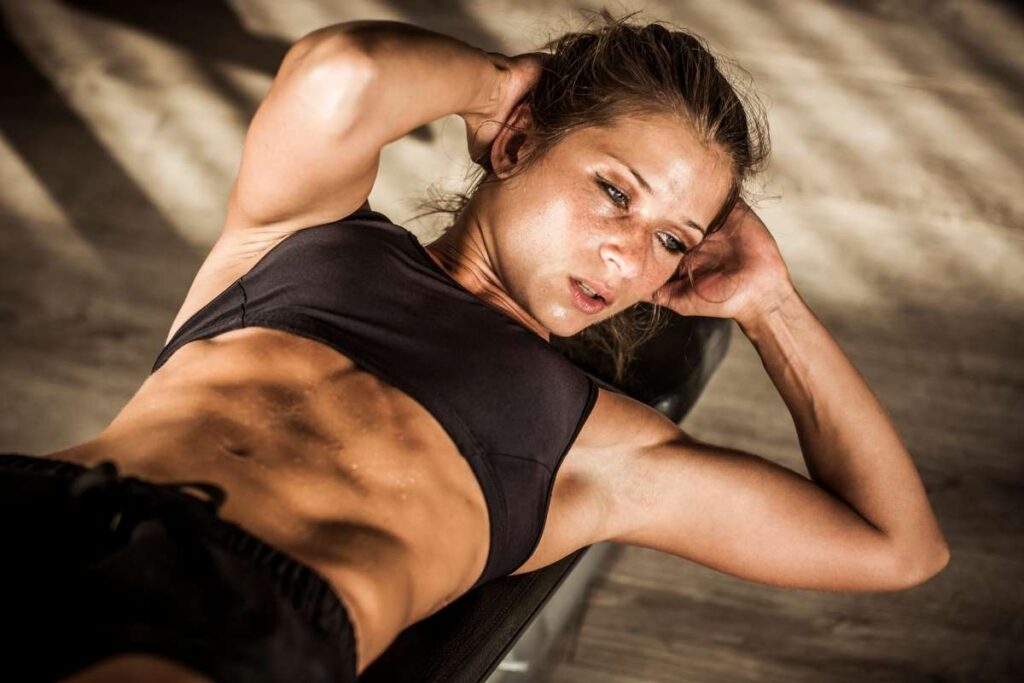 Because Lilly creates and films workouts for both her YouTube channel and workout app, she is constantly exercising while she is filming.
It actually appears that she doesn't have a workout regimen for herself outside of creating content. This is because of how fatigued her body gets from putting in 100% effort in creating the workouts for her followers!
However, the Lilly Sabri workout plan includes at least a day or two off of exercise for rest and recovery. This, in combination with her filming, has resulted in her lean and athletic appearance.
Lilly Sabri Workout Routine
Read More: Jen Selter Workout Routine
The Lilly Sabri workout program is a combination of pilates, HIIT cardio, and strength training exercises. She does everything at home, so it is clear that minimal equipment is required to keep her in shape!
Lilly Sabri Workout Plan
As mentioned before, there's no consistent weekly Lilly Sabri workout program because her regimen revolves around filming workouts. She might exercise every day one week but have more time off the next.
However, she has so many effective workouts to choose from that it is easy to create a workout plan for you to follow to work towards a physique like Lilly's!
Here's a sample plan for you to try. Many of the workouts are super short but effective, and you get two rest days weekly.
| | | | | | | |
| --- | --- | --- | --- | --- | --- | --- |
| MON | TUES | WED | THURS | FRI | SAT | SUN |
| Ab workout | Lower body workout | Full-body cardio workout | Rest | Leg workout | Upper body workout | Rest |
Monday's ab workout video:
Tuesday's lower body workout video:
Wednesday's full-body cardio workout video:
Friday's leg workout video:
Saturday's upper body workout video:
Lilly Sabri 5-Minute Ab Workout
Read More: Kaley Cuoco Workout Routine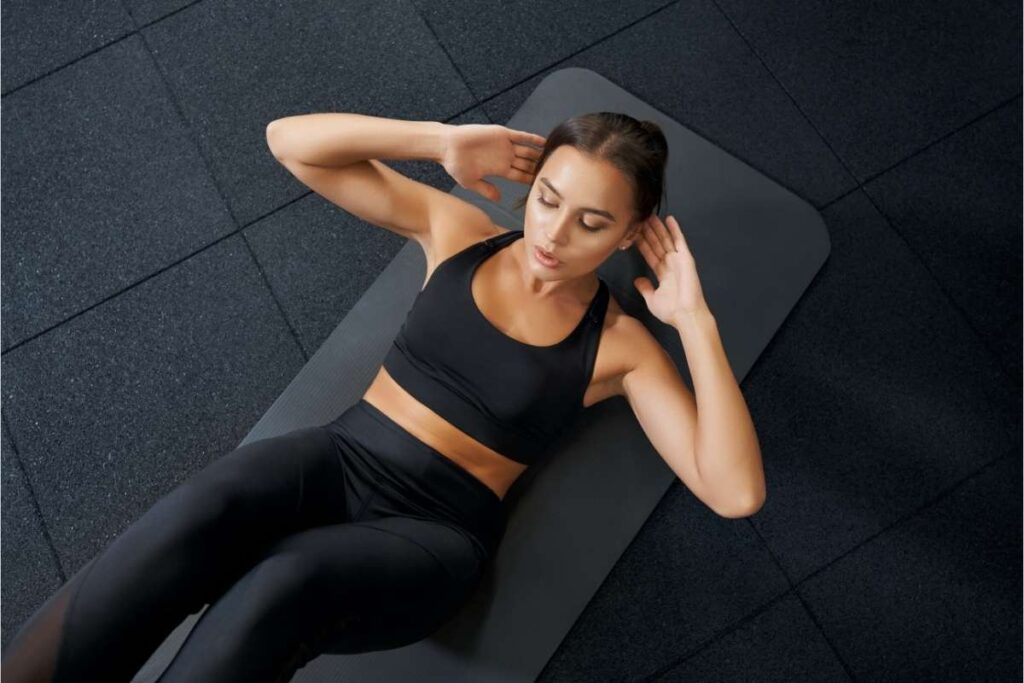 Lilly Sabri is certainly known for her trim waist and visible abs, and she has made a lot of workout videos to help you shape your abdominals as well!
Here is an example of a five-minute ab workout that Lilly recommends. Do each exercise for 30 seconds.
Perform reverse crunches with leg extensions.
Straighten your legs and hover them above the ground as you slowly take them to the left and then the right.
Do cross-body crunches with one knee up and the other leg extended. Do this for 30 seconds on each side.
Perform a basic crunch, but rather than going straight up and down, move in a circle and continually alternate directions.
While laying on your back with both knees bent, do a cross-body crunch and then penguin on one side. Do this for 30 seconds on each side.
Do the penguin crunch on each side, do two crunches, and then repeat.
Perform bicycle crunches with your back completely off the ground so your body is forming a V.
Do alternating hip dips in a plank position.
Lilly Sabri 30-Day Challenge
Read More: Jenna Ortega Workout Routine
This Lilly Sabri free workout challenge was created for those who want to lose fat from their living rooms!
The overall focus is full-body and HIIT workouts, and these videos are great for anyone since she always provides modifications.
The following is the 30-day challenge schedule:
Day 1: HIIT Total Body
Day 2: Abs & Glute Burn
Day 3: Full Body Sculpt Pilates
Day 4: Legs & Glutes Sculpt with Weights
Day 5: HIIT Upper Body Fat Burn
Day 6: Active Recovery & Stretch
Day 7: Fat Burn Lower Body
Day 8: Booty & Core Strength
Day 9: Hipes & Booty
Day 10: Total Body Fat Burn & Sculpt
Day 11: Abs & Arms
Day 12: Fat Burn HIIT Total Body
Day 13: How to Foam Roll & Stretch Out
Day 14: Fat Burn HIIT – Legs Focus
Day 15: Core, Hips & Glutes – Pilates
Day 16: Hourglass Sculpt – Little Waist & Hips
Day 17: Fat Burn & Abs
Day 18: Hips & Legs at Home Weights
Day 19: Sculpt & Tighten Hourglass Shape
Day 20: What I Eat in a Day – Active Recovery
Day 21: HIIT Fat Burn – Legs & Glutes
Day 22: Core & Arms Pilates
Day 23: Hourglass Sculpt Shoulders & Waist
Day 24: Total Body Fat Burner
Day 25: 6 Pack Abs & Arms – Bye Bye Bingo Wings
Day 26: Total Body Sculpt & Shape
Day 27: Full Body Stretch – 30 min
Day 28: Core Stability & Mobility
Day 29: Fat Burn Legs & Butt Lift
Day 30: Hourglass Sculpt – You've Made It!
Lilly Sabri Workout App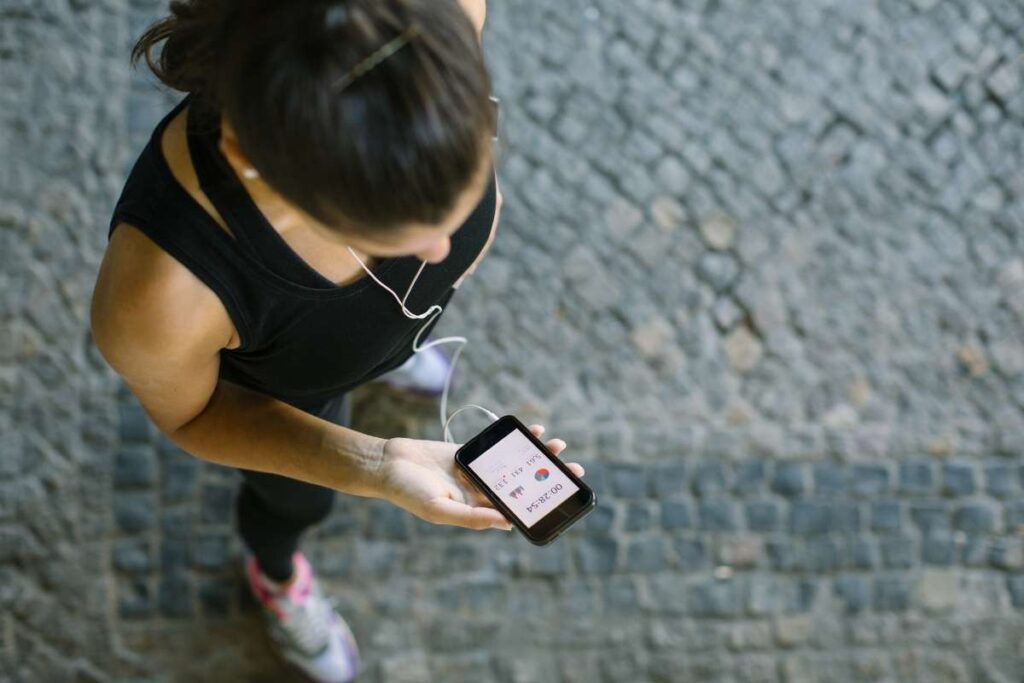 To give people even more access to the Lilly Sabri workouts, Lilly created the LEAN app. Within this app, you get access to workouts, recipes, meal plans, and more!
If you need some guidance with getting in shape, this app is a great resource and helps hold you accountable for your goals.
Lilly Sabri 14-Day Summer Shred Program
If you want a shorter challenge, Lilly's 14-Day Summer Shred Program is a great place to start!
For most days, there are multiple workouts assigned. However, you will never be exercising for more than an hour if you do choose to do all the workouts.
The following is the schedule for this summer shred program:
Day 1:
Intense Fat Burn Sweat-athon & Abs
Burn Belly Fat Blast
11 Line Abs
Day 2:
Slim Waist & Lower Abs
Booty & Legs
Day 3:
Full Body Lean, Lengthen & Sculpt Pilates
Inner Thighs
Day 4:
Outer Thigh Fat Burn
Ultimate Fat Burn
Day 5: Rest day
Day 6:
1000 Reps Abs & Arms
Shredded Abs
Day 7:
Day 8:
Sweaty Ladder HIIT Fat Burn & Abs
Q & A Physiotherapy & Form With Lilly
Lose Belly Fat
Day 9:
Flat Tummy Fat Burn
Full Body Pilates Sculpt
Hourglass Hips
Day 10:
Lean Booty & Legs Sculpt
Q & A Nutrition & Overtraining With @Shaunstafford
Slimmer Inner Thighs
Day 11:
Toned, Slim Legs
Fat Burn HIIT
Day 12: Rest day
Day 13:
Intense Muffin Top
Flat Stomach & Arms
Shoulders & Arms
Day 14:
Booty & Legs
Sweaty Cardio (No Jumping)
Lilly Sabri Dieting and Food Preferences
Read More: Kendall Jenner Workout Routine
When it comes to her diet, Lilly is different from the typical fitness influencer because she does not count calories or is restrictive in any way. She believes in intuitive eating and using food to fuel and nourish the body.
While Lilly was vegetarian for a very long time, she is now pescatarian to more easily include certain nutrients and proteins in her diet. She also rarely eats dairy products.
Breakfast Food Preferences
It seems Lilly likes to start off with a healthy and nutritious version of typical breakfast foods like pancakes, toast, and eggs. She also is sure to include her homemade superfood mix to get in some extra nutrients.
Lunch Preferences
Because of her busy schedule, lunch is typically eaten out, ordered in, or leftovers.
Dinner Preferences
Protein and veggies are the focus for dinner to end the day off right!
Late Night Preferences
Late-night snacking doesn't seem to be an issue for Lilly because she tends to have her dinners quite late due to how much she needs to get done during the day!
Snack Preferences
Lilly's snacks tend to be heavy on fruits and veggies, and smoothies definitely appear to be a favorite!
Lilly Sabri Diet Plan
Read More: Natalie Portman Workout Routine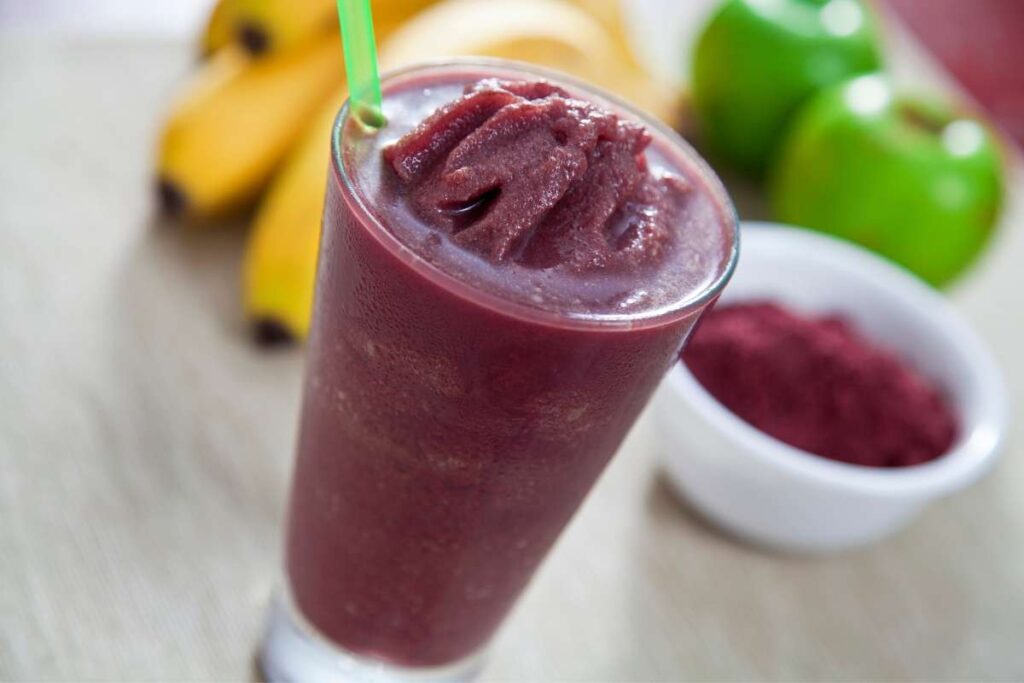 The following is an accurate representation of what the Lilly Sabri diet looks like daily. She doesn't eat the same thing every day, but she did provide this example for those days when she is exercising a lot.
Try this diet for a week at home and see how you like it!
Meal 1
For breakfast, try Lilly's vegan banana pancakes! Combine the following ingredients to prepare:
2 bananas
Flour of your choice
Plant-based protein powder
Nut milk
Baking powder
Agave syrup
Berries
Sweet superfood mix (flaxseeds, chia seeds, etc)
Snack
Enjoy a BBQ nut and cracker snack mix with a protein acai smoothie made from a banana, frozen acai, mixed frozen berries, and plant protein powder.
Meal 2
Lunch is a tuna pasta bake with a side salad.
The tuna pasta bake can be made with whole wheat pasta, tuna in olive oil, onion, garlic and herbs mix, tinned tomatoes, and cheddar cheese.
The side salad consists of baby spinach, rocket, cherry tomatoes, olive oil, and lemon juice.
Snack
Prepare a turmeric latte to benefit from the anti-inflammatories with nut milk and a packet of turmeric mix. Enjoy with sweet potato fries.
Meal 3
Lilly says these vegan chickpea burgers are one of her favorite meals!
Combine canned chickpeas, onion, garlic, flour, cumin, cajun, and all-purpose spice to make the patties. Use a bun and top with avocado, chutney, backed greens, and Halloumi (optional) to finish preparing the dish.
Lilly Sabri Supplement Preferences
Read More: Kate Hudson's Workout Routine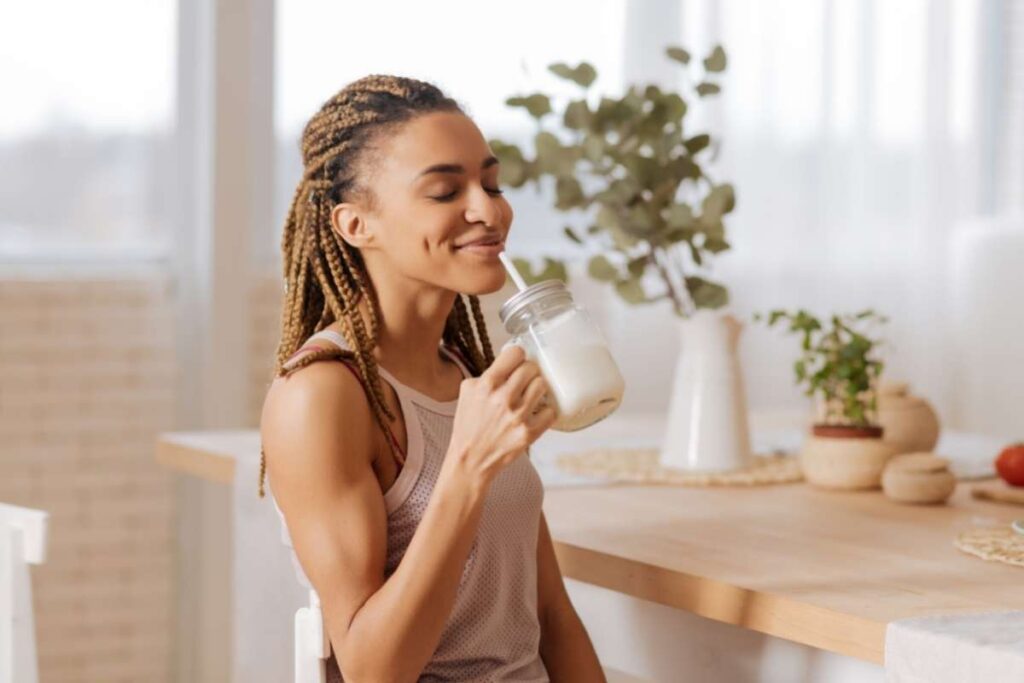 It appears that Lilly consumes protein powder, greens powder, and MCT oil regularly. She's also known to take pre-workout before filming her videos.
She says that she likes to add MCT oil to her coffee to minimize the number of cups she craves throughout the day because it leads to the beverage being more filling.
To boost the number of nutrients she gets from daily vegetables, she enjoys a green powder in the mornings.
She also adds protein powder to quite a lot of food items, and she says she uses the vegan Optimum Nutrition.
Final Thoughts
We hope you enjoyed our overview of the Lilly Sabri workout routine and diet plan for 2022!
Lilly preaches listening to your body and treating it right, and she isn't a fan of counting calories or being overly restrictive.
She also gives viewers tons of free, short workout videos with solid instructions and modifications.
Sabri might be extremely fit, but her content is accessible to beginners and doesn't encourage drastic measures.
This may be a great lesson for many to hear who feel pressured to pursue their fitness goals with a strategy they don't feel comfortable with.
Comment below your favorite part of Lilly's routine, and don't forget to share this article with anyone else who may find it interesting!
Frequently Asked Questions
Who is Lilly Sabri?
Lilly Sabri is a fitness influencer and physiotherapist who has created an online platform to help people all over the world get those Lilly Sabri workout results.
Is Lean with Lilly free?
The Lean with Lilly app is not free, and it is advertised as $24.49 for three months.
How long does Lilly Sabri workout for?
Each Lilly Sabri program varies greatly in length, but she says that she is typically filming for about two hours at a time when creating her videos. 
This means that she is likely actually exercising for most of this time, but she will take breaks to do things like change her outfit and freshen up.
What type of exercise does Lilly Sabri do?
The Lilly Sabri workout program typically involves HIIT, pilates, and strength training movements that are either bodyweight or use bands and weights.
How many calories does Lilly Sabri workout burn?
Every person's body is different and each of Lilly's workouts is different. It depends on how long the workout is, your current weight, and the amount of effort you put in.
Popular Celebrity Workout Routines