Want to get fit but don't know if you should choose a virtual personal trainer versus an in-person trainer? Do you have a busy schedule or don't feel comfortable in a gym setting?
Both online and in-person options certainly have their pros and cons. However, virtual personal training is becoming the preferred method for getting in shape!
I've been a personal trainer for many years. While I did start off working with clients in person at the gym, I quickly realized I could still help people effectively transform their physiques from their own homes.
But that doesn't mean any old trainer will do. There's lots to uncover as you select the fitness pro that's right for you.
Sound like something you would be interested in? Keep reading to learn about the pros of virtual personal training. From there, we'll find out if something like FlexIt Fit is right for you!
What is a virtual personal trainer?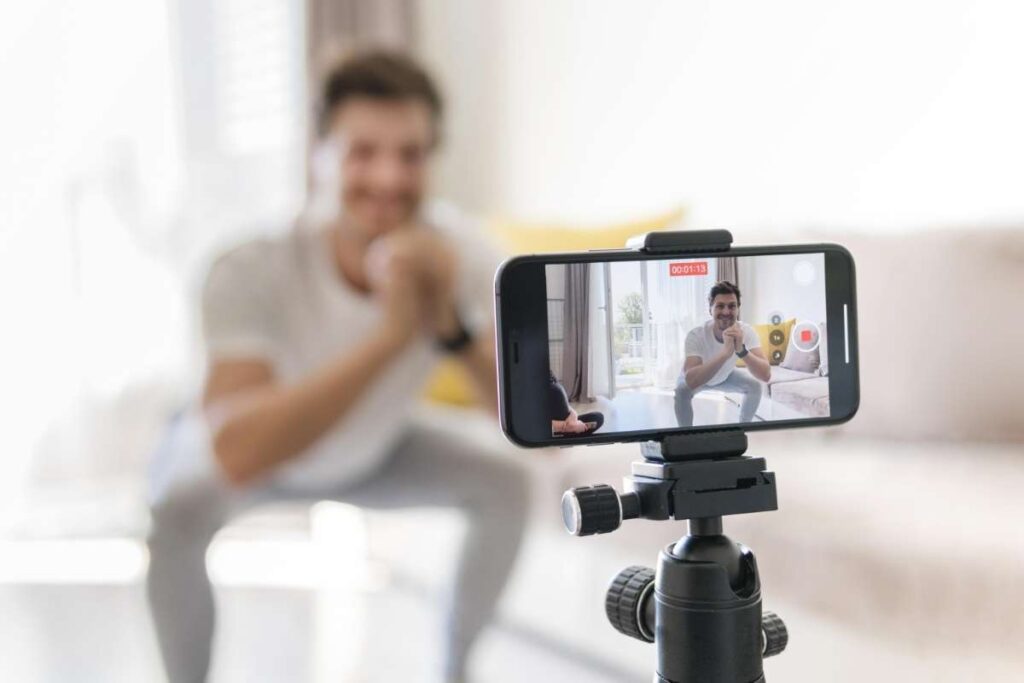 When someone pictures a personal trainer, they imagine an expert guiding their clients in a gym. A virtual personal trainer provides this same guidance, but online.
Virtual personal trainers are still able to help their clients succeed through personalized workout programs, nutrition plans, and regular accountability and support.
What are the benefits of an online personal trainer?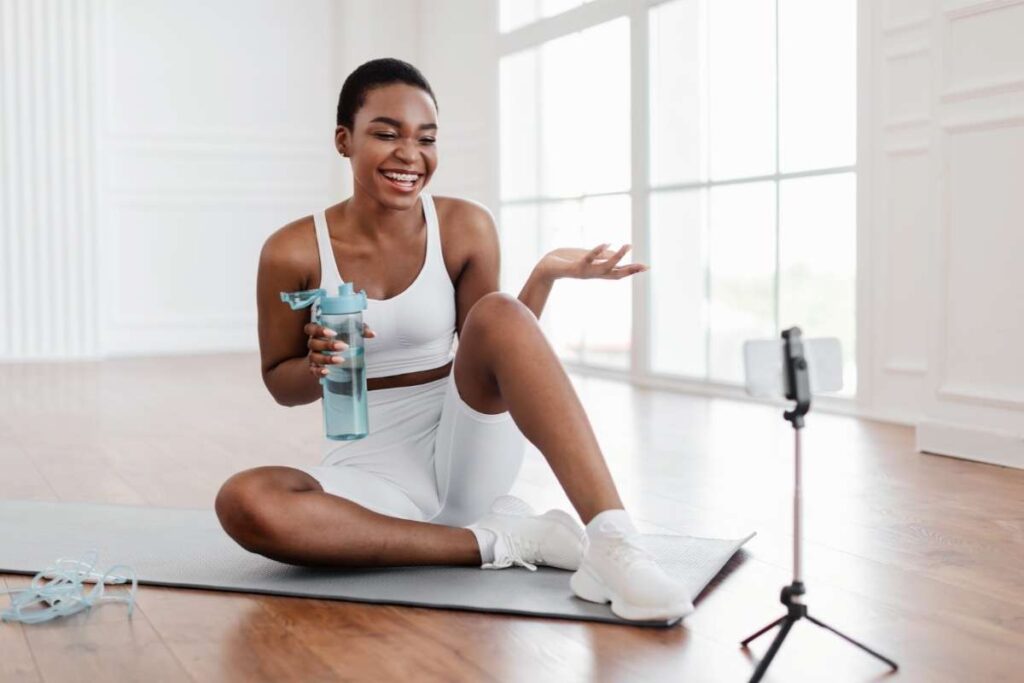 1. Exercise from the comfort of home.
Many people prefer not to exercise at the gym for many reasons. These include the commute, costs, and fear of being judged by others.
When you exercise from home under the guidance of remote personal trainers, you can plan your workouts based on your individual schedule. It can save you a lot of time overall.
Also, are you unsure how to use various pieces of gym equipment? Everyone has to start somewhere, but for some, the fear of being judged for inexperience can be overwhelming.
With virtual instruction, you can privately do bodyweight workouts at home or use straightforward equipment like dumbbells and bands.
2. Affordable monthly fee.
The average cost of an in-person trainer per hour is between $50 and $90. This can truly add up if you are meeting with them multiple times a week.
Depending on how personalized your program is and how attentive the virtual trainer is, virtual personal trainer prices average almost half that!
Overall, online personal training is a more affordable option for many people wanting to get in shape.
3. Guidance and support.
Working out at home alone can often be a frustrating experience because you aren't sure if you are doing everything right.
Plus, you can't even be sure your workout routine is actually what you need to help you reach your goals.
Virtual personal training allows you to have a trainer right there with you from the comfort of your home to offer professional advice and programming that works.
They can ensure that you are taking the necessary steps to become happier and healthier and also assist with things like proper form to help prevent injuries.
4. Better accountability.
Online personal trainers not only take you through your workouts, but they also tend to be more accessible if you have questions about any fitness or nutrition topic.
An in-person trainer can, of course, provide insight during your session. But it is unlikely that they will be accessible for motivation and information outside of those few hours a week.
5. One-on-one attention.
When it is just you at home connecting with a trainer, you fully get the one-on-one attention you need.
This is preferable over a group setting or distracting, busy gym. Adjustments can be made with ease based on how you are feeling and the pace at which the results are coming.
6. Efficiency with reaching goals.
Virtual personal training can make reaching your goals easier than in-person training because you can easily access training sessions from home.
You have more control over your workout schedule. You can also get nutrition advice that is essential for making the results come quicker.
How to Choose the Right Personal Trainer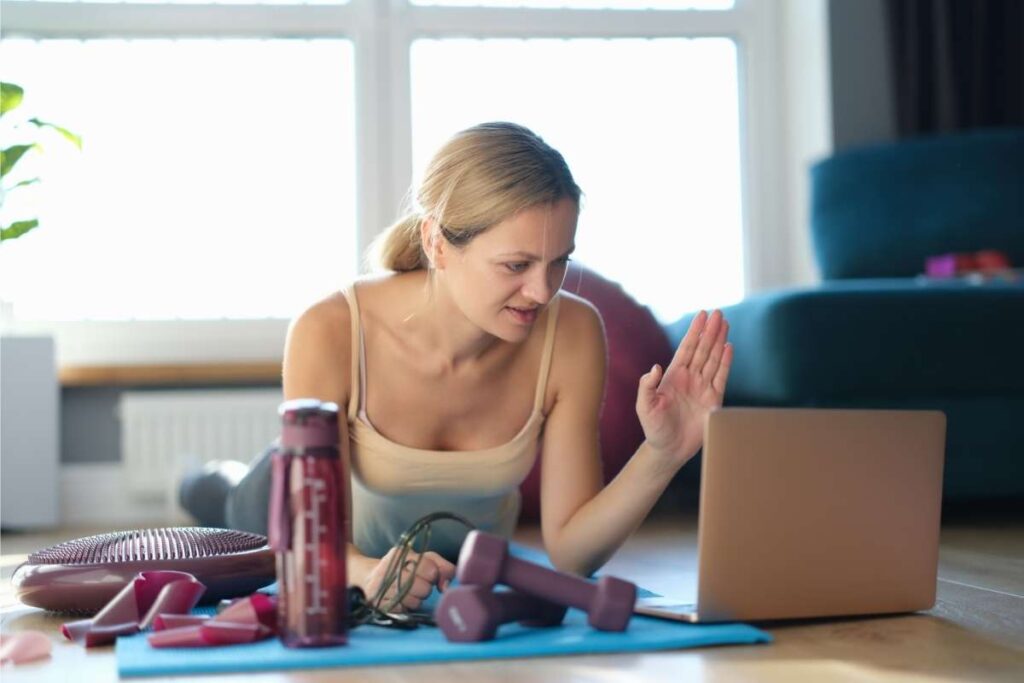 1. Trainer's Certification
There are many different organizations that trainers can get certified through. Some are more reputable than others.
For a personal trainer to get certified, they must pass an exam that addresses several scenarios they could encounter with clients, in addition to extensive anatomy and physiology.
A few examples of organizations known for making their tests more difficult and thorough are the National Academy of Sports Medicine (NASM) and the National Strength and Conditioning Association (NSCA).
If you see that a trainer took the easy route to get certified, they may not have as much knowledge as another online virtual personal trainer.
2. Trainer's Experience
While new personal trainers certainly have a lot to bring to the table, selecting a trainer with at least one year of experience may be preferable.
Trainers with more experience have a better understanding of the common struggles clients face in their everyday lives. They'll have greater ease with creating your personalized workout sessions.
3. Trainer's Testimonials
The testimonials a trainer has received will say everything about them. Do they treat their clients respectfully and help them get the desired results?
Take a look at what past clients have said about the trainer's training style and personality.
Also, see if the online personal trainer provides before and after photos of their best clients!
4. Your Goals
The whole point of getting help is to find someone who knows how to guide you in reaching your goals.
While every trainer will have the baseline knowledge of exercise, most trainers have specialties and a preferred type of client.
For example, some trainers are better with clients needing to lose weight than clients wanting to build muscle. Maybe you are looking to shape your body as an athlete and need plenty of explosive movement and agility involved.
Try to find an online personal trainer that has already worked with plenty of people in the exact same situation as you to make the results come.
5. Your Budget
Whether online or in-person, how much each trainer charges varies based on numerous factors. Take your time finding a trainer that can deliver what you're looking for within your means.
How do I find a good virtual personal trainer?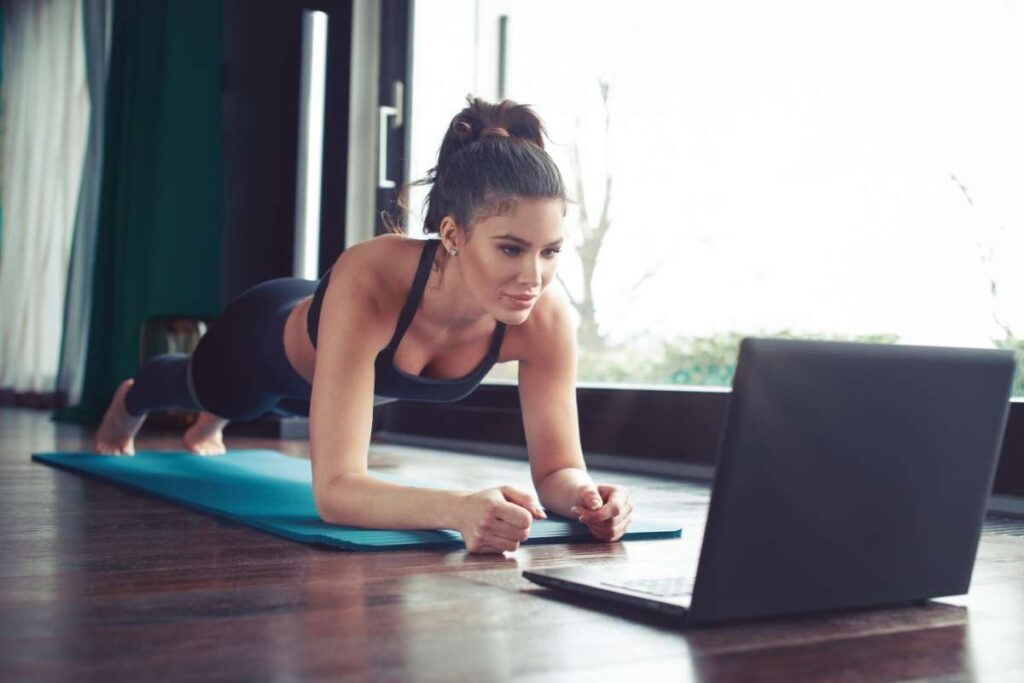 Getting started with virtual personal training can be overwhelming because there are so many choices out there.
When finding an online personal trainer, the factors mentioned above play a significant role in finding someone who is a good fit for you.
However, out of everything, pay the most attention to testimonials. They are both a clear display of a trainer's work and an honest review from the clients.
FlexIt Fit is a great place to start. As one of the top sources for online personal training, they have numerous testimonials from clients that love their platform and trainers!
What is FlexIt Fit?
FlexIt Fitness is an online personal training platform that allows you to go through workouts with a trainer remotely. The company partners with various reputable gyms to find the best trainers for you!
In addition to personal trainers, FlexIt Fit also gives you access to professionals like yoga instructors, dieticians, and physical therapists, so your needs are sure to be met.
To get started, you take a quick goals assessment so the platform can better understand what you need. You can then select the trainer(s) you think would be a great fit.
After you and your trainer have connected, you can book individual sessions or recurring sessions based on how regular your everyday schedule is.
Things To Consider Before Trying an Online Personal Trainer on FlexIt
Before officially signing up with FlexIt Fit, it is important to understand how their system works and be sure it's something you can use consistently.
Take a look at their pricing and reviews in detail to confirm that everything aligns with what you need from a virtual personal trainer!
FlexIt Features & benefits
1. 1-on-1 Sessions
While group training sessions can certainly be fun and energetic, they can't be customized.
With FlexIt Fit's 1-on-1 sessions, virtual personal training revolves around you, your goals, and how you feel that day.
Being the only one in a session also allows time for the trainer to help you with form and answer general questions.
2. Goal Assessment
Before helping you find a virtual personal trainer, FlexIt Fit ensures that they properly understand your primary goals.
They also get details on your availability, what time of day you prefer to exercise, and your favorite way to work out.
These details help ensure that you get the kind of training you need to make the changes you desire.
3. Various Trainers
Not only has FlexIt Fit done its best to make sure you find the best virtual personal trainer for you, but they also have specialists of all kinds available.
Whether you need guidance with burning fat, gaining muscle, yoga, mobility, stretching, cardio, recovery, rehabilitation, or something else, a trainer on the app can help!
You also have the option to work with various trainers throughout the week. This way, you can diversify the personalities and styles of workouts you go through.
4. Wide Price Range
FlexIt Fit caters to everyone by offering both monthly plans and pay-as-you-go plans. By doing so, they are able to offer a wide price range, so you're sure to find a plan that works with your budget.
While it is dependent on how long of workouts you choose, individual session prices range from only $30.60 to $74.50. Total monthly costs range from $134.00 to $816.00
FlexIt Pros/Cons
Pros
You can mix and match the trainers you want to take you through workouts.
You can utilize the app from anywhere you would like.
It is generally cheaper than having an in-person trainer.
Your first session is free.
You have access to great customer service.
Cons
You don't have someone in-person to take you through the workouts if that is your preferred training style.
You are limited to what equipment you have access to at home.
There are reviews stating that the app itself isn't ideal.
Some customers feel pricing could be improved.
The initial goal assessment could be more extensive.
Flex It Customer Reviews
Overall, the FlexIt Fit app has received a rating of 4.5 out of 5 stars from its customers.
Of course, like any app, there are both positive and negative reviews based on individuals' experiences.
These reviews should be taken with a grain of salt, considering your experience with virtual personal training will be unique to you.
Overall, customers are raving about the following factors:
They don't have to deal with gym contracts.
The customer service is top-notch.
The app is great to use for those who travel a lot.
They are only paying for the time they actually work out compared to paying for a month at a time with a gym.
The coach interaction is great.
Here are a few reviews from real customers!
"This app rules! If you are looking for a way to access the best gyms in the country for a low price, this app is for you! If you are looking for amazing 1on1 personal training, this app has you covered!
It's amazing how many new offerings and improvements this app has delivered in such a short amount of time. It shows that the FlexIt team really knows what they are doing.
Get this app!!!"
-Mateo098
"Doesn't allow your gym experience to get stale because you can try so many different gyms. I use it as a supplement to my single gym membership because I'm in many different areas for work and either not always near my gym or don't want to go to the same place every time. Also helps you be efficient in the gym because you don't want to pay for wasted time lol.'
-J.Green16
"I love this concept a lot, I tell my friends and coworkers about it! I workout at home a lot, however I also like to take workout classes. This setup is fit for my lifestyle, I can switch things up. I've gone to gyms I wouldn't have heard about if it weren't for this app. And those hefty monthly memberships that lock you into 1 location. Flexit is the future of the gym. I'm so happy this exists!"
-lilyjraz
FlexIt Price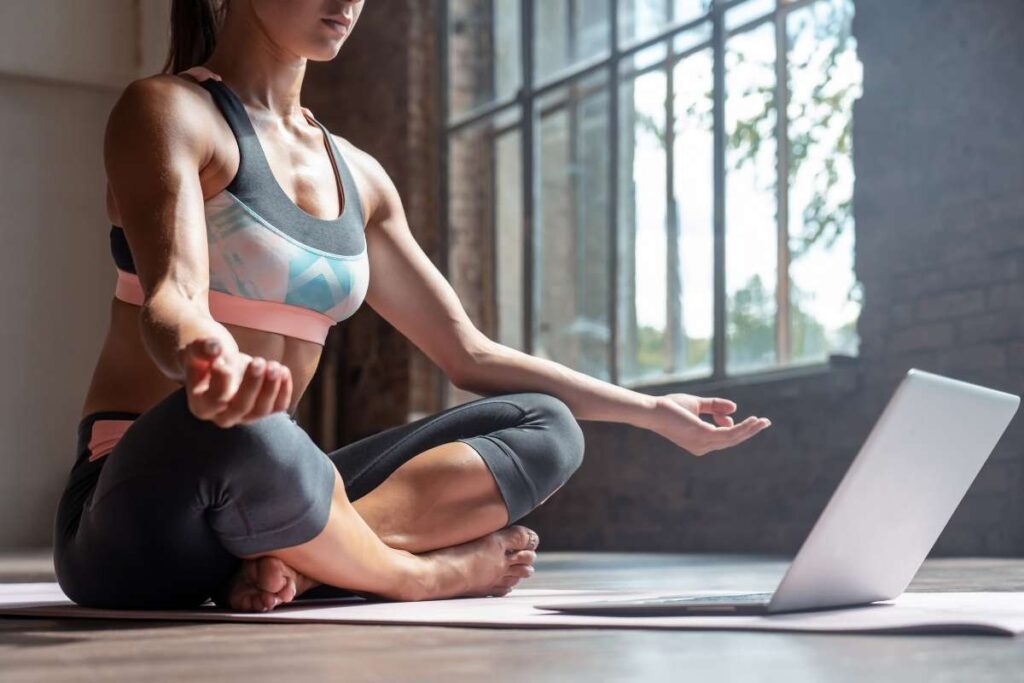 1. Monthly Plans
If you choose a monthly plan, the following are your options:
30-minute sessions
Number of sessions
Cost per session
Total monthly cost
4
$33.50
$134.00
8
$32.40
$259.20
12
$30.60
$367.20
45-minute sessions
Number of sessions
Cost per session
Total monthly cost
4
$50.20
$200.80
8
$48.60
$388.80
12
$45.90
$550.80
60-minute sessions
Number of sessions
Cost per session
Total monthly cost
4
$67.05
$268.20
8
$64.80
$518.40
12
$61.20
$734.40
2. Pay-As-You-Go Plans
If you choose a pay-as-you-go plan, the following are your options:
30-minute sessions
Number of sessions
Cost per session
Total monthly cost
4
$37.25
$149.00
8
$36.00
$288.00
12
$34.00
$408.00
45-minute sessions
Number of sessions
Cost per session
Total monthly cost
4
$55.75
$223.00
8
$54.00
$432.00
12
$51.00
$612.00
60-minute sessions
Number of sessions
Cost per session
Total monthly cost
4
$74.50
$298.00
8
$72.00
$576.00
12
$68.00
$816.00
Please read our full FlexIt Reviews
Conclusion
We hope that you enjoyed my take on virtual training and review of FlexIt Fit! This app has many perks and is enjoyed by most of its customers.
The opportunity to work with a virtual personal trainer has become more and more accessible, so now it's your turn to give it a try!
Before long, you will be seeing positive changes both physically and mentally.
Check out FlexIt Fit yourself and see if it's right for you.
Also, please comment below what fitness goals you are hoping to achieve with online personal training. And don't forget to share this article with anyone else who may find it helpful!
Frequently Asked Questions
What is online personal training?
Online personal training involves a certified trainer taking you through workouts on a video platform. With this form of training, you don't have to worry about going to the gym or paying for a membership. 
Online training tends to be more affordable as well.
Is a virtual personal trainer worth it?
If you are more comfortable with exercising at home but still need the guidance of a trainer, using a virtual personal trainer app can certainly be worth it!
Virtual personal training is just as credible as in-person training, and it is preferred by those who don't want to deal with commutes and gym memberships.
What does an online personal trainer do?
Most online personal trainers talk with you about your goals and then design personalized workout programs to get you to where you want to be.
The trainers then either take you through those workouts themselves through a live video, or they simply give you a detailed workout plan to do on your own time.
They can also provide you with some general nutritional guidance, but unless they are a virtual personal trainer and nutritionist, they cannot legally give you detailed meal plans.
Do virtual personal trainers work?
As long as the virtual personal trainer is understanding of your goals and you are consistent with the workouts, they can definitely work! 
It may take many months for you to achieve the physique you desire, but if you stick with it and trust the process, you will get there.
What is the average cost for a virtual personal trainer?
While it varies widely by trainer and whether or not you buy virtual personal training sessions in bulk, the average cost for an hour with a virtual personal trainer is between $30 and $60.
Where to find personal trainers?
There are numerous apps available that can connect you with a suitable personal trainer. Pay careful attention to reviews to ensure that past clients have been happy with the results they have achieved!