This post may contain affiliate links at no additional cost to you. As an Amazon Associate I earn from qualifying purchases. Click to view our full disclosure.
Kate Hudson is not only a talented film star, but is a living embodiment of healthy lifestyle and movement. Her bubbly personality, limitless energy, and lean figure reflect this perfectly.
Where does she get her energy and athletic appearance from?
I'm a professional trainer and I am about to show you the way to Kate's inexhaustible energy levels and graceful shape.
Keep reading as I break down Kate Hudson's workout routine, diet, and even what supplements she takes.
Kate Hudson's Current Bio and Stats
Kate Hudson was born in Los Angeles, California, US on 19th April, 1979. Her mom is actress Goldie Hawn and her father was Bill Hudson, a comedian.
Goldie served Kate as a role model, not only for her achievements as a film star, but as a mother who raised Kate and her brother Oliver Hudson by herself after divorce. But only until actor Kurt Russell joined the family as their new dad!
Kate Hudson loved performing from a young age, taking every opportunity on the stage to sing and dance. But her love for acting really came to surface when she left New York University to pursue her dreams.
She then got her first role in Desert Blue in 1998, which opened the doors to several film roles, most notably playing Penny Lane in Almost Famous (2000).
How to Lose a Guy in 10 Days was her breakthrough to becoming a million-dollar leading lady, with amazing films to follow like Bride Wars (2009).
No surprise she holds many awards, such as the Golden Globe for the Best Supporting Actress.
Kate loves a healthy and active lifestyle. She is a founder of activewear label Fabletics as well as INBLOOM, a beauty supplement company.
Age: 44 years old
Height: 5'6 / 168cm
Weight:136 pounds / 61kg
Birthday: April 19, 1979
Occupation: Actress, business woman, fashion designer
Retired/Active: Active
Kate Hudson's Workout Fundamentals
Read More: Mikasa Ackerman Workout Routine
Kate's amazing figure comes from consistent training and her love for cardio. She prefers running, cycling, and dance-style training like jazz and pole dancing.
Hudson's strength and functional exercise consists of sled push followed by some squats, lunges and planks. Brian Nguyen, her personal trainer and strength coach, has also shared some of her lower body workout routines, which I will detail coming up.
When she isn't pushed by her trainer, she uses Tonal training equipment to break a sweat. Tonal makes all-around resistance equipment you can use for rows, curls, and presses and many other exercises.
She also follows other workout styles like Pilates and yoga with her instructor Nicole Stewart.
Kate trains every day at least for 30 minutes and switches up her training so she doesn't get bored. She even recommends others to do the same, to help you stay laser-focused on your fitness journey!
The fit mom is so passionate about working out, that she carries a jump rope with her everywhere just to train when and wherever she wants!
Also it's important to know that Kate weighed around 200 pounds when she was pregnant with her daughter Rani, who was born in 2018. She lost the pregnancy weight during the pandemic.
Kate has also mentioned following a workout app called Obé with daily live classes, home weight, or bodyweight workouts. This helped her stay dedicated to losing her pregnancy weight during the toughest times.
Kate Hudson's General Workout Routine
Read More: Carrie Underwood Workout Routine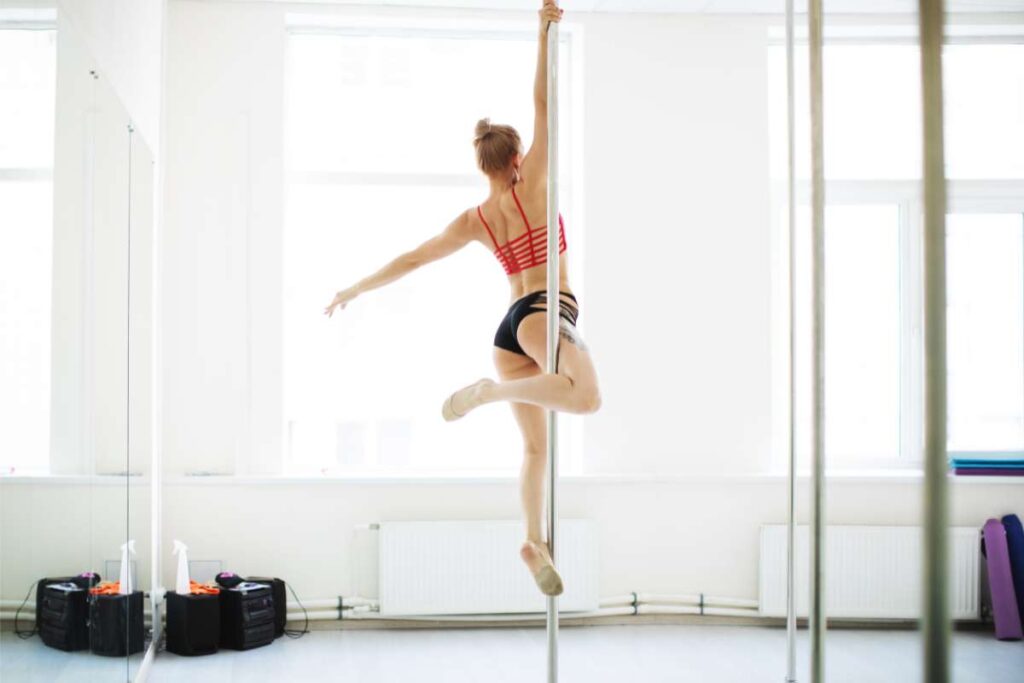 It's hard to keep up with Kate Hudson. Her workouts are so dynamic, and different weekly, that it's hard to find out what exactly she does day by day.
But I'm here to save you some time and give you a Kate Hudson workout plan. I've put together an effective program based on her preferred training styles and exercises and my expert knowledge.
Here's your Kate Hudson-inspired weekly training schedule:
Also if you would like to dive into Kate Hudson's fitness world deeply, read her book called Pretty Happy: Healthy Ways to Love Your Body. She gives some amazing tips to reach your goals and stay consistent on your journey!
Kate Hudson's Workout Plan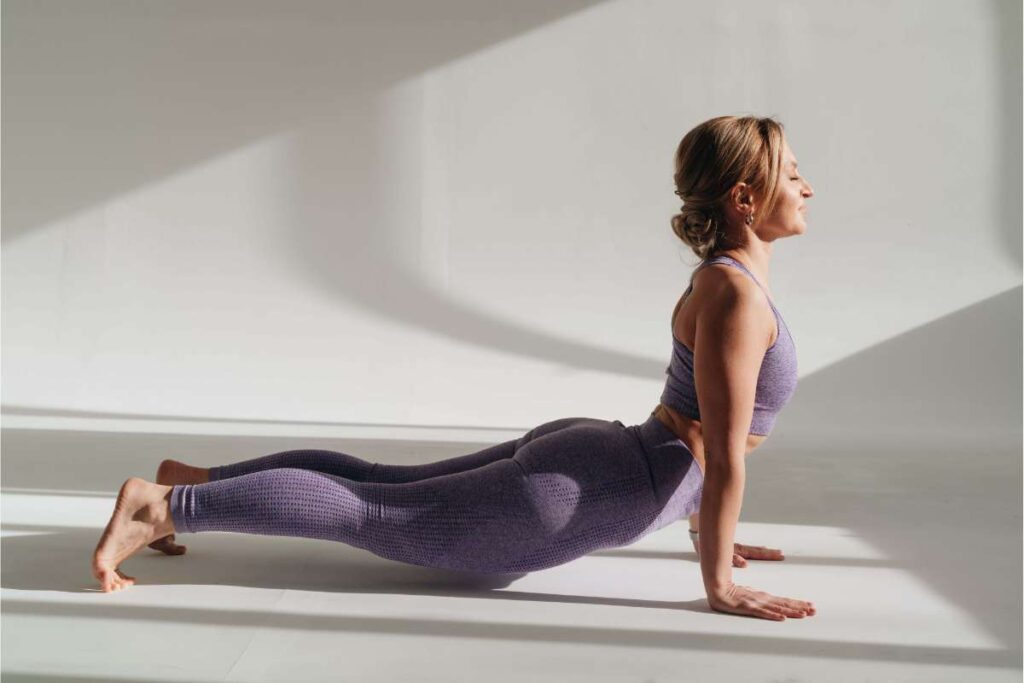 Are you ready for a detailed workout plan with all of Kate's favorite and most effective exercises to get you in tip-top shape? Prepare yourself; it won't be easy.
Monday: Cardio and Abs
45 minute-long run
Exercises
Duration
Jackknifes
Bicycle crunches
Russian twists
Mountain climbers
Side Plank
2-3 rounds of 15-20 reps on each exercise
Tuesday: Functional Strength Training
Exercises
Duration
Sled Push
Press-ups
Tricep Dips
TRX Plank
Side Plank
Kick Throughs
4-6 rounds: 30 seconds on 15 seconds off
Wednesday: Pilates
Exercises
Duration
Roll-ups
Criss Crosses
Char ABS
Half-Potatoes
Single-Leg Stretch Outs
Grand Ronde de Jambe
2-3 rounds of 15 controlled reps
Thursday: Lower Body Workout
Exercises
Duration
Single-Leg Romanian Deadlift
Toe Touches
Bodyweight Squats
Plank Variations
Glute Bridge
Lunges
4-5 rounds: 30 seconds on 15 seconds off
Friday: Pole or Jazz Dancing Routine
Kate Hudson Butt Workout Routine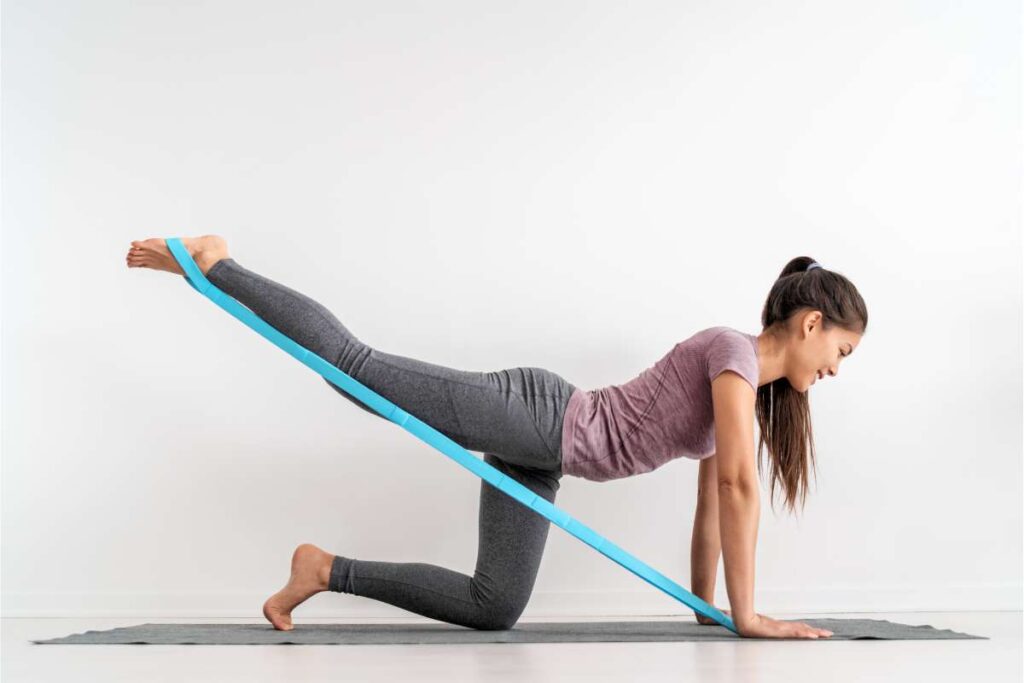 While Kate doesn't have a strict routine, she posts several videos on her social media performing glute exercises.
Here is her insane, tone-promising butt workout routine.
Exercises
Duration
Donkey Kicks
Bulgarian Split Squats (each leg)
Pausing Goblet squats
Single-Leg Sliding Leg Curls (each leg)
Fire Hydrants
Lateral Lunges
4-5 rounds: 30 seconds on 15 sec off
Kate Hudson Yoga Workout Routine
Kate Hudson has several one-to-one sessions with Nicole, her Pilates and yoga instructor.
However, during lockdown she continued with her yoga routine by following livestreams and online fitness videos.
Here is a simple yoga routine you can try yourself at home, and you'll only need a mat.
Exercises
Duration
Downward Dog
Boat Pose
Camel Pose
Tee Pose
Uttanasana
Half Moon Pose
Half Tortoise Pose
Triangle Pose
To increase strength and flexibility hold each pose between 20 seconds to 1 minute. Control your breathing throughout the movement!
Kate Hudson's Dieting and Food Preferences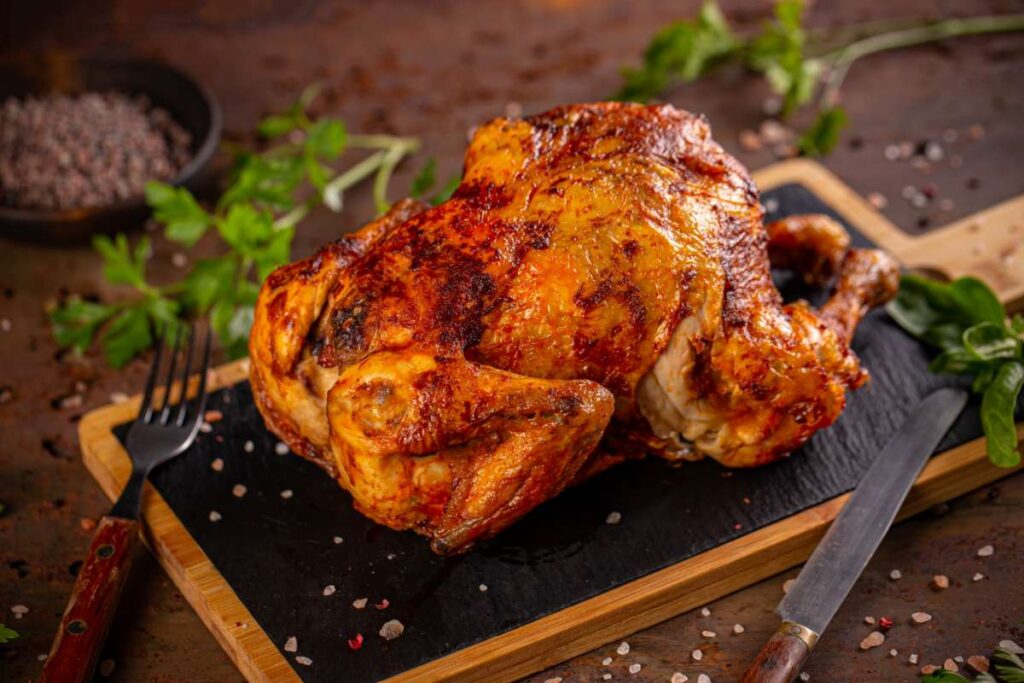 Kate Hudson's diet is alkaline, where 80% of her calories come from fruits, nuts, seeds, veggies, whole grains, and beans/lentils. She limits meat, processed food, high acidic food and alcohol.
Even though she is an alkaline diet fan, she still enjoys the occasional chicken or other meat.
As a mom of two, Hudson believes in consuming treatmeals in moderation and eats out once or twice a week in a restaurant (Peche, Jacques-Imo's, and NOLA are faves). She also enjoys the occasional pre-dinner dirty martini without thinking about her waistline.
During lockdown in 2020, she actually followed Weight Watchers. She later said in an interview that it helped her with making better food choices and controlling her portions.
When she wakes up in the morning around 6.30-7am before her children, she isn't too hungry, so Kate opts for a celery juice to detox.
Later, she follows this with her favorite soft-boiled eggs with sourdough bread and avocados, or a nutritious oatmeal.
She may continue with a healthy snack like nuts or a post-workout chocolate protein smoothie. Sometimes she just has a vitamin-packed chopped salad at home or from La Scala.
Kate prefers her salad with extra salami and dressing. If you want to switch to a more healthy option, you can leave the dressing and salami out and add chicken, tuna, or tofu and drizzle it with some olive oil instead!
Kate Hudson's dinner is full of variety, which she loves sharing with her family as they sit down for a meal between 5.30 to 6pm whenever her busy schedule allows.
They then enjoy a special recipe, nutmeg gravy chicken with rice and shallots. Or, she might reach for a simple and healthy salmon fillet.
Kate pays attention to her hydration at all times, starting the day with a glass of alkaline filtered water, and staying hydrated throughout the day.
Here is a little summary of her most beloved food choices!
Breakfast
Celery juice
Egg whites, spinach, mushrooms, onions, swiss cheese, avocado
2 soft boiled eggs with sourdough, butter and avocado, olive oil and sea salt
Oatmeal with almond butter, banana and blueberries, maple syrup, cinnamon, chia seeds, walnuts or almonds
Lunch
La Scala chopped salad, with extra salami, no cheese, cucumber, basil and extra dressing
Protein smoothie
Acai bowl
Dinner 5.30-6 pm
Nutmeg (nutmeg gravy) with chicken,shallots, lemon, herbs,and rice
Sweet corn pasta with pancetta, peas, corn, white wine, butter, olive oil and cream
Matzah ball soup
Chicken and dumplings
Sushi
Salmon, steamed vegetables
Snack
Chocolate protein smoothie with banana, almond butter, coconut milk or any plant based milk,
Chips and salsa
Cheez It crackers
Nuts, fruit, veggie sticks with hummus
Late snack Non-dairy Oat Milk, or dulce de leche ice cream
Kate Hudson's Diet Plan
Kate's diet is full of variety and nutrients. I wanted to make sure I share with you the healthier options.
You can always have an "unhealthy" treadmeal weekly. Just make sure you do not overeat these. Health is about balance and finding joy in nutritious food, and Kate is a great example of this.
If you want to make sure you are within your required calorie intake for your goal you can also use our Advanced Calorie and Macro Calculator! This powerful tool not only prevents overeating but also keeps you accountable throughout your wellness journey.
Here is your sample Kate Hudson diet plan:
Breakfast: Oatmeal with chia seeds, walnuts, banana, blueberries, and maple syrup
Rolled oats
Walnuts
Chia seeds
Banana
Blueberries
Maple syrup
Almond milk or Coconut milk
Bring the milk to a boil in a pan on a medium heat. Add the rolled oats, reduce heat to low and simmer. Cook for 10-20 minutes or until softened.
The last two or three minutes, add the chia seeds so they absorb some liquid. Once cooked, add the toppings!
Chocolate whey protein
Banana
Coconut milk
Almond butter
Blend the ingredients together, add ice if you like, and enjoy!
Lunch: Chopped Salad
Carrots
Cucumber
Celery sticks
Cherry tomatoes
Gem lettuces
Feta cheese (optional)
Dressing of your choice
Balsamic vinegar
Extra virgin olive oil
Chop the tomatoes, lettuce, and celery sticks into a bowl. Add the feta cheese and the dressing, season it to your taste, and enjoy!
Snack : Veggie sticks with hummus
Dinner: Nutmeg (nutmeg gravy) with chicken, shallots, lemon, herbs, and rice
Brown sugar
All-purpose flour
Ground nutmeg
Unsalted butter
Vanilla extract
Boiling water
To make the nutmeg sauce, mix the dry ingredients together then pour boiling water on top, whisking it together.
Whole chicken
Rice
Shallots
Lemon
Herbs
Flavor the chicken with herbs and lemon, and add the shallots. Add 1/2 cup of water in the pan. Roast for 30 minutes and turn it around. Add more water if needed and roast it for another 20-30 minutes or until golden.
Meanwhile, boil the rice. Serve it with the nutmeg sauce.
Kate Hudson's Supplement Preferences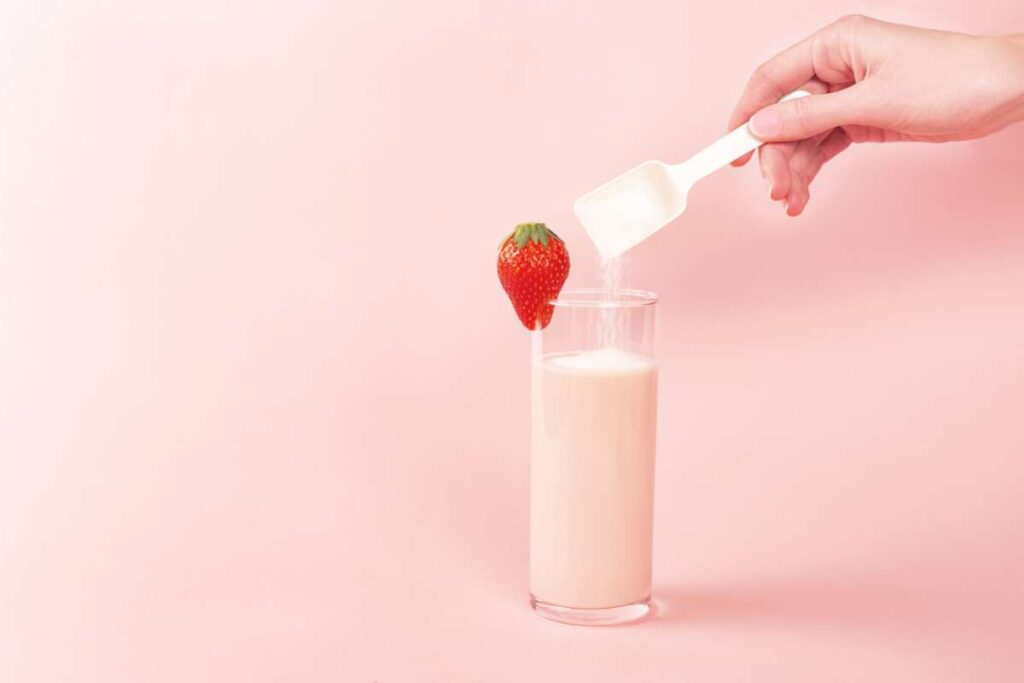 As we know, Kate Hudson launched her supplement company INBLOOM in 2020. Naturally, Hudson prefers products from her own line.
Kate adds INBLOOM Elements Immune Defense Powder to her morning routine, which is enriched with Chinese herbs and vitamins. She occasionally adds these to her protein smoothies too, to increase its nutrient content.
Additionally she uses INBLOOM Essential Elements with multivitamins, greens, and minerals for supporting her nervous system, and INBLOOM Brain Flow\ with ginkgo, ashwagandha, and lion's mane for focus and cognitive health.
For her nails, hair and skin Kate Hudson's go-to supplement is her Beauty Aura with collagen and berries.
Final Thoughts
Kate Hudson's various forms of exercise and her love for an active and healthy lifestyle are evident in her toned physique. From functional training to cardio, Pilates, yoga and dancing, the fit mom kept her routine consistent even while losing pregnancy weight in lockdown.
But we know diet plays a huge role in weight loss. Kate prioritizes whole grains, fruit, vegetables, nuts, and seeds by following a high-alkaline diet.
It's just impossible to get bored by following her diverse workout and diet plan. If you're inspired by Kate's health and fitness journey too, share your thoughts with us!
Frequently Asked Questions
What is Kate Hudson's workout routine?
Kate Hudson follows a well-rounded fitness routine. Her all-time favorites are yoga and Pilates.
Besides her jaw-dropping strength and flexibility workouts, the film star works out with a personal trainer, doing sweat-breaking leg and booty workouts at home combined with some heart pumping sled pushes.
Kate also does regular cardio like outside running, jumping rope, and cycling. 
How did Kate Hudson lose all her weight?
Kate followed an app called Obe during lockdown to lose her post-pregnancy weight. She also did Weight Watchers and made sensible food choices. 
As her mind-body routine, yoga was part of her everyday life, even during lockdown.
Does Kate Hudson lift weights?
What does Kate do for exercise?
Kate exercises for at least 30 minutes every day, even when she is busy. Then she may perform four to six rounds of 30 minutes with exercises like:
– Sled Push
– Lunges
– Pausing Goblet Squats
– Push-Ups
– TRX Planks
– Donkey Kicks
If she feels more up to something lighter, she does Pilates or hot yoga.
How much does Kate Hudson weigh?
Kate weighs approximately 135 lbs. kg in 2023.
Popular Celebrity Workout Routines: