This post may contain affiliate links at no additional cost to you. As an Amazon Associate I earn from qualifying purchases. Click to view our full disclosure.
Kendall Jenner's supermodel figure can't just be labeled as genetics!
Sure, as the daughter of a legendary athlete, she has good genes. But walking those runways in top-top shape takes serious work.
Jenner's doing a great job keeping a perfectly slim and toned body, but how? I'm a professional trainer, and I have some insight into the Kendall Jenner workout routine, her exercise philosophy, what she eats, and more.
I can even share some workouts and meals that you can try at home. Keep reading to learn everything there is to know about Kendall's superstar physique.
Kendall Jenner Current Bio and Stats
Kendall was born in Los Angeles, California on November 3rd, 1995. Her dad is Olympic decathlete Caitlyn Jenner, which explains her love of sports and physical activity in general.
Her mom, Kris Jenner, is a television personality and businesswoman who stars with her daughters on the reality series Keeping Up with the Kardashians. Kendall has appeared on the show since she was just 11 years old.
She always knew she wanted to be a model and began working toward this goal at age 14.
Her career breakthrough came in 2014-2015, owning the catwalk for the biggest fashion shows in Milan and Paris, as well as the Victoria's Secret Fashion Show in New York.
After that, she appeared on the cover of Vogue and became the face of Estée Lauder.
She was only 20 when she first appeared on the Forbes list of the world's top-earning models. From there, Jenner signed a contract with Calvin Klein and by 2017, she was considered the world's highest-paid model!
In 2023, Kendall's modelling career continues to soar as she most recently appeared in the Prada Fall show. She is also enjoying the ongoing success of a popular tequila brand she founded in 2021, 818 Tequila Blanco.
Age: 26
Height: 5' 10'' (179 cm)
Weight: 128 lbs (58kg)
Birthday: November 3, 1995
Occupation: Supermodel, media celebrity, and businesswoman
Retired/Active: Active
Kendall Jenner Workout Fundamentals
Read More: Jen Selter Workout Routine
Kendall Jenner works out with celebrity trainer Gunnar Peterson. She wakes up at 6-6.30am, rehydrates, and heads to the gym for an hour.
Even though Kendall doesn't like cardio, her routine consists of high intensity training, cardio, kickboxing, weight training, and some hot yoga.
Her trainer makes her do all sorts of plank variations, as Peterson famously believes they are underrated for a toned body.
As a trainer myself, I understand that fashion models don't aim to be muscular like fitness models, for example. Kendall is slim and toned to a lesser degree, which perfectly suits her profession.
Fashion houses notoriously prefer the tall, slim frame that the majority of models happen to have. They also have thinner bone structures and a high metabolism, and Kendall is no exception.
This isn't to say she doesn't work hard at the gym or pay attention to her food.
Her look is the result of good genes, a high metabolism, and challenging workouts combined with cardio and light weight training. She uses weight that allows her to do at least nine reps per set.
Kendall Jenner Workout Routine
Read More: Natalie Portman Workout Routine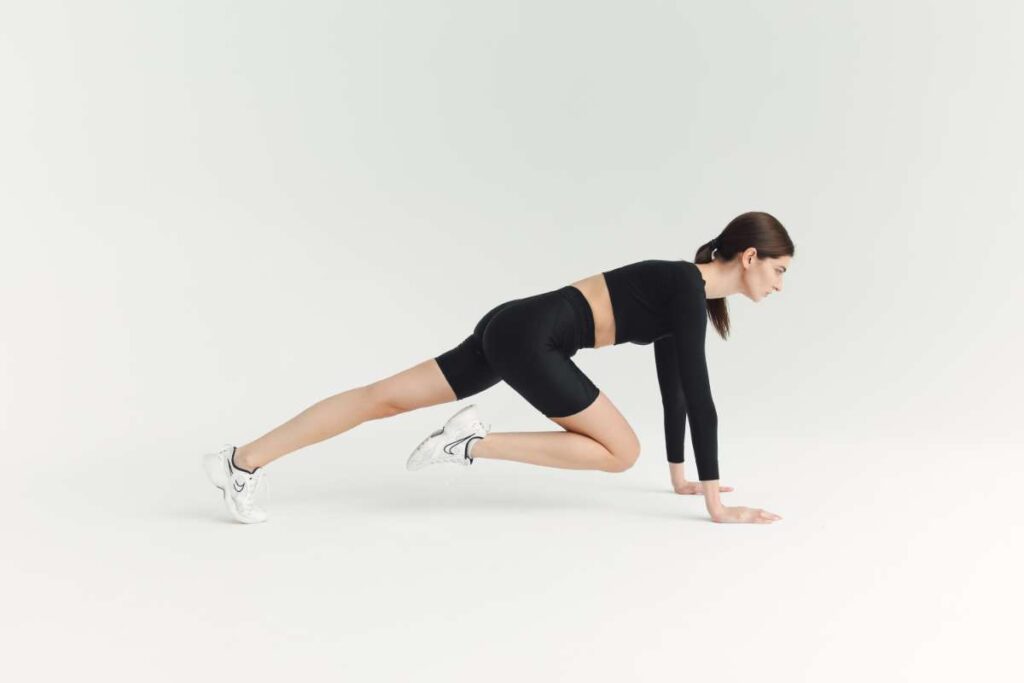 Neither Jenner nor Peterson shared with us the exact workout routine she follows, but I do know many of the exercises she does.
Based on this and my fitness expertise, I've designed a program for you to earn Kendall's catwalk look. Or at least, something that gets you closer to your version of runway-ready.
Kendall Jenner Legs and Abs
Exercise
Sets
Reps
Rest
Loop Band Clam Shells
3
15
30 sec
Dumbbell Goblet Squats
3
10
30 sec
Skater Lunges with DB kickback
3
10 each side
30 sec
Loop Band Side Walks
3
15 each leg
30 sec
Sled Push 3-5 x 30 m Sprints 3 x 100 m
Kendall Jenner Abs Workout Routine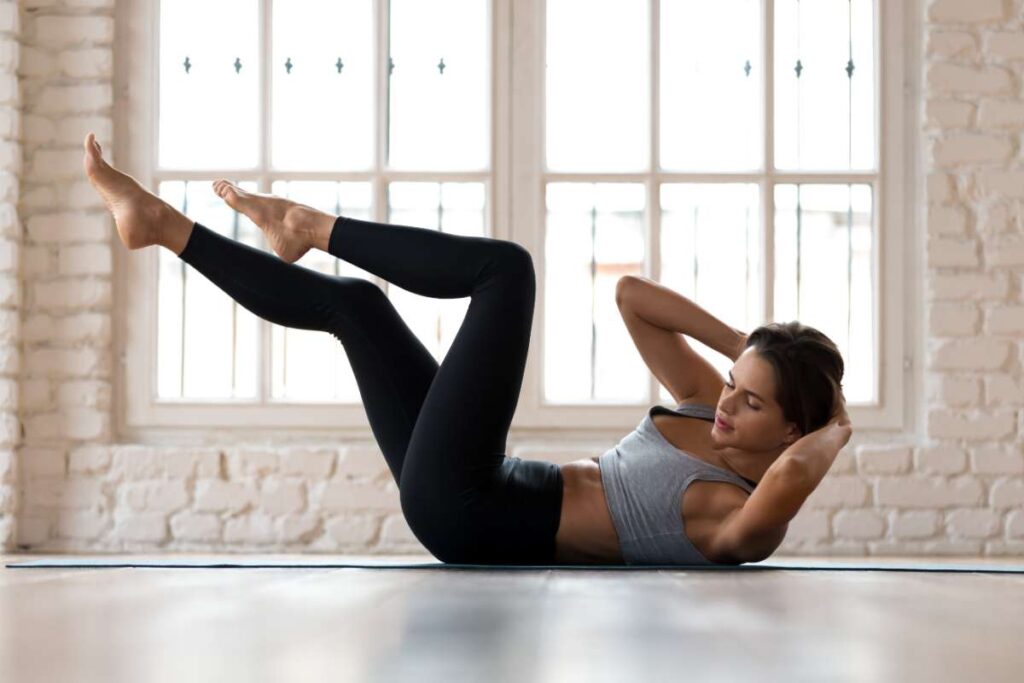 Exercises
Duration
Forearm Plank
High Plank
Side Plank Crunch
Crunches
Bicycle Crunches
Single Leg Lifts
Russian Twists
Vertical Crunches
1-2 x 30 seconds on each exercise (each side)
Upper Body Workout
Exercise
Sets
Reps
Rest
Dumbbell Press
3
8-10
30 sec
Triceps Kickback
3
15
30 sec
Push-Ups
3
10
30 sec
Banded Pull-Ups
3
10
30 sec
Sled Push 3-5 x 30 m2-3 x Monkey Bar Hang Walks
Kendall Jenner Full Body Workout
Exercises
Duration
Jumping Jacks
Plank Mountain Climbers
Rocking Forearm Pank
High Plank with Leg Lifts
Kick Backs
Plank Push Ups
Jog In One Place
Tuck Jumps (Alternative: High knees)
2 rounds
30 seconds each exercise (each side)
NOTES:
Make sure you warm-up for 10 minutes prior to any exercise for 10. Raise your heart rate on any cardio equipment and perform dynamic stretches for 30 seconds, such as:
Leg Swings
Lunge to Rotation
Arm Circles
Squat to Overhead Reach
This is essential for injury prevention and to perform at your best!
Kendall Jenner Dieting and Food Preferences
Read More: Zendaya Workout Routine
Believe it or not, Kendall loves eating. She doesn't skip meals, but eats five or six small portions of healthy meals and snacks a day.
Jenner still also loves a cheat meal like pizza or fried chicken. In particular, she likes taking her sister, Khloe Kardashian, to Nobu's or to get a juicy burger at In-n-Out.
Kendall has low blood sugar levels and a high metabolism, so it is extremely important for her to eat and snack more often. Some of her snack choices are Justin's peanut butter, Twix candy bars, and the hard-to-resist frozen yogurt she has twice a week.
Not the diet we are used to from a model, right?
But we already know she trains hard, and her day-to-day meals are healthy choices with plenty of vegetables, whole grains, and lean protein.
You've likely heard someone say, "Never skip breakfast, it's the most important meal of the day." Kendall wholeheartedly agrees, enjoying a nourishing meal of avocado toast and eggs accompanied with oatmeal.
One thing is for sure, as a supermodel, Jenner doesn't have a ton of time to prepare her lunch and dinner. The only meal she can cook at home may be her breakfast. Other times, she might have to eat on a flight or at restaurants like HealthNuts or Craig's.
Either way, Kendall pays attention to her hydration at all times. She keeps her glow by drinking plenty of water and 12 cups of tea a day like lemongrass, rosehip seed, green tea, and detox teas.
Here are some of her meal preferences:
| | |
| --- | --- |
| Breakfast | Avocados and Eggs on Toast + Oatmeal, Caramelized Apples with French Toast, Pancakes with Bacon, Detox Tea |
| Lunch | Grilled Chicken with Brown Rice and Veggies, Turkey, Fish, Seafood, Eggs, Legumes, |
| Dinner | HealthNuts Deluxe Salad with Chicken, Fettuccine with Peas, Lemon, Onion, and Parmesan sauce, Vegan Spaghetti Bolognese from Craig's, Sushi |
| Snack | Vegetable sticks with Hummus, Fruit, Twix, Chips and Guacamole, Fruit, Pinkberry(brand) or Go Greek (tart berry) Frozen Yogurt |
Kendall Jenner Diet Plan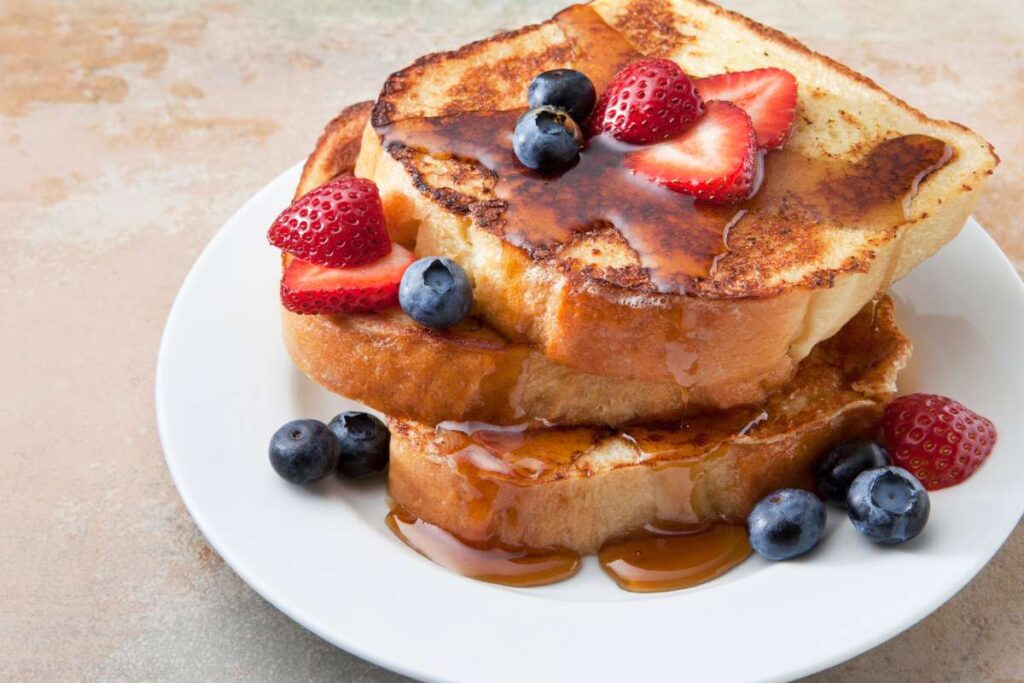 While Kendall doesn't have enough time to cook, it is always better to cook our meals fresh at home rather than eating out so much. In addition to being healthier, it saves you money.
Even Kendall wishes to have more time for grocery shopping, so she could pick her own veggies and recipe ingredients.
See, some of us have this privilege!
Breakfast: French Toast With Rice Krispies and Tea
Eggs
Rice Krispies
Thick whole grain bread
Brown or coconut sugar
Salt
Cinnamon
Vanilla
Semi-Skimmed Milk or Soy milk (milk of your choice)
Four
Mix together the eggs, milk, oatmeal flour, sugar, salt, cinnamon and vanilla. Get some thick slices of bread and dip it into the mixture.
In the meantime, pour some Rice Krispies in a separate bowl, and dip each piece of bread into the Rice Krispies as a coating.
Over medium heat, melt a small piece of butter in a pan; add the bread and cook for two to three minutes on each side or until golden. Serve it with fresh fruit, maple syrup, or honey.
Snack: Carrot Sticks With Hummus
Lunch: Grilled Chicken with Vegetables and Brown Rice
You can adjust this recipe as you like. I prefer marinating the chicken prior to cooking, as it prevents it from getting dry. I also love asparagus, broccoli and mushrooms with my chicken, but feel free to choose any veggies of your choice.
Lemon juice
Olive oil, garlic, paprika, chilli flakes (optional) salt and black pepper.
Fresh parsley
Chicken
Veggies
Brown rice
Mix the lemon juice with all the spices and fresh parsley. Pour it over the chicken breast or thigh fillets. Leave for 30 minutes.
Prepare the veggies on a tray and drizzle them with some olive oil and spices. Grill the chicken for 10-15 minutes per side until cooked. Remove from the grill, cover with foil, and allow to rest while you grill the vegetables. Serve with brown rice and enjoy!
Dinner: Fettuccine with Peas and Parmesan Sauce
Fettuccine pasta
Parmesan
Lemon
Garlic
Egg Yolks
Spring Peas
Cook the pasta in a large pot of salted water, draining when al dente. Save at least one cup of the pasta water for later.
Drizzle pasta with one tablespoon of olive oil and set aside. Heat 2 tbsp of olive oil in the large pot on medium-high heat. Add the peas and garlic and cook for a minute.
Add pasta and the leftover pasta water back into the bowl and cook until the liquid is reduced by half.
Mix the egg yolks with half of the parmesan. Take the pasta off the heat and leave it for 30 seconds to mix in the egg yolk with the parmesan. It shouldn't scramble. Season with salt, black pepper, lemon zest, lemon juice, and some more parmesan.
PRO TIPS:
This plan consists of delicious high-carb sources that are easy to overeat. And not all of us have Kendall Jenner's fast metabolism. Some of you may have office jobs that require more sitting, or are just less active because of injuries.
In either case, I recommend using our advanced macro and calorie calculator.
It is suitable for those new to macro tracking and can help you stay within your requirements for weight loss or maintenance!
Kendall Jenner Weight Loss Diet Plan
Kendall has never stated that she is trying to lose weight. Some people claim she's been thinner lately, but there isn't anything to confirm changes to her lifestyle.
What we know is that Kendall's regular diet involves enjoying treat meals twice a week and dining out with friends and family. This serves both socializing and accommodating her hectic fashion industry schedule.
However, before fashion week, she becomes particularly mindful of her food choices. Still, instead of relying on calorie counting or restrictive diets, Kendall focuses on nutritious food sources, consistent training, and reduces her intake of treats in preparation for these important events.
If you are on a weight loss journey, I would suggest you to switch up the above French toast to her favorite avocado and eggs on toast recipe and the dinner for a Deluxe Chicken Salad:
Breakfast: Avocado and Eggs on Toast
2 Medium Eggs
2 Whole Grain Slices of Bread
Half an Avocado, Mashed or Sliced
Salt and pepper
While your bread is toasting, poach two eggs (she does two egg whites during fashion shows). Cut or mash the avocados and place on top of the toast, Add the eggs on top of the avocado.
Season it to your taste, Enjoy!
If you have a big appetite, you can enjoy some oatmeal with it, like Kendall sometimes does.
Dinner: Deluxe Chicken Salad
Leafy Greens
Sunflower Seeds
Mozzarella Cheese
Cucumber
Carrots
Chicken or Tuna
Mix the ingredients in a bowl. Drizzle with a tablespoon of olive oil and lemon, season to your taste and enjoy!
Also here are some tips from Kendall that may support weight loss:
Keep hydrated at all times! It doesn't just help you lose weight. It also detoxifies your body and helps you perform better in and out of the gym.
Eat smaller meals more often to keep your blood glucose steady at all times and avoid afternoon crashes.
Research shows that one big meal per day had higher fasting glucose levels in the morning and experienced greater increases in blood glucose after meals.
Their insulin response to glucose was also delayed compared to those who ate three or more meals per day.
Avoid crash/fad diets. They restrict nutritious food sources and can make you anxious. Instead, find healthy meal options that you enjoy and stick to them daily.
You can have cheat meals while dieting, just limit them to 1-2 x a week! A study even indicated an increase in metabolism after a cheat meal, causing your body to burn calories faster.
Kendall Jenner Supplement Preferences
Kendall is known to use Beekeeper's Naturals propolis throat spray and Brain MD omega-3 power capsules. Additionally, she has recently shared that she takes a type of nicotinamide adenine dinucleotide, also known as NAD.
What are they good for?
Avea NMN powder: Contributes to cell regeneration and is popular for its anti-aging properties.
Beekeeper's Naturals propolis throat spray: An all-in-one medicine for immune support, sore throats, and perhaps glowing skin. She mixes it with oatmeal, avocado, and lavender oil to prevent breakouts!
Final Thoughts
Kendall Jenner is a natural athlete who enjoys working out and staying healthy, but being a supermodel requires dedication to your physique.
While genetics and metabolism play a role in her appearance, Kendall's commitment to challenging workouts and healthy nutrition matters most. She balances it with twice-weekly treat meals, still maintaining her perfectly slim and toned physique.
So, avoid starving yourself for a supermodel look. Instead, choose nutritious meals! That's what Kendall does.
Remember, we all have individual needs regarding dieting and training, so I always recommend consulting with a dietitian or trainer before making significant changes to your lifestyle.
Are you going to try Kendall's workout and diet?
Frequently Asked Questions
What's Kendall Jenner's workout routine?
Kendall Jenner completes abs and full body workout routines with her personal trainer, Gunnar Peterson, that can be done anywhere. 
She also trains at the gym performing compound movements like squats, lunges, and dumbbell presses.
Even though she isn't a huge fan of cardio, she does jogging in place, jumping jacks, sled pushes, sprints, and the occasional kickboxing classes. 
How many hours does Kendall Jenner exercise?
How did Kendall Jenner lose weight?
Kendall never discusses weight loss, even if she appears slimmer. She does pay even more attention to her diet and training weeks prior to her fashion shows.
How many calories does Kendall Jenner eat a day?
Kendall does not count calories or weigh her food. She eats healthy food most of the time. She has a high metabolism, so her high carb sources may not suit everyone.
What does Kendall Jenner eat?
Kendall's favorite healthy foods include: 
Avocados and eggs on toast
Grilled chicken with brown rice and veggies
Carrot sticks with hummus 
Deluxe chicken salad
Sushi
She has treat meals twice a week, usually at a restaurant. Her favorites are:
In-n-Out Burger and fries
Craig's vegan spaghetti bolognese
Go Greek frozen treats
Twix candy bar
Guacamole and chips 
What does Kendall Jenner do?
Kendall Jenner is one of the highest paid supermodels in the world and stars on Keeping Up with the Kardashians. 
How to get a body like Kendall Jenner?
Through consistent training and a healthy diet. 
However, individual results will vary. Therefore, aim for your best shape rather than aiming for somebody else's. 
As her personal trainer Gunner Peterson said, "Always be a first-rate version of yourself and not a second-rate version of someone else.''
How does Kendall Jenner stay in shape?
She trains five times a week for one hour in the morning and eats nutritious food. She also has good genes and fast metabolism. So, she can get away with having French toast, ice cream, and burgers more often than most of us.
What is Kendall Jenner's diet?
She doesn't track food or calories, but makes healthy food choices whenever possible. She has her regular avocados and eggs on toast as breakfast whenever she can, but her busy schedule means she usually eats out for lunch and dinner.
How is Kendall Jenner so skinny?
Kendall's weight is a combination of genetics, a high metabolism, diet, and exercise. 
Popular Celebrity Workout Routines: