This post may contain affiliate links at no additional cost to you. As an Amazon Associate I earn from qualifying purchases. Click to view our full disclosure.
I am taking you on a trip to explore Jane Fonda's ultimate workout and diet routines.
In the 1980s, her high-energy fitness videos inspired millions to embrace their bodies, and she isn't giving in at age 85!
Even today, the Hollywood film icon, fitness guru, and activist steals the spotlight with her ageless beauty, and I am about to reveal her secrets.
Bring your leg warmers and headbands and let's get nostalgic with Jane Fonda's workout routine, diet, and more.
Jane Fonda Current Bio and Stats
Jane Fonda was born December 21st, 1937 in New York. Her mother was socialite Frances Ford Seymour and her father was the legendary actor Henry Fonda.
However, it wasn't her dad who influenced Jane's acting career. Jane herself never believed she had the beauty and the talent to be an actress, especially while dealing with body dysmorphia during her younger years.
Only after Lee Strasberg, acting coach, convinced her of her talent, was she brave and motivated enough to embrace her skills.
That's when she made her debut in a Broadway play There Was a Little Girl at age 23. A year later she got her first film role as June Ryder, a student in Tall Story.
Her talent was recognized so quickly that she received a Golden Globe award for the most promising newcomer in 1962 for her play in Walk on the Wild Side. Since then, she appeared in films like They Shoot Horses, Don't They? (1968), Klute (1971), Julia (1977), The Dollmaker (1984).
Today, she holds two Academy Awards, British Academy Film Awards, seven Golden Globes, and an Emmy Award.
Her breakthrough as a fitness phenomenon happened in 1982 after releasing her revolutionary fitness video, Jane Fonda Workout (Jane Fonda's Original Workout).
It was a top-selling VHS tape with over 17 million copies sold. These videos empowered women to enter the male-dominated fitness world. They also funded her political activism, as Fonda describes herself as a feminist and activist.
Fonda released more workout videos between 2009-2012, focusing more on exercises for women over 50.
The youthful looking, fit, and healthy actress continues her work today and can be seen in more recent films such as The Book Club (2018, 2023), Luck, Moving On (2022) and 80 for Brady (2023)!
How does she do it? Keep reading to find out.
Age: 85
Height: 5'7'' (173 cm)
Weight: 130 Lbs (58 kg)
Birthday: 21 December, 1937
Occupation: Actress, model, political activist, fitness icon, writer
Retired/Active: 1959 – Present (Active)
Jane Fonda Workout Fundamentals 
Read More: Mikasa Ackerman Workout Routine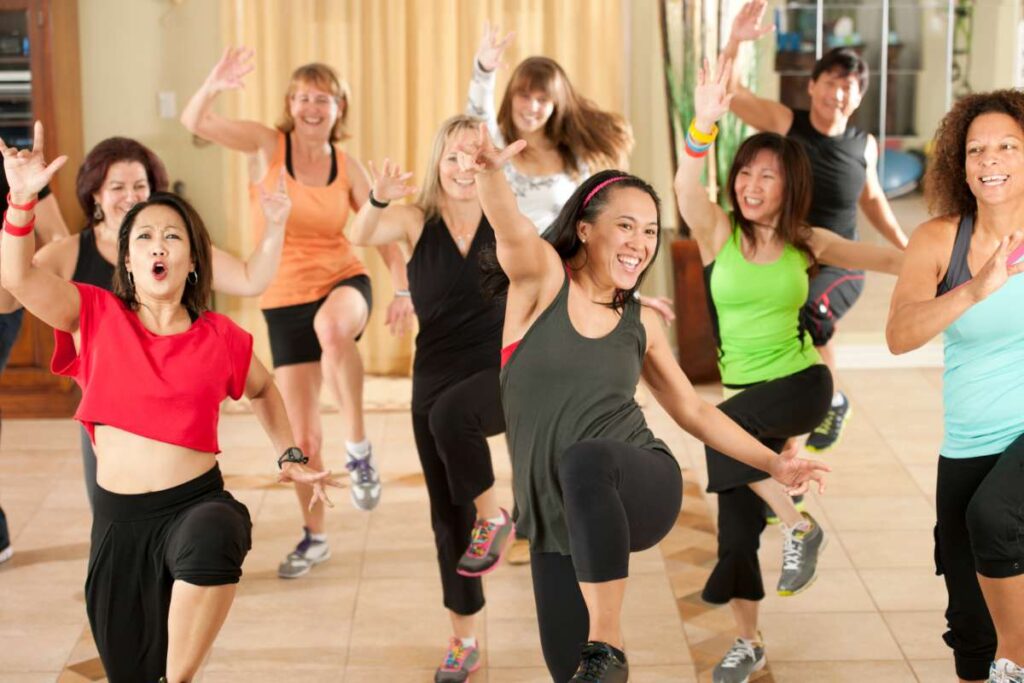 As a pro trainer, I absolutely love Jane Fonda's approach to exercise. She often says it doesn't matter what you do, as long as you keep active and do what you can.
"I still follow my VHS videos, and I used to be able to bicep curl 10 pounds, now I only do it with 5 pounds.
Also I perform way less exercises and slower. If you can't walk ten thousand steps a day, walk five!" – Jane Fonda
It's true – our expectations of ourselves are so high that as we age, we compare our activity levels to how much we used to do, always chasing the past.
But our bodies change. And it's always better to do what you can, rather than nothing at all. Jane Fonda is the living example of this.
She loves dancing and often does Zumba classes at a slower pace. Her routine also consists of walking, cross country skiing, snowshoeing, hiking, banded and bodyweight workouts, and yoga.
She has a personal trainer, Malin, who does some light weight and resistance band work, particularly strengthening her back and core for better posture.
All this after overcoming cancer, hip, and knee replacement, and we can safely say Jane successfully aged. She looked after her body and at 85, she's still filming movies and can pick up her grandchildren.
Of course, being a fitness icon from a young age kept her bones, heart, and lungs healthy. Jane Fonda's videos are impressive, showcasing her incredible flexibility. Let's see how you can age as gracefully with the right routine.
Jane Fonda General Workout Routine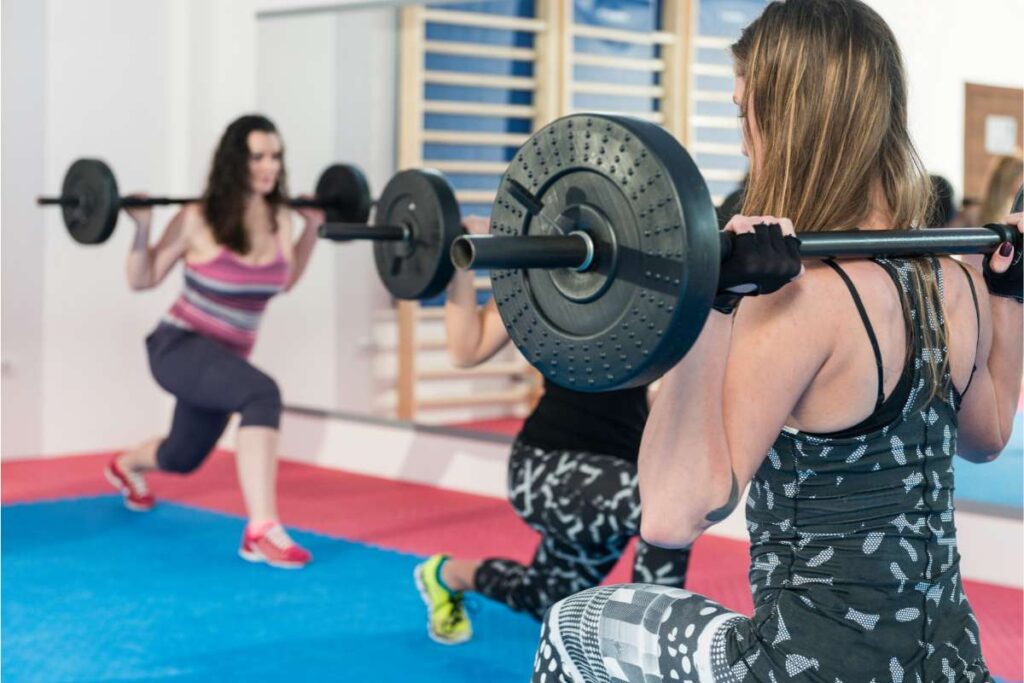 While we haven't got much detail about Jane Fonda's one-to-one routines and exercises, I spied on her social media, interviews, and YouTube videos to see what she may be doing with her personal trainer.
Also, we know she works mainly with bands, light weights, and body weight for a strong back and good posture. Knee and hip replacement needs to be taken into consideration too when planning a training program for an individual with this type of history.
Working with this information as a strength and conditioning and sports rehabilitation pro, I have devised a safe training plan for people in their 60s and up.
It can strengthen your back, hips, and core, and aid in better posture, just like Jane's.
To begin, this is what Jane Fonda's weekly exercise schedule may look like:
Monday
Tuesday
Wednesday
Thursday
Friday
Saturday
Sunday
Exercises from her workout videos +
Outside Walk
Personal Training
Outside Walk
Yoga + Outside Walk
Zumba + Stretching
Elliptical machine
REST
Hiking, Tracking
While these are her exercise choices, you can freely choose those you love doing the most and keep you consistent. We are all different with different interests. Also, consider what feels good for your body!
Jane Fonda-Inspired Personal Training Plan
| | | | |
| --- | --- | --- | --- |
| Exercise | Set | Reps | Rest |
| Stability Ball Squat | 2-3 | 12 | 30 seconds |
| Banded Rows | 2-3 | 20 | 60 seconds |
| Romanian Deadlifts | 2-3 | 10 | 60 seconds |
| Banded (side plank) Clam Shells | 2-3 | 10 each side | 30 seconds |
| Dumbbell Chest Press | 2-3 | 15 | 30 seconds |
| Supermans | 2-3 | 12 | 30 sec |
| Pallof Press / Woodchoppers | 2-3 | 15 | 30 sec |
Stretches
Wall Angel





Hold each stretch for 30 seconds to a minute
Cat and Cow
Neck Stretch
Doorway Stretch
Kneeling or Standing Hip Flexor Stretch
Half Cobra Pose
Foam rolling
Jane Fonda Fitness Video Routines
Let me introduce to you Jane Fonda's Fitness Video routines, which started back in 1981 with her business partner Leni Cazden.
While new, innovative workouts and training styles have taken over the world, they do NOT make her plan less effective, just different.
In fact, you can burn around 350 Kcals by training with Jane Fonda.
Jane Fonda 80s Workout
Jane Fonda's 80s workouts were a fitness miracle that took the world by storm!
It basically changed the method of exercise and how people approached fitness, especially women.
Her high-energy workouts blended aerobics (cardio), body weight, and strength training with an emphasis on flexibility.
The routine consisted of:
Warm-up: Marching in place, jogging, side-to-side steps.
Dynamic stretches: Side reach, walk outs, arm circles to prepare the body for the workout ahead.
Aerobic exercises: Knee lifts, skipping jacks, and high laps to elevate the heart rate.
Strength and bodyweight exercises: Lunges, push-ups, bridges.
Jane Fonda Original Workout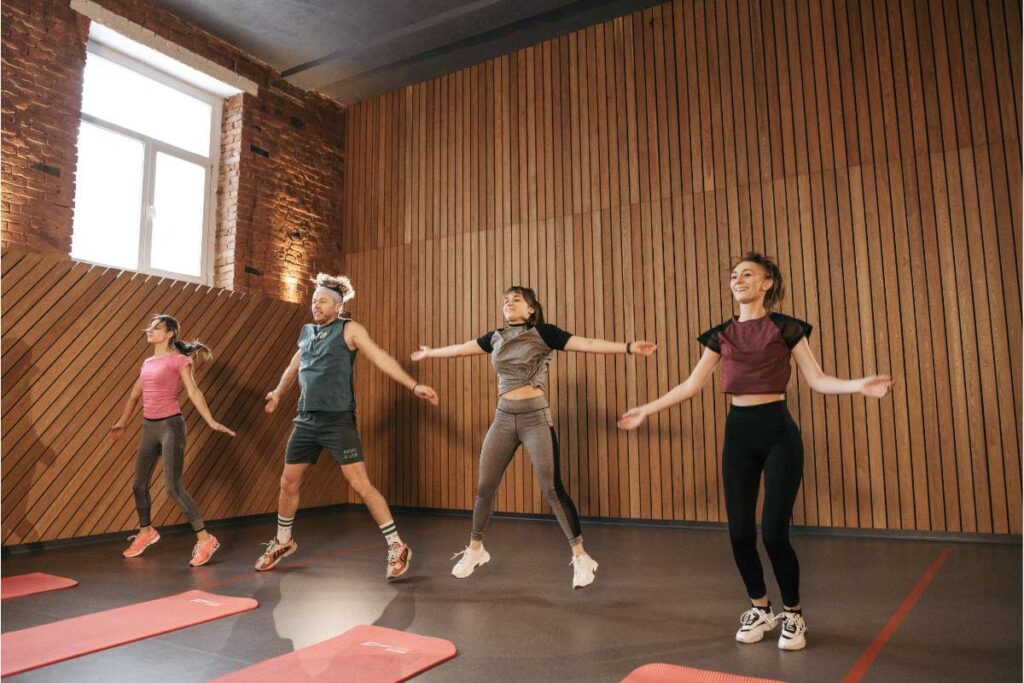 Jane Fonda's original workout sold over 17 million copies in the 1980s.
It was the combination of aerobic and strength training, and I can't highlight enough the impressive flexibility Jane Fonda was blessed with. We see a lot of that in her original workout. It wasn't easy!
It starts with a 30-minute beginner workout (Jane Fonda Workout for Beginners) and continues to a more advanced one-hour training.
Throughout the workout, Jane offers modifications and variations to accommodate the training for different fitness levels, so anyone can participate!
Jane Fonda's New Workout
Jane Fonda's new workout is built on her 80s workout routine, with added exercises focusing on cardio and flexibility.
To increase flexibility yoga, Pilates and stretching are also included in her New Workout routine.
Jane Fonda Cardio Workout Level 2
Jane Fonda's cardio workout routine is more cardiovascular and challenging than some of the previous workouts.
These exercises are performed at a higher intensity level with fast-paced dance movements and exercises like jumping jacks and jogging with active recovery. So, prepare to sweat and burn those calories.
Jane Fonda Workout for Seniors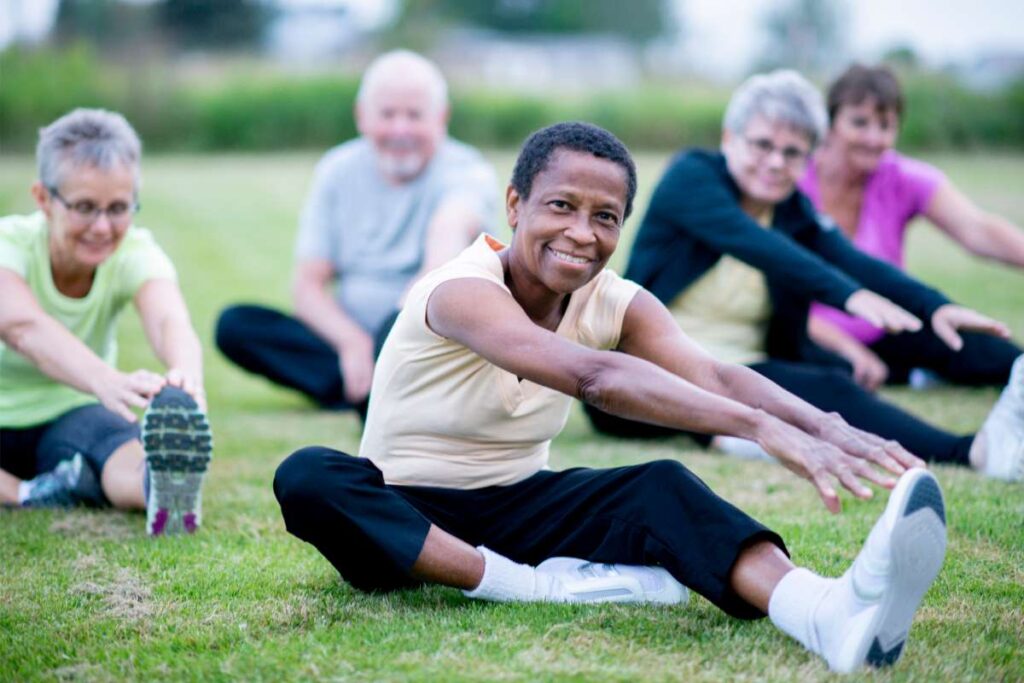 Jane Fonda's Workout for Seniors takes into consideration the specific needs and limitations that may come with aging. The aim of this routine is cardio, flexibility, and mobility while ensuring safety for seniors!
The warm-up involves gentle movements like arm circles, shoulder rolls, and neck stretches. This is followed by some low-impact aerobic exercises such as walking in place and marching, without putting excessive stress on the joints.
Strength exercises aim to improve muscular strength and balance, including exercises like chair squats, seated leg extensions, bicep curls with light weights, and wall push-ups.
The routine also focuses on stretches such as seated spinal twists, seated forward bends, and gentle yoga poses, to enhance the range of motion and maintain joint health.
Jane Fonda Low Impact Workout
As the name suggests, this routine focuses on low-impact exercises to minimize the stress on the joints and prevent injuries!
It starts with gentle stretches moving onto marching in place and step touches.
The active portion of the workout concentrates on continuous movements, keeping the heart rate up without jumping, ensuring safety.
It's suitable for individuals with joint issues, seniors, or those preferring a more gentle approach to exercise.
You can add resistance bands or light weights to challenge yourself further.
However remember that no matter the intensity of the workout, always prioritize proper form and technique!
Jane Fonda Dieting and Food Preferences
Jane Fonda's colorful diet is what gives her lasting energy for decades of mental and physical performance.
Also, she never skips breakfast. She feels it sets her up to consume fewer calories throughout the day and prevents afternoon crashes. It's also a great opportunity to start the day right and nourish the body and mind.
However, Fonda avoids a sugary breakfast, and sugar in general. Any sugar only comes from natural sources like fruit. She prefers slow-cooked oats and various smoothies.
For lunch, her plate is always full of colorful vegetables and lean protein.
Fonda also avoids pre-packaged instant and canned food as they are full of unwanted chemicals, additives, and sugar.
Who doesn't enjoy a healthy snack? The forever young star loves snacking on grapes, apples, low-fat yogurt, and string cheese.
For dinner, she prefers her favorite penne pasta that I will share a recipe for soon.
Jane Fonda shares many recipes in her book, Cooking for Healthy Living. She also gives credit to her personal chef, Karen Averitt.
These are some of Jane Fonda's food preferences: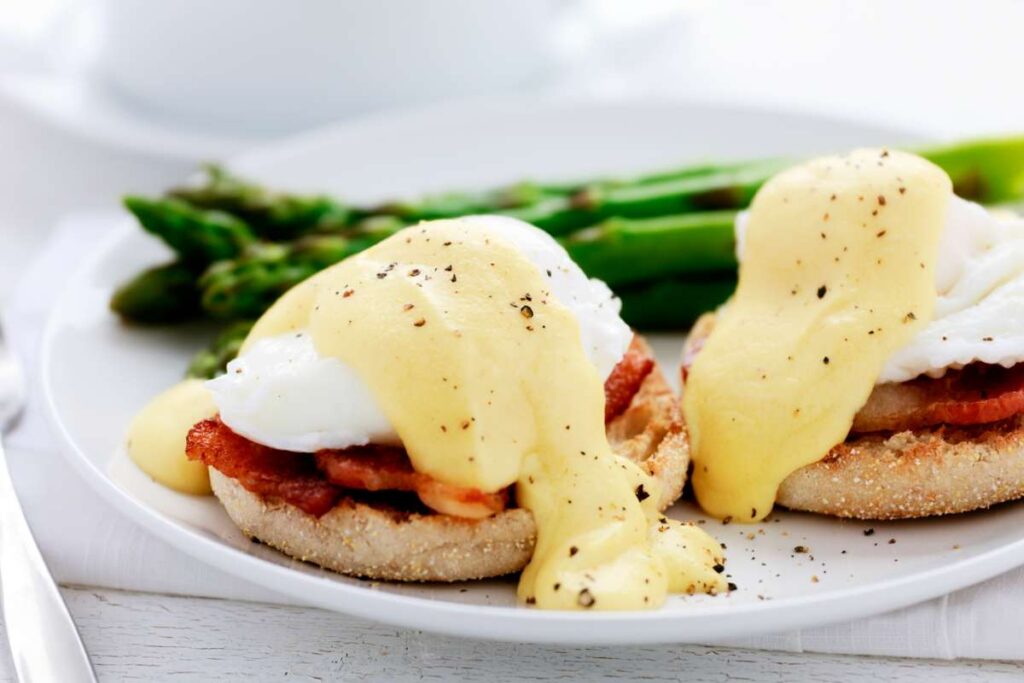 | | |
| --- | --- |
| Breakfast (7am) | Whole Grain Oatmeal with Nuts, Raisins and Maple Syrup, Smoothies, Eggs Benedict |
| Lunch (1pm) | Fish with Vegetables, Salad |
| Dinner (7pm) | Stir Fried Vegetables with Garlic, Penne Arrabiata Pasta, |
| Snacks (10am and 4pm) | 0% Greek Yogurt, Cheese, Fruit, Red Grapes |
Below are some of Jane Fonda's general tips for healthy aging.
AVOID:
Refined Sugar
Simple Carbs
Junk Food
Skipping Breakfast
Too Much Meat
Canned Food
Excessive Alcohol
Fad Diets
Caffeine After Lunch
Unsure how many calories you should eat a day for weight loss or muscle growth?
Why not try our free and easy-to-use calorie and macro calculator that is designed to calculate your daily calorie intake and macronutrients accurately, speeding up your progress!
It's as easy as a click to use!
Prioritize:
Colorful Food
Vitamin and Mineral Rich Food
Smaller Meals More Often
Sleeping 8-9 hours
Exercise
Healthy Snacks
Balance
Jane Fonda Diet Plan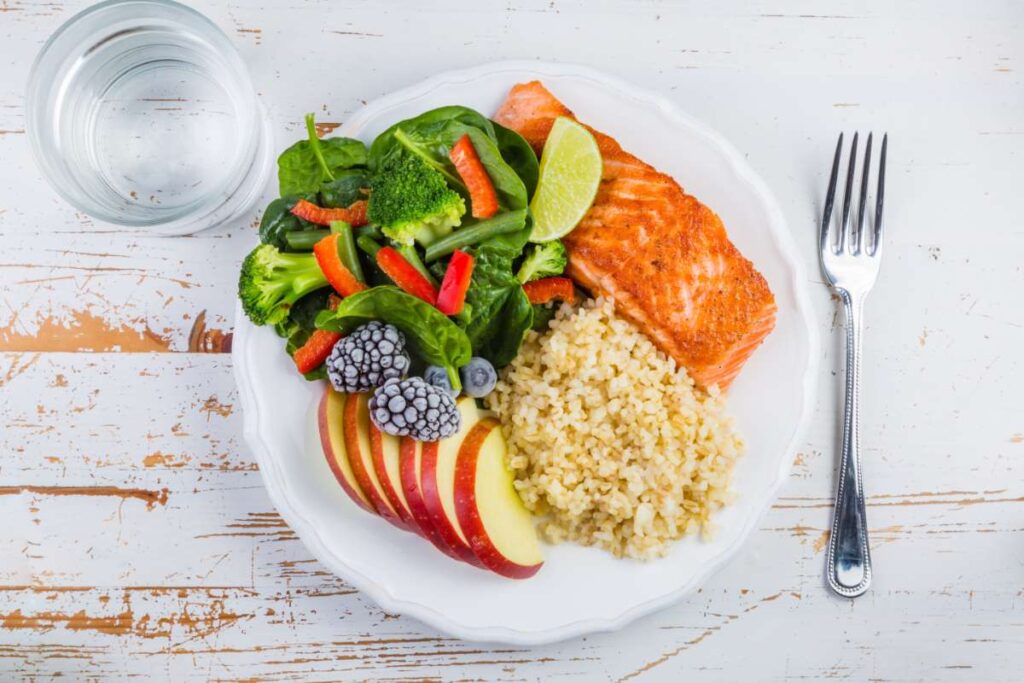 I've created a little meal plan based on Jane Fonda's food preferences. Add a meal idea here and there or prepare it in advance just as our fitness goddess does.
Breakfast: Peach, Berries and Apple Juice Smoothie
200ml Apple juice/water
Medium size banana
1 scoop protein powder of you choice (I like vanilla)
2 tbsp Greek yogurt 0% fat ( Total 0% is high in protein)
Ice (optional)
50 g frozen peach
60 g berries
Blend all ingredients together until you get an ice creamy texture!
Lunch: Lemon Salmon
Chopped garlic
Rosemary, basil, and oregano leaves
1 tbsp olive oil
1 tbsp lemon juice
Sea salt and black pepper
Skinless salmon fillets
1 Zucchini
Mushrooms
Yellow pepper
Cherry tomatoes
Preheat the oven to 350°F. Mix the garlic, rosemary, basil, oregano, olive oil, lemon juice, salt, and pepper in a bowl.
Place two salmon filets, skin-side up, on a baking tray with foil and spread the mixture over the whole salmon. Add the vegetables on the other side of the tray, then drizzle with olive oil and seasonings.
Bake for 25-30 minutes or until done. Bon appetit!
Snack
String cheese, natural yogurt, apple, red grapes
Dinner: Penne all'arrabbiata
2 tbsp olive oil
2 chopped red chillies or chilli flakes
Salt and pepper to taste
400g penne pasta
4 chopped garlic cloves
1 handful basil leaves
600g tinned chopped tomatoes or fresh one
Parmesan
Heat the olive oil in a pan and add the chili, basil, and garlic. Cook for a few minutes.
Add the tomatoes to the pan. Cook for 10-15 minutes and season to your taste. This will be your sauce!
Meanwhile, cook the pasta in salted water and drain. Mix with the sauce and serve with parmesan!
Jane Fonda Supplement Preferences
Jane Fonda only takes a few supplements that are harder to get from food, like vitamin D.
It is commonly believed that we absorb enough vitamin D through sunlight. However, there is research suggesting that sunlight alone may not provide the recommended daily amount of vitamin D.

You can get it from food sources like liver oil, fatty fish, beef liver, dairy products, and egg yolks. If you are like Jane, who doesn't eat much meat and fish, a supplement can help you meet the daily requirement.
Fonda also drinks Japanese kelp tea (red mushroom) and Chinese green tea as it may fight cancer. We know this is a big concern for her after overcoming cancer herself.
She also uses non-psychoactive, THC-free CBD to sleep, replacing her sleeping pills. Evidence shows the calming effect of CBD on the central nervous system. It may aid in better sleep and reduce anxiety.
It also has antibacterial properties and heals wounds, which explains why Jane's skincare routine includes a lot of hemp-based products, too.
Apart from this, she does take cranberry extract to prevent bladder infections and urinary tract infections, which are more common as we age.
Final Thoughts
Jane Fonda's iconic 80s workout videos revolutionized how women get (and stay) in shape!
Today, at age 85, Jane Fonda continues to motivate us with her active lifestyle and some amazing healthy recipes. Her flexibility, strength, cardio and even low impact exercises for seniors are still adding variety to modern fitness routines.
She also readily shares wisdom for longevity, balance, and joy, so we can live a long, fulfilling life, too.
What do you think of the Jane Fonda workout routine and diet? What tips would you try? We would like to know how it goes!
Frequently Asked Questions
How old is Jane Fonda?
She is 85 and will be 86 in December 2023.
Do Jane Fonda workouts really work?
Yes, they do. Any exercise can work if you do it consistently, plus progress the intensity. 
Jane Fonda's workouts include different training styles like cardio, strength, flexibility. So, they can be a good way of moving and challenging your body!
How long is Jane Fonda's original workout?
Jane Fondas Original Workout is 1.5 hours long. It starts with a 30-minute beginner workout and moves onto an advanced one for an hour.
Does Jane Fonda workout every day?
She walks every day, but doesn't necessarily work out. She does what feels good for her body!
How did Jane Fonda lose weight?
Jane eats small, healthy colorful meals five times a day.This consists of fresh fruits and vegetables with little to no meat. She has also cut back on fish.
How many calories do you burn doing a Jane Fonda workout?
Between 350 and 500 calories. The intensity you work at and your fitness level will determine how many calories you will burn.
Popular Celebrity Workout Routines