This post may contain affiliate links at no additional cost to you. As an Amazon Associate I earn from qualifying purchases. Click to view our full disclosure.
Join me as I journey through Carrie Underwood's fitness and diet routine.
Going from American Idol to Grammy-winning sensation, Carrie's dedication to her well-being is nothing short of inspiring. As a fitness professional with years of experience, I can confirm her workout will test your limits while helping you meet your fitness goals.
Today, I'll detail the secrets to her superb figure, her approach to post-pregnancy wellness, and her dedication to a plant-based lifestyle.
Keep reading to achieve radiant health with the Carrie Underwood workout and diet plan!
Carrie Underwood – Current Bio and Stats
Carrie Underwood was born on March 10th, 1983 in Muskogee, Oklahoma. She rose to fame showcasing her vocal talent in the fourth season of the popular singing contest American Idol in May 2005.
Only six months later she released her best-selling album, Some Hearts. The country album propelled her to stardom at an even rapider pace. Over the years, she has remained active in the music industry with albums like Carnival Ride (2007), My Gift (2020), and her recent Denim & Rhinestones (2022).
Thanks to her exceptional vocal abilities, stage presence, and massive hits, she's received seven Grammy Awards, 11 Billboard Music Awards, and 12 Academy of Country Music Awards.
Beyond music, Carrie Underwood ventured into acting , appearing in 2010's The Chronicles of Narnia. Underwood also launched CALIA fitness clothing in 2015, authored the best-selling book Find Your Path, and launched her community-powered wellness platform Fit52 in 2020.
Underwood continues to inspire fans worldwide with her music and unwavering dedication to health.
Age: 40
Height: 5' 3'' (160cm)
Weight: 121 Lbs (55 kg)
Birthday: March 10, 1983
Occupation: Country and pop singer, artist, songwriter, American Idol TV show winner
Retired/Active: Active
Carrie Underwood Workout Fundamentals
Read More: Mikasa Ackerman Workout Routine
Carrie Underwood employs a personal trainer, Eve Overland, who is also her business partner for the Fit52 fitness app.
She trains almost every day as it's her lifestyle and source of stress relief, even while touring. Carrie believes exercising should be accessible and achievable anytime, anywhere, at any age.
That's why her fitness routine and her fitness app are based on variety to continuously challenge the body.
Underwood says, "No one workout is the exact same." They are diverse and adaptable.
Other principles that shape her training approach are:
Consistency.
She is committed to training every day, if she can. This led her to a sculpted, toned physique and made it possible to lose her pregnancy weight.
Integration of upper and lower body workouts.
Underwood's workout sessions include exercises for both the lower body. Often, she targets opposing muscle groups within a session ensuring that different areas are worked on without overtraining any muscle group.
Compound weight lifting exercises
Her routine prioritizes weight lifting over cardio. She does at least three weight sessions a week. Some may be travel-friendly body weight exercises the rest of the time.
With her trainer, Eve, Carrie focuses on compound movements like squats, lunges, deadlifts, shoulder and chest presses, push-ups, and rows.
These exercises are known for their effectiveness and can deliver results regardless of age.
Progression.
Our body adapts quickly to certain load, and Carrie knows that. As the exercises become too easy she makes sure to increase reps, weight, or the intensity of her workouts to enhance the effects.
Balanced cardio.
Weightlifting takes the lead in her routine, but after each weight training session, she may go for a jog to strengthen her lungs and heart and boost her energy levels. At the end, she has to perform onstage, and that requires some serious cardio fitness.
If you haven't yet seen Carrie's iconic toned legs and arms, it's proof of her love and dedication to a healthy lifestyle!
Carrie Underwood Workout Routine
Read More: Natalie Portman Workout Routine
After winning American Idol, Carrie lost a lot of weight due to hateful comments and bullying over her appearance.
In recent interviews, Underwood has admitted that her weight loss and mindset wasn't healthy! She exercised too much and ate as few as 800 daily calories sometimes. She even took weight loss supplements.
Nowadays, Carrie has a much better mindset toward her wellbeing and fitness. The mom of two prioritizes adequate exercise and healthy food sources.
Therefore, Carrie Underwood's workout routine and diet aren't about weight loss. Today, she emphasizes weight training with a balance of cardio to burn fat, stay fit, and get lean.
That said, her workout philosophy has helped her lose weight postpartum. She dropped 30 pounds in two months naturally after her first pregnancy, but dropping weight after the second child was harder.
It threw her out of her regular fitness routine, but within 20 days, she began walking on the treadmill or outside and ate healthy vegetarian meals. It was only six months later that she lost the weight and returned to her usual toned body.
Carrie Underwood General Workout Routine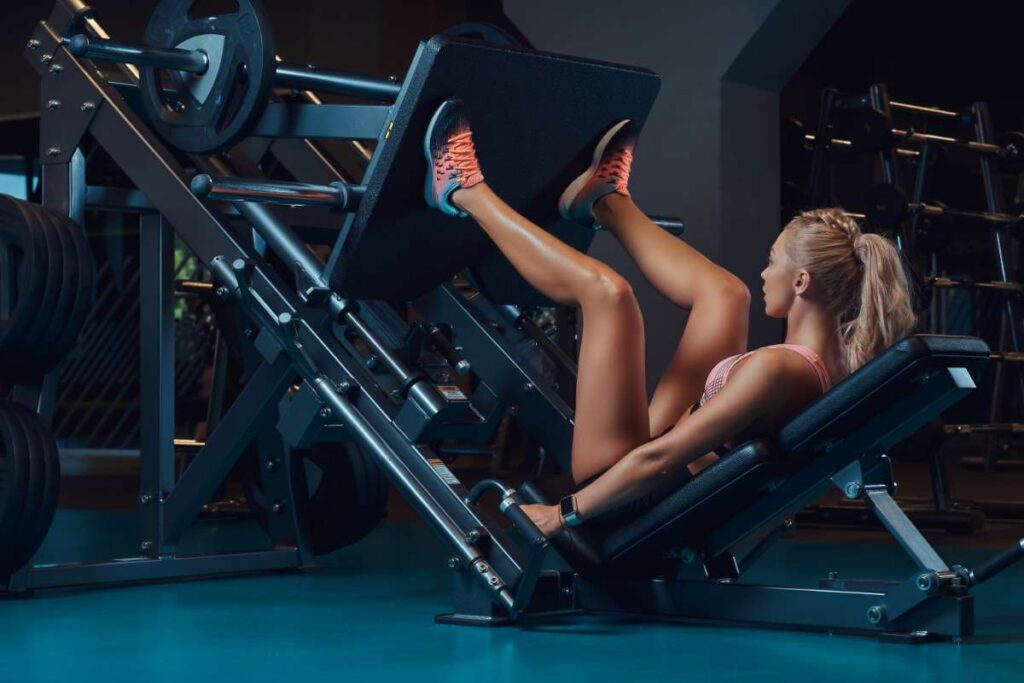 As I mentioned, none of her workouts are the exact same; Carrie believes in mixing it up. However, she has her all-time favorites to do in her home gym.
I've designed this workout based on her posts, fitness books, app, and all the interviews where she gave us insight into her favorite exercises. While she may train a little every day, we're aiming for five sessions a week with one active recovery session and one complete rest day.
Monday
Tuesday
Wednesday
Thursday
Friday
Saturday
Sunday
Lower body, Post chain, & Abs
Upper body push
Cardio
Cardio
& Abs
Lower body
(Quads)
Cardio
Upper body pull
&Cardio
Body weight workout
REST
Monday and Thursday: Carrie Underwood Leg Workout Routine
Post-chain workout
Exercise
Sets
Reps
Rest
Deadlifts
3
10

60 seconds
Glute ham raise
10
Cable kickbacks
3
15
30 seconds
Single-leg deadlift
3
10-12 each leg
30 seconds
Glute thrusts
3-4
12
60 seconds
Quads workouts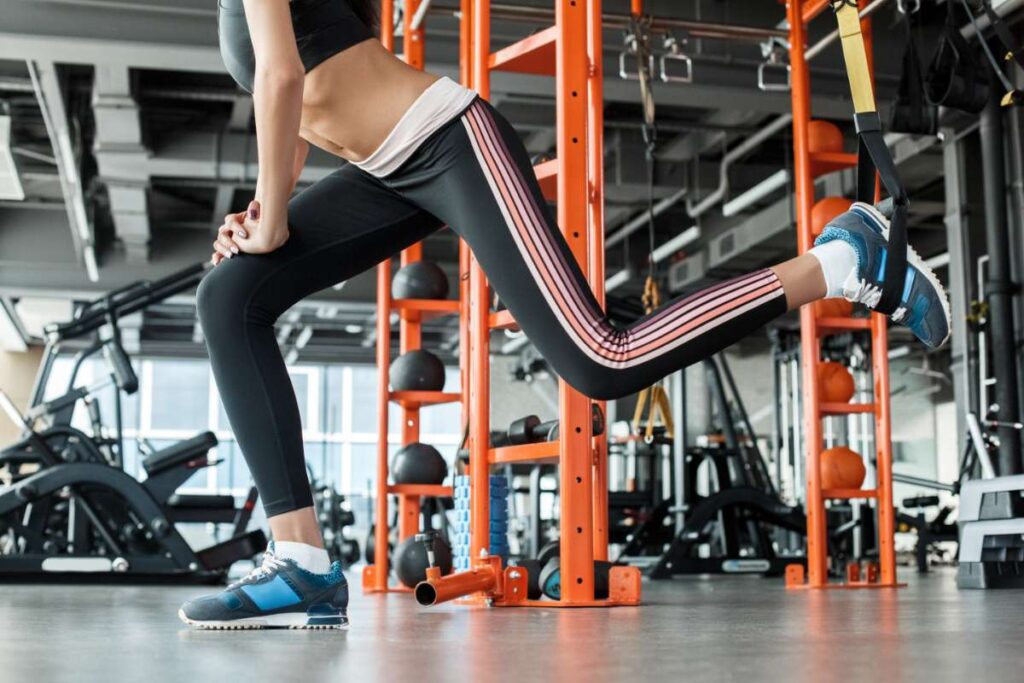 | | | | |
| --- | --- | --- | --- |
| Exercise | Sets | Reps | Rest |
| Heel elevated goblet squats | 3-4 | 15 | 30 seconds |
| Bulgarian split squats | 3 | 10 each leg | 60 seconds |
| Leg extension | 3 | 15 | 30 seconds |
| Lateral mini band walk | 3 | 20 each way | 30 seconds |
| Leg press | 3-4 | 10 | 60 seconds |
Tuesday and Friday: Carrie Underwood Arm Workout Routine
Upper-Body Push
Exercise
Sets
Reps
Rest
Barbell Shoulder press
3-4
10

60 seconds
Triceps extension

3 supersets
15

30 seconds
Biceps curls
15
Chest press

3-4 superset
12

60 seconds
Push-ups
As many as you can
Upper-Body Pull
| | | | |
| --- | --- | --- | --- |
| Exercise | Sets | Reps | Rest |
| Barbell bent over rows | 4 | 10 | 60 seconds |
| Pull-ups | 3 | As many as you can do | Full recovery up to 120 seconds |
| Hammer curls | 3 | 15 | 30 seconds |
| Lat pulldown | 3 | 12 | 30 seconds |
| Dumbbell pullovers | 3 | 15 | 30 seconds |
Monday and Wednesday: Carrie Underwood Ab Workout Routine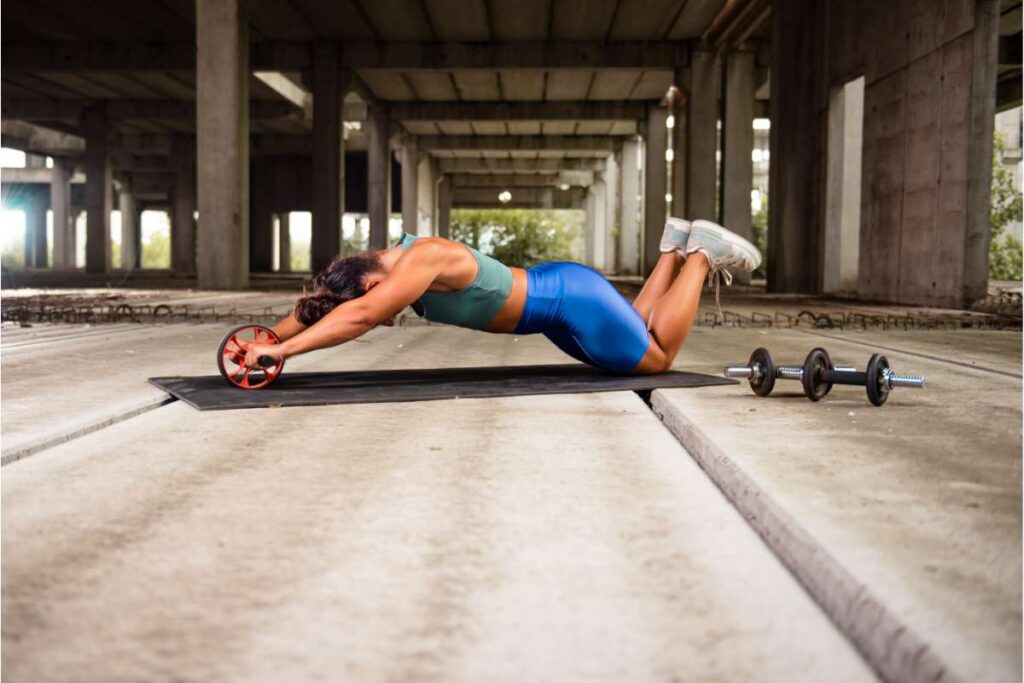 Leg raises or hanging leg raises
Ab wheel rollouts
Scissor kicks
Bear-plank shoulder taps
Mountain climbs
Bicycle crunches


3-4 rounds of 30 seconds on each exercise
Saturday: Bodyweight Workout
Get a pack of poker cards. Pick a card that will be the reps you need to complete for each exercise (Ace = 1, King = 13, Queen = 12, Jack = 11 and the numbers 2 to 10).
Pulsing squats
Skater jumps or curtsy lunges
Broad jumps
Jumping jacks or Burpees
Push ups with pulses
Dynamic plank
Bicycle crunches
Twisting squat jumps




2-3 sets of each exercise
Pick a card to know your reps
Cardio Options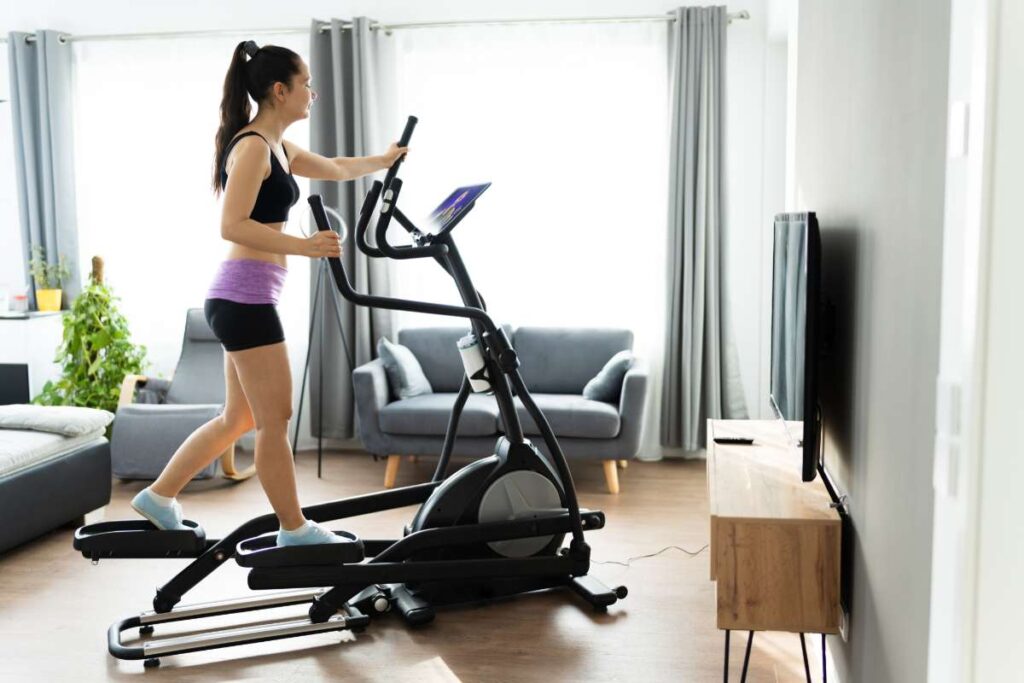 Listen to your body. You can have a relaxing walk or jump on the elliptical trainer if you feel up for it. Carrie loves jogging or running, too.
Carrie Underwood Dieting and Food Preferences
Carrie Underwood follows a diet that includes a variety of plant-based foods. However, she doesn't strictly adhere to this, considering herself 85% vegan. According to Underwood, being vegan isn't too easy for her on the road all the time or staying in hotels.
Still, the country star places importance on knowing where her food comes from. She has also kept a food journal for many years.
Carrie has her lunch as a post-workout meal. For dinner, Carrie likes to cook and have a meal with her husband and children. She aims for high-protein meals, especially for dinner.
Carrie also avoids bread and heavy meals so she always wakes up with a flat stomach.
For breakfast, she may opt for a piece of toast.
Based on her meal preferences, here are the foods she eats:
| | |
| --- | --- |
| Breakfast | Vanilla smoothie with pea protein powder, berries and almond milk, orange or grapefruit, cup of coffee, steel cut overnight oats, tofu, breakfast skillet made with bell peppers, onions and coconut oil, and some toast |
| Lunch | Vegetable stir fry with brown rice with Bragg liquid aminos, Ezekiel bread with Tofurky and avocados, mixed greens and mustard |
| Dinner | Vegan burgers, tofu along with an array of vegetables, mushroom soup, quesadillas with beans and Daiya vegan cheese, spaghetti squash, roasted vegetables |
| Snack | Protein bars, kale chips, popcorn, Raw Rev vegan bars, veggie sticks, burritos, dark chocolate, coconut milk ice cream |
Carrie Underwood Diet Plan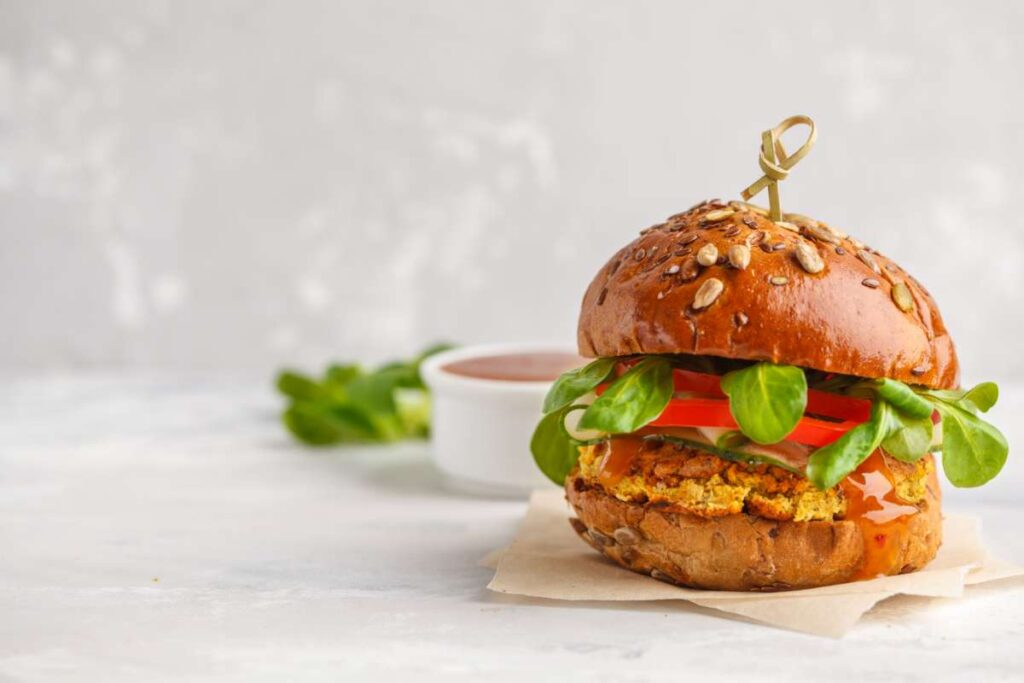 With all the simply delicious food Carrie eats, we have designed a vegan day of eating for you.
Breakfast: Tofu scramble with toast and veggies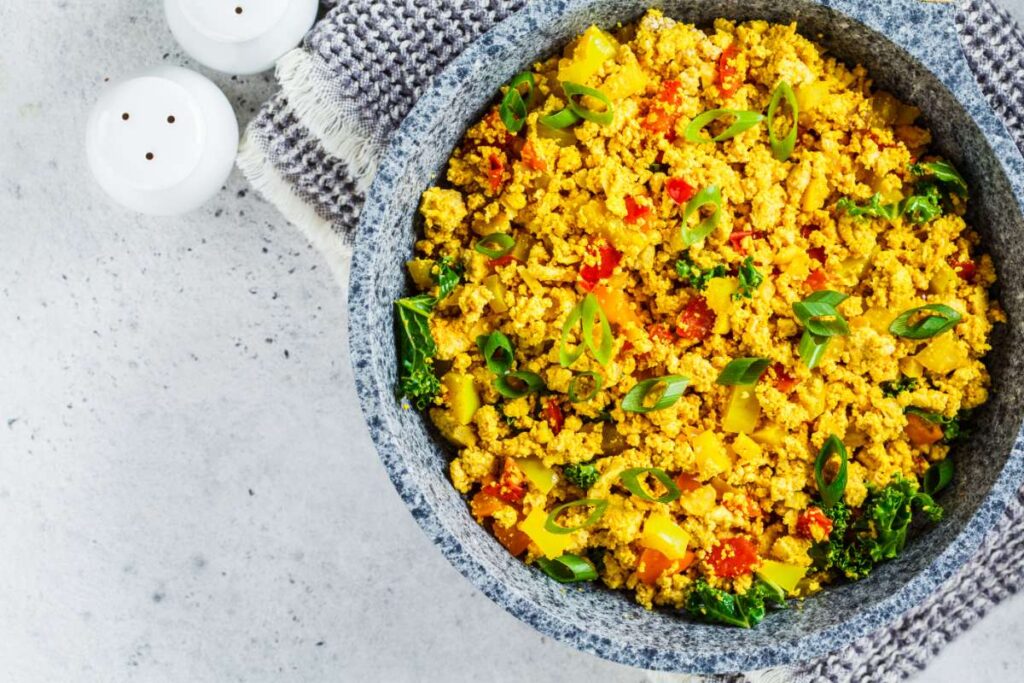 Diced onion
A few cloves of minced garlic
Tofu
Bell pepper
Optional spices like turmeric and paprika
Preparation
Mash the block of tofu right in a pan with a fork. In the meantime heat the coconut oil in a pan over medium heat.
Fry the onion for two to five minutes then add the garlic and spices if you like. Cook for an additional one to two minutes, then add the mashed tofu.
Cook for a few minutes and add the bell pepper. Cook until softened a little bit.
Serve with a toast or more veggies and enjoy!
Lunch: Veggie and vegan chicken stir fry
Quorn or Lazy Vegan "chicken"
Broccoli
Carrots
Onions
Brown rice
Bragg liquid aminos (soy protein)
Preparation:
Saute the onion over medium heat. Add the chopped broccoli and carrots and stir-fry for half a minute. Then pour some water on it and simmer the vegetables for several minutes.
Once they are tender, add the vegan chicken. Stir-fry the vegetables and chicken until they are crisp-tender. Season to your taste.
Serve with rice and soy protein or other sides of your choosing.
Snack: Kale chips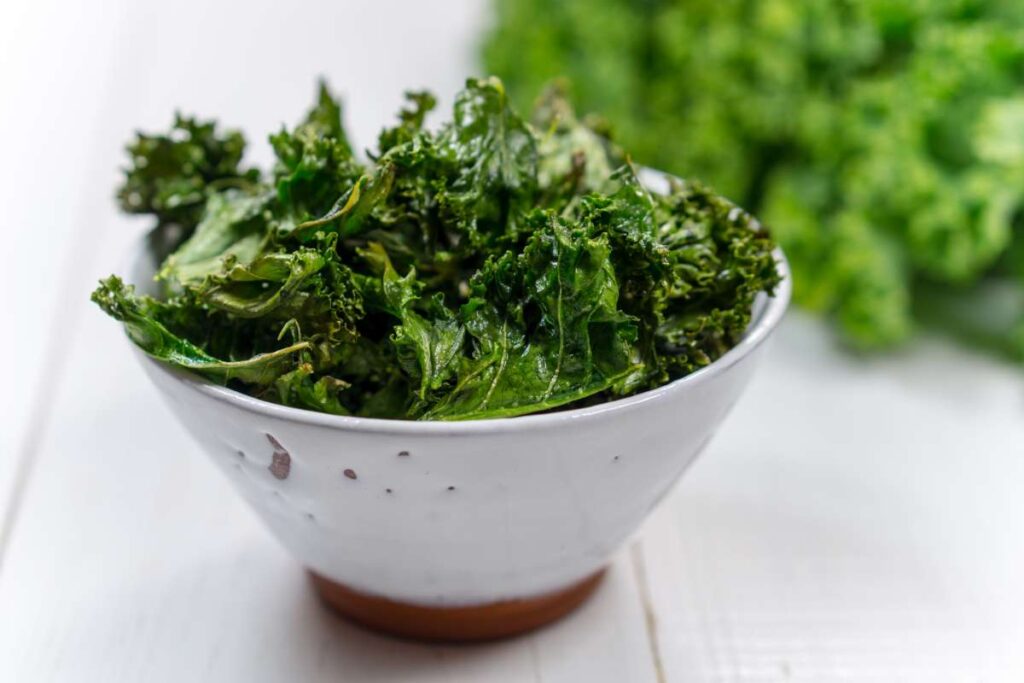 Paprika
Cumin
Sea salt
Pepper
Garlic powder
Kale
Olive oil
Wash the kale and massage lightly with the oil. Add the seasonings and spread on a baking tray lined with parchment. Bake for 10-15 minutes, stir, and bake a bit longer. Cool and enjoy.
Dinner: Spaghetti squash
Spaghetti squash
Salt
Olive oil
Preparation:
Cut the squash in half lengthwise. Spread a little oil over the open squash and sprinkle with salt.
Roast the squash, cut side up, for 30-45 minutes. Once it's roasted and cooled, scrape the spaghetti squash slices into pasta-like strings with a fork. Try with roasted veggies, dress with some olive oil and more spices, or a little marinara.
Carrie Underwood Keto Diet Plan
Keto diets are low carb (normally under 50 g so your body can go into ketosis), moderate in protein, and high in fat. A few keto resources claim that Carrie Underwood has followed the diet with a vegan spin on it.
While she incorporates healthy fat in her diet, there is no evidence Carrie Underwood follows or has ever followed a keto diet plan. In fact, she stated in 2020 that she wouldn't go low-carb as she needs the energy for her fast-paced life.
Carrie Underwood Supplement Preferences
Carrie has said she likes pea protein powder in her breakfast smoothies. This helps her to meet her daily protein requirements and supports muscle growth.
Are you getting enough protein? Use our advanced macro calculator to find out. Whether it's muscle gain or weight loss you're after, this will help you reach your goals!
Ultimately, her vegan diet is what keeps her skin glowing and her energy high at all times. Underwood also drinks plenty of water to stay hydrated.
Final Thoughts
The country singer, actress, and songwriter Carrie Underwood believes exercise should be accessible to everyone at all ages.
She believes in consistency with fun upper and lower body workouts, compound weight lifting exercises, and balanced cardio. Do this, and you will get limitless energy and a lean physique.
Her dedication to maintaining a healthy lifestyle, even after pregnancy and during her busy touring schedule, showcases her unwavering determination.
Do you too feel inspired by her commitment to fitness and mindful approach to her diet? Try out some of Carrie's workout routine and plant-based diet.
Tell us which tips or workouts are your favorite, and make sure you share your journey with us.
Frequently Asked Questions
What does Carrie Underwood eat?
Carrie Underwood follows a strict vegetarian diet but aims for vegan whenever possible. She also likes to know what goes into her food. She enjoys cooking spaghetti squash, tofu scramble, vegetarian chicken stir fry and loads of roasted veggies at home. 
She also loves an occasional treat of dark chocolate, coconut milk ice cream, and wine. Everything in moderation, right?
How much does Carrie Underwood weigh?
She weighs 121 Lbs (55 kg).
How did Carrie Underwood lose weight?
After her American Idol win in 2005, Carrie wasn't happy with her weight. She resorted to weight loss supplements containing ephedra. This supplement is banned now due to its negative side effects including seizure, high blood pressure, and more.
Also, Carrie was eating far too few calories – as little as 800 Kcal a day. Carrie admitted she didn't feel healthy. She let her haters motivate her weight loss, and didn't do it the right way. 
During pregnancy she only gained 30 pounds, which is a healthy amount of weight to gain. She exercised throughout and ate vegetarian. Once she had baby Isaiah, her diet consisted more of vegan food.
She lost her pregnancy weight in a healthy way and she has a better mindset toward her physique and size now than back in 2005.
How many calories does Carrie Underwood eat a day?
For Carrie, it is much more important nowadays to feel healthy, be in tune with her mind and body, and have energy. This is by exercising regularly, staying hydrated, and eating healthy meals.
Instead of being obsessed with calories and her size, her aim is longevity and taking care of her wellbeing.
What is Carrie Underwood's diet and exercise?
Carrie Underwood is a vegetarian aiming to be vegan, which her busy touring schedule can make difficult sometimes. 
She eats overnight oats, roasted veggies, protein smoothies and bars, vegetarian meat alternatives, and plant-based sandwiches.
She exercises almost every day, mainly weight training. When on tour, she does bodyweight exercise or cardio when she can.
How many times a day does Carrie Underwood workout?
She aims to train every day, but does so at least five times a week. She may not have access to a gym all the time, so she fits in short, bodyweight workouts. 
What workout does Carrie Underwood use?
She uses HIIT, weight training with supersets, and tri-sets. She aims for progressive overload.