This post may contain affiliate links at no additional cost to you. As an Amazon Associate I earn from qualifying purchases. Click to view our full disclosure.
Paul Saladino is currently one of the biggest names in alternative health and nutrition.
Residing in Costa Rica, surfing daily, and eating a carnivorous diet, Paul's lifestyle has inspired many around the world who want to optimize their health.
But have you ever wondered exactly how Carnivore MD trains and what he eats to stay in such phenomenal shape? And are his methods really effective?
Today, I have the Paul Saladino workout routine and diet plan to help you obtain a lean, muscular, mobile physique.
Let's dive in.
Paul Saladino Current Bio and Stats
Paul Saladino, was born on June 30th, 1977. He obtained his MD from the University of Arizona.
Board-certified in psychiatry and as a Physician Nutrition Specialist, Paul has become known for his views on the carnivore diet. The diet consists of organic grass-fed beef, organs, dairy, and fruit.
Over many years, Paul has tried a variety of diets including raw vegan, which he believed to be unbalanced. He was also paleo for 12 years.
In 2018, Paul would make the switch to the carnivore diet, where he eats "everything from nose to tail," which he found to improve energy levels, sleep and performance.
Paul is also an author, releasing his book The Carnivore Code in February 2020 to share his beliefs on how the carnivore diet can unlock optimal health.
At the same time, Paul has built a loyal fan base of over 500K on Youtube and one million on Instagram, preaching and practicing his lifestyle.
He is also a big advocate of exercise and training for longevity, living in Costa Rica, surfing two to three hours per day, skating, and training.
Age: 46 Years Old
Height: 6' (183 cm)
Weight: Unknown
Birthday: 30th June, 1977
Occupation: Doctor, Author, YouTuber, Podcaster
Retired/Active: Active
Paul Saladino Workout Fundamentals
Read More: Henry Cavill Workout Routine
Paul's workout fundamentals are based on a variety of different forms of exercise including mobility training, surfing, resistance training, and martial arts.
To start each day, Paul gets up and heads straight outside to get some sun and ground himself by putting his feet in the grass.
He then performs an activation and mobility routine before heading in for some hydration.
After this, Paul heads out for his morning surf which he does for two to 2.5 hours everyday, before heading in for his first meal.
He works during the middle of the day before hitting a workout around 2:30 pm followed by a skate and sauna post-session before his evening meal.
Paul's trains around one to two times per week, usually when the surf isn't up to scratch. His purpose is building strength for muscle, ligaments, and bones to improve his function and overall quality of life.
He explains that, "I want to be the guy that surfs until I'm 90, or 95. I want to be the guy that has bulletproof knees and bulletproof shoulders and a very flexible back and hips, and that can do all these things long term."
He follows up his weight session with a skate, sauna, and evening walk along the beach.
Paul Saladino Workout Routine
Read More: Mike Mentzer Workout Routine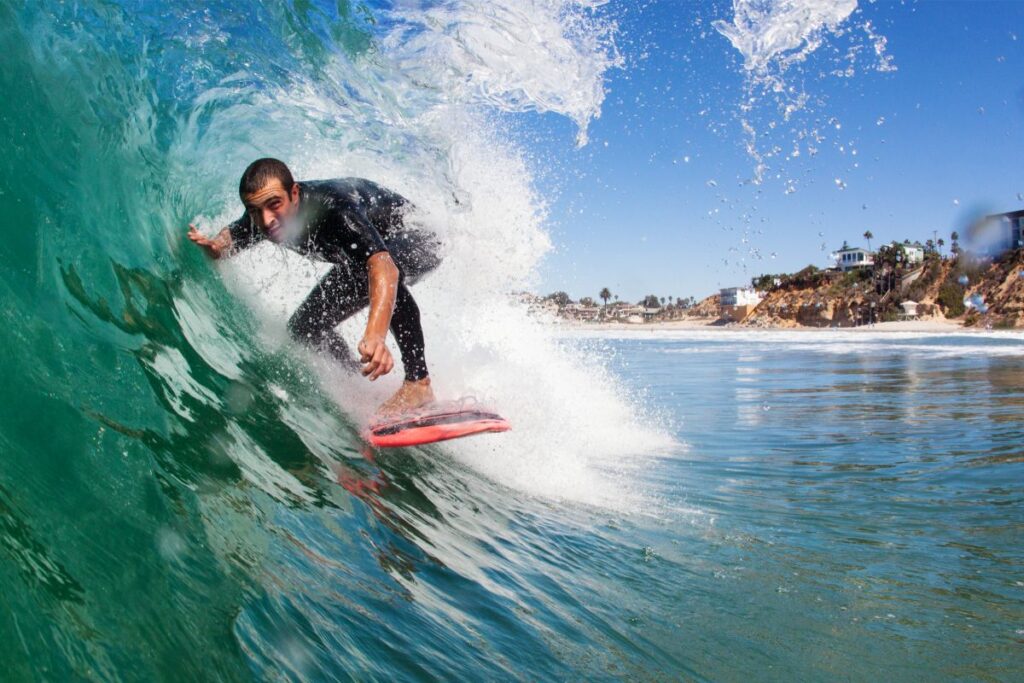 Paul Saladino's workout routine is a little different from your average as he emphasizes physical activity rather than strictly resistance training.
Below, we detail his resistance training workout routine complete with exercises, sets, reps, and sets times, plus a weekly schedule to organize your week just like Paul.
Workout Split Weekly Schedule
| | | | | | | |
| --- | --- | --- | --- | --- | --- | --- |
| Mon | Tues | Wed | Thurs | Fri | Sat | Sun |
| Ground, Activate, Surf, Skate, Sauna | Ground, Activate, Gym, Skate, Sauna | Ground, Activate, Surf, Skate, Sauna | Ground, Activate, Gym, Skate, Sauna | Ground, Activate, Surf, Skate, Sauna | Ground, Activate, Surf, Skate, Sauna | Ground, Activate, Surf, Skate, Sauna |
Full Body Program (Duration 40 – 50 Minutes)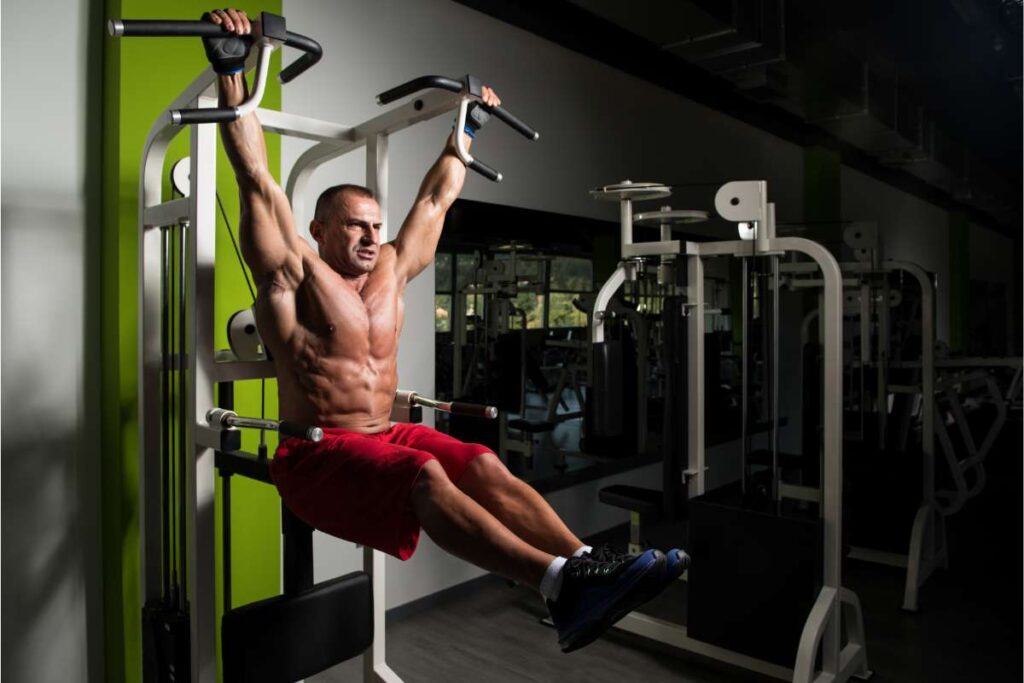 | | | | |
| --- | --- | --- | --- |
| Exercise | Sets | Reps | Rest |
| Pull Ups + 1-3 Minute Ape Hang | 1 | 10 | 45-60 secs |
| Overhead Squats (Slow and Controlled) | 2-3 | 3-5 | 30-45 secs |
| Front Squats (Slow and Controlled) | 2-3 | 3-5 | 30-45 secs |
| Hanging Leg Raises | 1 | 10 | 30-45 secs |
| L-Sit + Dips | 1 | 19 | 30-45 secs |
| Dumbbell Snatch | 1 | 5 | 30-45 secs |
| Dumbbell Windmills | 1 | 2-5 | 30-45 secs |
| Opposite and Equals | 1 | 5 | 30-45 secs |
| Poliquin Step | 1 | 10 | 30-45 secs |
| Knees Over Toes Split Squat | 1 | 12 | 30-45 secs |
| Sissy Squat | 1 | 10 | 30-45 secs |
| Reverse Nordics | 1 | 10 | 30-45 secs |
| Squat to Alternating Knees to Floor | 1 | 10 | 30-45 secs |
| Nordic Hamstring Curl | 1 | 10 | 30-45 secs |
Paul Saladino Dieting and Food Preferences
Read More: Steve Reeves Workout Routine
Paul Saladino is widely known for his carnivore diet with a range of raw dairy and organic fruit.
Ninety percent of what Paul eats is 80/20 grass-fed ground beef as it is cheap and readily available in Costa Rica.
He will eat a steak on occasion, typically rib eye, and a variety of organ meats and even testicles.
Saladino avoids oats, wheat, and beans stating, "are inferior sources full of defense chemicals, digestive enzyme inhibitors, phytic acid that's gonna bind nutrients and prevent their absorption."
This combines to roughly 3,000 calories per day, with 200 grams of protein, 250 grams of carbohydrates, and between 150-160 grams of fat.
He believes that saturated fat and odd-chain fatty acids are incredibly healthy for humans.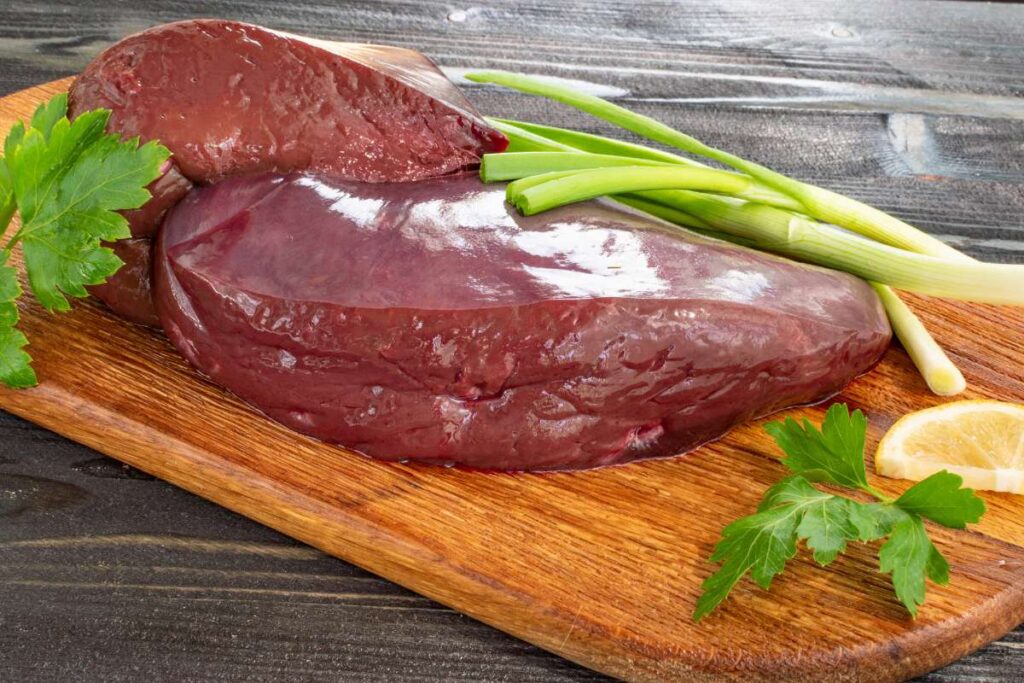 | | |
| --- | --- |
| Meal | Food |
| Meal 1 | Honey, Reverse Osmosis Water |
| Meal 2 | Fresh Coconut Water |
| Meal 3 | Raw Heart, Raw Liver, or Beef Organs, 1lbs of Grass-Fed Ground Beef, Raw Sour Cream, Fresh Papaya, Smoothie (Organic Mango, Dates, Fresh Passion Fruit Juice, 8-10 oz., Raw Cow's Milk, Sea Salt) |
| Meal 4 | Fresh Pineapple |
| Meal 5 | Grass-Fed Rib Eye Steak, Organic Pineapple, Grilled Plantain, Raw Butter. |
Paul Saladino Carnivore Diet
Now that we understand how Paul fuels his body, it's time to create our own Paul Saladino diet plan.
Meal 1
Organic Honey, Reverse Osmosis Water
Meal 2
Meal 3
1lbs of Grass-Fed Ground Beef Beef Burgers with Raw Butter and Sour Cream
Raw Heart, Raw Liver
Smoothie (Organic Mango, Dates, Fresh Passion Fruit Juice, 8-10 oz. Raw Cow's Milk, Sea Salt)
Meal 4
Meal 5
Grass-Fed Rib Eye Steak, Organic Butter, and Sour Cream
Organic Pineapple,
Grilled Plantain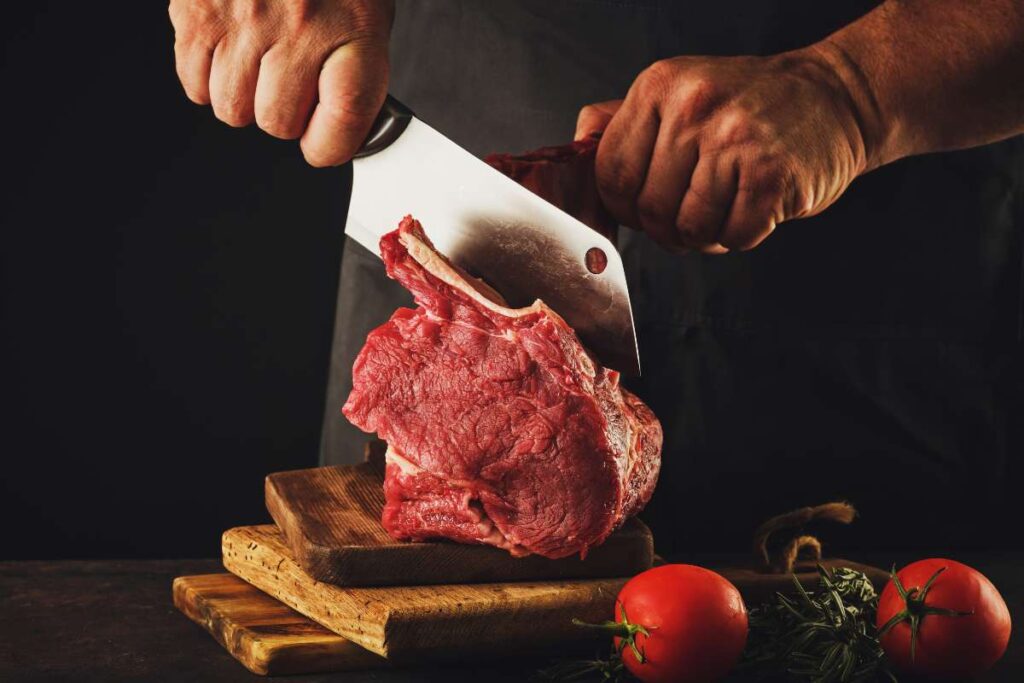 Paul Saladino's diet, while strictly carnivorous, still requires knowing a total calorie and macronutrient intake to ensure he is getting the fuel he needs to play and perform each day.
If you are considering trying Paul's workout plan and lifestyle, we strongly recommend you do the same.
This will ensure that you are getting enough protein to build lean muscle, carbohydrates for fuel, and fats to absorb essential nutrients.
To do this, we recommend using our advanced calorie and macronutrient calculator.
Just punch in your age, gender, height, weight, and activity level to obtain a precise calorie and macro breakdown to help you optimize your health.
Paul Saladino Supplement Preferences
Paul Saladino does not take supplements and does not recommend them. He believes that a carnivore diet complete with organic meats, organ meats, and fruit gives the body all it needs.
This is why he has created his own range of supplements made from 100% grass-fed and finished cattle, using regenerative agriculture from farms in New Zealand and the United States.
These supplements contain kidneys, liver, testicles, blood, bone marrow, cartilage and all parts of the animal "nose-to-tail" to help you fill nutritional gaps.
Below is a list of Paul Saladino's supplements.
| | | |
| --- | --- | --- |
| Supplement | Key Nutrients | Purpose |
| Warrior: Heart & Liver | Creatine, L-Carnitine, Anserine, Carnosine, Taurine, CoQ10 | Improves strength, recovery, performance, energy, libido |
| Beef Organs: Liver, Heart, Kidney, Pancreas, Spleen | Copper, Biotin, CoQ10, Riboflavin, Folate, B12, Vitamins A, D, E, K2 | Improves nutrient absorption, energy, mood, strengthens bones |
| Fire Starter: Grass-Fed 7 Finished Suet, Perinephric Fat | Stearic acid, essential fatty acids, Vitamin E, K2 | Improves weight loss, energy, mood, performance and insulin sensitivity |
| Whole Package: Grass fed & Finished testicle, liver, blood | Essential fatty acids, selenium, red blood cells, white blood cells, platelets | Improves reproductive health in men, blood flow, hormone health, strength and performance |
| Bone Marrow & Live: Grass fed and finished liver and bone marrow | Copper, Biotin, CoQ10, Vitamins A, D, E, K12, riboflavin, folate, B12 | Improve bone and tissue health. Increases energy, libido |
Final Thoughts
There is no doubt that Paul Saladino's approach to health and nutrition is unique.
Whether you follow his principles or not, it is clear that the carnivore diet and plenty of physical activity power his ability to do what he loves day in and day out.
So, if you are considering following Carnivore MD's workout program and diet plan, start slow and gradually work your way into this routine.
This will give your body the time to adjust and adapt, so you can maintain the change for long-term results.
So, are you thinking of switching over the carnivore diet and training like Paul? What inspires you to make the change?
Let us know in the comments.
How many times a day does Paul Saladino eat?
Paul Saladino eats between the hours of 5 am and 6 pm, eating five meals per day. He starts his day with organic honey, followed by coconut water. Then he has a lunch consisting of organ meat, ground beef, and a raw milk smoothie.
This is combined with fruit, grass fed beef, and fried plantain for dinner.
What is the best workout while on carnivore diet?
The carnivore diet is great for all kinds of exercise due to its increase in protein and fats, providing your body with the nutrients to build muscle and fuel your performance. 
Can I get shredded in 7 weeks?
You can get shredded in 7 weeks. However, to do so you would need to be in a strict calorie deficit that would be difficult to sustain long term. The lack of sustainability would also increase the risk of putting the weight back in faster after dieting. 
Popular Celebrity Workout Routines: