This post may contain affiliate links at no additional cost to you. As an Amazon Associate I earn from qualifying purchases. Click to view our full disclosure.
This article has been last updated in September 2023.
Here is my Metabolic Renewal Review and why discovering your hormone type can help you drop weight fast as a woman, even if you don't know what exercises really work for your body or foods to eat for your hormone type.
First, what is Metabolic Renewal?
The Metabolic Renewal Program is the first doctor-developed, female-focused, diet and exercise program on the market.
It promises to help women take back control of their hormones and metabolism, as well as do away with extra weight or stomach fat.
These are some pretty promising claims, so I decided to look into them for myself.
I purchased the Metabolic Renewal program at full price for the purposes of this review, and over the past few weeks, I have spent a lot of time reading, exploring, and trying this program out for myself.
Overall, I found the program to be effective and easy to follow. If you'd like to hear more about my experiences and how the program could benefit you, keep reading!
Short on time? Discover Your Hormone Type With Metabolic Renewal Quiz.
Does Metabolic Renewal Work?
Metabolic Renewal diet gives you all the tools you need to achieve your fitness and weight loss goals, including a diet and exercise program customized for your unique hormone type that adapts as you progress.
In my time with the program, I found both the diet and exercise to be easy to follow. Everything was laid out clearly and Dr. Teta offers a lot of encouragement and helpful advice along the way.
You start off slowly while you rebalance your hormones, and increase intensity at your own pace as you go along. If you are used to the standard diet and exercise programs.
The Metabolic Renewal diet will be a breath of fresh air as it is unique in approaching weight loss for women.
Enjoy flexible diet plans full of tasty foods, and exercise routines that don't take hours to complete, without sacrificing your progress.
Depending on your fitness level and current diet, you should start to see results within a few weeks of starting the program as your hormones begin to balance and your metabolism begins to ramp up.
Who is behind the Metabolic Renewal?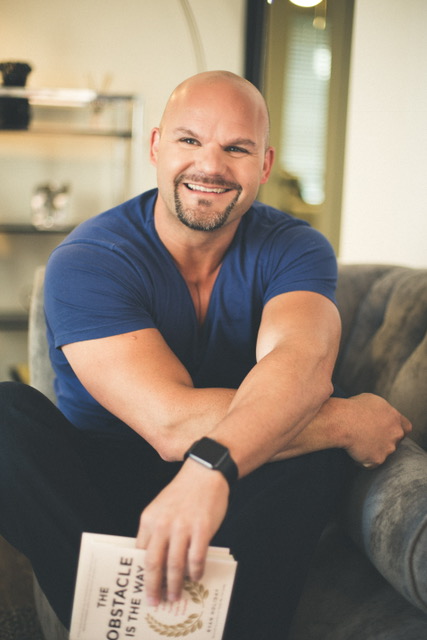 The Metabolic Renewal program was developed by Dr. Jade Teta, NPH, after nearly 30 years working in the fitness industry as a personal trainer to a predominantly female clientele, as well as working with female patients in his medical practice.
Dr. Teta found that his female patients and clientele were struggling to achieve comparable results to their male counterparts, even when he knew they were sticking to a healthy diet and giving their all in his training sessions, sound familiar?
After seeing the same thing play out with countless women, Dr. Teta knew there had to be more to the issue and began to look into the research behind our current understanding of diet and exercise.
What Dr. Teta discovered was shocking, to say the least. He found that the majority of clinical trials and fitness studies throughout history had been conducted on exclusively male participants, specifically able-bodied college-aged men.
This was the standard until 1994… the same year that television sitcom Friends made its debut.
That leaves us with less than 30 years of research that includes women, is it any wonder that so many of us struggle to see results following the standard diet and exercise programs?
Dr. Teta didn't think so, which is why he spent his time learning everything he could about the female metabolism, hormones, and how they function together to impact fat storage and weight loss, or the lack thereof, in women.
Discovering your Hormone Type
The first step in the Metabolic Renewal program is discovering your unique hormone type by taking a short 12 question quiz.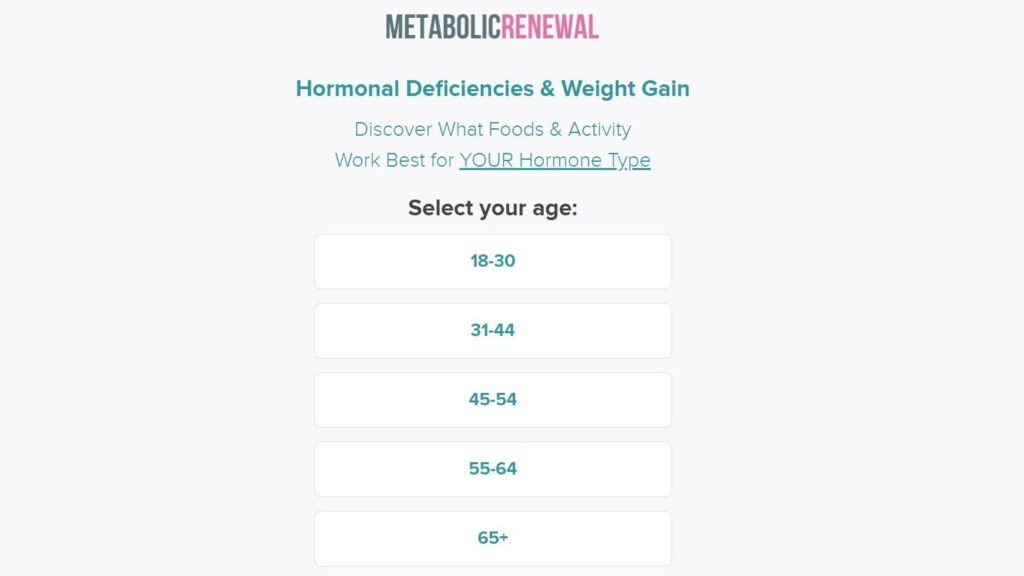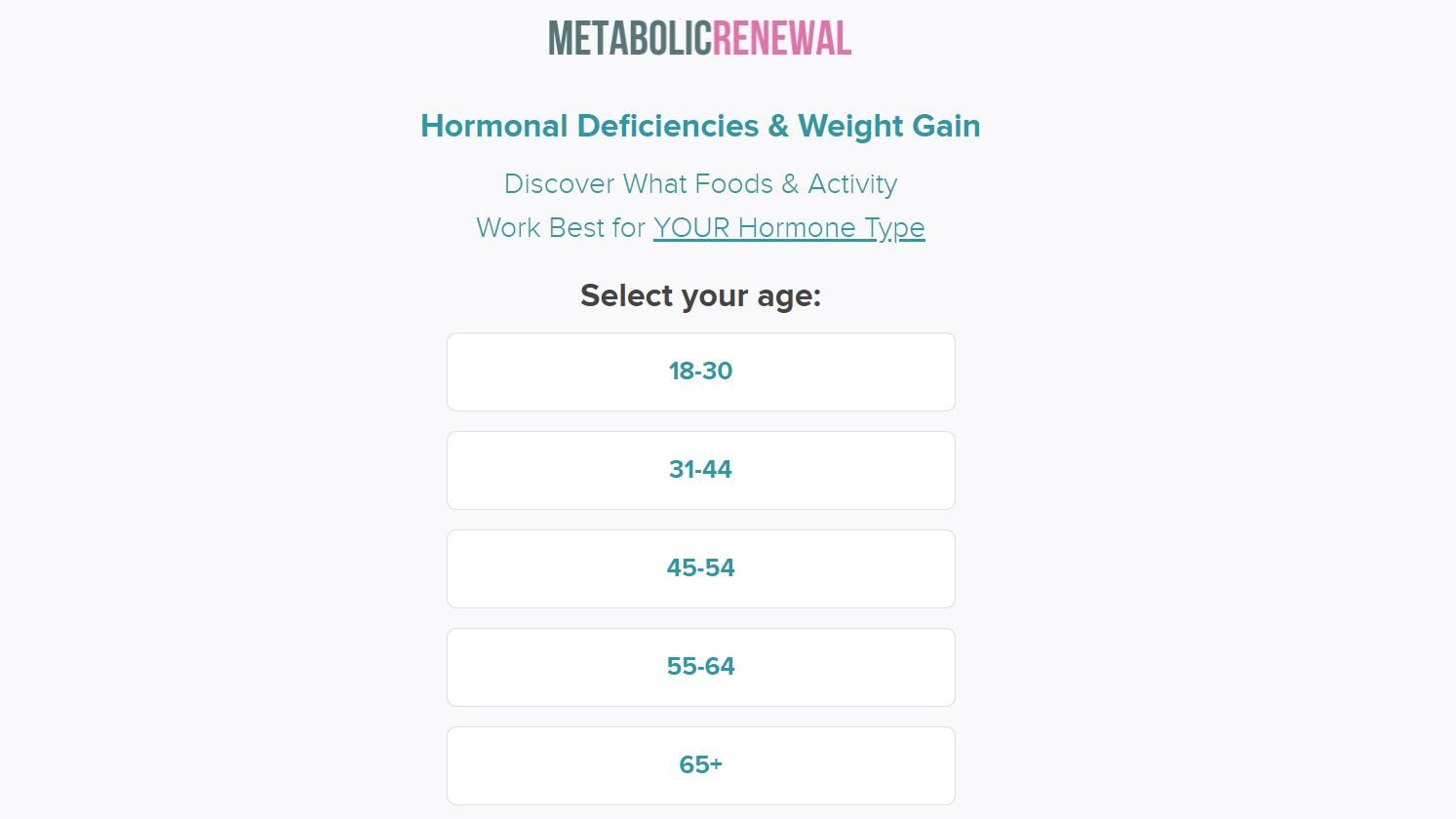 The quiz only takes a few minutes to complete but will provide you with an in-depth description of your hormone type as well as a customized video to start your journey.
Knowing your hormone type will help you to better understand what is impacting your weight loss and fat loss efforts, and even more importantly, what you need to do to overcome those challenges and take back control of your life.
Even if you have what is considered a balanced hormone type, meaning you are in line with what is considered normal for the female cycle, this can be a big help.
I discovered that I fell into the category of hormone type 1, and I found myself feeling healthier overall after just a bit of time on the program.
The 7 Hormone Types
The seven hormone types are as follows and you will fall within one of these. It will be confusing but when you take the quiz it will all make sense,
Metabolic Renewal Hormone Type 1
Mixed Signals – Balanced Progesterone and Estrogen
---
Metabolic Renewal Hormone Type 2
Hormone Overload – Estrogen Dominant
---
Metabolic Renewal Hormone Type 3
Hormone Shortfall – Progesterone Deficient
---
Metabolic Renewal Hormone Type 4
Ovarian Burnout – Progesterone & Estrogen Deficiency
---
Metabolic Renewal Hormone Type 5
Metabolic Sputter – High Estrogen and/or fluctuating with a progesterone deficiency
---
Metabolic Renewal Hormone Type 6
Ovarian Fatigue – Progesterone and Estrogen deficient – Menopause
---
Metabolic Renewal Hormone Type 7
Ovarian Shutdown – Estrogen & Progesterone Deficient – Post Menopause
If you'd like to read about each hormone type in-depth, take a look at our article discussing the Metabolic Renewal Quiz to learn more.
Here's What You'll Find Inside The Members Area
When you sign in to your members account for the Metabolic Renewal program, you'll be greeted with an onboarding section labeled 'start here' that will help you get acquainted with what's to come.
In it, you will find a welcome video from Dr. Teta explaining how he came around to create the course and giving you the first bit of information on how to turn your body into a "Metabolic Powerhouse".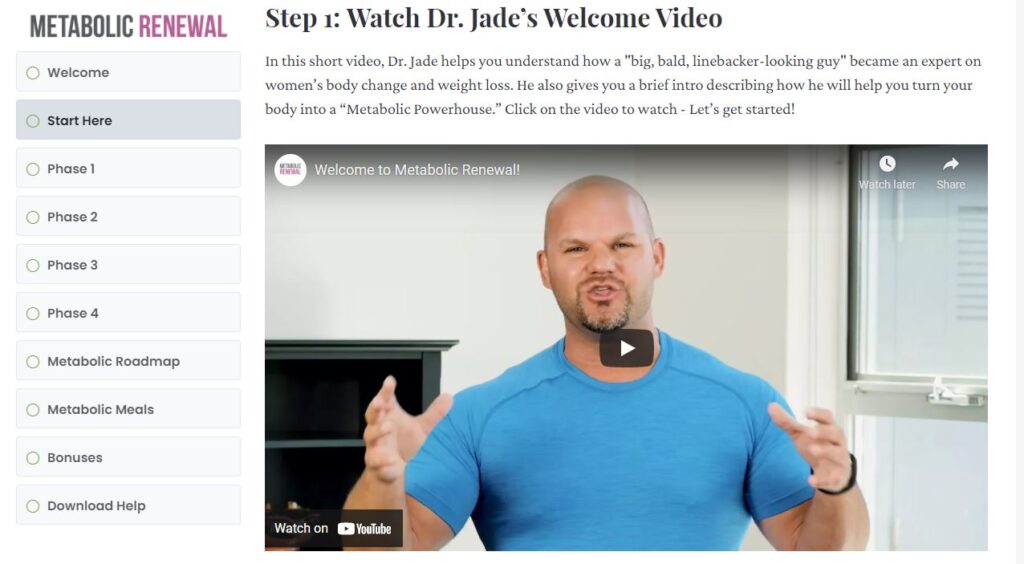 Following the introduction, you will find a link to join the private Metabolic Renewal Facebook group where you can share your progress, ask questions, and interact with other women taking part in the program.
This support system is invaluable, and I found the members of the group really understood the struggles so many of us face, while also offering plenty of encouragement.
Even better, since the group is completely private, you don't have to worry about any of your posts appearing in your feed. You'll need to provide the email you used to purchase the program to the admin when you apply to join the group, but nothing else is needed.
Finally, the last part of the Getting Started section will get you acquainted with the workouts, explaining what to expect over the course of the program and what each step will do for your hormones and metabolism.
You'll also learn about the Metabolic Renewal Roadmap, the 12 Week Metabolic Meals Plan, the Female Transformation Tracker, and the Metabolic Renewal Quick Start Guide, all of which are helpful tools you receive on sign up and will get better acquainted with throughout the program.
Join thousands of women transforming their bodies using the Metabolic Renewal simple weight loss system. BIG discount for EWS readers only using this link to get started!
The Metabolic Roadmap
The Metabolic Roadmap is an ebook included in your purchase of the program that you'll need to read to get acquainted with and fully understand the Metabolic Renewal program and the theory behind it.
I recommend reading it before you really dive into the program, as it lays out everything you need to know to succeed and I found it really prepared me for what was to come, giving me the right mindset to move forward.
The book will walk you through the foundations of the program, starting with what Dr. Teta calls the 4M principles.
In the Metabolic Renewal program, you'll learn that diet and exercise are only half of the equation when it comes to female weight loss, making up two of the 4M principles.

With only half of the equation, you can't expect to see consistent results, especially if you don't even have the right information for that half.
You'll also come to understand how your emotional state can affect weight loss and fat storage, and pretty much nullify all of your hard work. Spoiler, it has a lot to do with your hormonal cycle and the way we've evolved as humans.
As you keep reading through the Metabolic Roadmap, you'll slowly change the way you think about weight loss, diet, and exercise.
You'll also learn how your monthly cycle affects your body, and what that means for your diet and workout routine, as well as discovering the fat-burning advantages woman have due to their increased levels of estrogen and HGH.
The disadvantages we face due to our sensitivities to other hormones, like those produced by your adrenal gland and thyroid.
In later chapters you'll get into the real meat of the program, discovering your unique hormone type and what it means to you, you'll also learn the what and why's of the four phases of the program which are as follows:
Phase 1: Harmonize (Weeks 1-3)
Phase 2: Inspire (Weeks 4-6)
Phase 3: Enhance (Weeks 7-9)
Phase 4: Symphony (Weeks 10-12)
From here you'll find out how to apply and modify the exercise and meal plans for your individual abilities and hormone type.
Through his modifications, Dr. Teta has made this program accessible for all women. Out of shape and overweight?
No problem. Injured or disabled?
That's okay!
Pregnant?
Congratulations! You can still reap the benefits of Metabolic Renewal.
If you are just starting out and feeling discouraged because you struggle to perform the movements or hold poses.
Dr. Teta explains the benefits of exercising regardless of your form, as well as offering some great information on the long term health benefits of taking control of your weight and fitness as you age.
You might be surprised just how much of a difference the right program can make in all aspects and stages of your life.
12-Week Metabolic Renewal Meal Plan
Your program will also include the 12-Week Metabolic Meals Plan which offers a variety of delicious recipes while also equipping you with the knowledge you need to create your own Metabolic Renewal approved meals going forward.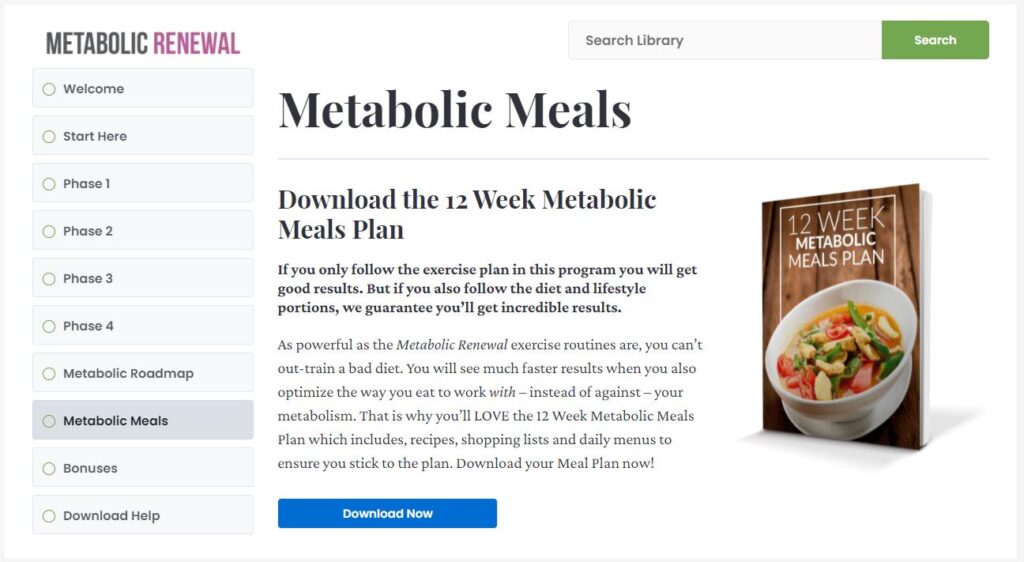 If you've tried the typical diet plans, you might be raising your eyebrows at the idea of the meals being delicious, believe me I don't think anyone's idea of a tasty meal is a big plate of uncooked greens and ice water.
That's not what you'll find here. Dr. Teta understands that you can't expect to succeed on a diet of restriction and misery, which is why he includes recipes for things like Chicken Cacciatore, Meatloaf, Steak, and my personal favorite of the bunch, Chicken Marsala.
If you're short on time in the mornings (and who isn't?), you'll love the Mocha Fudge Shake, Carrot Cake Shake, and Black Forest Cherry Cake Shake.
We promise they're healthy!
Not that you'll know it from the flavor.
This is 'diet' food like you've never had before.
If you like that, you'll love that all of the recipes and the guidelines were designed to be made with ingredients you can easily find at any grocery store and can be prepared in around 20 minutes or less.
I found that I was actually saving time with a lot of the meals the program recommends, and I enjoyed not having to worry about making a grocery list or wondering what I was going to make for dinner.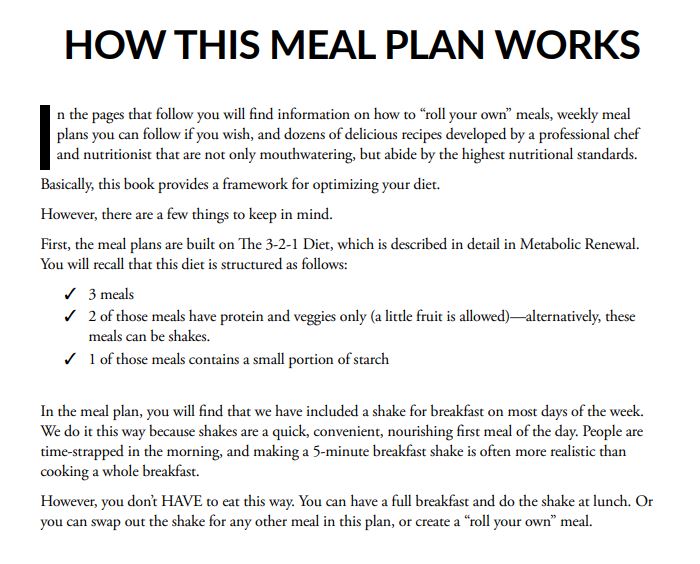 Metabolic Renewal Recipes Sample
There is a huge variety of breakfast, lunch, dinner and deliciously easy-to-make shake recipes that are super tasty and quick to make for the entire family.
No complicated recipes that take hours to prepare.
You are also provided with a weekly grocery list for convenience, which saved me a heap of time!
I have included a sample recipe screenshot from within the program.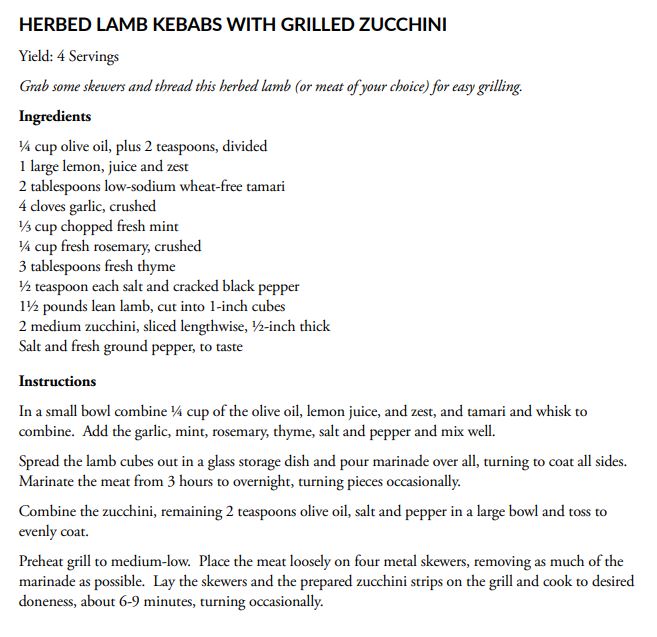 Metabolic Renewal 3-Day Menu
Metabolic Renewal provides a 12-week meal plan to follow. If you prefer the 12-week vegan meal plan, Metabolic Renewal has this meal plan available.
Here is a simple version of their Metabolic Renewal meal planning.
Monday
Breakfast: Black Forest Berry Cake Shake
Lunch: California Salad
Dinner: Savory Steak With Mushroom
Tuesday
Breakfast: Mint Chocolate Crunch Shake
Lunch: Salmon Burger Over Mixed Green Salad
Dinner: Chicken Marsala
Wednesday
Breakfast: Coconut Herb Frittata
Lunch: Roast Beef Wrap
Dinner: Pesto Chicken Salad
Join thousands of women transforming their bodies using the Metabolic Renewal simple weight loss system. BIG discount for EWS readers only using this link to get started!
Metabolic Renewal Workout Schedule: The 4 Phase Format
The workout component of the Metabolic Renewal program is broken down into four phases, each lasting for three weeks of the 12-week program.
Each phase has a different focus as you will be in a different place on your metabolic journey, here are the basics:
Phase 1: Harmonize (Weeks 1-3)
This phase is all about getting your hormonal system back into balance and harmony. As you'll learn by following the program, when your hormonal system is out of balance, your hormones will react.
This results in all kinds of unpleasant things that most women are familiar with; bloating, intense cravings, mood swings, aches, pains, and the dreaded weight gain.
In fact, an increase in fat storage is one of the most common side effects of hormonal imbalance. Suffer no more, the first phase of Metabolic Renewal will have you in balance and back on track.
Phase 2: Inspire (Weeks 4-6)
Once your hormones are in check, you're ready to move on to phase two of the program which focuses on preparing your cells to receive and properly interpret the signals you're trying to send them.
This is crucial as it helps to prepare your metabolism to begin tapping into your fat stores for energy, rather than opting for carbs as a power source.
Don't worry, moving into fat-burning mode doesn't stop your body from using carbohydrates as fuel, it simply allows you the flexibility of using both sources depending on what you need at the time.
Phase 3: Enhance (Weeks 7-9)
As you enter Phase Three, your hormones are in balance and your cells are attuned to the signals you are sending, which means you are ready to take things to the next level.
Through your efforts in the previous stages, you will have conditioned your body to properly respond to workouts, and you'll be able to safely increase the intensity without sending your body into a panic mode where it attempts to hold onto all your fat.
Phase 4: Symphony (Weeks 10-12)
Phase Four is the final phase of the program and the one that really brings it all together.
At this point, you will have tuned your body into a fat-burning machine with all of your hard work, which means you'll finally be able to fully reap the benefits of your female metabolic advantage.
As you proceed through Phase Four, you'll continue to burn fat while also beginning to build lean muscle throughout your body. When you reach the end of this phase, you'll feel like a completely different person than you were when you started.
You'll also find that a lot of the aches, pains, and annoyances you'd come to believe we're a part of everyday life have completely disappeared.
Across all the phases you'll find exercises you're already familiar with and ones you've likely never heard of, all chosen with a simple goal in mind, challenging your body in new ways to kickstart your metabolic fat burning process.
Every exercise has modifications for all levels of abilities, and if you encounter something that's still out of reach, don't worry! You can modify the exercise further to whatever capacity you can handle, or swap it out for something else entirely.
The most important thing is listening to your body and trusting your limits.
Start out with simple exercises like squats, high knees, and hip raises, and ramp-up to high-intensity moves like up-downs, squat thrusts, and close grip push-ups.
Metabolic Renewal Exercise Sample
If you want to see what the Metabolic Renewal workouts are all about I encourage you to check out the sample below!
You have a large selection of workouts and you can do it all from your home.
No gym memberships or fancy expensive equipment machines.
You can use dumbells or resistance bands to really test yourself later in the program.
Below is a sample of the Metabolic Renewal exercise plan to burn fat fast. Most of the workouts have alternatives for those who have physical limitations and they are super fun!
Are you excited yet? You should be!

Discover Your Hormone Type With Metabolic Renewal Quiz.
Female Transformation Tracker
The Female Transformation Tracker is another wonderful tool included in the Metabolic Renewal program.
It's pretty self-explanatory, offering you a way to keep track of your progress as you work through the program, but it doesn't just measure your progress in pounds or inches lost.
In the Female Transformation Tracker, you'll also learn to track your Metabolic Score, Vitality Score, PMS Score, and Menopause Score, as well as discovering your body shape, and finding some fun new ways to track your physical progress.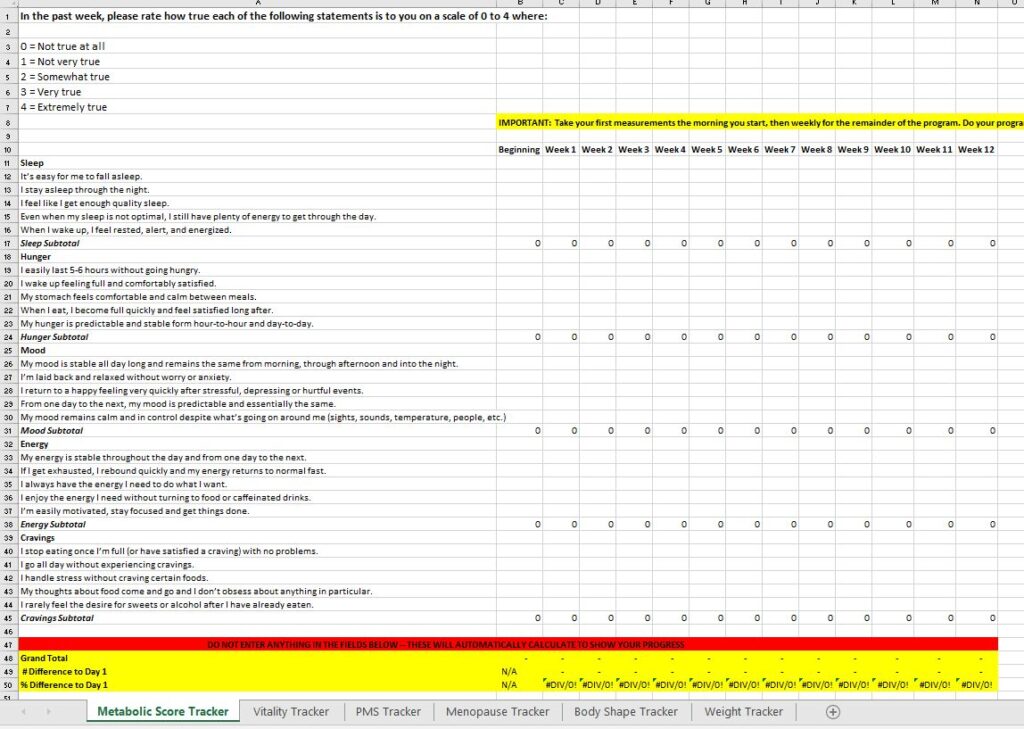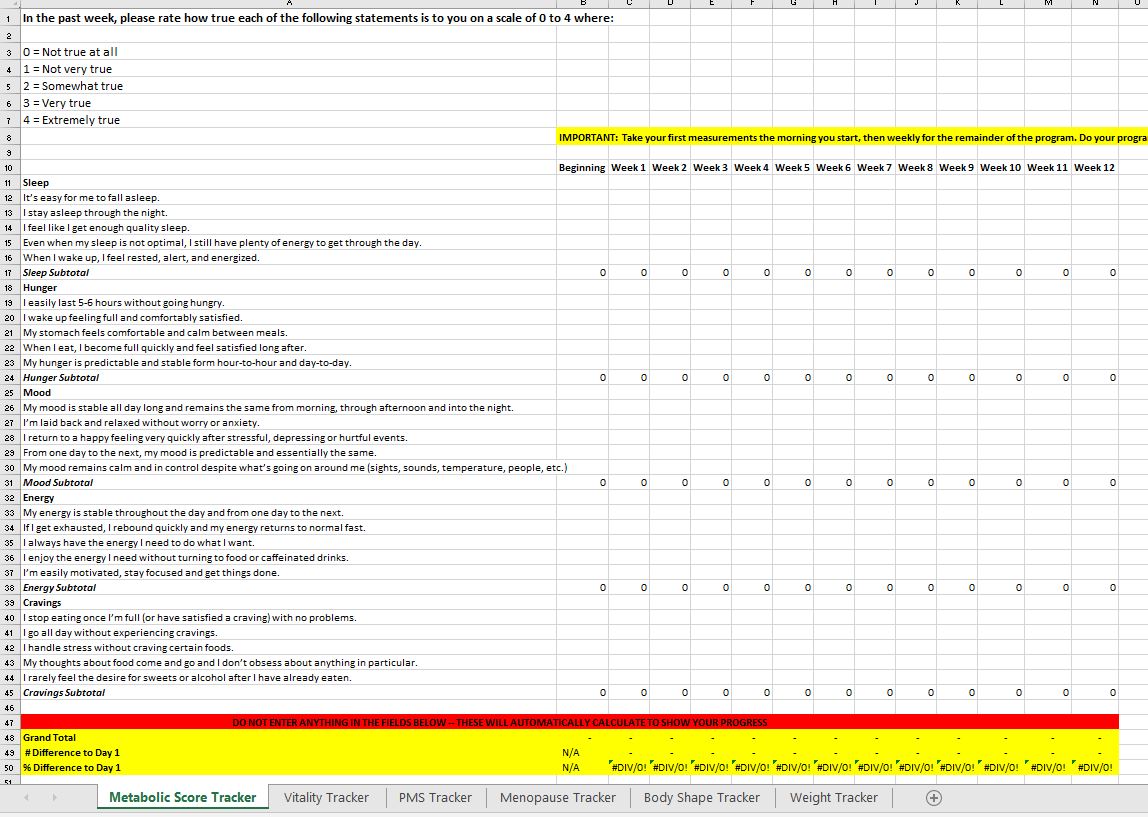 The Female Transformation Tracker really offers you a full picture of your health, gauging everything from physical and mental health to circulation, sleep quality, and digestion, and energy levels with much more in between.
I found it very interesting to see that metrics like bad breath and temperature sensitivity factored into the vitality tracker, it will definitely help you get to know your body in ways you've never even imagined!
The Metabolic Renewal Quick Start Guide
The Metabolic Renewal Quick Start Guide is exactly what it sounds like, a concise guide featuring everything you need to know to get started with the Metabolic Renewal program.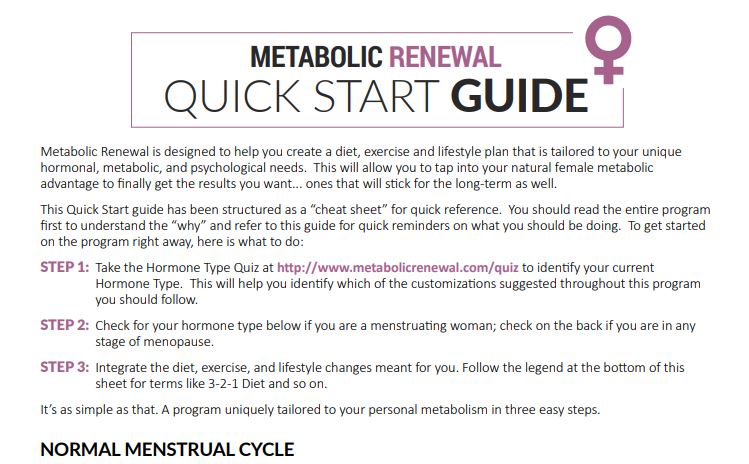 The best way to make use of the guide is as a reference once you've gone through the Metabolic Renewal Roadmap and have an understanding of your hormone type and the program as a whole.
The guide breaks down your diet and exercise routines, as well as the other components of the program, by hormone type, so you can be sure you are getting the best results, even without constantly revisiting the Roadmap and other resources.
The 5-Step Female Flat Belly Formula
The 5-Step Female Flat Belly Formula is a concise guide that will teach you everything you need to know about stubborn belly fat, walking you through the biological reasons women accumulate and store fat around their middles, and what you need to do to get rid of it.
Dr. Teta breaks the whole process down into five simple steps so that you can finally say goodbye to that belly bulge and avoid the negative health consequences of excess abdominal fat.

Access To The Private Facebook Group
We've already touched briefly on the private Facebook group, but it is one of the best tools you gain access to when joining the program.
It offers a safe and private space for women of all ages, shapes, and sizes to come together and share their progress, ask questions, and offer support.

It's been proven time and time again that you are more likely to succeed with a fitness program if you have an accountability buddy to motivate you on the hard days, try having a couple hundred!
You are bound to find people who understand your unique struggles and genuinely want to see you succeed, cheering you on as you make the changes you never thought possible.
Discover Your Hormone Type With Metabolic Renewal Quiz.
Metabolic Renewal PROS and CONS:
Pros:
Metabolic Renewal is an all-in-one program, providing you with everything you need to succeed.
The program was designed specifically for women, not with them as an afterthought.
The 12 Metabolic Meal Plan isn't your average diet, you'll actually enjoy the meals and won't be left struggling with cravings.
The exercise routines were designed for all fitness and ability levels. No matter what limitations you face, Dr. Teta has a solution for you.
Workout at home, no additional equipment required.
The program was created by an experienced health and wellness professional and is backed by science.

The cost of lifetime access to the program is less than a two-month gym membership.
Cons:
There's no free preview. This isn't a huge downside as the program is relatively inexpensive, but you'll have to buy it to try it.

The pre-sell explanation videos are long and you will need to have free time to listen.

The upsell videos are longer than expected and you must wait until closer to the end to make sure you hit the "No thanks links" at the bottom so you don't get accidentally charged.
Metabolic Renewal Alternatives
If you are looking for an alternative to Metabolic Renewal then read our review on the weight loss program Calibrate.
Although this is a new weight loss program and is only available in certain states, it has a made waves in the past year for the amazing results people have seen.
Be warned it's kinda expensive but well worth reading our review for an overview on how it works.
What are people saying? Results from the Metabolic Renewal Customer Reviews
People, including me, enjoy the straightforward approach offered by the Metabolic Renewal program, with its short accessible workouts and its quick and easy meal plan.
The last thing you need is a health and wellness program that adds more stress and frustration to your lives.
Many women report feeling revitalized by the program, something I attested to at the start of this review. You can find a bunch of testimonials as well as some impressive before and after photos on the program's website which I've screenshot below for your convenience.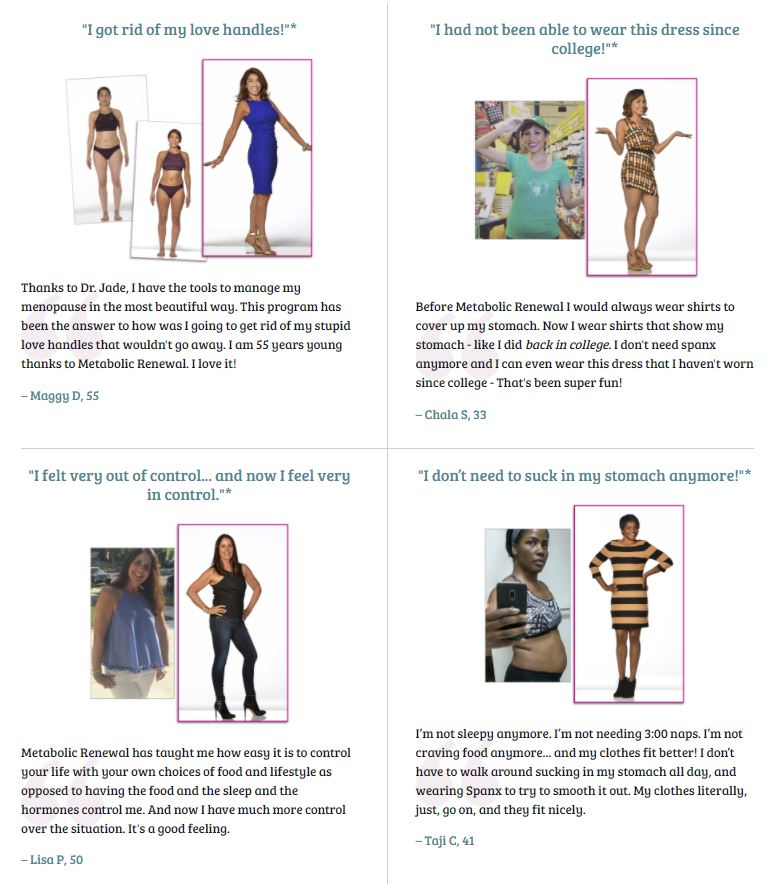 Once you've joined, you can find even more jaw-dropping transformations under way in the private Facebook group.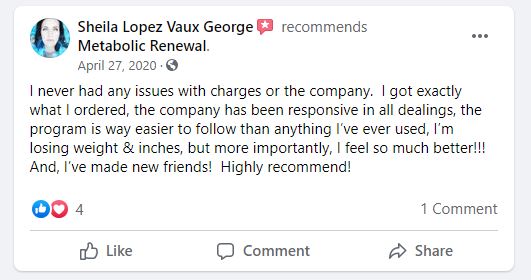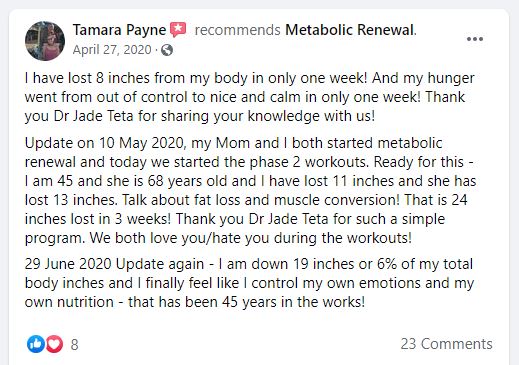 I managed to take some screenshots of Metabolic Renewal customer reviews throughout different social media accounts.

As this is an honest review I will point out there were negative reviews based on the long sales videos when going through the checkout. Another is people who have been charged for the upsells when they didn't click the buy buttons.
I can only state that my experience was positive and I never was charged any extra other than what I chose. I believe these people were rushing through the checkout process and never clicked the "No thanks links" that appear when the upsell videos are nearly finished, which resulted in the system charging them when they tried to leave or whatever occurred.
Make sure to give yourself time to go through the entire checkout process, don't rush and actually listen to the information as you may feel you need the additional products however, you don't need them to have success with the program.
But what is clear is most people are seeing great weight loss and that's the most important result!
I cover what these additional products are below!
Discover Your Hormone Type With Metabolic Renewal Quiz.
What are the additional options at checkout?
When you purchase your copy of the Metabolic Renewal Program, you'll also be offered the chance to buy a few add ons.
These add ons are completely optional and you do not need them to succeed with your program. Just think of them as bonuses, they are yours to take or leave.
Here is a little information on each of them so you can make an informed decision on what's right for you.
Audio Version Of The Metabolic Renewal Program
Do you prefer to do your reading through audiobooks? No problem!
You can get the Metabolic Renewal Program in audio form as an add-on through checkout, so you can learn all the ins and outs on your morning commute, or while you're preparing dinner.
Metabolic Mastery Club
The Metabolic Mastery Club gives you exclusive access to a ton of supplementary content, offered by Dr. Jonny Bowden, another expert in the Metabolic field.
You'll get to join live calls with Dr. Bowden, asking him your questions and hearing the latest tips and info, as well as once-monthly interviews between Dr. Bowden and the world's foremost metabolic professionals.
You'll also get new recipes, inspirational videos, and even more community support.
Metabolic Renewal Supplements Add-ons
During the checkout process, you will get the opportunity to include these two Metabolic Renewal supplements at a discount price. Be sure to give yourself time to watch the video presentation to understand if these products would be of help to you.
If you decide to pass on them make sure to click the "no thank you link" that appears when the video is coming to an end.
Metabolic Fuel
Metabolic Fuel is a high-quality Whey protein powder Dr. Teta recommends for post-workout shakes.
The formula was developed by Dr. Teta and Dr. Dean Raffelock to offer a metabolically optimized protein powder that doesn't cut corners to save money.
Metabolic Fire
Metabolic Fire is a capsule supplement targeted at women over 40 who are struggling to lose that last bit of weight or stubborn fat, but it's safe for anyone to use.
The capsule is full of ingredients designed to kick your metabolism into high gear and give you the best results from your hard work.
Final Verdict
Metabolic Renewal is a comprehensive and well-rounded weight loss program that leaves nothing to guesswork. It also fills an important gap in addressing the needs of women specifically.
I found it surprisingly refreshing to have someone acknowledge issues I'd personally struggled with, and I appreciated the adaptability of the program.
We can't always make a lot of time for ourselves, and especially after pregnancy, your body doesn't always operate like it used to.
If you are one of the countless women of all ages that struggles with fluctuating weight, keeping fat from building up around your middle, or you just aren't seeing the results of your hard work in the kitchen and the gym, it's time to try something different, the Metabolic Renewal program could be just what you need so go get a discount copy of the Metabolic Renewal program here.
I'll see you in the Facebook group!
Discover Your Hormone Type With Metabolic Renewal Quiz.
You can also check out our review on Metabolic Factor by Dr. Jonny Bowden, PH.D.
More Product Reviews: