This post may contain affiliate links at no additional cost to you. As an Amazon Associate I earn from qualifying purchases. Click to view our full disclosure.
Here is my honest Beyond Body book review and I last updated it in August 2023.
I was super excited to try the Beyond Body weight loss program as I have seen a lot of buzz around the influencer space and many women telling their success stories and how simple it is to follow.
With all products and services, especially in the weight loss space, there is positive and negative feedback that keeps balance, Beyond Body isn't immune to this.
Beyond Body book has received some opinionated reviews from bloggers who use the brand name to get views only to bait and switch you to their products or services all while never trying the program for themselves.
I actually purchased the program and this is why I formed my own personal experience. This is my own opinion and with any weight loss program, results vary.
We often come across weight loss programs designed for the masses and don't address the root cause of weight gain. They take a one size fits all approach that can be frustrating and disheartening for those attempting to lose weight.
Most of us want a simple, personalized, sustainable program without splashing loads of cash on personal trainers or nutritionists to fail anyway, right?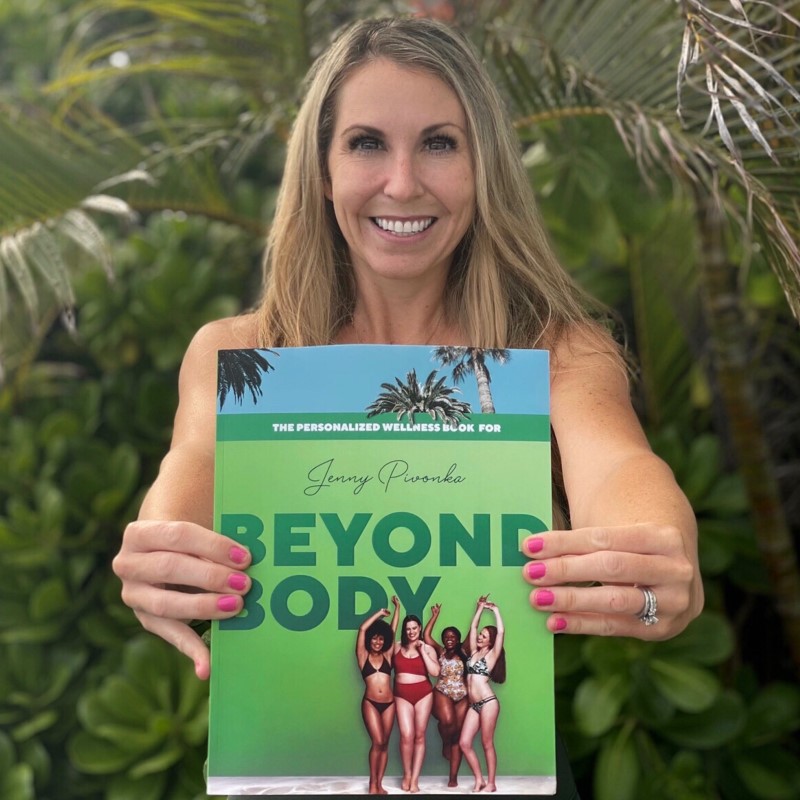 Beyond Body book offers a simple but impressive book with a personalized program and Assistant app that can help you make healthy, sustainable changes to your lifestyle.
I was impressed with this book's ability to address the root causes of weight gain and why most people DON'T lose weight on the most popular weight loss programs and provide the fundamentals of building long-term healthy habits and encouraging a healthy lifestyle in a personalized and straightforward way.
A short quiz, and you have a personalized meal plan and workout routine tailored to your requirements.
So what makes Beyond Body's book so successful? My in-depth review will look at Beyond Body's standout elements and how they help thousands of women transform their bodies and feel amazing!
Let's get into it.
"I was impressed with this book's ability to address the root causes of weight gain and why most people DON'T lose weight on the most popular weight loss programs."

Miranda W
Special Deal: Get up to 60% OFF Beyond Body for EWS Readers. Use Coupon Code "EXERCISE22" at Checkout!
What is Beyond Body Book?
As the first fully personalized wellness book, Beyond Body can help you achieve your fitness goals in a way that suits you.
With customized nutrition, fitness, and habit-building programs, every copy of this book is distinctive and developed with your preferences in mind.
Whatever your dietary preferences, lifestyle choices, or fitness levels, Beyond Body can help you accomplish your health goals.
The book aims to help you achieve your weight loss targets without burning a hole in your wallet, as you might with a personal trainer or practiced nutritionist. It's a healthy living assistant that's available to everyone.
You can order the Beyond Body physical book delivered to your door or the online ebook version. Depending on your patience, you can have the book and while you wait, download the ebook to get started straight away!
Beyond Body Pros and Cons
Special Deal: Get up to 60% OFF Beyond Body for EWS Readers. Use Coupon Code "EXERCISE22" at Checkout!
Pros
Online or physical book available.
Offers Assistant app for 33% faster weight loss.
Ships international for the hard copy book
No subscription fee. One payment and your weight loss journey begins.
Offers and app to track weight loss, recipes, workouts, etc.
28-days worth of meal choices and ideas. This includes flexible ingredients, options, alternatives, and substitutes.
No drastic changes to your lifestyle or eating habits.
Full, easy-to-follow workout guides complete with pictures and instructions. No need for equipment either
A focus on mindset and motivation helps provide long-term success.
Offers personal nutritionist for a low fee.
Cons
No video workout instructions, only pictures.
No grocery list provided, but the recipes largely use everyday items anyway.
No way of tracking your success with the e-book option. Instead, you need to pay a monthly fee for the app to track your progress.
Not a full list of meal recipes. Only alternatives and substitutes for basic meal ideas.
How does Beyond Body Work?
Every individual is different. We all have different lifestyles, different body types, and different habits. Therefore, there is no one-size-fits-all when it comes to weight loss.
So often, I come across weight loss programs designed for the "average" person. So often, these are unsuccessful.
Even if an average weight loss program succeeds in the short term, they rarely provide long-term lifestyle changes.
That's why Beyond Body takes a different approach.
With a simple and fast quiz about your background, lifestyle, and preferences, Beyond Body can learn about your body type, diet preference, exercise experience and your goals to provide you with all the personalized information you need to reach your weight loss goals.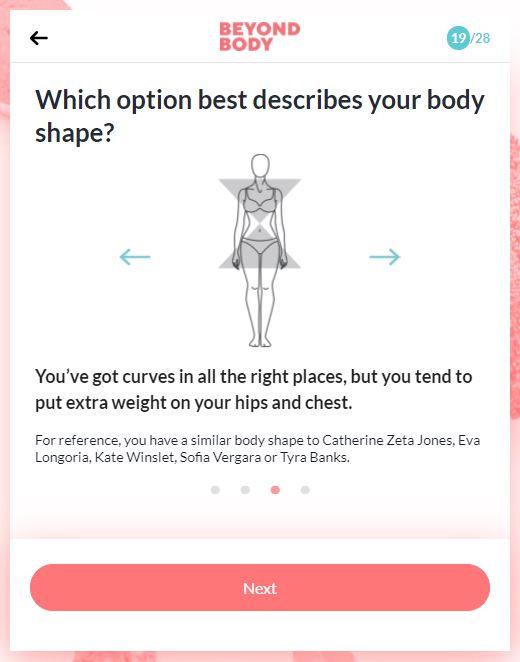 Beyond Body isn't all about weight loss. Following and maintaining a healthy lifestyle plan requires the right mindset and enjoyment. It's no use eating healthy and exercising but being miserable while you do.
With this in mind, Beyond Body puts focus on sleep patterns, mindfulness and stress relief techniques, healthy living, and managing your work-life balance.
In just 28 days, Beyond Body can help you develop healthy habits that suit you and support a healthy lifestyle for the years ahead.
Every Beyond Body copy contains a 28-day meal plan to help set you on the right track towards your fitness goals. You can edit the recipes with healthy additions or mix ingredients across the recipes to create your personalized dishes.
In addition to the meal plans, you get a personalized workout routine. Whether you're a complete beginner or an experienced gym-goer, Beyond Body will help you burn more calories, increase your cardio health, and build flexibility and strength.
Just imagine how you will feel after 28 days? We all want to feel great, look amazing and maybe take those cheeky booty pictures… Maybe that last one is just me? 🤔
Anyway…. Moving on.
Special Deal: Get up to 60% OFF Beyond Body for EWS Readers. Use Coupon Code "EXERCISE22" at Checkout!
Book + Assistant App 33% Faster Weight Loss
With over 206,421+ books sold, many customers requested an assistant app to help further customize meals, reminders of what to eat and track progress.
Beyond Body released an assistant app and surveyed over 1000+ customers who used the Beyond Body book and Assistant app reached their healthy weight goal 33% faster than others who used the book only.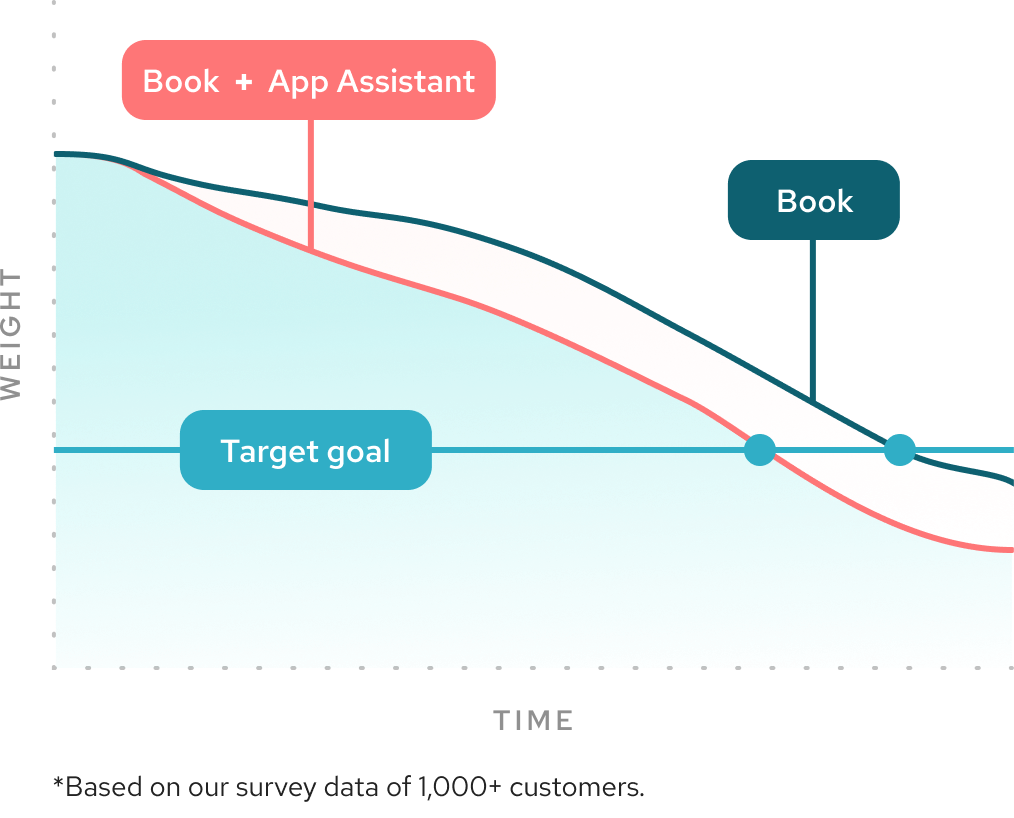 Beyond Body Meal Plan Explained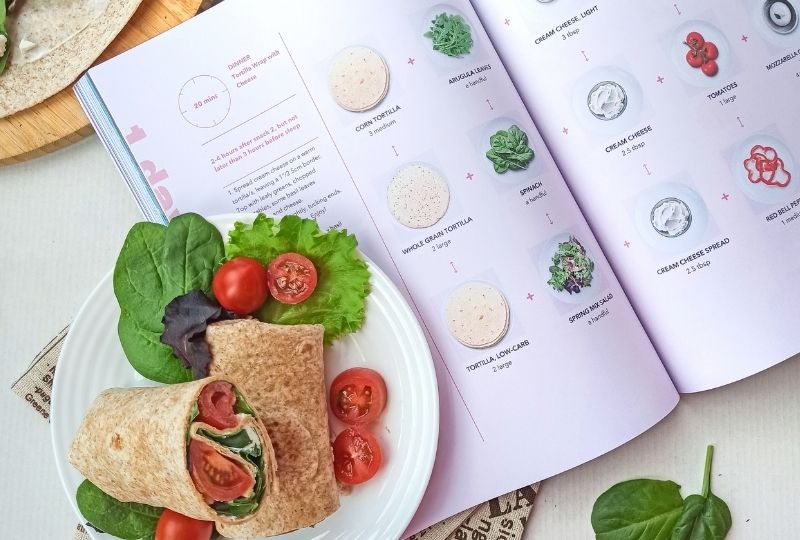 Anyone who has tried a new meal plan will know how frustrating and difficult it can be. Not only do most weight loss programs expect you to become a pro chef overnight, but they also ask for an array of bizarre and often unpleasant ingredients.
Nutrition is an essential part of a healthy lifestyle. Having a healthy diet can have many health benefits including heart health, weight management, improved mood, and strong bones.
And that's just a few of the many benefits.
However, not everyone knows how to stick to a meal plan or design a balanced diet. Some of us might go to a nutritionist or hire a personal trainer to help us. Beyond Body negate the need for either, offering meals plans you can tailor to suit you.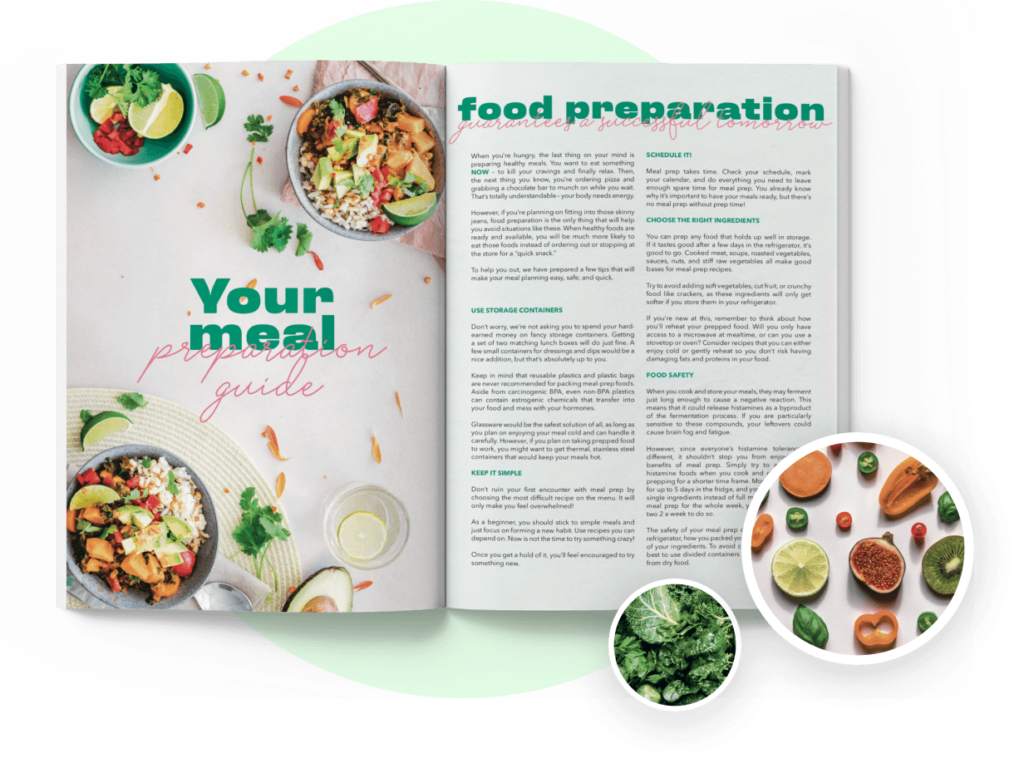 Flexible Meal Plan
The flexibility of Beyond Body's meal plan means that you don't have to own a 5-star restaurant and shop at the most expensive stores to cook a nutritious and tasty meal. For every meal, there are substitutes, options, and alternative meals to find what works for you.
You can even combine different parts of different meals to come up with your own mouth-watering creations. This is because the focus of Beyond Body is on ingredients, not specific dishes.
By keeping the meal plan as flexible as possible, Beyond Body allows you to figure out what foods work best for you. You can cook within your budget, cook foods you actually like, and after 28 days you'll be in the habit of eating a healthy and balanced diet.
Beyond Body Meal Taste Test
During my Beyond Body review, I wanted to take some pictures of preparing my lunch before work. In the photo below I made the Beyond Body salad wrap.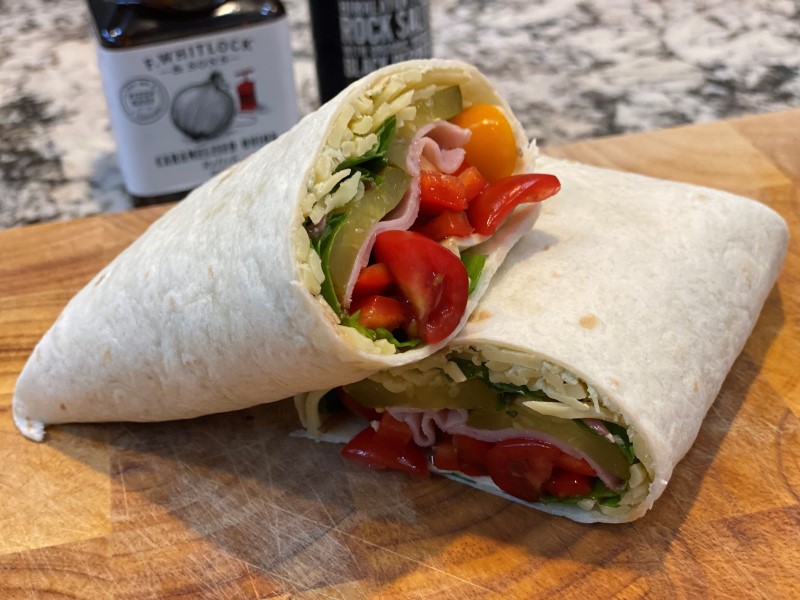 This is probably one of the fastest and easiest meals to prepare when you need a filling meal during a work lunch break. I did add in extra pieces like pickled cucumbers, tomatoes and caramelized onion.
I recommend with any diet, adding in extra veggies and salads to bulk up the food, this helps stay full for longer. Because you shouldn't be starving from one meal to the next.
They give plenty of options for breakfast, lunch and dinner to try and they are super tasty and easy to make. You'll get endless substitutes and a great selection of snacks between each meal.
Overall, following their meal plan was simple, delicious and fast meals to prepare without requiring to spend hours in the kitchen.
Hypocaloric Diet
Grounded in medical research and weight management principles, Beyond Body's meal plans are centered around the hypocaloric diet. This works off the basis that eating 200-300 fewer calories a day can make the world of difference to your weight.
With a hypocaloric diet, there is no need to eliminate entire food groups from your diet to lose weight. This isn't enjoyable or sustainable. Instead, the focus is on gradually reducing the calories you eat and choosing the healthy option more often than not.
By building healthier habits into your diet, you are more equipped to sustain a healthy lifestyle.
Allergies and Intolerances
The book even caters to those with allergies and intolerances. Beyond Body will customize the meal plans to suit any of the following:
Lactose
Cow's Milk
Eggs
Tree Nuts
Peanuts
Shellfish
Wheat and Gluten
Soy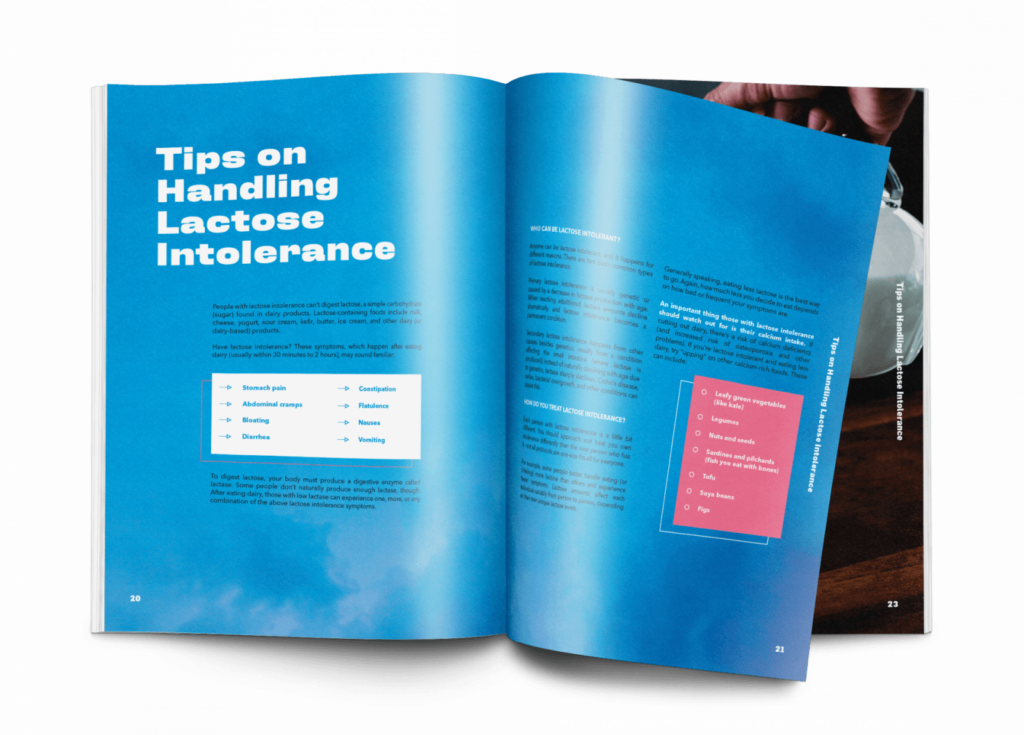 Beyond Body Workout and Exercise Plan
I personally enjoyed the exercise plan and workout guides. I'm super busy so fitting in a workout that isn't complicated or requires a lot of equipment was a breeze to do.
Everyone's body works in different ways. Some are more flexible, some have better metabolisms, and so on. Whatever your body type or favored training style, Beyond Body will find a workout to suit you.
Beyond Body understands the important role exercise plays in a healthy, balanced lifestyle. The numerous health benefits such as weight loss, increased strength, increased flexibility and mobility, and improved heart health are enough to suggest you should be adding exercise as part of your weekly routine.
Throw in the mental health benefits and there is no argument that exercise plays a crucial role in a healthy lifestyle. Exercise can boost your mood, improve decision-making and learning, and alleviate symptoms of depression and anxiety.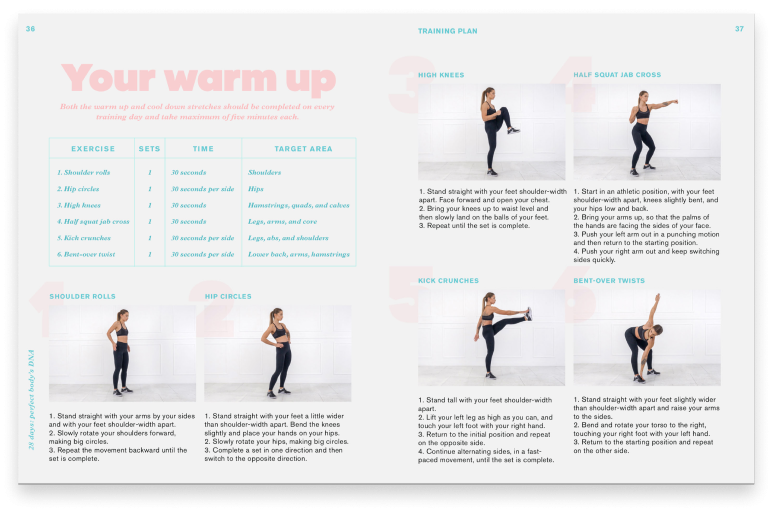 Special Deal: Get up to 60% OFF Beyond Body for EWS Readers. Use Coupon Code "EXERCISE22" at Checkout!
Personalized Workouts
Beyond Body offers personalized workout plans based on your fitness levels, lifestyle choices, and other preferences.
Each tailored exercise routine begins with a warm-up, leading into a combination of cardio and strength training. Your session will then finish with some stretching and cool-down activities helping you be ready for your next session.
Every workout is designed to provide a challenge to the individual. If you fancy a day off the HIIT workouts, you can try out one of the Low-Intensity Steady State (LISS) workouts in the book to burn those calories away and ensure a cardio hit. Popular LISS exercises include walking, swimming, running, and even roller skating!
In just 28 days, Beyond Body can transform your mindset and body with personalized training programs.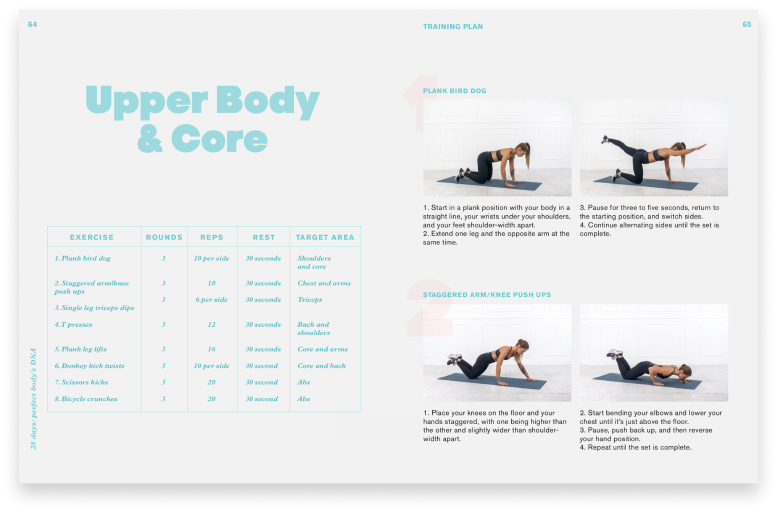 Tips on Sustainable Lifelong Healthy Habits Section
A great feature of Beyond Body is the strategies it offers for developing healthy habits. There's no point in following a workout plan that forces a complete change in your lifestyle because it is unlikely that you will maintain the lifestyle changes.
Instead, small and subtle changes to your lifestyle such as developing good habits and eliminating unhealthy habits are essential. Beyond Body offers dedicated sections describing unique daily routines and strategies to develop sustainable, lifelong healthy habits.
After 28 days of sticking to these routines and developing new habits, you won't look back. Transferring to a healthier lifestyle couldn't be easier.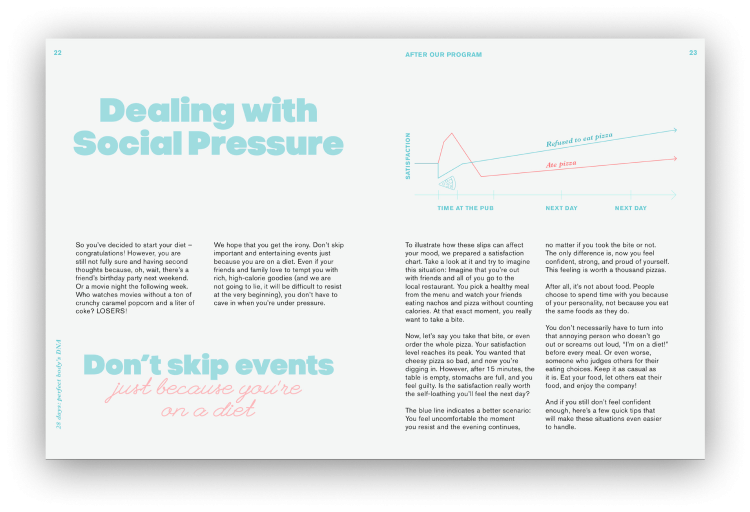 Special Deal: Get up to 60% OFF Beyond Body for EWS Readers. Use Coupon Code "EXERCISE22" at Checkout!
Consult With A Nutritionist From Beyond Body
Sometimes we all need that extra information or help to achieve our weight loss goals. Often, that extra help can just be with your meal plans and eating habits.
With this in mind, Beyond Body offers the opportunity for you to hire a nutritionist to guide your eating habits.
The cost of consulting with a nutritionist through Beyond Body is very affordable and you can either add this ability at the checkout or simply order it later if you require a little more help.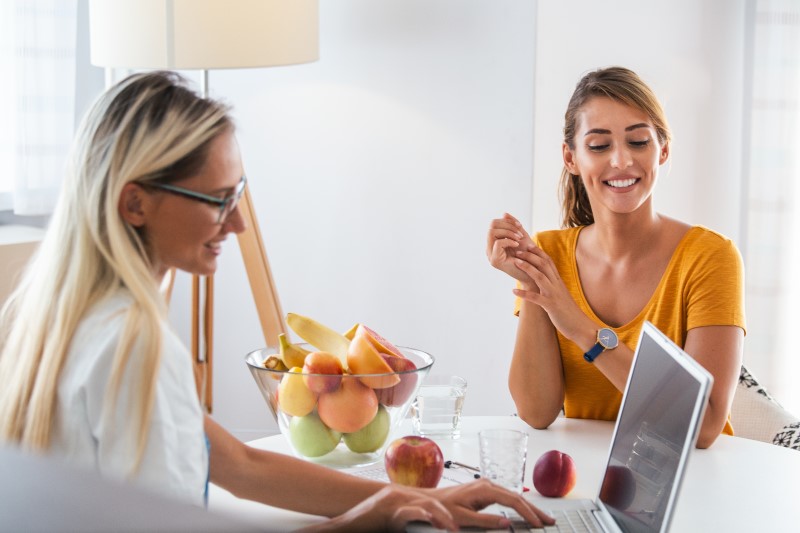 Nutritionists can help people stick to a healthy diet. They facilitate a focus on the correct foods, teach the art of a well-balanced plate, and provide that extra motivation throughout your weight loss journey.
Beyond Body Customer Reviews and Success Stories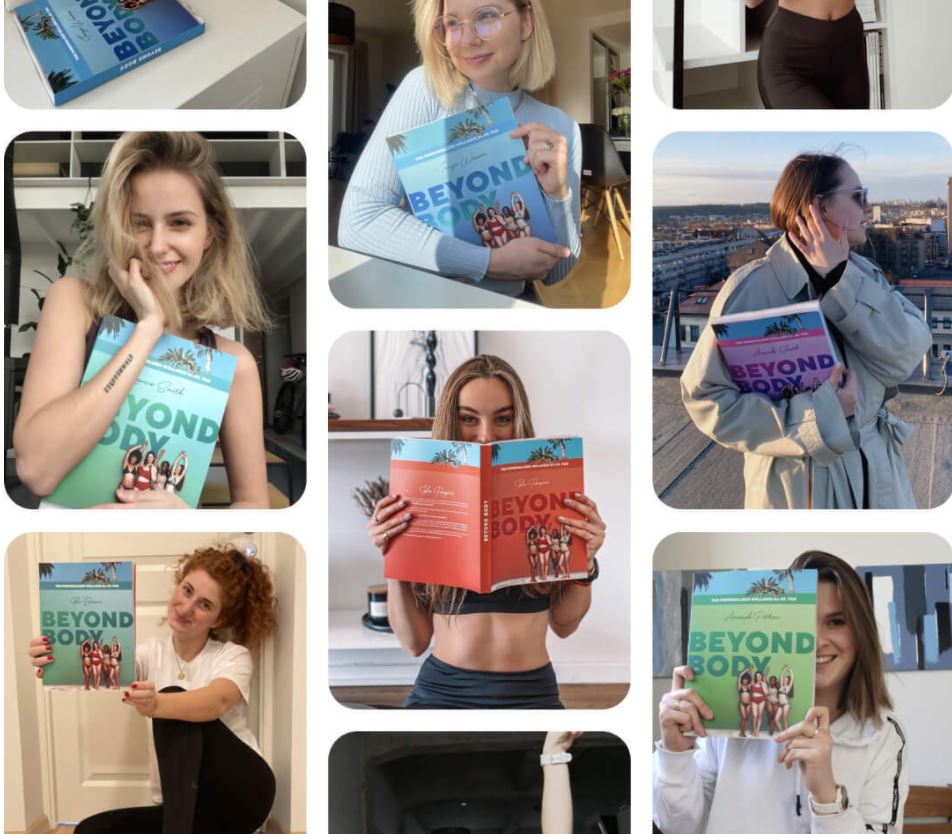 A quick scan of customer reviews demonstrates the accomplishments many have already achieved using Beyond Body.
The personalization of the book is a big plus for many. A few customers had tried other diet plans without success before but found the customized meal and exercise plans very helpful for achieving long-term goals.
"I used to be on many diets throughout my life, but only this time I am able to stick to it for more than 2 weeks."
The books' ease of use and readability are popular amongst reviews too. The book simplifies losing weight making weight loss a less intimidating journey.
"I got my book within a couple hours! It is super readable and really easy to follow."
"Meal plans are easy and the book is simple to understand."
The recipes provided are useful too. Users describe enjoying the food and relishing the opportunity to play around with recipes and create food that isn't bland or boring to eat.
As of July 2023, Trust Pilot website had 3.9 stars overall, customers were pleased with the Beyond Body Program. With any diet, results are not guaranteed, but Beyond Body makes losing weight easy and not complicated.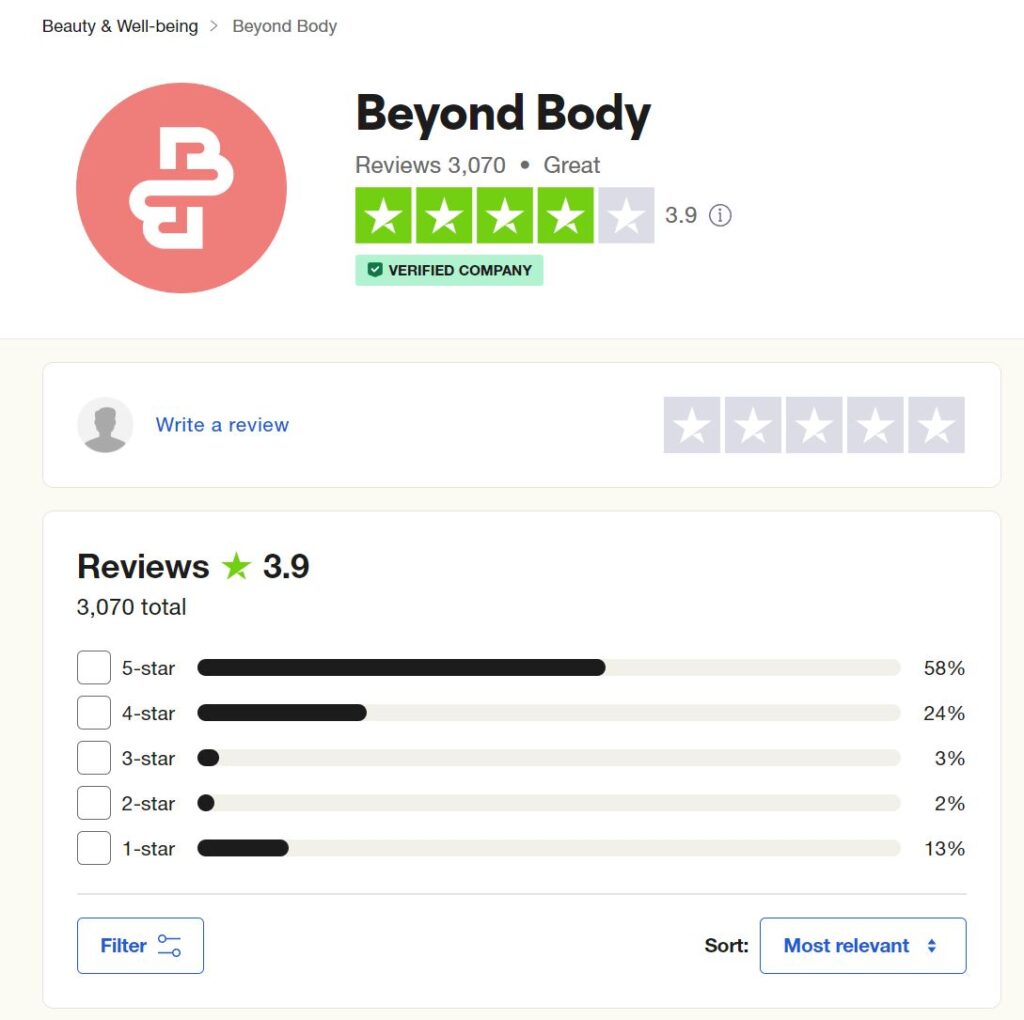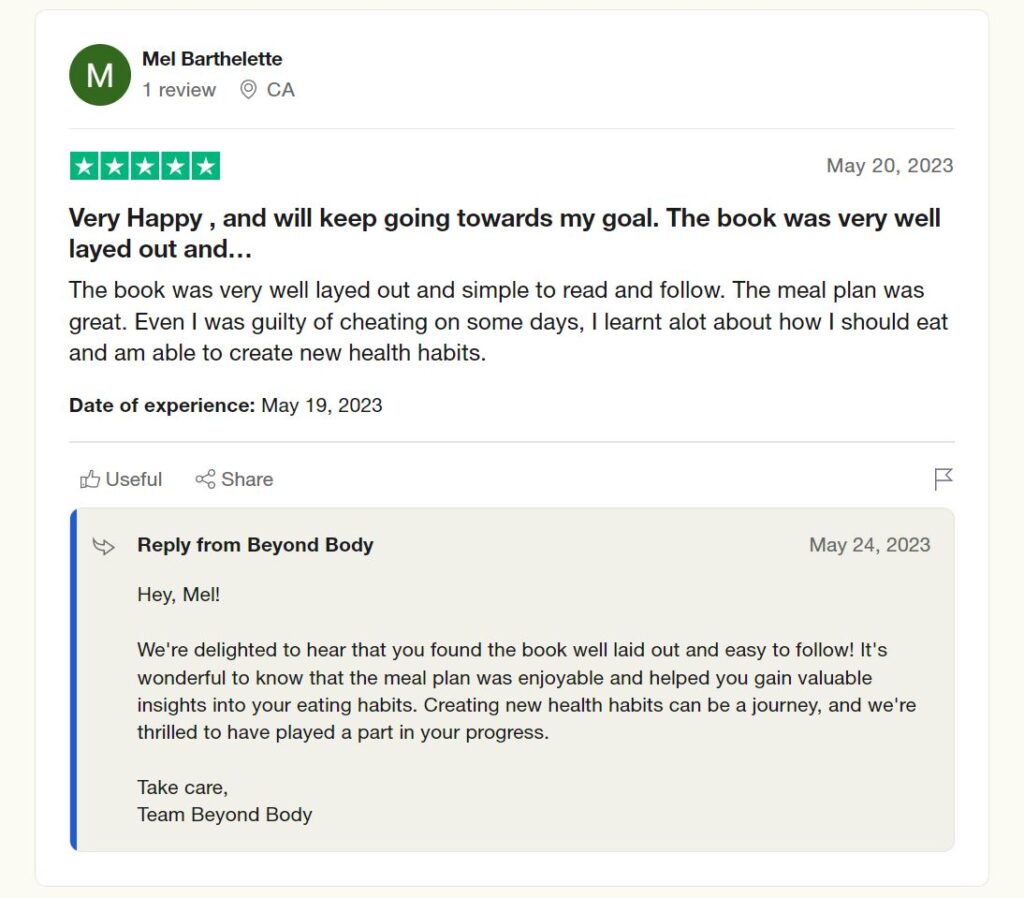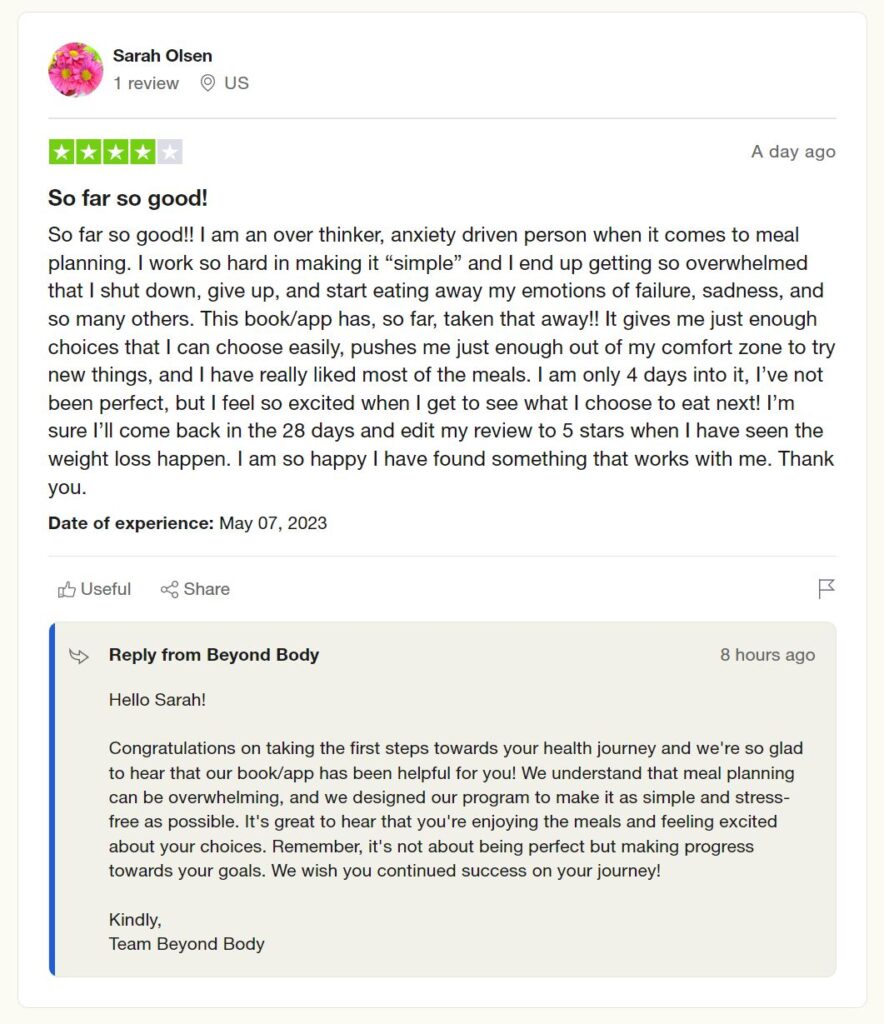 "Whole grains, meat, nuts, veggies, fruit… I love eating all that, even though I used to consider this type of food bland before. Spices are low in calorie, so I play around with those and my food tastes great!"
"so many of the meal plans include food that I already love, and I'm really happy with this program. It makes it really easy to introduce a lifestyle change."
Overall, the reviews are very positive and customers love the book and the lifestyle changes it has helped them make. Of course, they love the weight loss results it can provide too!
"5 stars. Beyond Body is great."
"Great book that I think everyone should have."
"I've lost probably around 9kgs! So thank you."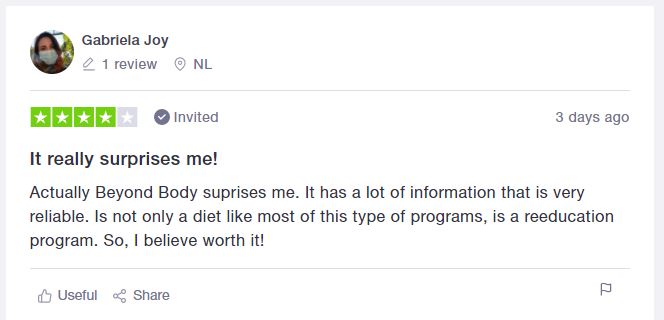 Special Deal: Get up to 60% OFF Beyond Body for EWS Readers. Use Coupon Code "EXERCISE22" at Checkout!
Final Verdict & Beyond Body fat Loss Results
The personalization and the Assistant app of Beyond Body are what make this stand out from the crowd of other weight loss programs.
Most weight loss programs are designed for the masses and never really get you any long-lasting results. Beyond Body addresses the root cause of weight gain in a personalized program and is really simple to follow for fast and long-lasting weight loss.
After just 28 days, most people report feeling healthier, energy levels are high and fast fat loss!
You can take the Beyond Body quiz here and get the best deal through my link and save more money!
More Product Reviews: