This post may contain affiliate links at no additional cost to you. As an Amazon Associate I earn from qualifying purchases. Click to view our full disclosure.
Welcome to my Burn PM review. This article is an in-depth look at every factor you need to know about Sculpt Nation Burn PM, which is a night-time fat burner.
PM fat burners are becoming more and more common. Often, they are used as a complement to regular, daytime fat loss products to create a 24/7 fat-burning regimen.
As a holistic health practitioner and researcher, I determine if these products are actually effective and worth buying.
Ultimately, it depends on if the formulas have research-backed ingredients, clinical doses, and are properly tested for safety and quality.
When I looked at Burn PM, I noticed that it had a variety of ingredients that may improve sleep and help you lose fat. Granted, several of these were underdosed (more on this later).
Overall, however, Sculpt Nation Burn PM has enough credibility behind it that I really wanted to see if it holds up as a fat burner.
So, keep reading this Burn PM review to learn about the features, ingredients, health benefits, pricing, and overall effectiveness.
To our valued readers: Just to let you know, we believe PhenQ PM is a better alternative to Burn PM, but as always you can read about both fat burners to decide which is best for you!
About Sculpt Nation
Burn PM is made by Sculpt Nation. They are a sports nutrition brand that's dedicated to helping women and men get in the best shape of their lives and improve overall health.
The creators behind Sculpt Nation are Vince Sant and other trainers of the V Shred program, which is a fat loss program.
Many customers asked the V Shred trainers which supplements they recommend, leading them to create their own line after being disappointed with many other supplements out there.
Sculpt Nation advertises their supplements as the best in the industry. They claim to meet top standards for quality, scientific evidence, dosage strength, and performance.
Plus, all products go through third-party testing to ensure product purity and quality.
What is Burn PM?
Sculpt Nation Burn PM is advertised as a nighttime fat loss supplement designed to specifically help you burn fat while you sleep.
The unique combination of ingredients in Burn PM are designed to provide many benefits. This includes decreased stress, deeper sleep, reduced cravings, and enhanced fat-burning.
Plus, they claim to use many different premium ingredients to get the job done, such as tryptophan, raspberry ketones, green coffee extract, and melatonin.
Who is Burn PM for?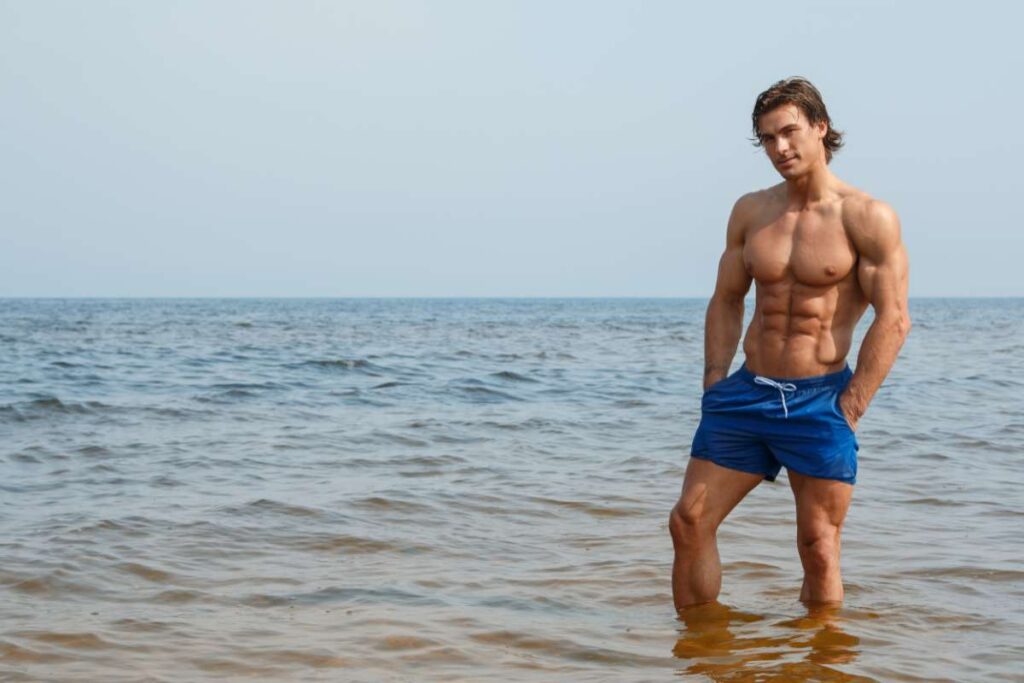 The Burn PM supplement is marketed toward anyone who wants to support fat loss while they sleep.
It also seems geared toward people who have trouble falling asleep due to stress. So, it may be a good option for busy people, tired parents, athletes, and more.
Is Burn PM safe?
After looking at the label, I can tell that Burn PM is safe for most people. There is a pretty high dose of melatonin, but all other ingredients are natural and typically safe in recommended amounts.
Like I shared a second ago, Burn PM is also third-party tested to ensure safety and product quality.
Things To Consider Before Buying Burn PM
Nighttime fat burners are all designed to help you lose fat and sleep better. But the exact details can vary greatly from one product to the next.
Some things to consider before buying Sculpt Nation Burn PM are the melatonin content, overall formulation, and budget/savings.
Melatonin Content
Burn PM Fat Burner has over 5mg of melatonin per serving, which is a pretty high dose.
Many people use melatonin to improve sleep, but there are also a large percentage who wish to stay away from this hormone. This is mainly due to the unclear effects of long-term usage and that some people simply prefer more natural ingredients.
So, whether this is a positive or negative depends on your preferences and goals.
Overall Formulation
If you're interested in a PM fat burner, you likely want a product that improves your sleep, reduces stress, and helps you shed stubborn fat.
Burn PM appears to be designed to do all of these things. It contains a mixture of herbal ingredients and amino acids, and is made without any stimulants so it won't disrupt sleep.
Budget/Savings
The regular price of Burn PM costs $1.33/serving, but you can save money by buying in bulk. Compared to some other supplements, this seems relatively affordable for most people.
Money-Back Guarantee
You may have some reservations when trying out a new supplement. But Burn PM has a lifetime money-back guarantee, so you can try it out essentially risk-free.
Burn PM Features
What are the main selling points behind Burn PM? Why is it effective? The following features stand out to me.
Contains 6 Super-Powered Fat-Burners
Some fat burners are merely overpriced stimulants that seem to give you a lot of energy, but also come with jitters and anxiety. Not to mention, they rarely attack the root causes of fat gain.
Burn PM claims to contain six super-powered fat-burners to actually get to the root cause of weight gain.
Created without stimulants, Sculpt Nation Burn PM is advertised to burn fat by increasing metabolism, preventing fat storage, and enhancing fat breakdown.
This is due to many different ingredients such as raspberry ketones and green coffee bean extract.
Includes Sleep-Enhancing Ingredients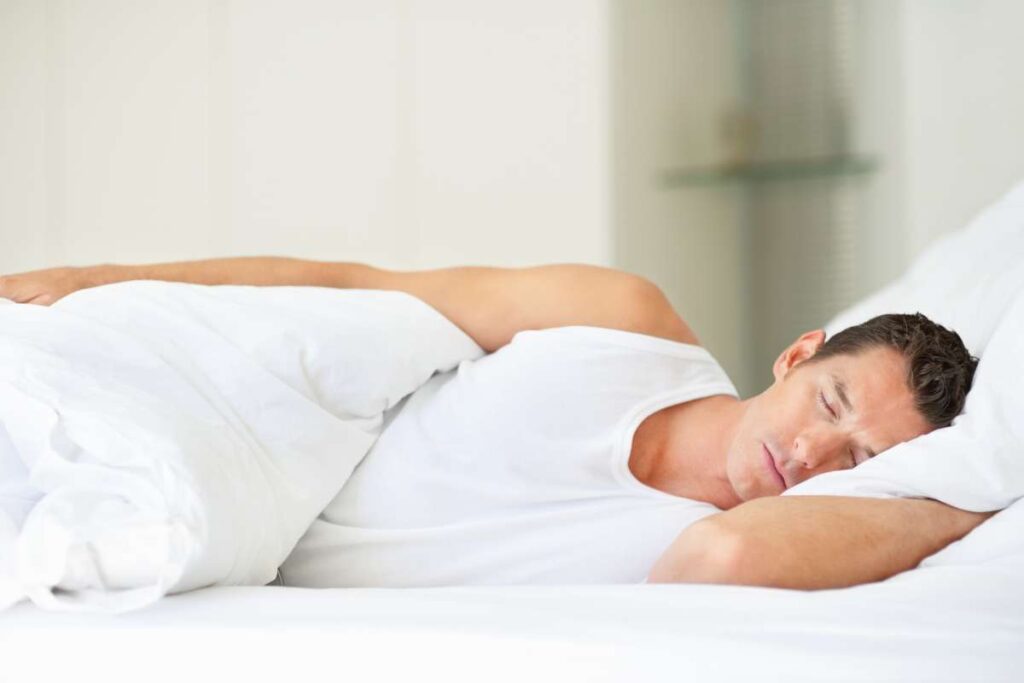 Poor sleep is a nightmare for weight loss. This is because a lack of sleep causes many problems that may lead to weight gain, such as increased stress and hunger hormones, disrupted metabolism, and more cravings.
But Burn PM Fat Burner claims to stop this vicious cycle by enhancing sleep quality. The formula includes multiple ingredients designed to reduce stress and promote better sleep, such as lemon balm and melatonin.
In turn, this may lead to fewer cravings, more energy, and a healthier metabolism, all of which help the fat loss process.
Promotes Body's Fat-Melting Hormone (Leptin)
If you're always hungry and never satisfied, it can be really hard to lose weight. This may be a sign of poor leptin function.
Leptin is a hormone that regulates satiety, among other things. What's worse, as you gain more weight, you may decrease leptin's effectiveness even further, causing a vicious cycle.
Burn PM is designed to put an end to that cycle. They claim that this supplement will increase leptin, helping to keep you full for longer as well as reducing cravings.
This is due to specific ingredients such as white kidney bean extract and vitamin D. But it's also due to the general improvements in sleep quality, which also may increase leptin levels.
Metabolic Boosters
Even if you burn fat during the day, you may be wondering, "How do I keep my metabolism revved up during the night?" This is a valid concern, especially if you have a lot of fat to lose and want to do all you can to lose weight efficiently.
Sculpt Nation Burn PM claims to keep your metabolism fired up all through the night to keep you in fat-burning mode.
They use a mix of supposed metabolic-boosting compounds, such as green coffee bean extract and raspberry ketones. Not to mention, the general effect that Burn PM is supposed to have on sleep quality may also lead to a healthier metabolism.
Stress-Busting Ingredients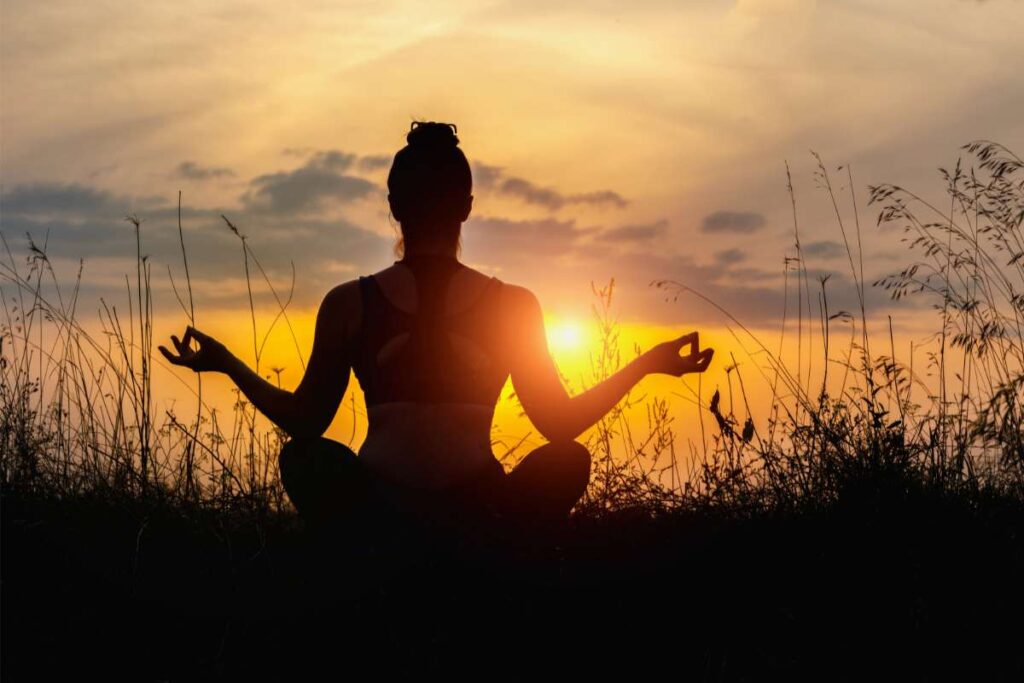 Another one of the reasons you may struggle to lose fat is due to high cortisol levels. Cortisol is a stress hormone that may lead to impaired metabolism and other negative effects. It also seems to specifically increase the risk of belly fat accumulation.
Oh yeah, and stress also messes with your sleep. And you've already seen how poor sleep increases the risk for weight gain.
It's safe to say you need to get a handle on stress to lose weight efficiently. Burn PM Fat Burner claims to reduce stress and cortisol levels.
They include lemon balm and other calming agents that are designed to calm the mind and help you get into a deep sleep.
In just a minute, we'll take a closer look at these ingredients to see if they can actually help.
Does Burn PM really work?
Burn PM may work for fat loss, stress reduction, and sleep enhancement.
Individual results will vary. It also depends on how dialed in your diet, exercise, and lifestyle habits are.
There are several clinically-researched ingredients in Burn PM, but also some that aren't very well-researched. There are also a few underdosed ingredients.
Despite these drawbacks, I still think Burn PM may be an effective fat burner for some individuals.
But to see what specific ingredients and benefits Burn PM really has, you have to keep reading my Burn PM review!
Burn PM Ingredients
Burn PM has nine active ingredients. The formula is a mix of natural herbs, vitamins, amino acids, and melatonin.
Here are all active Sculpt Nation Burn PM ingredients:
Raspberry Ketones
L-Tryptophan
White Kidney Bean Extract
Lemon Balm Aerial Parts Extract
Saffron Bulb Extract
Green Coffee Bean Extract
Dandelion Root Powder
Melatonin
Vitamin D3
Other ingredients in Burn PM used for the capsule formulation and filling include:
Gelatin
Silicon Dioxide
Magnesium Stearate
Microcrystalline Cellulose
Next, let's cover all of the active ingredients and their potential benefits.
Raspberry Ketones (300mg)
Raspberry ketones are aromatic compounds found in raspberries and other red fruits and berries.
These have many possible health effects, such as enhancing fat metabolism, balancing blood sugar, and controlling inflammation.
With that said, not much clinical evidence has been done to prove its weight loss effects.
L-Tryptophan (80mg)
L-tryptophan is an amino acid found in various foods. It is a precursor to serotonin, which is a neurotransmitter (brain chemical) involved in mood, appetite, stress, and other functions.
Serotonin eventually gets converted into melatonin, which is a hormone that regulates sleep.
There is evidence that tryptophan supplementation can improve sleep quality, albeit at a much higher dosage than what Burn PM uses.
Tryptophan may also help with weight loss based on some research.
Effective dosage according to Nutrition Reviews: 1g or more
White Kidney Bean Extract (300mg)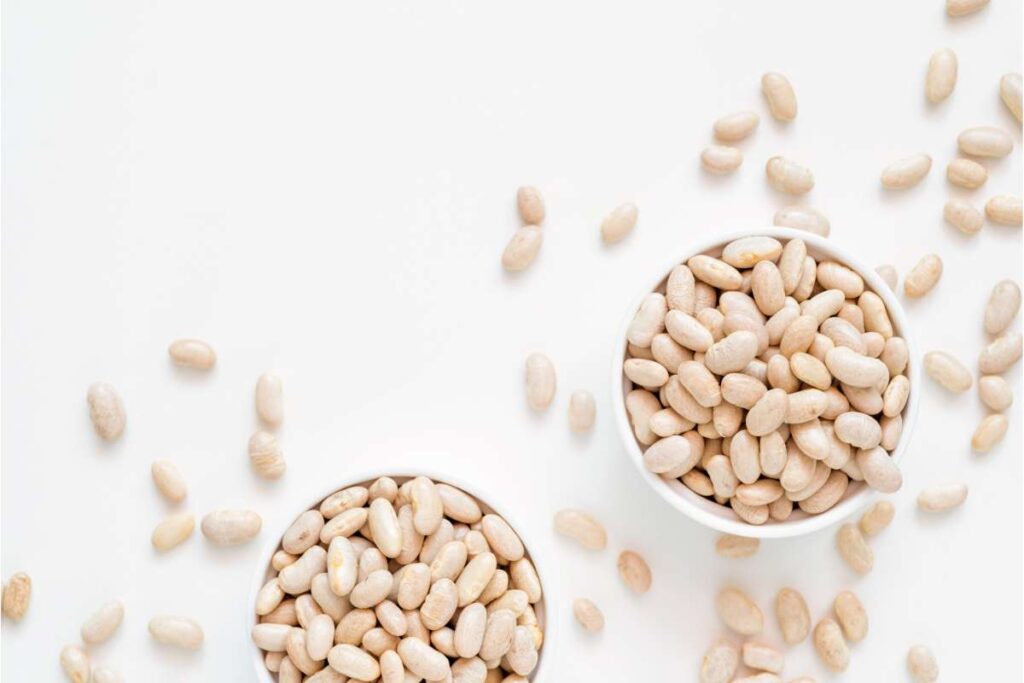 White kidney bean extract contains compounds that inhibit an enzyme called alpha-amylase, which is involved in carbohydrate metabolism.
The idea is that by inhibiting this enzyme, white kidney extract may reduce carbohydrate digestion and absorption. This could lead to weight loss, especially in people on high-carb diets.
Effective dosage according to Nutrients: 445 to 3,000mg
Lemon Balm Aerial Parts Extract (4mg)
Lemon balm is an herb with many potential health benefits. One of its actions is to increase GABA in the brain, which is a calming brain chemical.
This is likely why lemon balm appears effective for reducing anxiety and depression, while enhancing sleep quality.
Effective dosage according to Examine: At least 300 mg
Saffron Bulb Extract (10mg)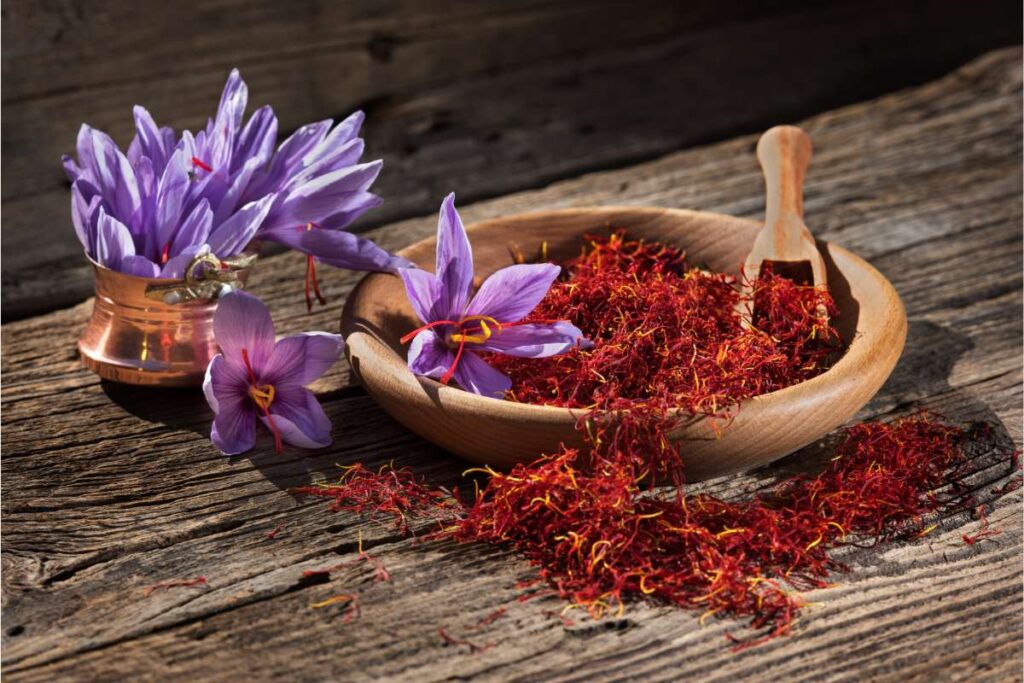 Saffron is a medicinal herb often used for mental health conditions. It seems to increase serotonin levels in the brain, thereby possibly enhancing mood and well-being.
Clinical evidence shows that saffron supplementation reduces stress and depression and improves sleep quality.
Effective dosage according to Examine: 30mg (for regular use) or up to 200mg (for acute use)
Green Coffee Bean Extract (260mg)
Green coffee bean extract is extracted from raw coffee beans. This maintains the chlorogenic acid in it, which has antioxidant and anti-inflammatory effects.
Additionally, green coffee extract may decrease carbohydrate absorption, which is why it seems mildly effective for weight loss. It seems to have better effects the more overweight someone is.
Effective dosage according to Examine: 120 to 300mg of chlorogenic acid, which is derived from as low as 240mg (for a 50% chlorogenic acid supplement) up to as high as 3,000mg (for a 10% chlorogenic acid supplement)
Dandelion Root Powder (200mg)
Dandelion root was used in traditional medicine for various uses. Limited modern-day research shows that it may improve digestion and gut health. Although, it doesn't seem to help with fat loss.
Melatonin (5.4mg)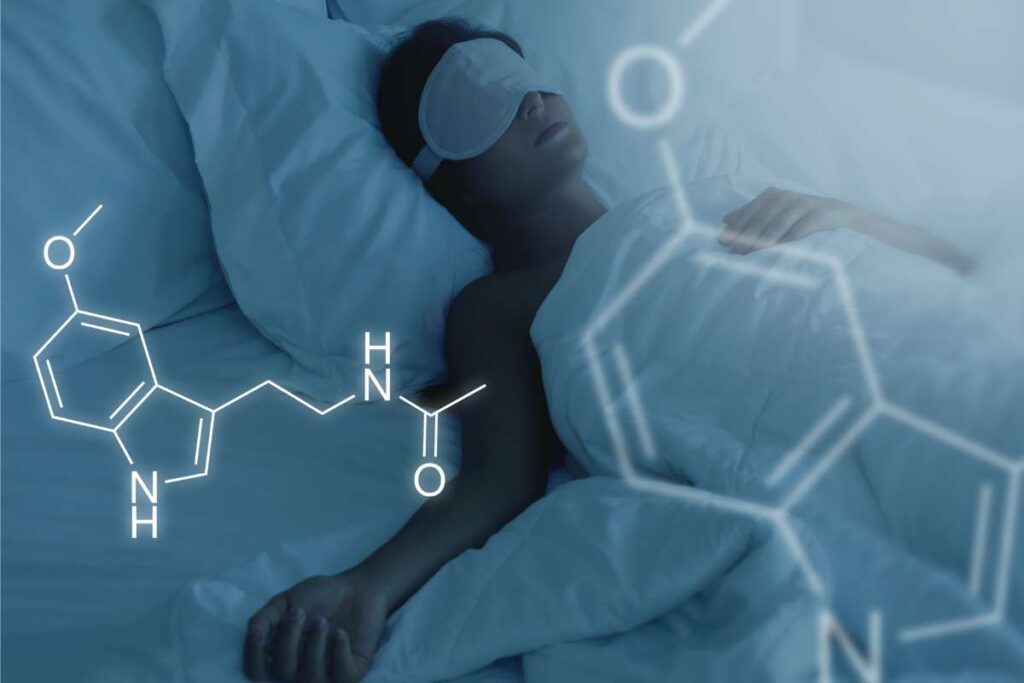 Melatonin is a hormone that regulates sleep/wake cycles. It is produced naturally during the night, provided there is sufficient darkness.
Research shows that melatonin supplementation can improve sleep quality in people with primary sleep disorders or other sleep-disrupting conditions. But it doesn't seem as effective for stress-related sleep disturbances.
There's also some evidence that melatonin reduces body weight, but more research is required.
Effective dosage according to research: 0.5 to 5mg
Vitamin D3 (60mcg / 2,400 IU)
Vitamin D3 is the most absorbable and usable form of vitamin D. This vitamin exerts hormone-like effects in the body.
Obese and overweight individuals seem to have lower levels of vitamin D. Supplementation of vitamin D may help mildly with weight loss, but it's not entirely clear.
Effective dosage based on data: 1,000 to 4,000 IU
Burn PM Pros/Cons
Sculpt Nation Burn PM is a decent nighttime fat burner overall. There are some positive things about it, but also many ways it could be improved.
Pros
Effective doses of melatonin and vitamin D
100% lifetime money-back guarantee
Several research-backed ingredients
No stimulants
Moderately priced
Subscription savings
Cons
Several key ingredients are underdosed
Original price is pretty high
Some individuals may not want silicon dioxide or magnesium stearate
No reviews listed on website
How To Use Burn PM
Burn PM comes in capsule form. Sculpt Nation recommends that you take two capsules at night.
They don't list a specific time, but based on the ingredients in it, I suggest taking it 30 minutes to an hour before bed.
Recommended Dosage
The recommended dosage is one serving (two capsules) nightly. I wouldn't go over this dosage given the already-high concentration of melatonin and vitamin D.
If you have any health conditions or take medication, speak to a doctor before trying this supplement.
Real Customer Burn PM Reviews
This section of my Burn PM review is all about customer feedback. I'm going to go over real customer Burn PM reviews to see if this product actually is effective in practice.
Unfortunately, Sculpt Nation didn't provide any reviews of Burn PM on their website. This makes me question the overall effectiveness and if they are hiding something.
But at least I was able to find a handful of Burn PM reviews on TrustPilot.com, which helped me gain a little bit of an idea of how customers are responding to this supplement.
As a company, Sculpt Nation is only rated a 3.0 out of 5 on TrustPilot.com. There are a significant number of one-star reviews despite a large percentage of five-star reviews, too.
Here are some positive comments people have had about Sculpt Nation Burn PM:
Seems to help some customers lose weight
Several people said it helps them lose fat from the midsection and other stubborn areas
Promoted better sleep in some buyers
Customers noted more energy the next day
Increased relaxation for some people
There were also several negative comments too, including:
Poor customer service, such as taking a long time for customer service responses
Some people said the lifetime money-back guarantee wasn't always fulfilled
Several customers experienced no results
A few people said the melatonin seemed to work, but not much else
I've gathered several Sculpt nation Burn PM reviews to showcase more of the specific information:
"Ordered BURN and BURN PM. Received within the promised timeframe. So far I feel really good. Already lost a few pounds. First Day I had somewhat of a headache but it never returned. Also, the BURN PM has had me sleeping so soundly. I used to wake up at least once in the night but I have now been sleeping completely through without waking and felt very refreshed and rejuvenated when I wake. My overall energy is enhanced as well." -Tanya
"I previously had the burn evolve and the burn pm and I weighed 235. As I was working out and taking the pills for about two months I lost more than 30 pounds. I'm now 197 and my second batch of burn pm and burn evolve has just came and I plan to lose 20 more pounds." -Calvin G.
"I take the Burn PM for bed and I only take one. It does the trick perfectly. I am able to get comfortable and fall asleep." -Jennifer B.
"I have been very pleased with the quality of the burn pm to help me rest at night." -Vicky K.
"I've been using your product Burn and Burn PM for almost three months with absolutely no results. I've been trying to contact you to unsubscribe and cancel my order and I can't find a way . And when I called, no one answered. It says to call back when you are open and it was early in the afternoon. I am not at all happy with this." -Janice F.
Alternatives to Burn PM
Burn PM is a decent fat loss supplement, but it may not work for everyone. Moreover, there are some ingredients that some customers may not prefer, such as melatonin. While it's natural, some individuals prefer to stay away from supplemental forms of hormones.
So, I've chosen a few alternatives such as PhenQ PM, Night Shred, and. Active PK.
PhenQ PM
PhenQ PM is advertised as a night-time fat burner to support sleep and fat loss. There are a wide variety of ingredients in PhenQ PM, such as theanine, 5-HTP, chromium, and B vitamins.
These are designed to help you reduce stress, sleep deeply, boost metabolism, and shred off stubborn body fat. Plus, it's made without melatonin.
Pros
Good mix of clinically-researched ingredients
Effective dose of l-theanine and other compounds
All-natural ingredients
Free of soy, grain, dairy, and gluten
60-day money-back guarantee
Cons
A handful of ingredients lack evidence
Several ingredients are underdosed
Higher-priced
Have to take four capsules
Read our review of PhenQ PM here.
Night Shred
Night Shred is a nighttime fat burner and sleep supplement created by Inno Supps. Several types of ingredients make up this unique formula, such as various herbal extracts, minerals, and amino acids.
Some of the featured ingredients in Night Shred are grains of paradise, 5-HTP, melatonin, passionflower, and ashwagandha. Night Shred is meant to calm your overactive mind and reduce stress, improve sleep, and maximize overnight fat burning.
Pros
Well-researched ingredients
Likely increases relaxation and reduces stress
Ingredients to support sleep quality
Third-party tested
Likely affordable for most
Cons
Uses proprietary blends
Some ingredients are underdosed
Might be a bit high-priced for some
Has melatonin
You can read our full-length Night Shred review here.
Active PK
Active PK is a natural fat loss formula created by LCR Health. This supplement is advertised as a way to enhance your metabolism and boost energy levels.
Active PK includes ingredients that are designed to up your body's ability to convert food into energy rather than storing it as fat. So, it's primarily a metabolic enhancer.
As a result, Active PK claims to give you more energy, burn body fat, and reduce cravings, all of which may improve your leanness and body composition.
Pros
Third-party tested for quality and purity
90-day money-back guarantee
Effective dose of ActivAMP®
Well-researched ingredients
Moderately priced
Cons
Possible adverse effects
It's a relatively new supplement
Berberine and quercetin are underdosed
Some may find it priced pretty high
Read our full review of Active PK here.
Health Benefits of Burn PM
Several health benefits may arise when using Burn PM. These are:
Fat-Burning Support
Improved Sleep Quality
Stress Reduction
Increased Energy
Appetite Suppression
Better Recovery
Fat-Burning Support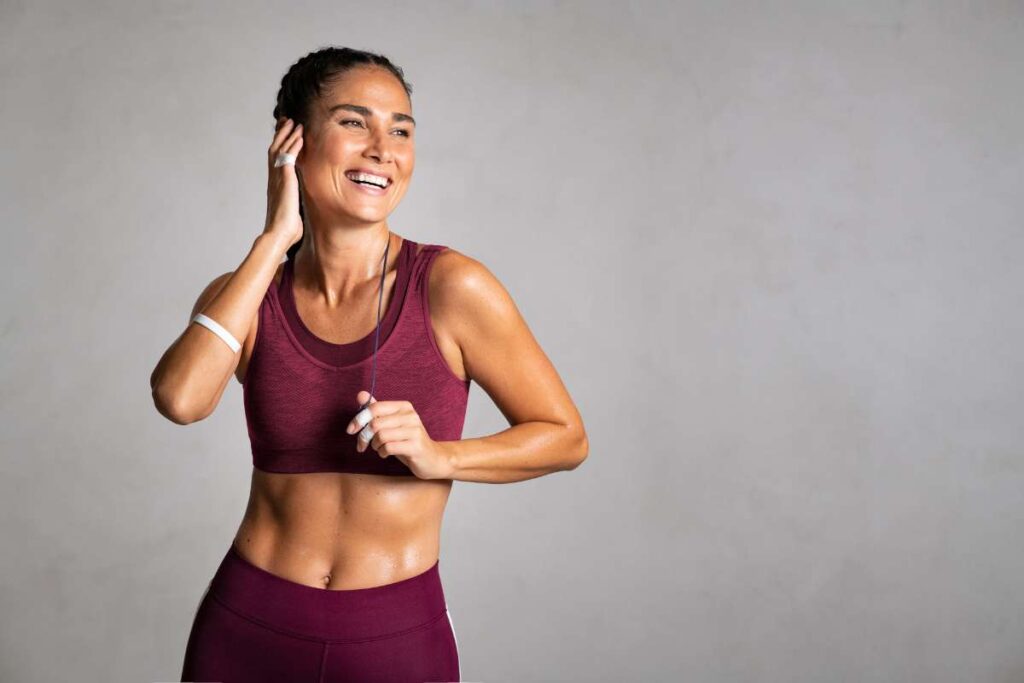 Sculpt Nation Burn PM may enhance fat-burning in a few ways. The first is that it includes ingredients that may directly increase metabolism such as raspberry ketones.
Second, some ingredients may prevent the absorption of carbs, such as white kidney bean extract. This may help you take in fewer calories.
Finally, Burn PM may enhance sleep, which could improve the fat-burning process.
Improved Sleep Quality
Burn PM could improve sleep quality and help you fall asleep faster. This is due to melatonin and possibly certain relaxing herbs, such as lemon balm, although the latter is dosed very low.
Improved sleep may also lead to more favorable hormonal changes, reduced cravings, and other aspects that help you lose weight.
Stress Reduction
Burn PM may help reduce stress and anxiety thanks to l-tryptophan, saffron, and lemon balm. This could help decrease cortisol so you can drift off to sleep more easily.
Reducing stress and consequently getting more sleep may also improve your ability to lose fat.
Increased Energy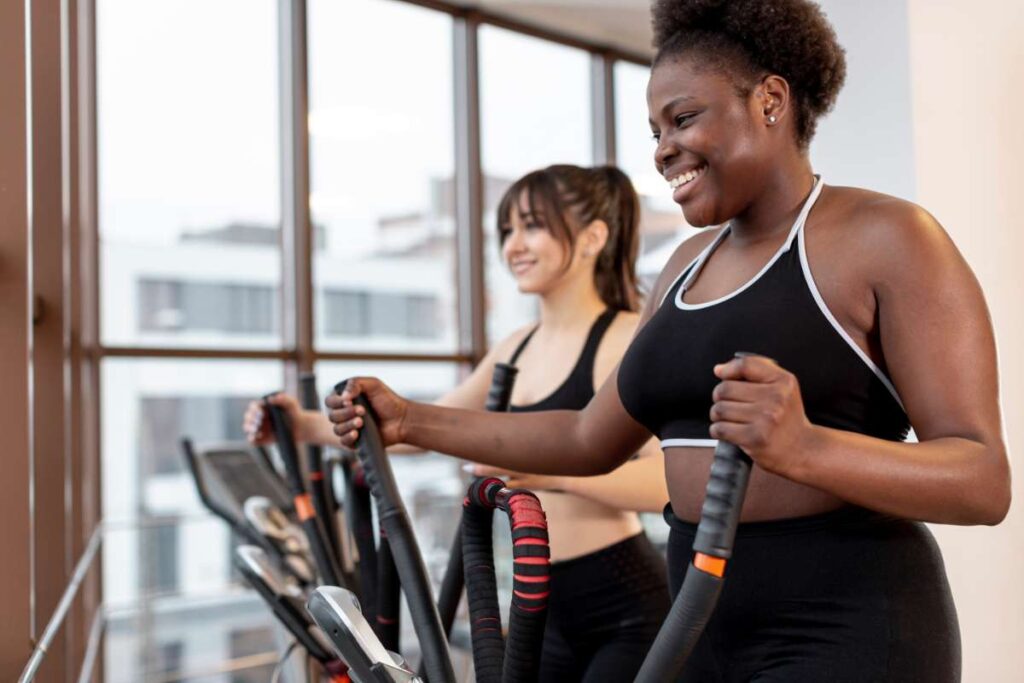 An indirect benefit of Burn PM is increased energy. Burn PM won't make you energized at night (thankfully), but the increased sleep quality could give you more energy the next day. That can help you make it to the gym more often.
Appetite Suppression
There are a couple ways that Burn PM may suppress appetite. The first is through a direct mechanism of l-tryptophan, which increases serotonin and may regulate appetite.
Secondly, if Burn PM helps you sleep better, you may experience fewer cravings and decreased hunger overall. Just think about how many times you've needed that sugary vending machine snack to avoid falling asleep at your desk around 3 pm.
Better Recovery
Finally, Burn PM may improve recovery, whether that's from a workout or simply everyday life. This is due to its potential effects on sleep.
That is, if you get more restful sleep, you'll be more recovered the next day, such as experiencing fewer post-workout aches.
Potential Side Effects of Burn PM
Possible side effects of Burn PM are digestive symptoms, such as nausea and upset stomach, headache, dizziness, drowsiness, and changes in mood.
Also, the long-term supplementation of melatonin has not been definitively researched. It appears safe at this time, but it's always best to talk with your doctor before taking supplements, especially since Burn PM has a high dose of melatonin.
Lastly, there is a high amount of vitamin D in this formula. You want to be sure that you don't go over the tolerable upper limit when considering other dietary and supplemental sources, which is 100mcg (4,000 IU).
Excessive vitamin D may cause hypercalcemia (too much calcium in the blood), weakness, and kidney problems, among other issues.
Burn PM Price
There are 30 servings (60 capsules) in each bottle of Burn PM.
The regular price of one bottle is $49. You can save money either by choosing the Auto-Fill option for one bottle or by buying in bulk (three bottles or six bottles).
Here are the prices:
One Bottle: $49 ($1.63/serving) or $41 ($1.37/serving) for the Auto-Fill option
Three Bottles: $132 ($1.47/serving)
Six Bottles: $195 ($1.08/serving)
Clearly, you can save a great deal with some of the options.
Where To Buy Burn PM
You can buy Burn PM on the Sculpt Nation website here. Buying from the original retailer is always recommended to ensure you're getting an authentic product.
Burn PM Shipping and Returns
Sculpt Nation ships to the US and a selection of international countries, which you can find here.
They offer a 100% Lifetime Money-Back Guarantee. If you tried out Sculpt Nation Burn PM for at least 30 days and didn't see the results you wanted, you can return any unused bottles for a full refund, less shipping and handling.
If you only used one bottle, you don't need to return it, and you'll still get a refund.
Customers are allowed two returns per year.
Company Details
Sculpt Nation is based in the United States out of Plano, Texas.
You can contact customer service with any questions, comments, or concerns at [email protected].
Burn PM Verdict
That's the end of my Burn PM review.
I know a lot of people are interested in trying out night time fat burners these days. After all, it'd be nice if a product could help you reduce stress, improve sleep, and enhance fat-burning all at the same time.
Overall, Burn PM may be able to do that for some people. It has a solid dose of melatonin and includes several well-researched ingredients for stress reduction, fat loss, and sleep support.
My major concern is that many of these are underdosed. Ultimately, it's best you also rely on healthy lifestyle factors such as sleep hygiene, a nutrient-dense diet, and regular exercise.
With that said, it's still worth trying if you're looking for a PM fat burner to give you a little assistance along your weight loss journey. And there's no risk in trying it out with their guarantee.
Frequently Asked Questions
Is Burn PM effective? 
Burn PM may work for some individuals, but definitely not everyone. It includes some well-researched ingredients, although several are underdosed.
What is the best fat burner on the market today?
There are a handful of fat burners that are likely very effective, so there isn't just one. The best fat burners have several clinically-studied ingredients with optimal dosages.
What is the best night time fat burner?
There really isn't one best night time fat burner. The best ones are filled with high doses of clinically-researched compounds. Some that we have reviewed include PhenQ PM and Night Shred.
Are there any side effects of Burn PM? 
Yes. Possible side effects are nausea, vomiting, headache, dizziness, drowsiness, and mood changes, among others.
How much caffeine is in Burn PM?
Unclear. They say that it is stimulant-free, but they also use green coffee bean extract which contains small amounts of caffeine naturally. They may have used a caffeine-free form for this extract, but it's not stated definitively.
More Fat Burner Reviews: