This post may contain affiliate links at no additional cost to you. As an Amazon Associate I earn from qualifying purchases. Click to view our full disclosure.
In this article, I'll be reviewing some of the best Ka'Chava alternatives to help you reach your health goals no matter how busy your life can be.
Ka'Chava is a high-protein superfood shake that can be used as a meal replacement, snack, or nutritious protein shake.
However, it does have its downsides. It's pretty pricey at around $4 per serving. It is also made of proprietary blends and only some ingredients are organic.
So, as a dietitian, I've researched some other options that fit some of those areas that Ka'Chava lacks and can help you make the right choice for your lifestyle and goals.
The best alternative to Ka'Chava is Huel. Huel has many of the same great benefits, such as lots of plant-based protein, beneficial superfoods, and fiber.
However, it offers even more. Huel is high enough in calories to replace a fulfilling meal, offers over 10 flavors, and is more budget-friendly.
And, they offer an original blend, a high protein blend, a simple blend, and even a ready-to-drink product.
Keep scrolling for more info about Ka'Chava, Huel, and other alternatives!
About Kachava
Let's quickly go over what Ka'Chava is, its benefits, and why you may want to look for alternatives.
What is it?
Ka'Chava is marketed as a meal replacement shake, but it offers a bit more than just that. It is a high-protein, nutrient-dense blend that provides comprehensive nutrition. It's mainly designed to be a convenient way to get your daily superfoods, vitamins, and minerals.
Ingredients
Ka'Chava's 85+ ingredient formula includes eight different blends, categorized in groups.
I share the full list below, but here are some key components:
Plant-Based Protein: Ka'Chava incorporates plant-based proteins like pea, rice, and chia. These proteins are combined to offer all of the necessary amino acids to support muscle recovery, sustain energy levels, and promote satiety.
Superfood and Super Greens: Two blends in Ka'Chava, Superfoods and Super Greens, make up for our fruit and veggies needs. Ingredients like acai, maca root, and organic vegetables are high in antioxidants, which help combat toxins in our cells and reduce our risk of chronic diseases.
Probiotics, Prebiotics, and Digestive Enzymes: The probiotics, prebiotics, and digestive enzymes in Ka'Chava may help to improve our gut health. Probiotics provide balance in our gut while prebiotics promote the growth of good bacteria. Meanwhile, digestive enzymes like amylase and protease can help aid digestion and absorb nutrients.
Ka'Chava lists the measurements of each of the blends. However, the measurement of each ingredient per serving is not listed. This makes it a proprietary blend.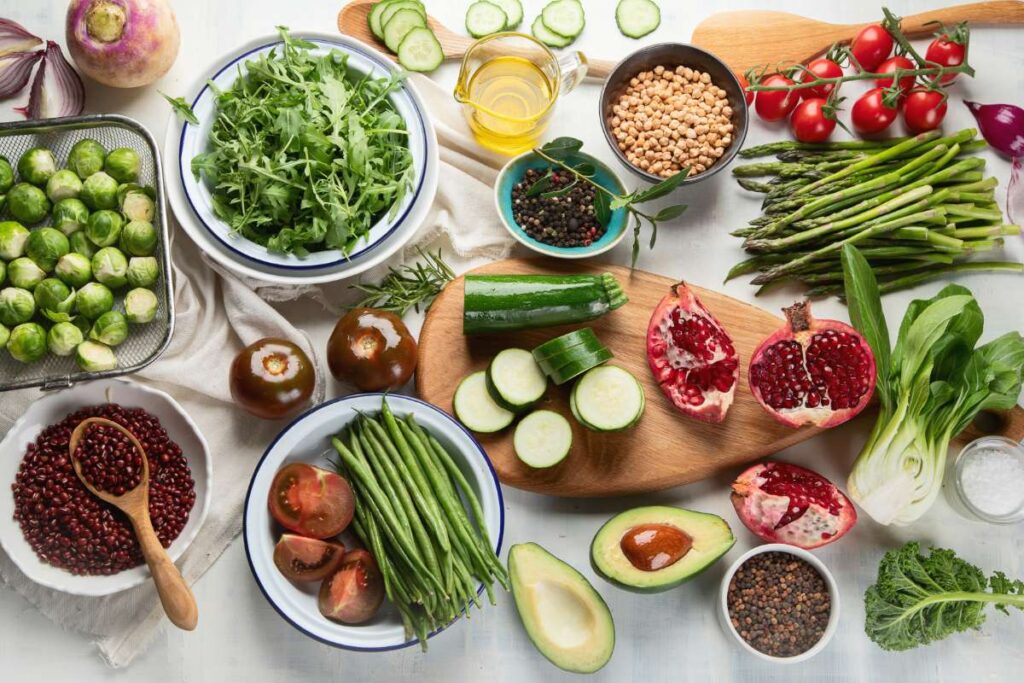 List of Ingredients
Plant-Based Protein Blend (29.25 grams)

Yellow Pea Protein, Organic Whole Grain Brown Rice Protein, Organic Sacha Inchi (Plukenetia volubilis linneo, seed), Organic Amaranth (Amaranthus caudatus, seed), Organic Quinoa (Chenopodium quinoa, seed)

Omega EFA / Fiber Blend (11.12 grams)

Organic Pure Whole Grain Oat, Organic Acacia Gum, Chia (Salvia hispanica, seed), Flax (Linum usitatissimum, seed)

Antioxidant / Superfruit Blend (5.1 grams)

Organic Coconut Flower Nectar (Cocos nucifera, flower bud) Acai Berry (Euterpe oleracea, fruit), Organic Maqui Berry (Aristotelia chilensis, fruit), Camu-Camu Berry (Myrciaria dubia, fruit), 100% Organic Strawberry, 100% Organic Tart Cherry, 100% Organic Blackberry, Organic Blueberry, 100% Organic Raspberry

Adaptogen Blend (1,020 mg)

Organic Maca Root (Lepidium meyenii walp, root), 100% Organic Shiitake Mushroom Mycelia, 100% Organic Maitake Mushroom Mycelia, 100% Organic Reishi Mushroom Mycelia, 100% Organic Cordyceps Mushroom Mycelia, 100% Organic Ginger Root

Super-Greens / Vegetable Blend (500 mg)

100% Organic Beet, 100% Organic Carrot, 100% Organic Spinach, 100% Organic Broccoli, 100% Organic Tomato, 100% Organic Kale, 100% Organic Cabbage, 100% Organic Parsley Leaf, 100% Organic Brussel Sprouts, 100% Organic Green Pepper, 100% Organic Cucumber, 100% Organic Celery, 100% Organic Garlic,100% Organic Green Onion, 100% Organic Cauliflower and 100% Organic Asparagus, Chlorella (Chlorella vulgaris)

Probiotic / Prebiotic Blend (50mg)

Inulin, Lactobacillus Rhamnosus, Lactobacillus Acidophilus

Digestive / Enzyme Blend (50mg)

Amylase, Protease, Cellulase, Lactase, Lipase
Ka'Chava Pros and Cons
Pros
85+ superfood ingredients
Some organic ingredients
High fiber (6g per serving)
High protein (25g per serving)
Five different flavors
Cons
Higher-priced at around $4-5 per serving
Only 15 servings per package
Probiotic CFUs not listed
Marketed as a meal replacement but too low-calorie for a meal
Proprietary blends means less label transparency
Contains potential allergens, including coconut and berries
Cost
Price

$69.95 for a one-time buy of one container, or 15 servings
$59.95 per 15-serving container if you opt for a monthly subscription

Price Per Serving

$3.99 per serving with subscription
$4.66 per serving without subscription
Things To Consider Before Buying a Meal Replacement Shake
Before purchasing any meal replacement shakes, you'll need to consider a few key factors that will help you make the best decision.
Health Goals
Before going out and buying any type of nutrition product, you should define what it should accomplish. Your needs will vary depending on whether your goals are related to muscle, fat, a certain condition, or general health.
Budget
Nutrition products generally need to be taken consistently over time to see results. Therefore, you'll need to make sure that repeat purchases will fit within your price range.
Priorities
Many of the shakes on the market will have similar qualities, with just a few defining traits. Think about your biggest priority, whether it's having a plant-based product, 100% organic, high protein, high calorie, etc. This can help you filter out the shakes you don't want.
Taste Preferences
Flavor matters. Explore nutrition supplements with flavors that you enjoy for not only the taste, but also sustainability. If you don't enjoy something, you're less likely to drink it every day.
Best Kachava Alternatives
Lyfe Fuel
Lyfe Fuel's Essential Shake is marketed as an "all-in-one" super fuel that could be used as a meal replacement shake if you only need 110 calories.
While it's pretty light on calories, it does include many nutritious ingredients, it's cheaper than other options, and it includes more transparent labelling.
Ingredients
Lyfe Fuel is made of 25 superfoods that are categorized in six different blends. While there are some proprietary blends on the label, many of the ingredient measurements are individually listed. This offers more transparency.
They also list the probiotic count and is generally more nutrient dense than Ka'Chava. That being said, it only has 18 grams of protein, which is less than Ka'Chava's 25 grams.
Some key components of Lyfe Fuel's ingredients include:
Berry Blend: The berry blend in Lyfe Fuel incorporates antioxidant-rich berries like strawberry, raspberry, and blueberry. These berries are very high in anti-inflammatory properties, which can help support a healthy immune system and cellular function.
Co-Q-10: Co-Q-10, or Co-Enzyme Q10 is a compound that is naturally occuring in our bodies for energy production. Research shows that supplementing Co- Q-10 can help improve energy and athletic performance.
Spirulina: Spirulina is a trending super food that offers many health benefits. These include improved energy, muscle building, and disease prevention.
Here's the full list of ingredients you'll find in Lyfe Fuel:
Measured Ingredients

Isomaltooligosaccharide Powder (OligoSMART™M), 1000 mg
Isomalutose (Palatinose™M), 1000 mg
Flax Seed (Linum usitotissimum), 1000 mg
Grape Seed (Vitis vinifera) Seed (95% Proanthyanidins) Extract, 350 mg
Pomegranate (Punica granatum) Pericarp Extract, 350 mg
Spirulina (Spirulina platensis Geiti) Herb Powder, 250 mg

Berry Blend, 170 mg

Strawberry, Raspberry, Blueberry, Tart Cherry, Elderberry, Cranberry (Vita Berry)

Probiotic Blend (960 million CFU), 80 mg

Lactobacillus acidophilus DDS, L. plantarum, L. rhamosus, B. breve, B. longum

Organic Greens Blend, 50 mg

Alfalfa Leaf Juice, Wheatgrass, Barley Grass, Oat Grass, Broccoli, Cabbage, Parsley, Kale, Spirulina, Chlorella, Kelp, Dulse, Dandelion, Broccoli Sprouts.

Digestive Enzyme Blend, 50 mg

Amylase, Cellulase, Lactase, Lipase, Protease

Inositol, 20 mg
Coenzyme Q10, 10 mg
Vitamin K2 (as Menaquinone-7), 100 mcg
Other Ingredients

Pea Protein, Organic Rice Protein, Vitamin/Mineral Lief 50 Mix (Retinyl Palmitate, Ergocalciferol, DL-a-Tocopheryl Acetate, Biotin, Folic Acid, Niacinamide, D-Calcium Pantothenate, Thiamine Hydrochloride, Cyanocobalamin, Riboflavin, Pyridoxine Hydrochloride, Ascorbic Acid, Calcium D-Pantothenate, Tricalcium Phosphate, Magnesium Phosphate, Potassium iodide, Magnesium Citrate, Zinc Sulfate, Phytonadione, Tricalcium Phosphate Anhydrous, Tricalcium Phosphate Anhydrous, Dimagnesium, Magnesium Citrate, Chromium Chloride, Cupric Oxide, Potassium iodide, Manganese Sulfate, Sodium Molybdate, Sodium Selenite, Zinc Sulfate, Maltodextrin), Coconut Sugar (Organic), Natural Flavors, Stevia RebaudiosideA Leaf Extract, Xanthan Gum, Guar Gum, Sodium Chloride, Methylcobalamin Dicalcium Phosphate, -Alpha Tocopheryl Succinate, Cholecalciferol (Vitashine™)
Pricing Comparison: Ka'Chava vs Lyfe Fuel
| | | |
| --- | --- | --- |
| | Ka'Chava | Lyfe Fuel |
| Price for One Container | $69.95 | $70 |
| Price Per Serving | $4.66 | $2.92 |
| Container with Subscription | $59.95 | $60 |
| Per Serving with Subscription | $3.99 | $2.50 |
Lyfe Fuel Pros
Higher micronutrient and protein density
960 Million CFU probiotics
Diverse ingredient and nutrient panel
Sustainable, eco-friendly, and cruelty-free ingredients
Somewhat transparent labeling
100% Non-GMO and some organic ingredients
Lyfe Fuel Cons
Too low in calories to replace a meal
Lower protein count
24 servings, not 30, per package
Contains tree nuts from coconut, berries, and wheatgrass
Instant Knockout Complete
Instant Knockout Complete is a high-protein meal replacement shake that is catered toward active individuals.
It is plant-based and offers a range of essential vitamins and minerals, which can help you reach your daily nutrient goals.
Ingredients
Instant Knockout is a proprietary blend made of some whole foods and some fortified additions for vitamins and minerals.
It is extremely high in protein, coming in at 35 grams. That's especially unique for a plant-based protein blend, which is more difficult to condense.
Some of Instant Knockout Complete's key ingredients are:
Vitamins and Minerals: The vitamins and minerals in this shake include vitamin A, C, D, and E as well as zinc, magnesium, and iron. They all work together to support proper cellular function, immunity, and overall health.
Chia and Flaxseed: Chia and flax seeds add fiber, omega-3s, and some plant-based protein. These nutrients may come together to help balance blood sugar and improve heart health.
Here's the full list of all ingredients in Instant Knockout Complete:
Pea Protein, Soy Protein Isolate, MCT (Medium Chain Triglycerides from Coconut, Acacia Gum), Rice Hull Concentrate, Oat Flour, Pea Starch, Golden Flaxseed Powder, Natural Flavour, Brown Rice Protein, Vitamin & Mineral Blend (Potassium (Monopotassium Phosphate), Sodium (Sodium Chloride and Sodium Bicarbonate), Vitamin A (Vitamin A Palmitate), Vitamin C (Ascorbic Acid), Vitamin D (Tapioca Starch, Antioxidants (D-Alpha Tocopherol, Sodium Ascorbate), Ergocalciferol and Cholecalciferol), Vitamin E (dl-Alpha Tocopheryl Acetate), Vitamin K (Phytonadione and MK7), Vitamin B1 (Thiamine Mononitrate), Vitamin B2 (Riboflavin), Vitamin B3 (Niacinamide), Vitamin B6 (Pyridoxine Hydrochloride), Folic Acid, Vitamin B12 (Cyanocobalamin), Biotin, Pantothenic Acid (Calcium D-Pantothenate), Phosphorous (Calcium Phosphate, Magnesium Phosphate), Calcium (Calcium Phosphate), Iron (Ferric Orthophosphate), Iodine (Potassium Iodide), Magnesium (Magnesium Phosphate and Magnesium Oxide), Zinc (Zinc Oxide), Copper (Copper Gluconate), Selenium (L-Selenomethionine), Manganese (Manganese Gluconate), Molybdenum (Molybdenum Aminoate), Chromium (Chromium Picolinate), Choline (Choline Bitartrate)), Chia Seed Powder, Xanthan Gum, Guar Gum, Sucralose, Bacillus Coagulans (LactoSpore), Lactobacillus Casei.
Pricing Comparison: Ka'Chava vs Instant Knockout Complete
| | | |
| --- | --- | --- |
| | Ka'Chava | Instant Knockout Complete |
| Price for One Container | $69.95 | $59.99 |
| Price Per Serving | $4.66 | $2.14 |
| Container with Subscription | $59.95 | $118.00 |
| Per Serving with Subscription | $3.99 | $2.11 |
Instant Knockout Complete Pros
Made in FDA-approved, GMP-certified facilities
100% plant-based
Provides 26 essential vitamins and minerals
Very high in protein
Cheaper than other meal replacements
Instant Knockout Complete Cons
Complete proprietary blend
Might provide too many calories for some
Only one flavor
Made from many fortified ingredients rather than whole foods
HLTH Code Complete Meal
HLTH Code Complete is another meal replacement option that is formulated to be low carb and keto-friendly. Unlike other products on this list, HLTH Code uses animal products in its blend to reach fat and protein goals.
So, if you aren't worried about eating plant-based or you are focusing on a low carb diet, this shake might be the best alternative for you.
Ingredients
There are three proprietary blends as well as singular ingredients listed on HLTH Code's ingredient list.
Mainly, HLTH Code focuses on high fat, high protein, and all natural ingredients. Because it is a low carb product, there aren't many fruits and vegetables in this blend. Therefore, it is short on antioxidants and produce-based superfoods.
Some of HLTH Code's key ingredients include:
High protein blend: HLTH Code's protein blend is made of three animal-based ingredients: whey, collagen, and egg whites. Animal-based proteins are more bioavailable than plant-based proteins, which means they are absorbed faster and easier. This may lead to faster post-workout recovery and better muscle building.
Healthy fats: To make this shake keto-friendly, HLTH Code incorporates many healthy fats, including coconut oil, olive oil, and medium-chain triglycerides. These fats have been shown to lead to sustained energy levels and even improved cognitive function.
Natural Flavor and Sweetener: HLTH Code prioritizes natural ingredients and low carbs, so they use sweeteners like monk fruit and stevia extract for flavor and sweetness. These ingredients allow for a sweeter taste without tons of sugar or additives.
Full list of HLTH Code ingredients:
Protein blend: Whey protein concentrate, grass-fed collagen, and egg whites.
Healthy fats blend: Coconut oil powder, olive oil powder, medium-chain triglyceride, flaxseed powder, cocoa butter fat, and grass-fed ghee.
Apple cider vinegar
Digestive enzyme blend: Alpha and beta amylase, protease I, protease II, lipase, lactase, cellulase, invertase, and diastase.
Lactobacillus acidophilus
Other ingredients: Cocoa powder, soluble non-GMO vegetable fiber, nutrose, natural flavors, sunflower lecithin, inulin, Redmond real salt, xanthan gum, monk fruit extract, and stevia leaf extract.
Pricing Comparison: Ka'Chava vs HLTH Code
| | | |
| --- | --- | --- |
| | Ka'Chava | HLTH Code |
| Price for One Container | $69.95 | $59.99 |
| Price Per Serving | $4.66 | $4.00 |
| Container with Subscription | $59.95 | $49.99 |
| Per Serving with Subscription | $3.99 | $3.33 |
HLTH Code Pros
Made with all-natural ingredients.
Doesn't contain artificial sweeteners or GMO ingredients.
Made in the USA in a cGMP-certified and FDA-registered facility.
Keto-friendly
Enough calories to replace a meal
Option to purchase samples
HLTH Code Cons
Has a high fat content.
Only two flavors are available.
It is not vegan-friendly.
It can be expensive.
Contains some allergens like coconut
Complete proprietary blend
Third-party testing is unclear
Kos Organic Plant Protein
Kos Organic Plant Protein is formulated with organic, non-GMO, and plant-based ingredients. With a focus on purity and nourishment, this option is ideal for individuals who value clean, natural, and 100% vegan supplements.
Ingredients
This 100% vegan and organic shake is a good Ka'Chava alternative for anyone seeking a plant-based meal replacement without compromising quality. There are three blends in Kos alongside 11 stand alone ingredients. However, this is a proprietary blend.

Key ingredients in Kos Organic Plant Protein:
Pea and Pumpkin Seed Protein: Kos's blend of plant-based proteins like pea and pumpkin seed offers all nine essential amino acids necessary for muscle recovery and growth. These plant-based proteins are also easily digestible and keep us full.
Stevia and Monk Fruit Extract: Natural sweeteners including stevia and monk fruit are used in this blend to contribute to a lighter taste without adding sugar.
Essential Nutrients: The Vitamins and Minerals Blend in Kos allows users to get a hefty dose of essential nutrients. Daily supplementation of vitamins and minerals may reduce our risk for chronic disease over time.
Here's the full breakdown of what you'll find in Kos:
Organic Pea Protein
Organic Flax Seed
Organic Quinoa
Organic Pumpkin Seed Protein
Organic Chia Seed
Organic Inulin
Organic Acacia Gum
Organic Coconut
Organic Stevia Extract
Organic Monk Fruit Extract
Organic Fruit and Veggie Blend
Digestive Enzyme Blend
Vitamins and Minerals Blend
Himalayan Pink Salt
Pricing Comparison: Ka'Chava vs Kos
| | | |
| --- | --- | --- |
| | Ka'Chava | Kos |
| Price for One Container | $69.95 | $49.99 |
| Price Per Serving | $4.66 | $1.79 |
| Container with Subscription | $59.95 | $42.49 |
| Per Serving with Subscription | $3.99 | $1.52 |
Kos Pros
Natural, plant-based ingredients
Vegan-friendly
20g of protein per serving
Contains all essential amino acids
Dairy-free, soy-free, gluten-free
No artificial sweeteners
60-day money-back guarantee
USDA Organic and CCOF Certified
Kos Cons
Costs more than other products
Need to use two scoops per serving
Contains coconut and other possible allergens
People on low sodium diets may not want this
Complete proprietary blend
Organifi Complete Protein
Organifi is a 100% organic and plant-based shake that offers a blend of superfoods, vegan protein, and natural flavors for overall wellness.
Similar to Kos, this is a good alternative to Ka'Chava if 100% organic products are important to you and you are not concerned about added sugar content.
Ingredients
Organifi technically offers three blends – protein, digestive enzymes, and organic fruit and vegetables. All of the ingredients in this product are 100% organic and vegan.
However, it should be noted that this product is made with both coconut sugar and agave, which are both forms of added sugar.
Organifi has many beneficial ingredients, specifically:
Digestive Enzymes: Digestive enzymes in Organifi like amylase, protease, and lipase may help to break down our food faster and absorb nutrients better.
Lactase is also included in this blend, which is an enzyme that breaks down lactose. This can be especially helpful for anyone that struggles with lactose intolerance.
Organic Quinoa: Quinoa is a complete protein, meaning it contains all of the essential amino acids we need from our food. By incorporating it into this blend, we can be sure all of our protein bases are covered.
List of all ingredients in Organifi:
Protein Blend

Organic Pea Protein, Organic Flax Seed, Organic Quinoa, Organic Pumpkin Seed

Digestive Enzyme Blend

(DigeSEB") Amylase, Protease, Lipase, Lactase, Cellulase

Other Ingredients:

Organic Coconut Milk, Organic Coconut Sugar, Organic Agave, Inulin, Organic Acacia Fiber, Organic Vanilla Flavor, Organic Stevia Extract, Organic Fruit and Vegetable Blend (Tomato, Broccoli, Carrot, Shiitake, Cranberry, Apple. Orange) Sea Sat, Organic Luo Han Guo
Pricing Comparison: Ka'Chava vs Organifi
| | | |
| --- | --- | --- |
| | Ka'Chava | Organifi |
| Price for One Container | $69.95 | $79 |
| Price Per Serving | $4.66 | $2.63 |
| Container with Subscription | $59.95 | $71.95 |
| Per Serving with Subscription | $3.99 | $2.40 |
Organifi Pros
20g of protein
Variety of plant proteins
Has all essential amino acids
USDA Organic, Non-GMO
Certified glyphosate-free
Soy and gluten free
Organifi Cons
Only offers two flavors
Contains coconut
Has some added sugar in the form of coconut sugar and agave
Complete proprietary blend
Huel
Huel is a well-known meal replacement shake that is high in protein, fiber, and whole ingredients.
They actually offer many flavors and versions of its meal replacement shakes, from the original (reviewed here), their high protein option, and even simple and ready-to-drink products.
With a focus on convenience and balanced nutrition, Huel is a great contender as a Ka'Chava alternative.
Ingredients
Huel's ingredient list is split into eight different categories with six proprietary blends.
Key ingredients that make Huel unique include:
Adaptogens: Huel contains an adaptogen blend, which are compounds that have been researched for their ability to help our hormones adapt to stress.
Botanicals: There are many unique ingredients in Huel's botanical blend, including burdock and dandelion root. These botanicals have been used for centuries for their anti-inflammatory properties.
Greens Blend: Huel's greens blend includes ingredients that offer a vast range of beneficial vitamins, minerals, and antioxidants. Notably, some ingredients like mate and green coffee bean contain caffeine, which may contribute to increased alertness and energy levels.
Because Huel offers so many flavors, it should be noted that the ingredients can vary slightly between each flavor profile.
Here's everything you'll find in Huel:
Plant-Based Protein and Superfood Blend, 8934mg

Tapioca Starch, Organic Gluten-Free Oats, Pea Fiber, Organic Pea Protein, Flaxseed Organic Mung Bean Protein, Organic Chia Seeds, Organic Sprouted Quinoa

Organic Antioxidant Greens Blend, 2594mg

Organic Chlorella, Organic Spirulina, Organic Broccoli, Organic Broccoli Sprouts, Organic Carrot, Organic Spinach, Organic Kale, Organic Nettle Aerial Part, Organic Green Tea Leaf Extract, Organic Sweet Fennel Fruit, Organic Artichoke Leaf, Organic Basil Leaf, Organic Black Garlic, Organic Green Coffee Bean Extract, Organic Mate Leaf Extract, Organic Calciferous Marine Algae (Aquamin F)

Organic Superfruit Blend, 508mg

Organic Tomato, Organic Coconut Nectar, Organic Apple, Organic Lemon Peel, Organic Acerola Fruit Extract, Organic Red Grape Vine Leaf, Organic Small Plantain Leaf, Or anic Bilberry, Organic Strawberry, Organic Raspberry, Organic Blueberry, Organic Tart Cherry, Organic Elderberry, Organic Cranberry

Organic Adaptogen and Super Mushroom Complex 173mg

Organic Ashwagandha Root, Organic Rhodiola Root Extract, Organic Siberian Ginseng Root, Organic Lemon Balm Leaf, Organic Marshmallow Root, Organic Maca Tuber, Organic White Ginseng Root, Organic Red Ginseng Root, Organic Ginger Root, Organic Maitake Mushroom, Organic Shiitake Mushroom, Organic Reishi Mushroom, Organic Cordyceps Militaris Mushroom

Organic Botanical Blend, 122mg

Organic Cinnamon Bark, Organic Burdock Root, Organic Dandelion Root, Organic Echinacea Aerial Part, Organic Hawthorn Flowering Top, Organic Hibiscus Flower Extract, Organic Lemongrass Leaf

Probiotics, 3mg

Bacillus Coagulans MTCC 5856, Bifidobacterium Bifidum 100B

Other Ingredients

Natural Flavors, Sunflower Lecithin, Guar Gum, Organic Stevia Leaf Extract

Vitamins & Minerals

Vitamin A (as retinyl acetate), 925mcg, 103%
Vitamin C (as ascorbic acid), 425mg, 472%
Vitamin D (as ergocalciferol, cholecalciferol), 46.3mcg, 232%
Vitamin E (as d-alpha tocopherol), 21 mg, 140%
Vitamin K (as menaquinone-7), 132mcg, 110%
Thiamin (Vitamin B1) (from quinoa), 0.2mg, 17%
Riboflavin (Vitamin B2) (from quinoa), 0.3mg, 23%
Niacin (as niacinamide), 21mg, 131%
Vitamin B6 (as pyridoxine hydrochloride), 3.1 mg, 182%
Folate (as I-methylfolate calcium), 703mca (DFE), 176%
Vitamin B12 (as methylcobalamin), 5.6mcg, 233%
Biotin (from chlorella), 10mcg, 33%
Pantothenic Acid (as d-calcium pantothenate), 5.2mg, 104%
Choline (from chlorella), 23 mg, 4%
Calcium (as calcium carbonate, dicalcium phosphate), 130mg, 10%
Iron (as ferrous gluconate), 5.5mg, 31%
Phosphorus (as dipotassium phosphate, dicalcium phosphate) 133mg, 11%
lodine (as potassium iodide), 44mcg, 29%
Magnesium (as magnesium oxide), 43mg, 10%
Zinc (as zinc oxide), 16mg, 145%
Selenium (as selenium yeast), 28mcg, 51%
Copper (from flaxseed), 0.1 mg, 11%
Manganese (from oats), 0.4mg, 17%
Chromium (as chromium picolinate), 38mcg, 109%
Molybdenum (from pea), 7.0mcg, 16%
Potassium (as dipotassium phosphate, potassium citrate), 480mg, 10%
Omega-3 Fatty Acids, 0.5g
Omega-6 Fatty Acids, 0.5g
Pricing Comparison: Ka'Chava vs Huel
| | | |
| --- | --- | --- |
| | Ka'Chava | Huel |
| Price for One Container | $69.95 | $47 |
| Price Per Serving | $4.66 | $2.76 |
| Container with Subscription | $59.95 | $37.50 |
| Per Serving with Subscription | $3.99 | $2.21 |
Pros
91 vitamins, minerals, and ingredients
Some organic ingredients
Freebies like a t-shirt and water bottle with first purchase
More affordable than other products on the market
Offers over 10 flavor options
Cons
Proprietary blend
Probiotic count not listed
Contains nuts in the form of coconut as well as berries
Cross-contamination with milk possible
Final Recommendation
After reviewing each of these Ka'Chava alternatives, I think Huel is the best.
I made this decision based on its better price, nutrient density, high amount of protein, and other perks.
However, they are all good options. You should rely on your own preferences and goals to help you choose the best product for you.
If you want to learn more about Huel, check out their website here.
Frequently asked questions
Is Ka'chava organic?
Ka'Chava is not 100% organic. Only some ingredients in Ka'Chava are organic. 
Is Ka'chava vegan?
Yes, Ka'Chava uses 100% vegan ingredients, even in its plant-based protein blend. Even then, it offers 25 grams of protein per serving. 
Is Kachava kosher?
Ka'Chava does not specifically state on its website that it is kosher. If kosher certification is a priority, I recommend choosing a certified kosher product rather than guessing.
Is Kachava keto friendly?
No, Ka'Chava's nutrient profile leans more towards balanced macronutrients. It is high in protein, however it does offer moderate amounts of both carbohydrate and fat. 
Keto-friendly shakes will have a higher fat to carb ratio than Ka'Chava. 
What compares to Ka'chava?
Several meal replacement shakes compare to Ka'Chava in terms of nutritional benefits and superfood ingredients. Most notably is Huel, and followed up by Lyfe Fuel and Kos Organic Plant Protein.
What is the same as Kachava?
There is no product that is exactly the same as Ka'Chava. However, I would recommend Huel as a very close competitor.
What are the negative side effects of Kachava?
Some users reported digestive issues after starting Ka'Chava. This could be related to a new high dose of probiotics, which can become more tolerable over time.
Is Huel better than Kachava?
In some ways, such as price, flavor options, and nutrient-density, yes, Huel is better than Ka'Chava.
How does Kachava compare to other protein shakes?
Ka'Chava is not only a protein shake but an all-around nutritional shake. It offers 25 grams of protein, which is more than other protein shakes, as well as essential vitamins, minerals, and fiber.
More Product Reviews: