Most people know Joe Rogan as the host of one of the most successful podcasts in the world, The Joe Rogan Experience.
Others may recognize him from his stand-up career, as a prominent UFC commentator, or (for the millennials out there) as the former host of Fear Factor.
Those who don't follow Joe's career or podcast may be surprised to learn that the man is actually super fit.
This article will explore the training and nutritional habits of Joe Rogan, which allow him to be a lean, strong, and lethal fighter even in his mid-fifties.
Joe Rogan Current Bio and Stats
Age: 54
Height: 5'7"-5'8" (170-172cm)
Weight: 178-205lbs (81-93kg)
Date of Birth: August 11, 1967
Occupation: Podcast host, stand-up comedian
Career: MMA commentator, Fear Factor host, actor
Notable Achievements:

Teen Choice Award for Best TV Host
Multiple MMA Personality of the Year Awards
Multiple podcast awards
Several Netflix comedy specials
Black belts in Taekwondo and Jiu-Jitsu
Joe Rogan Workout Fundamentals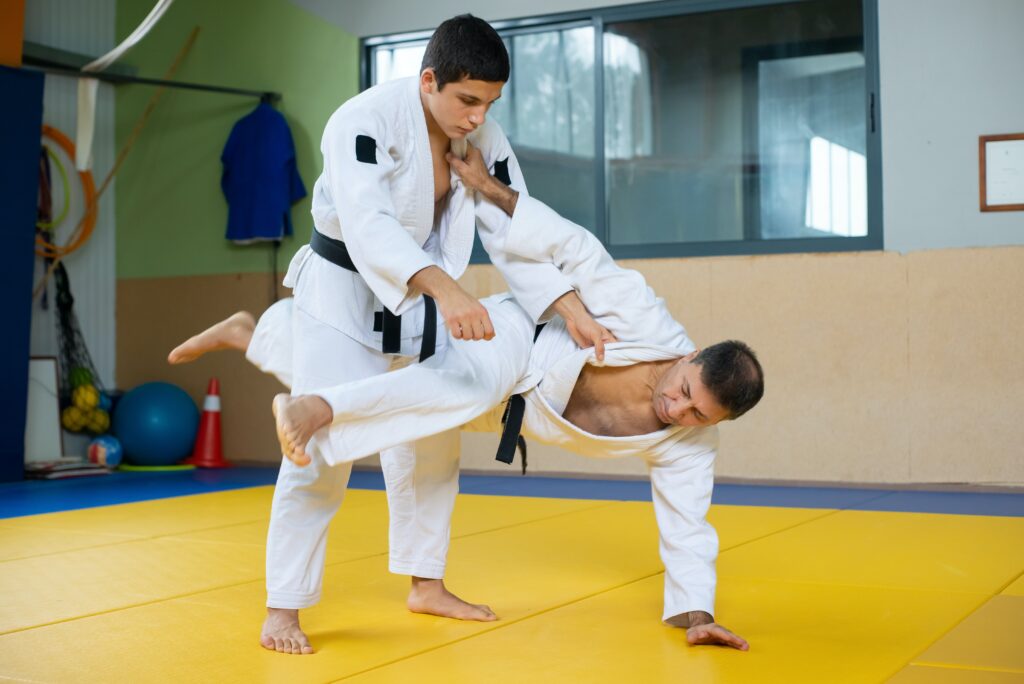 You Should Also Read:
Joe's foray into fitness began as a teen when he picked up martial arts such as karate and taekwondo.
He won taekwondo competitions for several years, and also fought as an amateur kickboxer before retiring from competitive fighting at age 21.
Rogan then got a taste of Brazilian Jiu-Jitsu in the mid-90s while observing the early UFC competitions. He eventually became a black belt in several styles of BJJ.
In addition to martial arts training, Joe is a proponent of functional, diverse workouts.
He will train with a combination of free weights, bodyweight exercises, cardio, and yoga.
Joe's reasoning behind this basis of training is to cultivate longevity, prevent injuries, and be ready for any situation.
This could be anything from self-defense to dealing with emergencies while in the street or out on a hunting trip.
Rogan trains his mind in addition to his physique. He has the opportunity to learn from many experts on different topics who appear as guests on his podcast.
Activities such as meditation, sensory deprivation, and saunas are a regular part of Joe's routine.
Joe Rogan Workout Routine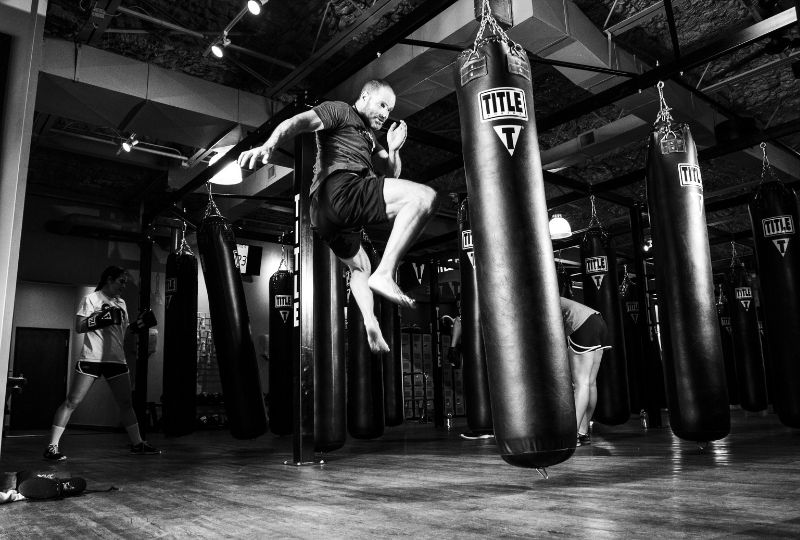 Joe typically plans his workout schedule for the week on a Sunday. While each week can be different, there are some tenets he sticks to pretty closely.
These include yoga one to two days per week, running or conditioning two days a week, weight training three times per week, and several martial arts training sessions.
The combination allows Rogan to get a mix of strength, cardiovascular conditioning, mobility, and mental training that help him function optimally.
The following is an example schedule of what a typical week would look like for Mr. Rogan:
Weekly Schedule:
Sunday: Plan schedule for the week
Monday morning: Fasted cardio
Monday evening: Heavy strength session
Tuesday morning: Hot yoga
Tuesday evening: Jiu-Jitsu training
Wednesday morning: Sensory deprivation tank/meditation
Wednesday evening: Kettlebell training
Thursday morning: Run
Thursday evening: Heavy bag session
Friday morning: Fasted yoga
Friday evening: Bodyweight strength session
Saturday: Infrared sauna
As you can see, this is a pretty full schedule. Joe doesn't necessarily recommend that everyone follows a similar plan.
That being said, the man is a beast even in his 50s. This routine definitely works, at least in his case.
For the average Joe, start by building up to the ACSM recommendations for physical activity.
These include 150 minutes per week of moderate aerobic exercise, as well as at least two sessions per week of whole-body strength training.
The following section has some example workouts using exercises favored by Joe Rogan. As such, they use various styles of training.
Joe Rogan Style Workout Plan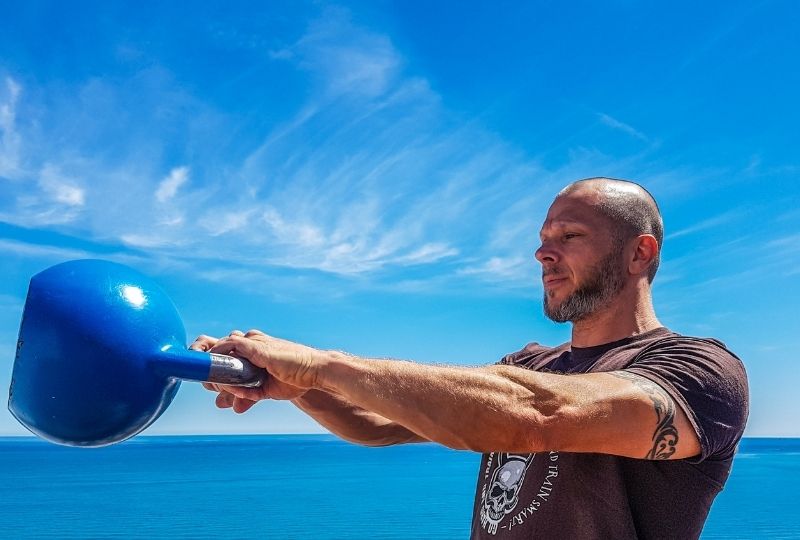 These workouts are the kind that Joe would employ during his busy schedule.
Joe is a proponent of training efficiently, working hard, and getting in and out of the gym quickly.
For that reason, these sessions all sit at around the 30-45 minute mark.
Be sure to warm up and perform any soft-tissue work or stretches that you need to around these sessions.
Joe Rogan Dumbbell Workout
| | | |
| --- | --- | --- |
| Exercise | Sets x Reps | Rest |
| DB Lunge + OH press | 3×6-10 | 1 min |
| DB Single arm bench | 3×6-10 | 30 sec |
| Single arm row + press | 3×6-10 | 1 min |
| DB Goblet squat | 3×20 | 1 min |
| DB Y raise | 3×20 | 1 min |
Joe Rogan Kettlebell Workout
| | | |
| --- | --- | --- |
| Exercise | Sets x Reps | Rest |
| KB Halos | 3×20 | 30 sec |
| KB OH sit-ups | 3×20 | 30 sec |
| KB Single-leg deadlift | 3×20 | 30 sec |
| Turkish getup | 3×6 | 2-3 min |
| KB Reverse lunge | 3×20 | 1 min |
Joe Rogan Bodyweight Workout
| | | |
| --- | --- | --- |
| Exercise | Sets x Reps | Rest |
| TRX Pushup + tuck | 3xMAX | 1 min |
| Pull-ups | 4xMAX | 2-3 min |
| Sliding push-up | 3xMAX | 1 min |
| Bodyweight squats | 4xMAX | 2-3 min |
Joe Rogan Heavy Bag Workout
| | | |
| --- | --- | --- |
| Exercise | Sets x Reps | Rest |
| Jabs + straights | 3×3 min | 1 min |
| Hooks + kicks | 3×3 min | 1 min |
| Elbows + knees | 3×3 min | 1 min |
| All out | 1×3 min | – |
The great thing about these workouts is that they can all be done at home and require minimal equipment.
With just a few pieces such as a pair of dumbbells, a kettlebell, and a boxing bag, you'll have everything you need to train like Joe from home.
All of the exercises from these example workouts can be seen being performed by Joe here:
Joe Rogan Self-Care Activities
Joe performs many beneficial physical and mental activities throughout the week.
These include things such as floating in a sensory deprivation tank for one to two hours, sitting in an infrared sauna for 15 minutes, and performing hot yoga sessions.
While the equipment needed for such activities may not be accessible to everyone, there is something to be said for the amount of care Rogan takes to foster longevity.
For example, this study mentions that both baths and saunas are effective in helping muscles recover from fatigue.
Use a more budget-friendly option like a hot bath, home yoga, or a comfortable seated meditation to take care of your long-term wellbeing like Joe.
Regular meditation is well supported by research as a way to recover from stress and lower baseline anxiety levels.
Joe Rogan Dieting and Food Preferences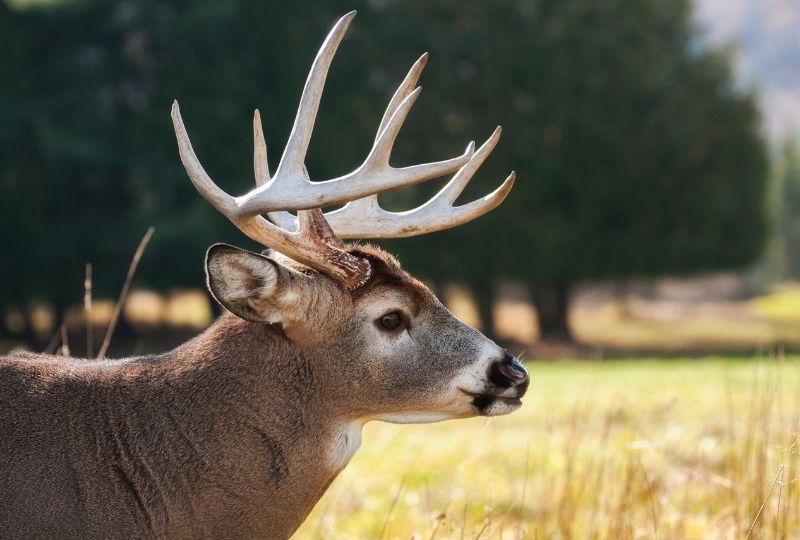 Joe Rogan has had many guests on his podcast over the years that have inspired him to try various dieting strategies, with interesting results.
One unique aspect of Joe's diet is that he is a big believer in 'eat what you kill', a movement that aims to move away from the mistreatment of animals in factory farming.
This means that Rogan is an avid game hunter. He is famous for eating elk meat that he has hunted and prepared himself.
Joe went to the extreme level of meat-eating when he tried the carnivore diet for 30 days in early 2020.
The result of this experiment was a weight loss of 12 lbs (5.4kg) and increased energy, albeit with an interesting bathroom schedule for a couple of weeks.
Another dietary philosophy Rogan utilizes is intermittent fasting, involving restricting eating periods to certain windows of the day or week.
Overall, though, Joe is a spokesperson for a healthy, ketogenic-style diet, based on whole foods and cutting down on processed sugars and other junk food.
Joe Rogan Meal Preferences
Breakfast: Eggs, game meat, salmon
Lunch: Meat, green vegetables, salad, avocados
Dinner: Meat, jalapenos, vegetables
Snacks: Fruit, dried chili mangos, olives, nuts
Late Night: Fasting/dinner
Joe Rogan Diet Plan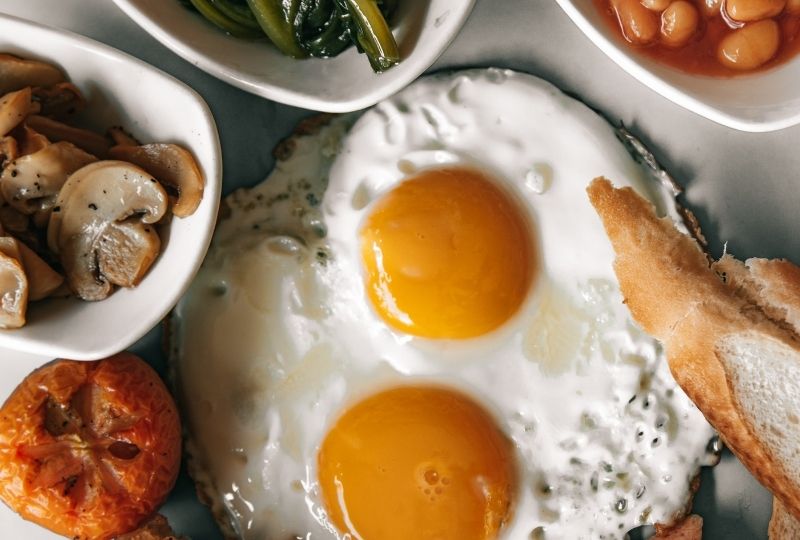 While we're not going to give you an example plan based on Joe's more extreme diet experiments, the following meals are based on his more usual eating habits.
As you'll see from these example meals, Joe eats a fairly simple diet, with plenty of meat, greens, and minimal processed foods.
Of course, Joe will enjoy the odd taco here and there and isn't 100% restrictive in his eating habits.
The following day is an example of how Joe would eat in his current habits:
Meal 1
Organic grass-fed chicken eggs
Alternatively fast until lunch
Meal 2
Grass-fed ribeye steak
Garlic
Jalapenos
Snack
Meal 3
Elk meat
Garlic
Onions
Broccoli
You can see Joe talk about his personal experience with the carnivore diet here:
Keep in mind, specialized diets like this are not necessary to lose weight, and can be dangerous for some people.
Start by taking steps to adhere to recommendations like the USDA Dietary Guidelines. Always consult a registered dietician before trying any extreme diet options.
Joe Rogan Supplement Preferences
Mr. Rogan has mentioned many supplements he's a fan of on his show, including Athletic Greens, vitamins, probiotics, and others.
You'll regularly hear Athletic Greens advertisements played on Spotify.
Supplements become particularly important when eating some of the more restrictive diets Joe experiments with.
Joe is also a co-founder of ONNIT supplements, which have products for focus, mood, sleep, immune health, and more.
And of course, Joe is rarely seen on his podcast without a hot cup of coffee in front of him, so we can assume he's a fan of caffeine.
These are some of the supplements Joe has mentioned taking regularly:
Multivitamin
Vitamin B12
Vitamin D
Omega-3 Fish oil
Probiotics
Amino acids
ONNIT supplements
Black Rifle coffee
Of course, please do your research and consult with a medical professional before adding any supplements to your regime.
Closing Comments
So, what do you think about our breakdown of Joe Rogan's workout and diet routines?
Let us know if you're a Joe Rogan fan and if you've tried any of his training or eating habits in the comments!
If you have any friends or family who are Joe Rogan fans, be sure to share this article with them as well.