This post may contain affiliate links at no additional cost to you. As an Amazon Associate I earn from qualifying purchases. Click to view our full disclosure.
This is my review of the Total Gym XLS.
Over my many years spent reading and writing about the fitness industry, I've scrutinized a lot of home workout equipment.
I spent a considerable amount of time looking at the Total Gym XLS so I can provide my unbiased opinion on whether it's worth the money.
I've come to the conclusion that the Total Gym XLS is an effective way to safely tone every muscle in your body and build some strength, but don't pay full price. 
With that in mind, I've given a detailed explanation on why the Total Gym XLS scores big in important areas for home gyms, but may fall short in comparison with other home gyms in its class.
Let's get going.
What is the Total Gym XLS?
The Total Gym XLS is the most popular model of the Total Gym brand, of which there are 12.
With more exercise options, a heavier weight limit, and a higher price tag than most Total Gym models, the Total Gym XLS is the leader in the compact home gym space.
Designed with the beginner at heart, this sliding board and pulley system lets you work every muscle in your body by recreating your body's natural motions.
But don't be fooled by how seemingly easy it looks, this Total Gym has 6 levels of resistance that even an expert can appreciate.
The Total Gym machines are especially gentle on your lower back and knees, making it popular amongst those with injuries or physical limitations.
Work multiple muscles at once for a killer full-body workout, or isolate, the choice is yours.
How Does it Work?
You pull and push yourself on a board that rolls up and down rails using pulleys. The lower the incline, the less effort it takes. You can work your upper body and lower body in ways that strengthen, tone, build endurance, and rehabilitate.
The motion of gliding yourself up is smooth and easy on the joints, and your back is well supported.
Feeling strong?
Add to the percentage of your weight being lifted against gravity by adjusting the rails. Perform the movement slower if that doesn't suffice.
Want a workout that burns fat?
Decrease the difficulty, increase the repetitions, add more exercises to the circuit. You can target any physical training style like cardio, stretching, power movements, and mobility.
The possibilities seem limitless, and the Total Gym XLS helps guide you along. Simply refer to the exercise manual, workout plan, and nutritional chart for advice.
We earn a commission if you make a purchase, at no additional cost to you.
Top Features Of The Total Gym XLS
With the Total Gym XLS you get what you pay for. Built on a sturdy frame of steel tubing with a solid base and durable cables and pulleys, it can handle up to 400 lbs and won't wobble, even on the highest incline.
There are over 80 different exercises to try with 6 resistance levels ranging from 6 to 26 degrees; no muscle group or workout style is left behind.
Refer to the handy exercise wall chart and educational videos to customize your preferred routine.
It's supremely comfortable. The gliding board is about 3 inches wider than most models and has thick 1.5 inch high density foam padding at the head and base under non-tear nylon.
Grab hold of the soft rubber handles and feel the burn, not a slippery grip, when you pull.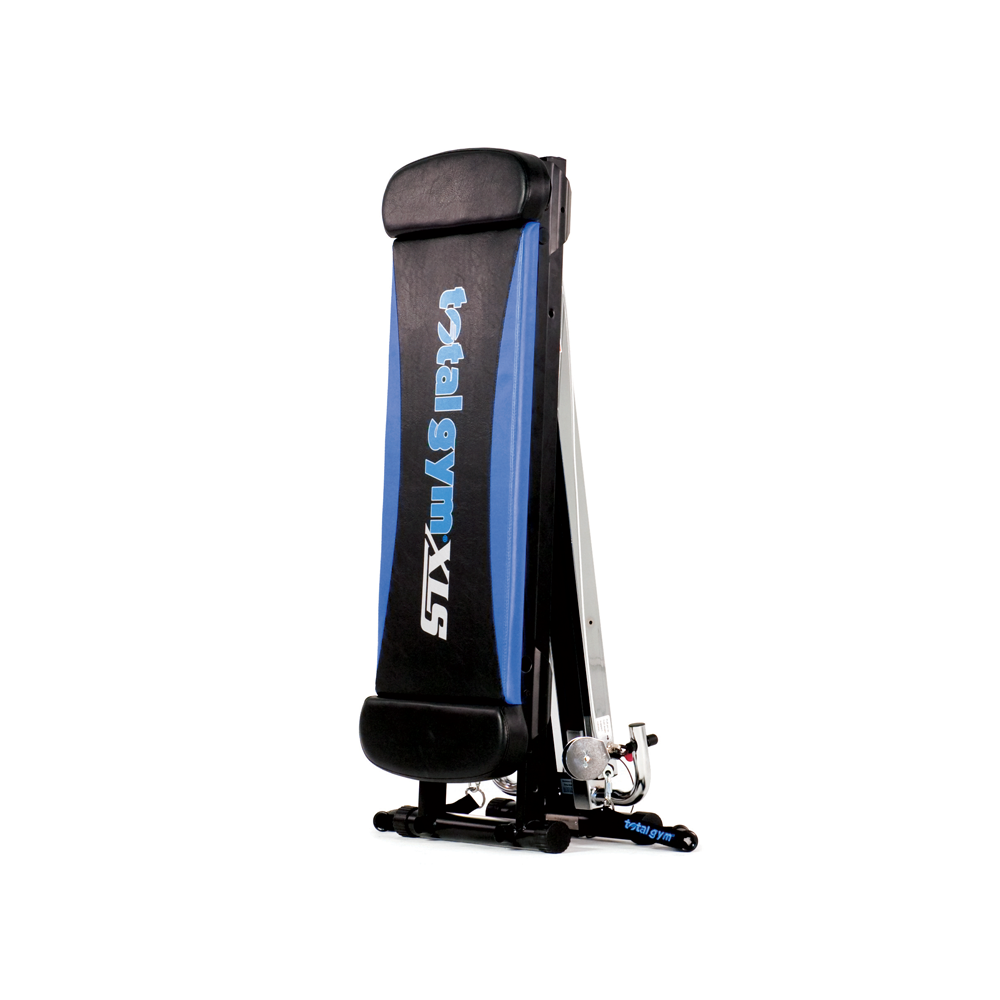 The pulley system is a dream. 1000 lbs vinyl-coated cables and hard plastic pulley wheels with precision ball bearings provide a smooth pull/push ride.
It looks darn good. The upper rails are shiny chrome and the lower rails are black powder-coated. The black and blue paint job goes well with most decorative color schemes.
Despite its sturdiness and weight capacity, the Total Gym XLS is as compact as the other models.
The ladder folds into the rails and then both sides fold onto each other so you can tuck it away under the bed or stand it and store it in your closet.
Just like any Total Gym, the XLS is amazingly easy to use. It comes fully assembled. Tack on the ribbed squat stand, unfold like an ironing board, and lift the height adjustment handle to snap it onto the desired incline. That's it.
Portability is of no concern. The Total Gym XLS has wheels on the bottom so you can roll it anywhere in the house or onto the patio during a sunny day for a workout.
The upgraded attachments optimize your training. The wing is angled for better comfort and the squat stand is ribbed for grip. To use simply follow the instructions and attach to the Total Gym frame using pins and brackets.
As a bonus for buying the XLS model, you get Dan Isaacson's nutritional program and meal plan. With over 30 years experience whipping Hollywood's finest into shape, adhere to his diet and you'll notice the abs in no time.
We earn a commission if you make a purchase, at no additional cost to you.
Total Gym XLS Specifications
Dimensions Unfolded: 19″ W x 90″ L x 43″ H
Dimensions Folded: 19″ W x 51″ L x 9″ H
Total Weight: 90 lbs
Glide Board Weight: 22 lbs.
What's Included?
The most important add-on to me is the upgraded squat stand. It not only provides you with quad and hamstring toning exercises, but also better stability when doing upper body exercises. It also acts as a stand for the upright Total Gym XLS.
The leg pull accessories really allow you to hit every angle. You can tone your glutes, strengthen your hips, and build your hamstrings by doing curls.
The nylon strap handles and ankle holders are also fantastic for Pilates and dynamic stretching movements.
There's a wing attachment for assisted pull ups that also let you lock your ankles for killer crunches.
Having so many options can seem overwhelming without guidance.
Thankfully, the XLS includes a color coded wall chart for quick reference and an exercise card deck that lets you randomly switch up your workouts and surprise your body.
They've also included 5 workout DVD's and Dan Isaacson's nutritional program so you can train and eat like one of his celebrity clients.
Total Gym XLS Pros And Cons
Pros:
Full body customizable workouts
Body weight exercises (no lugging clunky plates around)
Extremely compactable and portable
Padded, wide glide board
Easy height adjustments
Upgraded, easy-to-use attachments
Safe for users up to 400 pounds
The smooth ride is easy on the joints
Includes video workouts and nutritional guide
Steep sale price cut means you can get one at 50% off
Free 30-day trial
No assembly required
Lifetime warranty on the frame
Cons:
Not great for taller individuals
Not intended for muscle growth, only toning and maintenance
Expensive at regular price
Limited 6 month parts warranty
Shipping not included with return
We earn a commission if you make a purchase, at no additional cost to you.
Alternatives
Weider Ultimate Body Works
The Weider brand is considered the first sports nutrition company. Along with tons of nutritional products, it has a line of fitness equipment.
And among it, the Weider Ultimate Body Works' all-in-one complete home gym glide board.
This is the affordable, similarly built version of the Total Gym XLS. Not only is it a fraction of the price, it also comes with 4 bands for an extra 50 pounds of resistance, and takes up less space.
The Weider machine is made from durable steel as well, and the cable system is good.
But it doesn't feel as smooth as the Total Gym XLS. And with a 250 pound weight limit, it certainly isn't as stable.
It also needs assembly with purchase and is only one of two Weider glide board models.
For someone with moderate fitness goals, this is a suitable alternative to the Total Gym XLS.
GR8FLEX High Performance Gym
The GR8FLEX machine is, as it's advertised by GR8FLEX, a cheaper, better version of the Total Gym XLS.
And I'll agree.
First off, it allows you to perform over 140 exercises, 60 more than the XLS.
A 450 lbs weight limit from the same solid steel, but slightly overbuilt, means it's sturdier than the Total Gym. (Hence the lifetime warranty on everything, parts included).
It even comes with a lot more – like an EZ curl bar, resistance bands for up to 50 lbs, a bigger squat stand, and mats to protect your floor!
Like the Total Gym XLS, there's no assembly required. But the GR8FLEX has 5 gnarly design options – including a camo, pearl white, and golden model – for a way cooler look.
There's no question in my mind, if I had to choose between the Total Gym XLS and the GR8FLEX, the latter wins hands down.
Bowflex Revolution Home Gym
Bowflex has carved a top-tier place for itself among home gym brands, but its product is another beast entirely.
Named after the device that launches projectiles, the Bowflex Revolution is touted as the Bowflex's best home gym. It certainly is one of the best, most interesting home gyms out there today.
If you have the money and have loftier fitness goals, go with the Bowflex Revolution. It is leagues above the Total Gym XLS.
But at almost twice the price, I'm not sure it offers twice the value.
The NASA plate technology is impressive, and so is the array of 100 + exercises the Bowflex Revolution allows you to explore.
You have 210 lbs of resistance with upgradable options of up to 600 lbs (which comes in handy for the leg press).
The vertical bench press and 10 different arm positions let you build your chest the way you would at your local gym.
Add the aerobic rowing into the mix, and you've got an all encompassing, completely depleting workout right at your fingertips.
But with the higher range of power and heavier lift options comes the wider footprint, so make sure you've got the dedicated space in your basement.
Thankfully, this behemoth is foldable so you can store it whenever you need to recoup that space.
The 10 year warranty on parts isn't too bad, but assembly is required.
Unfortunately, it does not cater to people with rehabilitation needs. The Bowflex Revolution is designed with the intermediate or expert levelled fitness enthusiast in mind.
All-in-all, this home gym checks all the boxes. It offers the same workout styles as the Total Gym with the added benefit of being able to build muscle mass, including a more defined chest and legs.
If the price tag makes you shriek, stick with the Total Gym XLS, especially if you have bothersome injuries.
Total Gym XLS Reviews
The Total Gym XLS has great reviews from beginner users to experienced professionals alike.
People adore the versatility. It really is an all-in-one machine that tackles all of the body's areas for functional, natural movement training.
One common feedback is that the results are surprisingly impressive. Users have lost more weight than they'd expected and regained power in injury-prone, weakened muscles.
One man confirmed the heavier duty design was well worth the upgrade, especially because he and his wife are in their 60's and appreciate the added stability.
Customers also rave that the Total Gym XLS makes working out pain free. It really helps those who are struggling during traditional training.
To top it all off, the Total Gym XLS is said to be fun to use, which is a great way to stay motivated.
We earn a commission if you make a purchase, at no additional cost to you.
What are the Total Gym Workouts?
Impossible to list each one. There are endless possibilities of strength, cardio, and flexibility regimen. But this is the general idea:
13 chest exercises: including presses, flies, and pullovers
13 back exercises: including rows, back flies, and pullups
14 shoulder exercises: including front and lateral raises, and upright rows
15 legs exercises: including squats, curls, hip abductions, and calves raises.
7 bicep + 4 tricep exercises: including curls, extensions, and chin-ups
The 77 movements I found are low impact and can be done simultaneously with other movements for a full body burn out.
Add in the Pilates program, the HIIT capabilities, the cardio blast, and the boxing training, and you'll get a sense of how creative you can be with a board that rolls on a pulley mechanism.
You can even add to that list by buying the extras, like the dip bar, ropes, and toe bar.
Total Gym XLS Workout Videos
Frequently Asked Questions
Does Total Gym Really Work?
For those of you who are wondering if an exercise machine that is so compact, requiring no weights, and is truly all-in-one, actually works – the answer is yes.
Make no mistake, the Total Gym brand has made its fair share of infomercial appearances, partnering with the likes of the man who CAN kill two birds with one stone, Chuck Norris, to sell their products at 4 am. But the Total Gym XLS is no gimmick.
It's an effective piece of equipment for strengthening, toning, burning fat, and stretching, especially in therapy. Don't buy it with the expectation of building mass and you'll be pleasantly surprised.
Unlike the isolation machines at your local gym, the Total Gym XLS really forces you to use your stabilizers when you exert yourself. One arm cannot overpower the other or the movement simply won't work.
And you won't need to worry about dropping any weights.
Simply know your fitness goals and make sure the XLS model is within those weight ambitions. Coming too close to the weight limit can spell disaster.
Are Total Gyms Worth the Money?
For the most part, yes. I say this because some models, like the XLS, are too costly at regular price. But sales are frequent and the discounts are big.
Overall, the Total Gyms are great home gym systems that have stood the test of time. The original conception made its debut in 1974!
At the end of the day, a home gym should favour compactibility, versatility, ease of use, and reward your efforts. The Total Gyms do all of this very well.
Are Squats on the Total Gym Effective?
In the traditional sense, no. A bodyweight standing squat is more effective than what you'll do on the Total Gym.
This is because you're only using a maximum of 50 to 70 percent of your weight when you push off the stand and glide on the board.
That said, the Total Gym squats are tremendous for the low impact push that is key to rehabilitation, and plyometric lower body exercises that develop explosiveness.
You can build some strength in your legs, hips, and butt in a safe way.
You can also add to the traditional squat motion by incorporating your arms with the cables to create full body exercises that elevate heart rate and burn more fat.
Does the Total Gym Build Muscle?
The Total Gym won't satisfy the would-be bodybuilder with its mass building potential.
This is because the system is based on resistance created by body weight. And this is maximized at around 60 percent for most models, far below what someone would need to build the bigger muscle groups like the legs.
To properly build muscle, you need a mix of compound and isolation type exercises and a gradual increase in weight.
The average person looking to build muscle can squat, pull-up, and even bench his or her entire weight, which is 40 percent heavier than what the Total Gym allows you to do.
On the other hand, many muscle/exercise combinations can actually be maxed out within the Total Body's resistance range.
Things like bicep curls, deltoid raises, and chest flies can be trained to full exhaustion with 12 repetitions or less on the Total Gym.
So you CAN sculpt certain muscles and add some size, but nowhere near the level a standard gym would allow you to.
If building muscle is your goal, incorporating the Total Gym with regular free weight training sessions can help with definition via burnout sets, cardio, and HIIT circuits, but should not be used by itself.
Is the Total Gym Better than Free Weights?
Of course not.
Don't get me wrong, the Total Gym provides users with solid resistance cable centered workouts that require some level of stabilizing.
So in that sense, the Total Gym is better than a standard isolation machine.
But it doesn't match up with the results of the tried and tested free weight.
Although the range of motion is fairly good with the Total Gym, it comes nowhere near what you're capable of doing with free weights.
Final Thoughts
So there you have it.
The Total Gym XLS is the premium, most popular version of the well-known home workout brand.
Using only your own bodyweight you can achieve modest results by following some of the many exercises and routines Total Gym recommends.
The XLS is just as fun, yet safer and more effective than other Total Gym models. It's highly recommended from a trusted brand.
But at its regular price, there are many other home gym options that help you achieve similar results at a much lower cost.
So if you're shopping for a home exercise unit and looking at the Total Gym XLS, get it on sale, or look elsewhere.