This post may contain affiliate links at no additional cost to you. As an Amazon Associate I earn from qualifying purchases. Click to view our full disclosure.
This is a review of the Rogue Echo Bike.
Over my ten years of experience in the fitness industry, I've reviewed a lot of exercise and home gym products. I spent the last week reviewing the Rogue Echo Bike so I can give my honest opinion on whether it's worth the investment.
My overall thoughts on the Rogue Air Bike are it's overbuilt in all aspects, which in my opinion, is a good attribute to have and would be a solid piece of reliable cardio equipment for a home gym.
With that said, I will go into a more thorough breakdown into why the Rogue Echo Bike is overbuilt and some of the key features that beat other similar air bikes on the market.
Let's dive right in!
What is the Rogue Echo Fan Bike?
The Rogue Echo is the beefiest high quality fan bike on the market today. Like all fan bikes, the Rogue Echo is a stationary bike that offers feet and hand peddling so you can exercise your upper and lower body simultaneously. Think of it as a merge between a spin bike and an elliptical.
The Rogue Echo stands out because it's made from heavy duty steel and offers its users a smooth exercise experience.
This is a solid machine trusted by high level athletes like CrossFit competitors and professional football players. An affordable model, the Rogue Echo's portability and ease of use also make it ideal for the at-home beginner.
Are Fan Bikes worth it?
Fan bikes, or air bikes, are a great tool for burning fat and toning muscle with conditioning challenges that range from beginner to brutal. The hand pedals add upper body resistance for a total body workout that gets your heart pumping.
You can choose for longer full body workouts that target muscle endurance or grueling HIIT style workouts with rapid outbursts of exertion followed by short periods of rest.
On top of that, fan bikes offer low impact exercising. So yes, in my opinion, they are totally worth it.
Ready to try the Rogue Echo Bike? Click here to visit the Official Rogue Website.
Rogue Echo bike Key Highlights
The Rogue Echo fan bike is a solid piece of fitness equipment that was built to last. Clearly, it was designed for an athlete, but its usability is tailored for the everyday person.
The Rogue Echo has the size and smoothness that make it a no-brainer for the dedicated air bike enthusiast. It offers no mercy. But the stock Rogue Echo is missing a few elements that would have really made it unbeatable.
Let's go over the key features.
---
Big Frame
The Rogue Echo fan bike is a 127 pound beast made of quality steel. It's bigger than other fan bikes like it. From the base to the top of the handles it measures 52.75 inches, from front to back 58.875 inches, and is 29.875 inches wide.
Constructed with thick steel tubing ranging from 1.25 to 3.25 inches, it can support up to 350 pounds of thrashing.
It's heavy enough that you won't get any motion transfer during a hard workout, but still light enough to move around with relative ease. Which makes this big fan bike the perfect exercise tool for all you football linemen out there.
---
Extremely Stable
If you've done as much air biking as me, you'll know how intense things can get. The Rogue Echo's thick steel frame sits on a large base and the 1.5" diameter rubber grip handles are welded directly to the bike's arms. When you sit on the generously padded seat and peddle this belt driven fan bike you will feel, even at max output, that every part of the machine is completely secured.
Its reinforced steel construction gives it the rigidity and balance to help eliminate sways and bumps during max output bursts, and the fan's steady response delivers a uniquely consistent, smooth riding experience.
---
So Smooth
The Rogue Echo is belt driven. The difference to a chain drive is unmistakable – a much quieter ride with no metal on metal rattling. This means that ramping up your training will have no effect on the smoothness of your motions. Unlike chain drives that need constant upkeep, belt drives are practically unbreakable and require almost no maintenance.
---
Durable Fan
The Rogue Echo's fan is just as overbuilt as the rest of its components. There are 10 2.75 inch wide precision steel blades that provide awesome resistance for your workout. And thanks to its belt-drive, all you'll hear while accelerating this solid fan with your sweat equity is a soft whooshing.
It may not seem like a big deal now, but use it every day and you'll appreciate the minute advantages of peddling a well built fan.
---
Quick Assembly & Portable
All you have to do is put a few segments together with the hardware that comes with.
That's it!
Once assembled you'll realize that despite its hefty stature the Rogue Echo fan bike is surprisingly easy to maneuver.
It's equipped with two wheels and an option for bigger sizing that allows you to roll over difficult terrain and into compact spaces effortlessly.
LCD Console
The Rogue Echo fan bike comes equipped with a battery powered, high contrast 6 inch x 6 inch LCD screen. The optimal visibility of the display comes in handy when sweat gets into your eyes and blurs your vision.
The console has all the tried and tested fan bike work modes, like intervals and calorie burn. It even has heart rate monitor compatibility (heart monitor not included) so tracking your progress is simple.
Ready to try the Rogue Echo Bike? Click here to visit the Official Rogue Website.
the Pros & Cons of the rogue echo bike
Now that we've covered the Rogue Echo's key highlights, here's a pros and cons list I made to help potential buyers decide if the Rogue Echo suits their needs:
Pros
1. Sturdy
At 127 pounds of high level steel and with a weight limit of 350 pounds, the Rogue Echo fears no one.
2. Affordable
Coming in at just under $800 US, it's slightly more expensive than the Assault Airbike ($699 US), and less pricey than the Schwinn Airdyne Pro ($999 US)
3. Smooth
Unlike the Assault Airbike the Rogue Echo is belt driven, and it weighs 14 pounds more than the Schwinn Airdyne Pro, offering a smoother ride than both.
4. Stable
I weigh 215 pounds and I've pushed this fan bike to the limits and haven't felt any wobbling whatsoever.
5. Portable
The optional Echo Bike Turf Tire & Handle Kit let's you move the Rogue Echo with ease.
6. Build to last.
Rogue hasn't cut any corners producing this fan bike, and it shows. Customers are still happy with their purchase, even two years after its release. (link)
7. Easy assembly
The Rogue Echo requires you to put together a few complex parts using the tools and parts it comes with. That's it!
8. Comprehensive workout options
You can select a wide range of workout modes for your Rogue Echo, including intervals for a quick punishment, or a target distance to focus on endurance.
9. Good seat adjustment
The saddle can be positioned vertically and horizontally to fit most people's requirements.
10. Rubber levelling feet
This Rogue Echo add-on really helps when you use the bike outside on an uneven surface like I do from time to time.
11. Big, high quality LCD Console
The console's size and display make it easy for you to choose your mode, track your progress, and hit your fitness goals (I sure did).
12. Many extras
From a bottle holder to compatible Shimano bike accessories, you can get all the bells and whistles your heart desires.
13. Long lasting powder jet black coat
The Rogue Echo looks sharp in a black finish that won't fade, even with all that sweat dripping on it.
---
Cons
1. LCD Console not backlit
This isn't a problem when using the bike in daylight or in a well-lit area, but it really puts a damper on things if you enjoy exercising at night when the sun isn't out.
2. Console not Bluetooth compatible
It wouldn't have cost a whole lot and it would have added major convenience points to our Rogue Echo fan bike score. Instead, this bike has an old school feel to it.
3. Doesn't come with the phone holder.
I, like most people, have cell phone separation anxiety, so this seems like it should be included.
4. Doesn't come with the bottle cage.
I can't go 5 minutes at the gym without a swig of H2O so this one is also puzzling for me. Tack on an additional $8 to your purchase for this add-on.
5. Pedals and arms not adjustable
At 6'2" I have no problem reaching the arm and foot pedals. But having the seat at its lowest setting requires the shorter individual to have abnormally long arms.
Ready to try the Rogue Echo Bike? Click here to visit the Official Rogue Website.
Rogue Echo Bike Add-ons
For a few extra doubloons, you can order a multitude of add-ons for your Rogue Echo fan bike. My only gripe is that certain add-ons should come stock with the bike. Keeping that in mind, let's go through the extras:
A mast-mounted phone holder can be set up just below the LCD console.

Just below the phone holder you can attach the Rogue bottle cage for easy access to some quick hydration.

The wind guard plastic fan cover is great to have if the bike is placed indoors in a small space.

As mentioned earlier, you can upgrade to off road wheels for better maneuvering (they come with a handle that attaches to the back so you can easily lift and push the bike where you want it to go)

The Rogue Echo is compatible with Shimano pedals which allows serious cyclers to get the proper foot feel while training for big races.

The LCD console is compatible with Polar heart rate transmitters so you can easily track your heart rate.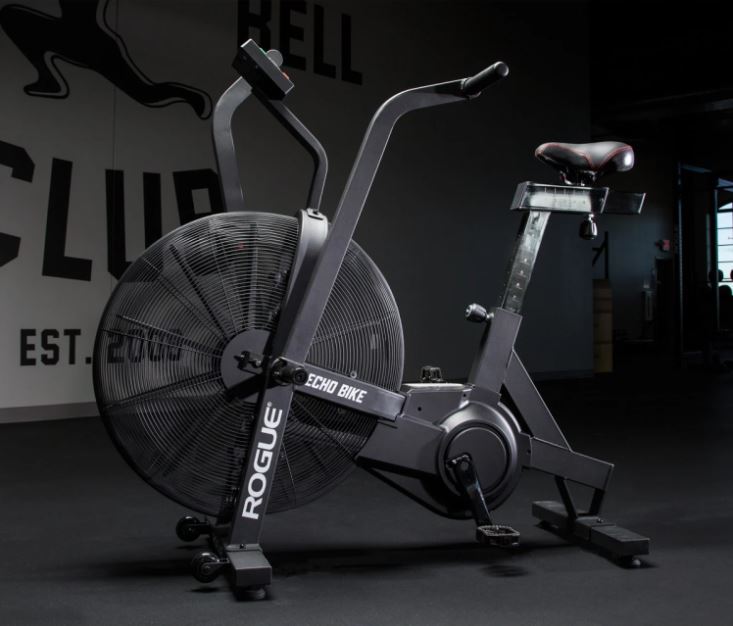 What are Rogue Echo Customers Saying?
Customers agree about its quality, likening the Rogue Echo fan bike to a commercial grade machine that can take it and deal it to anyone from a pro to a beginner; Steady handlebars support even the most vigorous pushing and pulling motions.
It's comfortable enough for most people. This is because the Rogue Echo has a padded seat, optional pedals, and large rubber hand grips.
People love the ease at which the seat can be adjusted forward and back or higher and lower. And with such straightforward assembly, it makes for the perfect gift for your daughter, mom, or grandmother.
The Rogue Echo, like all fan bikes, is great for long dedicated pedalling sessions or for quick, lunch break calorie-burn outbursts. Customers love that in today's fast paced world, the Rogue Echo offers efficient and versatile workout options.
People with previous injuries are especially happy that the Rogue Echo is easy on their joints. It has helped users with long lists of injuries achieve their fitness goals.
However, one man wasn't such a big fan of the Rogue Echo's big fan, saying it threw too much air and bothered his nearby wife. And while the seat is satisfactory for many, others have found it to be lacking in padding.
The Rogue Echo's overall simplicity isn't a huge selling point. People have said it's too basic.
Ready to try the Rogue Echo Bike? Click here to visit the Official Rogue Website.
Rogue Echo Bike Alternatives
Schwinn Airdyne Pro
It set the standard before the Rogue Echo came along.
The Schwinn Airdyne Pro is an excellent fan bike. Like the Rogue Echo, it is superior quality machinery and uses a belt drive. The difference is the Schwinn bike is not as bulky or wide, meaning it rocks a little during max outbursts. The fan is also noisier when you really get going.
The Airdyne Pro does have the option of three different grip handles for added customization.
---
Assault Airbike Classic
This fan bike is used at the annual CrossFit games.
The Assault Airbike is made with high quality parts. While it is sturdy, the base is not as wide and it weighs less than the Rogue Echo, causing gentle swaying during max outbursts.
The drivetrain is inferior to the Rogue Echo's. Chain drives make more noise but offer cyclists the ability to mimic the feel of road bikes while training.
The Assault Airbike comes in at a hundred dollars less than the Rogue Echo.
---
Frequently Asked Questions
What Muscles does the Rogue Echo Bike Work?
The resistance while pedalling the Rogue Echo fan bike helps build strong quads. A typical workout would have you sprinting in intervals for short bursts and long rests.
Pushing with your legs on a fan bike for maximum intensity is similar to weightlifting, but without the pressure on your back and knees.
The Rogue Echo also builds full body muscle endurance. The repeated push and pull exertion on your arms and legs during a long distance workout is great for this.
The upper body effort is akin to rowing, the lower body effort to biking, and the ability to go from an easy pace to resisted sprinting makes this fan bike a favorite for CrossFit enthusiasts.
Is the Echo Bike Harder than Assault Bike?
In short, yes. The handles weigh more, and the belt drive is harder to get going then the Assault bike's chain drive. It stops immediately after you stop pedalling.
This 8-12 % reduction on RPMs eliminates the "ghost" calories from accumulating in your total calorie count. This also means the lowest intensity workout mode is slightly more tiring than the Assault bikes.
If you're a perfectionist, this is a good thing. But it can feel discouraging for those who like to maintain a high RPM count.
For the same reasons, the ultra high responsiveness of the Rogue Echo hinders the overall cycling riding experience.
Unlike the assault bike, the Rogue Echo does not help sprinters with momentum. So, for the cyclers, it does not feel the same.
Does the Rogue Echo Bike Come Assembled?
No. But the complex parts are. Once unpacked, you install the base front foot and base rear foot.
Bolt the pedals, attach and tighten the mounting arm cables, then tack the LCD console on, insert and secure the left and right handles, and connect the foot pegs. Easy breezy.
What is the Warranty on the Rogue Echo bike?
There's a basic warranty on the Rogue Echo for two years, which is shorter than our alternatives.
The Assault Airbike has a 5 year frame warranty, the Schwinn Airdyne a 10 year frame warranty. Both cover parts for 2 years.
My Final Verdict
The Rogue Echo fan bike checks all the boxes. Sure, it offers what I think are essential parts as add-ons, but that doesn't affect the most important thing – the quality of the ride. And the Rogue Echo exceeds expectations on that end.
The Rogue Echo fan bike packs a punch – tough resistance, an immunity to shaking, and a fluid, almost noiseless experience.
Get the fan bike that'll give your muscles the best burn for your money. Click here to visit the Official Rogue Fitness Website.
More Product Reviews: