This post may contain affiliate links at no additional cost to you. As an Amazon Associate I earn from qualifying purchases. Click to view our full disclosure.
Nothing beats going for a good run! Running has a lot of amazing benefits for anyone and is great for leading a healthy lifestyle and blowing off steam.
One frequent challenge for females when it comes to running is that it can be a struggle to find the right footwear! For those who require running shoes with wider toe box, you can find the perfect fitting shoes by clicking the link.
But not to worry, you are in luck today as found the 8 Best Running Shoes for Female Runners with a heavy foot.
Without further ado, let's get started!
We earn a commission if you make a purchase, at no additional cost to you.
Asics is known for its great sporting wear that is durable and most importantly reliable. The Asics gel-cumulus is no different. It stands out from other running shoes due to its tactful combination of support, stability and yet still very lightweight.
Considering the fact that heavy runners often have a heavy foot strike, this shoe is built with a cushioning effect to help neutralize the impact.
The shoe offers incredible comfort as it features both rear and forefoot gel pads to allow a smoother and more shock absorbent transition as you are pushing your body to its limits.
The rubber sole ensures that there is sufficient impact absorption and grip so you can continue to run without your feet taking on any pain.
This shoe is constructed to relieve strain on your achilles, minimize ankle injuries and ensure you have enough shock absorption.
Furthermore, the shoe comes with a FluidRide midsole and the Impact Guidance System which enhances comfort and the runner's ability to improve her gait with the proper striking pattern from heel to toe-off.
The ASICS gell-cumulus is a great shoe and provides you with the comfort, support and correct you need from a running shoe.
Available in a variety of colors and sizes to suit any runner.
Pros
Comfortable
Lightweight and solid construction
Great support and improves gait pattern
Cons
More expensive
Runs slightly smaller
Some report the toe box to be too tight
Specs Overview:
100% Textile
Rubber Sole
Impact Guidance System
FluidRide midsole
Rearfoot and forefoot gel
Guidance Trustic System Technology
We earn a commission if you make a purchase, at no additional cost to you.
The Women's New Balance w990V4 Run Shoe is a great running shoe for heavy-footed individuals. Available in 3 colors, made of pigskin suede and mesh you get the support and breathability you need.
Constructed with a rubber sole, dual density collar foam and an ENCAP midsole provides amazing stability, arc support and intense shock absorption for the optimal comfort.
With this shoe, the chances and effects of musculoskeletal repetitive loading like ligaments, joints, and muscle pains are drastically reduced for heavy-footed runners.
This shoe is designed with enough space for toes and to lock your heel in to reduce slippage and blisters.
Unfortunately, some runners claim that the shoe was a bit heavy for their liking due to the additional padding and shock absorption. However, with the additional toe room and the benefits of reduce pain and impact many runners are in love with this design.
New Balance listened to its customers and brought out the W990 V4 and it has been worth it.
Amazing support and shock absorption with an increased tow space, there is no denying why this is one of the best running shoes on the market for a heavy footed female runner.
Pros
Good breathability and support
Excellent shock absorption
Good toe space
Durable
Cons
Heavy for a running shoe
Higher price end
Specs Overview:
75% Pigskin suede, 25% mesh
Rubber Sole
Dual Density COllar foam
ENCAP Midsole
No products found.
The Women's Nike Air Zoom Pegasus 33 run shoe is a perfect blend of style and comfort. There is no denying that Nike knows what they are doing and it shoes with this running shoe.
Available in a variety of color this design is simply striking.
Constructed for a heavy runner the rubber sole has been carefully engineered to minimize impacts and improve grip with its flex grooves.
It has a breathable upper mesh and Flywire cables to ensure secure and comfortable wear.
The Zoom Air units and midsole provides the optimum cushioning effect to supply all the comfort and cushioning you could need.
This shoe is built with a special responsive cushioning for the assurance of a seamless transition from your heel to toe to improve your gait pattern.
The sneaker is a deliberate design by Nike to assist heavy footed runners to improve their experience and it most certainly does.
Perfect for minimizing pain, aches and injuries that are common with running, especially if you are heavy footed – you should most definitely check out this pair of sneakers.
Pros
Breathable and high quality
Flywire cables
Light weight
Amazing support
Cons
Can require a little breaking in
Can be a little too narrow for those with wider feet
Specs Overview:
100% Synthetic
Rubber Sole
Zoom Air units
Improved support
High shock absorption
We earn a commission if you make a purchase, at no additional cost to you.
The Women's Mizuno Wave Creation Running Shoe 18 comes in two colors and offers a lot in terms of a running shoe. Designed specifically for support, comfort and shock absorption there is no denying that this is a one of a kind.
Offering U4ic midsole, U4ic strobel board and an articulated forefoot wave ensure you have the ultimate underfoot comfort and impact absorption you need.
Not only that, but it also enables a smoother transition and slowly improves your gait pattern, so you can run with maximum efficiency! Its 12 mm drop and full-length midsole are sure to adequately minimize impacts that can cause pain, aches and injuries while running.
With all this added cushioning you may think the shoe is on the heavy side, but it is not! It is still lightweight and incredibly durable.
Furthermore, the shoe has enough room for your toes, so you don't have to worry about them being squished!
With the addition of a soft heel collar, upper flexibility, stability, and an improved grip you know that you are ticking all the boxes.
Hit your running hard and pump it out with this sneaker. Improve stability and incredibly cushioning, you get what you need as a heavy footed runner.
Pros
Incredible shock absorption
Sufficient toe room
Improves gait pattern
Maximum comfort
Cons
Can run a little on the smaller side – order ½ size at least up
Can require a little breaking in
Specs Overview:
100% Synthetic
Wave Technology
Rubber sole
Full length midsole
No products found.
If what you want is a shoe that will make running and other exercises seamless for you, then what you are looking for is the Women's HOKA One One Clifton 5 running shoe.
Available in a variety of colors this design is optimized for comfort, durability and support while not compromising on aesthetics.
Constructed with a unique 5mm heel-to-toe drop sole for heavy runners, this shoe offers you every single comfort and cushioning effect you could want.
It comes with a redesigned upper mesh body that is engineered for maximum flexibility, comfort and breathability.
This is a design that you don't want to miss out on. Comfort, breathability, shock absorption and incredibly durable, you can't ask for much more in a quality running shoe.
Pros
Incredibly soft and cushioning
Maximum stability and balance
Great shock absorption
Cons
Colour along edge of sole can wear quickly
High heel can be uncomfortable at first – requires some getting use to
Specs Overview:
​ Synthetic and Leather
Rubber Sole
Heel-Toe Drop 5mm
Incredibly cushioning
Lots of stability
Improved shock absorption
We earn a commission if you make a purchase, at no additional cost to you.
The ASICS sports shoe brand is one brand that has made a name for itself as a leader in the sports shoe industry because of its consistency in offering sports shoes with great quality, durability and the maximum guarantee of comfort.
The brand has not disappointed with this model as the Women's ASICS Gel-Kayano 22 Running Shoe is another testimony to the brand's excellent record in the industry.
Designed with a stretchable mesh upper, Dynamic DuoMax and FlyteFoam Support Soul, and improved cushioning effects that have all been incorporated to provide maximum comfort and balance to heavy footed female runners.
Not only that but it has an amazing dura sponge around the toe area to help with absorption of impacts, combined a high abrasive rubber sole you get the durability and quality you need.
This sneaker is something to try with its rearfoot and forefoot gel cushioning, textured outsole and breathable mesh you can be certain that you are going to be comfortable running for hours on end.
Pros
Absorbs impact well around the toe area
Stretchable mesh upper for maximum flexibility while running
Dynamic DuoMax and FlyteFoam support sole
Cons
Many have found it to be a little on the heavy side due to the additional cushioning
Can require a little breaking in for optimal comfort
Does run small – best to try on in store prior to purchase online
Specs Overview:
​ 100% Fluidfit
Rubber Sole
Lace Up
Mesh overlays
Rearfoot and forefoot gel
Improved cushioning and support
High Abrasive Rubber Sole
We earn a commission if you make a purchase, at no additional cost to you.
​
This running shoe by Brooks is not only designed for women who are heavy runners, but it also improves your gait pattern and reduces any pain caused by improper running form or prior injuries.
Available in two colors, this sneaker is pleasing to the eye and most definitely one to be looking out for.The cushioning this shoe offers is unbelievable. Not only does it ensure a comfortable surface for your feet, it provides you with a bounce back effect to improve your running form and reduce any impact forces on your body.
The mesh upper provides you with breathability so your feet won't overheat and you can continue running for hours on end.
Made for the runner with a heavy foot, your transitions will be smoother and you will find that running has become a lot more enjoyable with these on your feet. The Women's Ghost 9 Running shoe is the perfect shoe to minimize injuries, improve running form and provide you with sufficient support and cushioning.
Pros
True to size
Enhanced cushioning
Great shock absorption
Durable
Cons
Can require getting use to due to the higher heel
Sometimes need a little breaking in for optimal comfort
Specs Overview:
​ Synthetic
Rubber sole
Breathable
Improved padding
Light weight
Omega flex grooves
​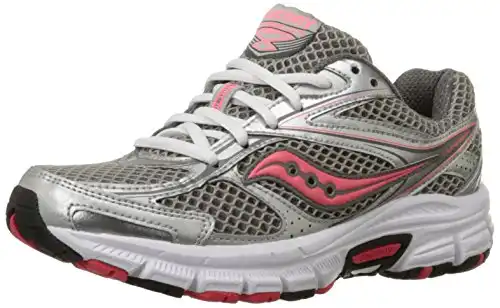 We earn a commission if you make a purchase, at no additional cost to you.
​
When it comes to running shoes, especially if you are heavy footed you need something reliable and comfortable. Saucony has provided just that with the Grid Cohesion 8 Running Shoe.
Available in a color combination of blue and green, you get the style and comfort you want. Taking the classics of any running shoe you have breathable mesh, rubber outsole and a heel grid system for stability. The outsole is made of XT-600 carbon rubber which is incredibly durable and reliable.
Not only that, but it will absorb a lot of impact every time you strike your foot and provide additional traction so you don't have to worry about a slip.
The midsole is made of a specialty foam known as IMEVA which ensure the rest of any impact is absorbed before it gets to your feet! This sneaker has been constructed with the biomechanics of a heavy footed runner in mind and it certainly does the job.
With improved comfort and stability, this shock absorbing shoe is no doubt a definite on this list.
Pros
More affordable
Lots of support
Great impact control
Cons
Can require a little breaking in depending on how you like your sneakers to fit
A little tight in the tow box for some
Specs Overview:
​ 100% textile and synthetic
IMEVA midsole
Carbon Rubber outsole
Additional padding and cushioning
Breathable mesh
FREQUENTLY ASKED QUESTIONS
Q. Is there a difference between men's and women's running shoes?
A. Yes, there is often a difference between men's and women's running and other sports shoes. This difference is mostly because of the variations that is present in the male and female feet.
According to biomechanists, the relationship between the forefoot and the heel is probably the biggest difference.
Women often generally have a narrower foot compared to their male counterparts and this needs to be addressed when it comes to the shoes an individual wears.
Thus, there is a difference between male's and female's shoes, often in build and size.
Q. What should women watch out for when choosing a running shoe?
A. There are quite a number of things you should watch out for when making the choice of a running shoe for yourself, ranging from the general build of the shoe, the soul builds, the material used for making the shoes, its durability, and most importantly, how comfortable and fitting it is on your feet among others.
The best way to find the perfect choice is by testing several brands in many sizes before finally making your choice of the one you are most satisfied with.
FINAL VERDICT​
All the running shoes that have been reviewed in this article are purchases you will not regret and will provide you with the comfort, support and stability a heavy footed running needs.
However, we have selected the ASICS Gel-cumulus 18 Shoe as our best pick for its amazing features like solid build, durability and ultimate comfort guarantee among others.
For the best pocket-friendly choice, we have selected the Women's Grid Cohesion 8 Running shoe by Saucony for its very affordable price, despite the so many wonderful features it carries and its high quality.
Pick up a new pair of sneakers and keep on running. You most definitely won't regret it!