I may receive small commissions through affiliate links contained on this page which doesn't add any extra cost to you. It helps support this website and I thank you. :) Please read the website disclaimer for more information.
A fast and easy meal with less than 7 ingredients to the low carb Ketogenic Mediterranean fish parcels recipe. Add to your ketosis diet recipe list or a healthy low carb meal for any weight loss program.
---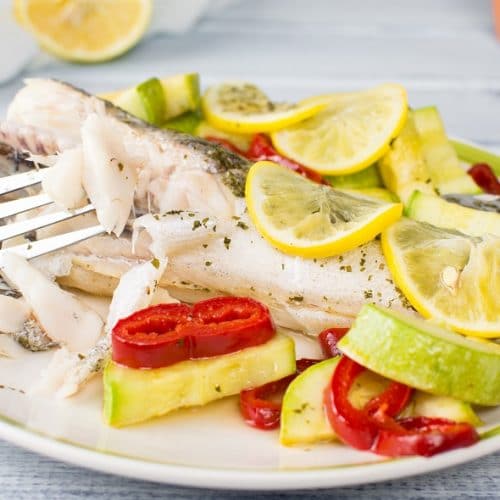 Print Recipe
Keto Mediterranean Fish Parcels
Ingredients
1

medium codfish

head and tail removed

1

tbsp

olive oil

1

zucchini

cut into halfmoons

1/2

red bell pepper

seeded, sliced

1

tspn

dried parsley

Salt and pepper

to taste

1/2

lemon

sliced, optional (either to serve with or to top the fish before baking)
Instructions
Heat your oven to 400F/205C

Take a large piece of alumium foil. Place the foil in front of you and cover with a piece of baking paper.

Place the fish in the center of the baking paper.

Season the fish to taste on both sides.

Place around the veggies and drizzle all with olive oil. Season the veggies to taste and sprinkle with parsley. If using lemon, top the fish with lemon slices

Lift the ends of the alumium foil, along with baking paper. Fold the sides to seal the top slitz. Fold over the foil on the both sides, and close the fish within the parcel. Place the parcel in a baking dish.

Bake the fish for 25 minutes.

Allow to cool for 5 minutes before opening as the steam may burn you.

Serve fish with veggies, lemon, and any cooking juices.
Notes
Calories
Total Fat 15.6g
Saturated Fat 2.1g
Cholesterol 0mg
Sodium 10mg
Total Carbohydrate 7.2g
Dietary Fiber 1.6g
Total Sugars 2.3g
Protein 24.8g
Ricky is the Founder of Exercise With Style with years of healthy lifestyle and performance hacking through regular Intermittent Fasting and stress management to maximize results whether that be for weight loss, building clean muscle mass, mindset, and optimal body function. You are at the right place in safe hands! Join the Intermittent Fasting Lifestyle community now by clicking here and downloading FREE Intermittent Fasting guide for weight loss.