This post may contain affiliate links at no additional cost to you. As an Amazon Associate I earn from qualifying purchases. Click to view our full disclosure.
Maintaining a fit and lean physique is one of the main staples of becoming a bodybuilder. For this, they require rigorous training where they have to focus on all the muscles of the body. However, the hassle of taking out specific hours to go to the gym is quite stressful since many people have full-time jobs as well.
This feature makes a power tower the best solution to start exercising at home. It will be a valuable asset for any home gym as fitness fanatics can enjoy the burn of exercise like pull-ups and dips in the comfort of their home.
We earn a commission if you make a purchase, at no additional cost to you.
Even for those shy beginners for whom the thought of going to a gym is a little daunting, they can curb their anxiety and work their muscles while at home. A power tower also has the added benefit of being a good solution for people that can't afford to work out during regular hours so turn to exercising at home whenever they can get time.
About The Product
A sturdy power tower is essential for all those workout needs, and that is exactly what Gold's Gym is aiming to provide. As the most reliable brand in the fitness world, Gold's Gym is promoting the importance of physical activity at home by introducing their new power tower.
As an icon of strength and durability, the Gold's Gym XR 10.9 Power Tower is a true gem in fitness equipment due to the advantages only it can solely provide to its dear users. Some notable features of this product:
Gold's Gym XR 10.9 Power Tower is the most versatile development in fitness training equipment due to its unique 4-in-1 design. This feature allows users to work on the abs by performing sets of knee raises and get a flat stomach as well.
Even the dreaded pushups become much easier on this power tower thanks to the comfortable grips that reduce hand strain so you can focus on your sets.
Build better arm muscles with the help of the multi-grip pull up bar that allows you to have more diversity in your exercise routine. The sturdy structure of the power tower makes it excellent for dips to strengthen your chest, shoulders and back muscles.
With a high withstanding capacity of 250 lbs, the Gold's Gym XR 10.9 Power Tower is sure to be the perfect solution for all your high-intensity work out sessions.
It has an appealing and sleek design complemented by the black/silver color scheme. The minimalistic and uncomplicated design contributes as an added advantage because this makes it easier to set up while using a power drill for screws can improve its potential as a whole.
This feature means you no longer have to cancel house parties because of out-of-place gym equipment; you can simply disassemble the power tower and put it away then assemble it just as easily afterward. The strong material used for the structure of the power tower is what makes it long lasting as well.
The arm and back supports are there to make sure that you complete a fully concentrated, comfortable workout without worrying about any unnecessary strain on them. The Gold's Gym XR 10.9 Power Tower only weighs a meager 88.1 pounds despite having such high withstanding capacity.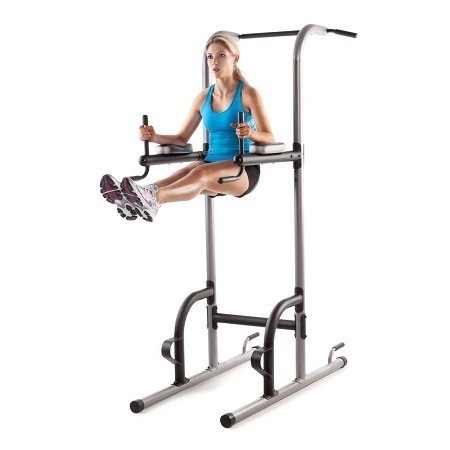 This feature is all due to the structure designed while keeping in mind aspects such as the center of mass during each different exercise. The weight of this power tower also makes it easier to transport so it won't feel so bothersome when you're taking your home gym to a different place.
The efficient dimensions make it a compact home-fitness solution compared to other bulkier models that would hurt the interior aesthetic of your home.
The soft, padded grips allow you to have a secure hold onto the bars without worrying about losing your grip due to reduced friction. The Gold's Gym XR 10.9 Power Tower comes at a highly affordable price that makes it a bargain that is difficult to find.
| Pros | Cons |
| --- | --- |
| Affordable | Dip And Pull Up Bar Height Non-Adjustable |
| Sturdy Build | |
| Unique Design Allows Diverse Workout | |
| Lightweight, Easy To Transport | |
| 250-pound capacity | |
| Easily Assembled | |
| Long-lasting | |
What Others Are Saying
Customers who bought the Gold's Gym XR 10.9 power Tower are extremely pleased with the product due to the design which allows them to exercise and work on all parts of their body effectively. Many users are happy with the fact that it has withstood all their high-intensity training and is still in good shape which makes it a long-term investment.
Fitness enthusiasts of all heights have complemented the design's inclusivity for athletes of taller heights and wider builds. Other buyers boast about the fact that it takes as little as 45 minutes to assemble which makes it highly convenient to move and put away if need be.
Buying Advice
Although a few users have complained about the structure being a bit wobbly when they use it, it is proven to be a sign of ineffective weight displacement.
We earn a commission if you make a purchase, at no additional cost to you.
Otherwise, the compelling benefits of the Gold's Gym XR 10.9 Power Tower make it the most affordable solution for exercising at home. Interested buyers can buy it from Amazon for the amazing price of about $120 and avail the extra benefit of free shipping as well.
Final Verdict
If you're looking to build a lean and muscular body without facing the tiresome routine of going to the gym, then you need an efficient way to help build that dream body in the comfort of own house. This reason is why the Gold's gym XR 10.9 Power Tower is the one equipment for all your exercising needs.