This post may contain affiliate links at no additional cost to you. As an Amazon Associate I earn from qualifying purchases. Click to view our full disclosure.
This is a review of the Cubii Jr. Seated Under Desk Elliptical.
As someone who works at a desk all day, I know the consequences of being sedentary for an extended period. You might not realize it, but you probably do too.
Brain fog, back pain, sore neck, crappy posture, and muscle weakness. You'll see that one in your core the most, and it can ruin all the work you're putting in at the gym.

The Cubii Jr. is a great way to add some activity to your day, without disruption. The device offers a low-impact sitting workout that is suitable for people of all activity levels and abilities, helping you offset the problems caused by excessive sitting.
In this review of the Cubii Jr., we'll walk you through everything you need to know about the device, get you up to speed on the benefits of active sitting (and the hazards of staying sedentary!), as well as offering our suggested alternatives for every need and budget.

Let's get started!
---
What is the Cubii Jr?
The Cubii Jr. is a little device with a big reputation. The product took the internet by storm with the rise of telecommuting jobs in 2020, receiving features in major publications such as Mashable, the New York Post, and Business Insider.
The device is an under the desk elliptical that allows you to exercise anywhere you can sit.
The small form factor and quiet operation of the Cubii Jr. make it ideal for places and situations you otherwise couldn't manage a workout, like in the office or during a movie at home.
Are Under the Desk Ellipticals Worth it?
Under the desk ellipticals are a great way to add movement to an otherwise sedentary part of your day, something almost all of us can benefit from.
While they aren't a 1-for-1 replacement for the full-body workout possible with other machines, devices like the Cubii Jr. make it possible for you to get a good workout with limited space and time.
To add more function and value to the Cubii Jr., the device was designed to allow you to safely anchor a resistance band between the pedals.
The addition of an exercise band can help you target muscles in your arms and core to turn up the intensity of your seated workout.
How does the Cubii Jr Work?
The Cubii Jr. uses a heavy freewheel to facilitate smooth low impact gliding motions as you pedal, in combination with powerful adjustable Magnetic
Resistance to provide the right level of tension to challenge and build your muscles while you sit.
Is the Cubii Jr Seated Under Desk Elliptical Worth it?
If you are looking for a way to increase your fitness level in your downtime, burn extra calories, and build muscle, the Cubii Jr is a great option. It's lightweight, easy to use, and near-silent to operate.
Even those who already use devices like exercise balls to practice active sitting in the office can benefit from the change of routine offered by the Cubii Jr.
We earn a commission if you make a purchase, at no additional cost to you.
---
Cubii Jr Overview
Compact, Light Weight, Portable
The small size of the Cubii Jr. makes it an incredibly versatile device. It fits into even the smallest studio apartment with room to spare and can easily be stored when not in use, so you don't have to make a permanent space for it.
This small size also means that you can exercise almost anywhere, like on the couch, which makes it so much easier to fit exercise into your day.
The low weight makes it easy to transport to and from the office if you want to inject a little exercise into your workday and fight off some of the negative effects of prolonged sitting.
Easy to Assemble
If you are intimidated by the idea of setting up the Cubii Jr., let me calm your fears. The Cubii Jr. comes mostly assembled, needing just four screws (and the included screwdriver!) to finish setting it up.
While the device comes with detailed instructions, it's really as simple as lining the pedals up on the device and attaching them using the provided screws, two for each pedal.
Exercise In Silence
The Cubii Jr. is quiet enough that you don't have to choose between watching a movie and working out. You won't be able to hear it at the office either.
Even when you're pedaling at your hardest during the most intense parts of your Netflix marathon, you won't get complaints from the neighbors.
That's because the Cubii Jr is designed to handle the most intense workout at a whisper-quiet volume.
If you have any noise problems with your Cubii Jr., the manufacturer will send you a new one free of charge for the first year, even if the device has been put through its paces.
Built for Fitness and Rehabilitation
The Cubii Jr. was designed with both fitness and rehabilitation in mind. The lightweight design makes it easy to set up and move the device, even with an injury.
Eliminating the seat and handles of a traditional elliptical makes this product a lot more accessible for those with mobility or pain issues. Users can set the Cubii Jr. up in front of mobility devices, beds, or a favorite chair.
The device also has 8 variable resistance levels so you can start where you're comfortable and work your way up without sacrificing the quality of your workout as you get stronger.
The higher levels offer enough resistance that even a regular at the gym should get a good workout using the Cubii Jr.
Track Your Workouts
Cubii Jr. has a built-in, easy-to-read LCD screen that shows you your progress across various metrics including calories burned, strides pedaled, distance traveled, revolutions per minute, and more!
Product Specifications
Dimensions: 23.15 x 17.54 x 10 inches
Weight: 27.65 lbs
Pedal Measurements: 14 x 6 inches
We earn a commission if you make a purchase, at no additional cost to you.
---
What are the Pros and Cons?
Cubii Jr Pros
The Cubii Jr. has all the fitness potential of a full-sized machine in a compact form factor, making it perfect to use wherever you go. When you're not using the Cubii Jr., it easily slips into a corner or closet. Let's see you do that with a regular elliptical.
Quiet Enough to Use While You Work
Everyone wants to get fit, but no one wants to be the guy bringing down productivity at the office with his New Year resolution. With the Cubii Jr., you don't have to choose. The device is quiet enough even for use in a shared cubicle.
While the Cubii Jr. is versatile enough to offer a workout to people of all fitness levels, it is an amazing tool for people who need an accessible and gentle option due to injury or age.
Adjustable resistance levels give you total control of your work out
Cubii Jr Cons
No Bluetooth or App Support
Unlike the Cubii Pro, the Cubii Jr. can't be synced with Apple Health Kit, FitBit, or the Cubii app. This leaves users to rely on the device's LCD screen to keep track of their workouts and manually log calories burned.
No Backlight on LCD Screen
The Cubii Jr's LCD screen is an extremely useful feature, but the screen has no option to toggle on backlighting, making the screen hard to read in some conditions
The lightweight plastic design of the Cubii Jr. can't be maintained and is more prone to breakage over time.
Alternatives to the Cubii Jr.
If you're in the market for a mini elliptical but you aren't sure if the Cubii Jr is the one for you, there are several good alternatives available to suit every need and budget.
Cubii Pro
The Cubii Pro is a bit heavier than the Cubii Jr., weighing in at 32 lbs, but that extra weight brings with it two new major features. Unlike the Cubii Jr., the Cubii Pro can be operated while sitting or standing using a secondary 'upright' operation mode for a more intense workout.
The Cubii Pro is also the only under the desk elliptical that can connect to leading fitness apps like Fitbit and Apple HealthKit, allowing users to track their activity to share their workout data online.
Users can also download the Cubii app for more features to compete in just-for-fun events against other people in the community.
For an extra $100, the Cubii Pro brings some impressive features to the table that may make it a better fit for many on their fitness journey.
No products found.
---
Fitdesk
The FitDesk is another compact elliptical option comparable directly to the Cubii Jr., the $169 price tag makes it a little budget-friendlier while offering much of the same functionality.
The device was built to replicate the smooth gliding movement of full-sized ellipticals in a compact package and allows users to pedal both ways fluidly.
Like the Cubii Jr., the Fitdesk comes with a non-backlit LCD screen to keep track of calories burned, distance pedaled, and session length.
---
Stamina 55-1602 Inmotion Elliptical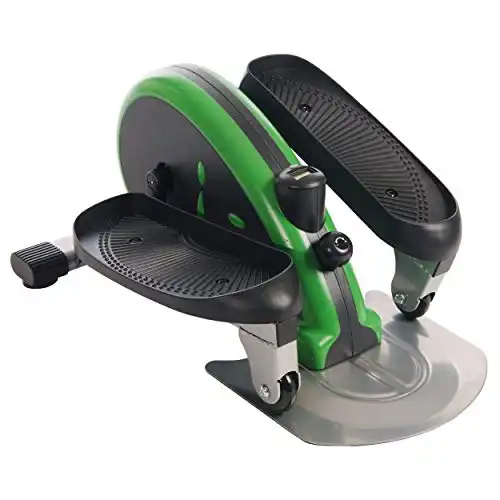 If you are looking for versatility on a budget, the Stamina 55-1602 Inmotion Elliptical might be just what you need.
If you are looking for versatility on a budget, the Stamina 55-1602 Inmotion Elliptical might be just what you need.
The device has many of the features of the Cubii Jr., including a compact design and LCD monitor, at almost one-third of the price. Despite its steel frame, the Stamina weighs almost two pounds less than the Cubii Jr.
The Stamina can be used while sitting or standing, with pedals operating smoothly in both directions to enable you to target different muscle groups with your workout.
---
Cubii Jr Reviews
With more than 7,000 published reviews on Amazon, it's easy to get a better look at how the Cubii Jr. measures up. Users consistently rate the device as well-made, easy to use, and report a positive workout experience.
Other reviews note that the plastic screws used in the assembly and the foot pedals are prone to breakage, even without much use.
A consistent thread throughout the reviews across the spectrum is that the customer support provided by Cubii manufacturer, Fitness Cubed, is top-notch.
Many reviewers mentioned quickly receiving replacement parts and units at no cost after mentioning issues with the device in their reviews.
Frequently Asked Questions
How many calories can you burn with the Cubii Jr?
The average user of the Cubii Jr will burn an estimated 150 calories per hour of activity.
Your results will depend on the resistance level used and the speed you are pedaling at, but you can track your progress using the LCD Display or by connecting the Cubii to a fitness app like My Fitness Pal or Apple HealthKit.
What are the benefits of active sitting?

Sitting for the standard 8-hour workday, five days a week, has a significant impact on your body over time, causing you to lose core and abdominal strength, deforming the spine, and causing pain, headaches, circulation issues, and mental fog.
Active sitting is a simple change that feels like a miracle. The addition of activity at your desk can help you burn calories, improve your posture, relieve back pain, strengthen muscles in your core and legs, tighten your abs, improve circulation, and increase mental clarity.
Active sitting exercises are also low impact, making them a safe option for people who are recovering from injuries or otherwise have limited abilities.
Can you get a good workout from a mini-stepper?
A mini stepper or elliptical like the Cubii Jr. is a great way to burn a steady stream of calories during times you would otherwise be idle.
Increasing the level of resistance and keeping a decent pace will give you a solid workout and help you build muscle, but don't expect your workday workout to produce the results of High-Intensity Interval Training.
What kind of warranty does the Cubii Jr. come with?
The product comes with a one-year limited warranty through the manufacturer that customers will need to register online. The warranty covers the replacement of parts that wear out or break during normal use, as well as defective units.
Customers report excellent service from Cubii manufacturer Fitness Cubed, quickly receiving replacements for worn or damaged parts at no cost, even months out of warranty.
The company also offers a one-month, no questions asked, money-back guarantee on the purchase of any Cubii machine.
Does the Cubii Jr. come with any accessories?
The Cubii Jr. comes with a screwdriver to assemble the device, and two wheel stops to hold your office chair in place while you work out. The company offers a line of complimentary fitness accessories including an anti-slip mat for optional use with the Cubii Jr. and Cubii Pro.
Final Verdict
The Cubii Jr. offers a quiet low impact workout solution you can take on the go. It's a great device for anyone looking to cut down on inactivity in their day, providing an accessible variable workout for people of all fitness levels.
If it's time for you to bring some fitness into your life, check out the Cubii Jr, available in two colors from Amazon.