This post may contain affiliate links at no additional cost to you. As an Amazon Associate I earn from qualifying purchases. Click to view our full disclosure.
Hello, and welcome to my deep dive on the Octomoves flow rope.
Why would I review a rope? More to the point – why would you (or anyone, really) find a particular brand of rope remotely revolutionary?
Well, because a lot of cardio is boring. The treadmill gets old quickly. Not every environment is good for a long run. You have to mix it up to keep it interesting.
Octomoves Flow Rope
Choose Your Rope
We are reader funded, which means we earn a small commission if you make a purchase, at no additional cost to you. We appreciate the support!
But no matter what machine or activity you choose, cardio tends to be repetitive. We perform the same motion, over and over again, to elevate that heart rate and burn calories.
As I'll share, a flow rope offers something much more dynamic. You can get cardiovascular benefits plus some other enticing improvements. All without being stuck on one type of movement.
Keep reading my Octomoves flow rope review to get the full scoop.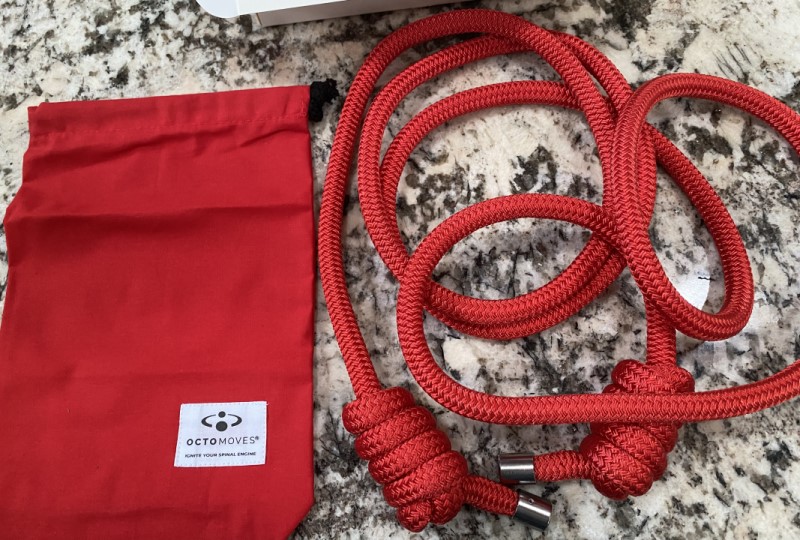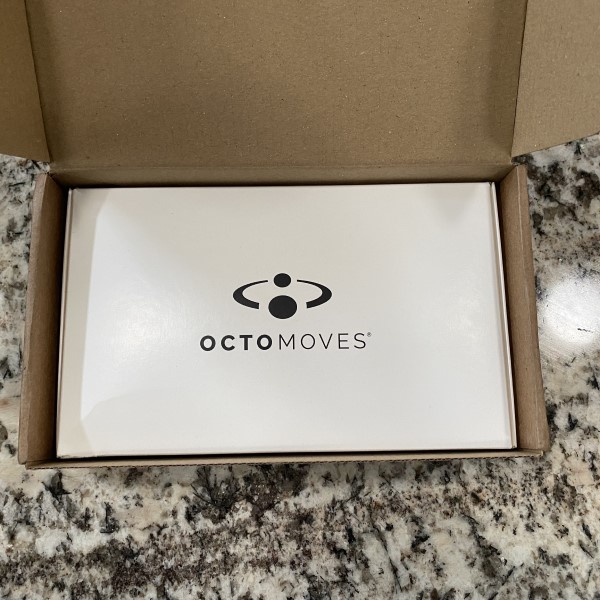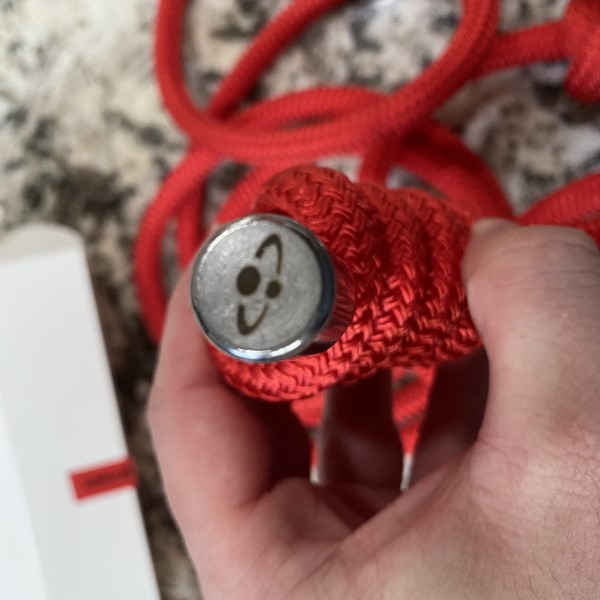 Octomoves Overview
When I first heard about this product, I thought of jumping rope.
(Some of you probably did, too. It's okay.)
However, this is not exactly a jump rope. It's also not like the heavier battle ropes you may be familiar with via Crossfit.
The Octomoves rope is for a newer type of fitness called rope flow.
People of all ages and fitness levels can do this. Rope flow lets you use your full range of motion to improve coordination, balance, endurance, and flexibility.
It involves moving your weighted rope in different patterns for fitness, stress relief, recovery, and more.
It's athletic and artistic at the same time, bringing to mind movements we perform when we practice martial arts or dance.
In fact, one of the Octomoves founders was introduced to rope flow while practicing Kung Fu.
Some routines are reminiscent of parkour or tai chi, while others may look like more traditional aerobic movements.
This versatility is the reason why there's more than one type of rope, and why you must choose carefully – more on that coming up.
For now, one fact that may surprise you is how many professional athletes include rope flow in their training.
Olympic baseball players, professional windsurfers, and martial artists – all benefit from the improved coordination and mind-body connection rope flow provides.
Best of all, getting started is simple. There's no machinery. It can be done anywhere there's some free space. All you need to begin is the right rope.
Octomoves Flow Rope
Choose Your Rope
We are reader funded, which means we earn a small commission if you make a purchase, at no additional cost to you. We appreciate the support!
Types of Flow Ropes
First, I strongly recommend that you take Octomoves' quiz for choosing a rope.
It's really short, and just gathers a little info on your goals, preferred training method, budget, et cetera.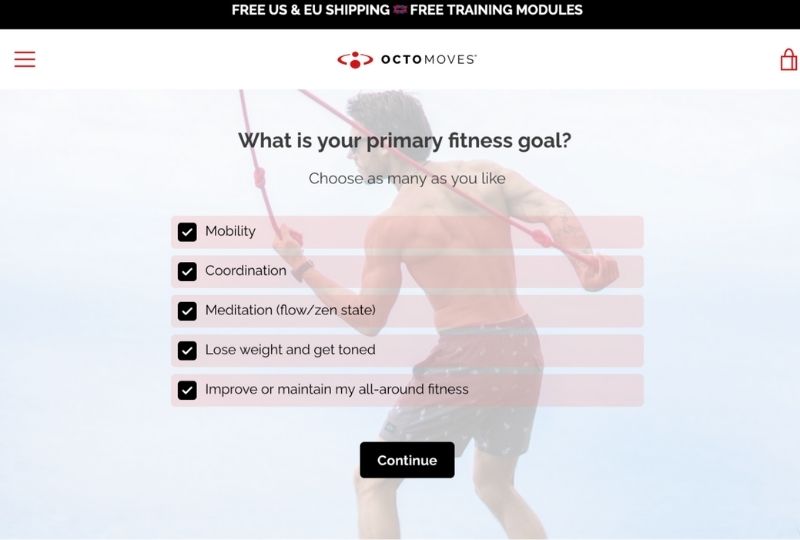 As you can see, I went into this with nothing but goals.
Here's a brief overview of the types of Octomoves ropes.
Phoenix
The Phoenix is one of the two heavier ropes, weighing in at 1.1 pounds. It's about half an inch thick.
This rope is designed for those who want to use a flow rope as part of their recovery, relieving stiffness and pain.
Dynamic movement is recommended by pros for preventing injury and optimal repair. Don't overlook the Phoenix simply because it's not touted as a muscle-builder; this rope can definitely do both.
Black Swan
As best I can tell, the Black Swan is just like the Phoenix, except it's black. Same thickness and weight, same material, same price (we'll discuss pricing further in a bit).
However, the website advertises this one for calorie burn and muscle-building.
The material and the weight are what matter most in choosing a rope. Both the Phoenix and the Black Swan are heavier ropes good for muscle building, calorie burn, and recovery.
It's how you use it that counts.
Octomoves Flow Rope
Choose Your Rope
We are reader funded, which means we earn a small commission if you make a purchase, at no additional cost to you. We appreciate the support!
Flowzilla
The Flowzilla is the first of two lighter options, weighing in at .99 pounds and measuring a half-inch thick. Its braiding is a bit more rigid than the other ropes Octomoves offers.
If you want to enter a meditative flow state and chip away at some stress, pick Flowzilla.
Moving meditation is highly effective and unfortunately underrated. You don't have to sit still, but you get all the peaceful, mood-boosting benefits of a seated practice.
Funky Zen
This is the lightest, slimmest, easiest-to-handle Octomoves flow rope. It's a mere .66 pounds and less than half an inch thick.
Funky Zen is your pick if you're recovering from an injury or have limited mobility. It's a good way to gently ease yourself into dynamic movement and support skill expansion.
Things to Consider Before Buying a Flow Rope
The purposes associated with the above rope types are really just the beginning in choosing the right rope.
Here's what you need to be asking before you buy any brand of flow rope.
How much should my flow rope weigh?
As we learned here, the heaviest rope is just over a pound. That sounds incredibly light until you're swinging it around for an extended period of time.
If you want gentle movement or anti-stress routines, do yourself a favor and pick the lighter ropes.
They are lighter for a very good reason – they support the patterns that create an effective practice.
What is the flow rope made of?
So, I just told you about a thing called rope flow and you think, "Hey, I've got a length of old rope in my garage, good enough!"
No. The weight, the braid, and the material of the flow rope are all integral to roping success.
Octomoves isn't selling the average hardware store rope. It's nautical-grade material for air drag resistance. It's more difficult to flow with just any type of rope.
Plus, the type of material Octomoves uses is more durable than other all-purpose ropes.
If you're dragging your flow rope across concrete or asphalt, or it gets whacked across trees, walls, or what-have-you in the process, you want it to last.
Is the flow rope easily adjustable?
First, your rope needs to be long enough to be adjusted for your size. Octomoves ropes are nine feet long.
This is another reason why material matters. The nautical-grade fibers are easy to knot and unknot without fraying the rope too quickly.
You can see more about adjusting the rope here:
Octomoves Flow Rope
Choose Your Rope
We are reader funded, which means we earn a small commission if you make a purchase, at no additional cost to you. We appreciate the support!
Octomoves Features & Benefits
Now, let me share what gives Octomoves potential. Here are the biggest features and benefits you can get from the brand.
Training Modules
So, your trendy new thing arrives in the mail. You were excited when you read about it, but now that it's in your hands, you feel differently.
Listen, I can't tell you how many gadgets I've been amped about that I barely look at now.
A lot of these items come with instructions and guidelines, but once I get acquainted with them, there doesn't seem to be anywhere else to go.
Research finds that this is why a third of us get buyer's remorse; we simply don't use what we buy.
Well, Octomoves doesn't just give you instructions and tips for starting. There are entire training modules that help you get the best results for your intended purpose.
Therefore, you get the results that make this very simple item worth the space it takes up.
We all start in the same place: The Cardinal Laws of Rope Flow
Your Octomoves rope WILL come with a complimentary training module with an estimated value of $99.
From there, the module works you up to some pretty cool moves.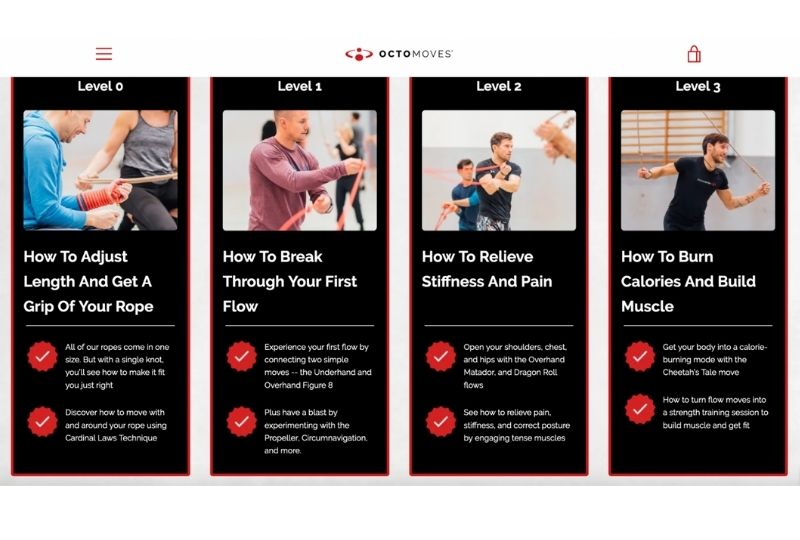 Pay careful attention to that "How to Break Through to Your First Flow" training. Once you absorb that, you're going to enjoy the next benefit I talk about in a minute.
Extra modules are available for purchase. If you want to see what all the Octomoves fuss is among professional athletes and martial artists, you might want to try Dragon King Training:
The Freedom of Rope Flow
Rope flow is a highly versatile, customizable activity you can do on your own practically anywhere.
If you can get the hang of this, you'll never be without an engaging, dynamic exercise.
Your backyard, your driveway, the beach, the park, or even as a warm-up or cool down in the gym – it's not hard to find room for this.
Nail the technique during training and you can start creating your own flows or freestyling on the fly.
You can even keep muscles warm while waiting for your turn on the green, like this golfer:
Diverse Array of Physical and Mental Benefits
One reason we don't derive enough value from fitness equipment is that so much of it is only good for one thing – and one thing only.
The treadmill to burn calories. The dumbbell to build muscle. The mat to stretch. First, you have to buy all of it, then you have to use all of it.
Not to mention, a lot of fitness equipment isn't very inclusive. Octomoves is just as good for injured or less-abled people as it is for athletes.
Here's why everyone can enjoy rope flow:
Reduces stress – Don't even think about waiting to manage your stress only after you lose weight. Weight gain and stress often go hand-in-hand.
Adding rope flow to your workout helps you achieve holistic fitness, and the brain-body benefits don't end there.
Trains both sides of the body for better coordination – This is a cognitive benefit as much as it is physical. Both recovering or elder users, as well as athletes, engage both sides of the brain and body for rope flow.
Physically, engaging the non-dominant side of your body can help reduce pain associated with the common imbalance.
Good for joints and mobility – We all tend to hold our bodies in specific ways, even when working out. Rope flow helps us break out of our usual postures.
Whether it's much sitting or too much heavy lifting, get better rotation by airing out those inactive muscles and ligaments.
Makes cardio fun – I'm a big believer in changing up cardio every week. Otherwise, I just won't do it. Some weeks it's kickboxing, sometimes it's the

Stairmaster

, sometimes it's spin class.
Among all of these, rope flow is a blast. You can adjust the intensity, making it an everyday warm-up before yoga or pilates. Or, you can make good use of the intermediate training modules and really get moving.
When I don't feel like anything else, or I'm not near the usual cardio equipment, grabbing the rope is always an appealing option.
Octomoves Flow Rope
Choose Your Rope
We are reader funded, which means we earn a small commission if you make a purchase, at no additional cost to you. We appreciate the support!
Octomoves Pros and Cons
Now that we've got enough info, here's my quick breakdown of the pros and cons.
Octomoves Pros
Trains coordination, flexibility, strength, endurance, and more.
A quality product handcrafted in Europe.
Lots of guidance and resources set you up for success.
Low-impact, supports healthy, functional, everyday movement.
Octomoves Cons
Can seem expensive for "just a rope."
There is a learning curve.
You might need more than one rope if you want to focus on different benefits.
Social Proof
I never buy a product without seeing what others are saying about it, and neither should you!
There are plenty of reviews on the Octomoves website, although none seem to be lower than three stars. That said, they do seem to be genuine reviews. Here's a sample:
"I received my rope just after I broke my right arm. My left side has been stressed due to overuse, having the rope and starting with a gentle swing has loosened up my shoulder and muscles on that side relieving the pain. Cannot wait to heal up and dive into this! I'm in my mid 60's and this looks like so much fun and low impact, I'm getting my rope exercise playlist ready!"
"I am still working on getting started with the lessons, the coordination is taking me a while to get down."
All in all, the reviews help prove that rope flow really is for everyone. Hardcore athletes, meditation teachers, and people recovering from an injury.
Octomoves is also pretty active on social media. So, I took my investigation to their profiles.
Social Media Presence
You can find Octomoves on Facebook, YouTube, Pinterest, Instagram, and TikTok.
Of these, I think I became more familiar with the brand via TikTok and YouTube.
First up is TikTok. The official Octomoves profile there isn't incredibly active, so I recommend following the founder, @rokasmove.
There are a lot of tips and challenges posted quite regularly. You should also keep an eye on the hashtags if you want more ideas for your own rope flow practice.
Because I'd never even heard of rope flow, the YouTube account was very valuable.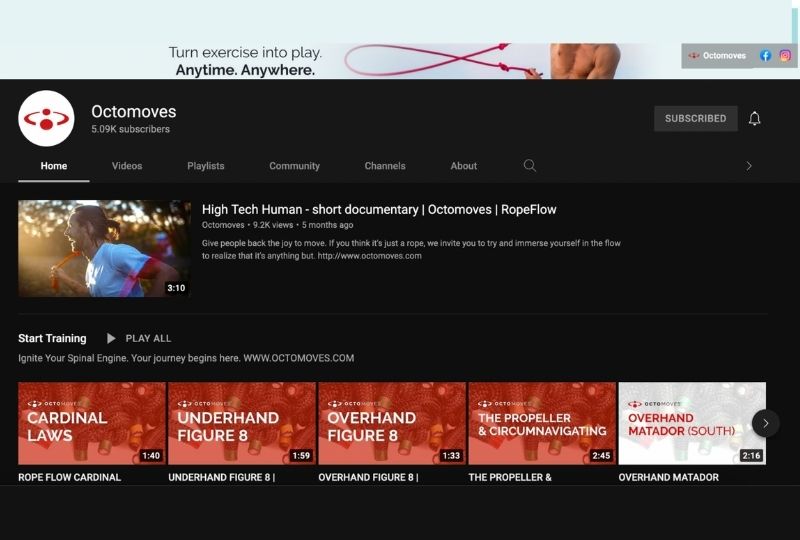 There are a lot of short, informative videos there any time you want to practice a new move. If you end up getting a rope, check it out.
Rope Training Products: Octomoves Alternatives
Naturally, there are other ropes available on the market. One I found during my research was the WeckMethod RMT rope.
WeckMethod offers one rope, not a whole range like Octomoves. The rope is slightly lighter and shorter than Octomoves' Black Swan and Phoenix ropes.
Also, it is a cheaper product – and you can tell by looking at it.
That isn't to say you won't find it helpful for seeing whether or not rope flow is right for you. It just probably won't hold up as long as an Octomoves rope.
Octomoves Flow Rope
Choose Your Rope
We are reader funded, which means we earn a small commission if you make a purchase, at no additional cost to you. We appreciate the support!
Octomoves Price
Given that I've just shared a budget alternative, let's look at what Octomoves costs.
Right now, the Black Swan, Phoenix, and Flowzilla ropes are all available for $80 – marked down from $95.
The Funky Zen is an even better deal, marked down to $70.
There is usually a limited edition rope available in the Octomoves store. Right now, it's the Shenron, also marked down to $80.
Want to add a little weight to your rope? Choose an OctoForce weight bag with a flow rope of your choice for the sale price of just $105.
There's usually some type of coupon code or promotion going on at Octomoves, so check the site carefully before buying.
Octomoves Company Details
If you have more questions or want to get in touch with Octomoves, here's how:
First, you can send them a message via the form on their website.
Or, you can email them at [email protected].
The company is based in Europe.
Octomoves Flow Rope
Choose Your Rope
We are reader funded, which means we earn a small commission if you make a purchase, at no additional cost to you. We appreciate the support!
Final Thoughts
Overall, I'm very satisfied with my decision to try rope flow.
It can be a good stretch, a stimulating warm-up, a fun cardio session, or an artistic expression. It just depends on what you feel like that day.
If you saw anything you liked in this review, there's no harm in taking the Octomoves quiz – it takes less than a minute.
And if you've tried rope flow – let me know! What are your favorite moves, and where and when do you practice? Share in the comments.
More Product Reviews: