This post may contain affiliate links at no additional cost to you. As an Amazon Associate I earn from qualifying purchases. Click to view our full disclosure.
If you're like me and love to do bag work for fitness and practice your self-defense techniques, but no longer have a gym membership and live in a small apartment.
Read on because I have done thorough research to find out what are the best punching bags for apartments that are super quiet and compact.
I have chosen items that are best suited for small apartments or home gyms and aren't required to alter, screw or hang a punching bag.
What to consider when buying a punching bag
There are a few key points to consider when living in small apartments. It's important to know certain punching bags just aren't practical in apartments.
Keeping this in mind I have chosen exercise equipment best suited based on the requirements below.
Assembly Requirments
You may require some time to assemble or set up in the desired location however, very little time is required and once complete you're set.
Size & Weight
It's important to keep the weight and size of the punching bag in mind as you may not have room to store it or could be too awkward and heavy to move regularly.
I've chosen items that are small to large, light and heavy depending on if you keep them unfilled or filled with water or sand.
Punch Bag Durability
Of course, the material your punching bag is made from is extremely important due to the intensity and impact the bag will receive during your workout. 
Traditionally, punching bags were made of leather. Today, punching bags are more versatile and cost effective due to the material used like vinyl, nylon, canvas, and plastic. All are suitable and extremely durable.
Storage
Storage is a premium when living in an apartment or small house. In my apartment, I have an exercise corner. It's out in the open and I store what I don't use away.
If you're like me and don't mind your exercise equipment in the living room then, happy days. I have recommended a number of items that are easy to store away and some that are not so easy to store.
Noise Level
Most modern apartments are better soundproof but are not perfect.
Typically, traditional hanging bags vibrate and this isn't a good idea when living in apartments. You will want to opt for a free standing punching bag or doorway mounted.
BEST PUNCHING BAGS FOR APARTMENTS
EDITORS PICK
1. Quiet Punch Home Gym
We earn a commission if you make a purchase, at no additional cost to you.
After tireless searching for the perfect apartment punching bag, I have to admit the Quiet Punch is the most convenient punching bag designed for doorways in apartments or houses.
Quiet and super compact with easy installation makes the Quiet Punch the recommended punching bag for small spaces.
With the unit weighing only 4 pounds, perfect for suitcase travel and setting up in hotel doorways.
With similar qualities to a double-end bag, due to the resistance bands attached through the bag rather than a heavy bag. Better for low impact workout without damaging your shoulders or joints.
If you enjoy tutorials and exercise routines the Quiet Punch app has plenty of content to follow along.
Reviewers estimate roughly 60 seconds to install and 30 seconds to remove. While others recommend installing in a cupboard doorway so not required to remove at all!
The 12-inch punching bag is made from PVC, packed with composite foam and 2 aluminum adjustable tension rods. Fits most standard-size apartments and hotels. Best fits are measured at 28″ – 36″ doorways.
There are a number of drawbacks with the Quiet Punch: I recommend sticking to jabs and straight punches at first and caution should be used if attempting hooks or uppercuts. You may find yourself punching the wall if you miss which can cause serious injury.
It's a good idea to invest in hand wraps or gloves when using the Quiet Punch to avoid injury and these aren't included.
Some users reported difficulty with the unit coming loose while exercising.
This may be from the unit not sitting correctly or not tight enough. Most reviewers don't report having this issue but noteworthy.
Why I Seriously Like The Quiet Punch: The ability to simply and easily install the Quiet Punch under 60 seconds and complete a 10-minute workout really appeals to me.
For $3.99/month you can have access to all Quiet Punch home workout programs or take advantage of their free Youtube workouts.
The fact that you can remove it in under 30 seconds is a big bonus and storing it away under a bed or top of a cupboard ticks the boxes for storage.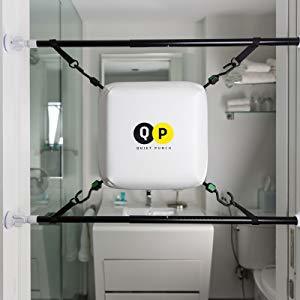 Little to no noise while training is required in a small apartment and will emit very little vibrations. Super important!
Yes, you're limited to certain punches, but with time you will start to incorporate hooks and uppercuts once your timing improves.
It's important to protect your hands if you accidentally hit the wall or aluminum rod. Can't stress this!
Finally, after reading many reviews customers were really happy with customer support from the Quiet Punch team and were very happy to accommodate their customers if any issues arose.
| The Good | The Bad |
| --- | --- |
| Super simple to install | May scratch doorway jambs |
| Great for small spaces | Only fits 28″ – 36″ doorways |
| Excellent customer support | May fall out of doorway if hit too hard |
| Can travel with Quiet Punch | Limited to certain punching styles |
| Compact & minimal storage | May cause injuries to hand if used incorrectly |
| Perfect for cardio workouts | Only upper body workout |
| Great for boxing techniques | |
| Low noise & vibrations | |
| $3.99/month Quiet Punch workout App | |
| Plenty of free YouTube workouts | |
Check price and read more reviews of the Quiet Punch on Amazon
---
2. EZspeedbag Doorway Speed Bag
We earn a commission if you make a purchase, at no additional cost to you.
During my research for punching bags, I found the EZspeedbag that is designed for doorways in any apartment or home. Although technically not a punching bag, it will be a great combination to have with the Quiet Punch home gym or perfectly fine on its own.
Great for a quick workout and improving your motor skills! Speed bags are highly recommended if you train in Boxing, MMA or any martial arts.
Most speed bags require drilling an expensive frame and brackets to install, however the Ezspeedbag is made to fit most doorways without the need for drilling (is optional but not necessary).
The bag is made from top-grade leather and a durable 18" backboard made with hard plastic. Fits in any 27″-42″ doorway.
There are a number of drawbacks with the Ezspeedbag: Depending on the height of your doorway, people under 5'8" in height might not reach the speed bag comfortably.
The company sells an adjustment bar if your doorways are too high.
Some reviewers do mention the difficulty in installation. It can take 5 minutes to set-up the speed-bag but after a few installs, you'll surely do this a lot quicker.
The Ezspeedbag generates some noise due to the nature of the exercise equipment. It isn't excessive and shouldn't be an issue in apartment living. With any doorway equipment, it may remove paint so be mindful while renting!
Why I Seriously Like EZspeedbag: The fact that you can have a speed bag in your home without installing large frames and brackets really appeals to me.
I'm always on the lookout for fitness equipment for small apartments that won't take up room and can be stored away.
If you're on the road for work and stay at hotels, the Ezspeedbag is super portable and won't take up too much space inside your vehicle as it's compact and lightweight. Can be installed in any hotel, dorm room, and office.
It's extremely important to improve and maintain your motor skills for your everyday well-being. Awesome cardio workouts with the Ezspeedbag all while improving hand-eye coordination. Great for your mind and body!
| The Good | The Bad |
| --- | --- |
| Improves motor skills | May generate slight noise |
| Excellent cardio workout | Requires some time to install |
| Made with top grade leather | May remove paint from the door jam |
| Lightweight & durable | Difficult to use for shorter people |
| Portable & fit any doorway | |
| Doesn't require drilling | |
| Free Youtube workouts | |
Check price and read more reviews of the EzSpeedBag on Amazon
---
3. Ringside Fitness Reflex Bag
We earn a commission if you make a purchase, at no additional cost to you.
After reading through countless bad reviews and quality control issues of other brands I concluded the Ringside Fitness Reflex Bag was the best on the market for small apartment exercise equipment.
One reviewer lived on the second-floor apartment and was pleasantly surprised about the quality of the product.
The reflex bag is made from a super strong synthetic leather with metal rod and spring with a plastic base. The plastic base tank can be filled up to 125 pounds of water or 240 pounds of sand. The height is easily adjusted to accommodate any size from 49" – 69".
This is the reason why I included a freestanding reflex bag in the mix. Super easy to assemble and store away when not in use. Although I would recommend keeping it assembled as it doesn't take up much space at all and you can move it into the corner or spare room after use.
There are a number of drawbacks with Ringside Fitness Reflex Bag: One considerable drawback is filling the base with water or sand. Once the base is full it also adds considerable weight to the item making it difficult to move.
Although it is super easy to assemble. The original set-up time can be anywhere from 10-15 minutes. According to other users, the disassembly time is much easier with an average time of 5 minutes.
Why I Seriously Like Ringside Fitness Reflex Bag: After combing through many similar products I found the Ringside Reflex Bag had the most promising reviews and product quality was the best out there.
The reflex bag is the perfect apartment exercise equipment as it's footprint is small and many users report it doesn't move at all while in use. Where other similar products users mention their reflex bag would shift during a workout.
Has minimal noise during the most intensive workout, however the bag hitting will emit low-level noise.
The Ringside Fitness Reflex Bag is perfect for Boxers, MMA fighters or simply a cardio workout in the comfort of your home. You will be developing hand-eye coordination, timing, and accuracy with the reflex bag all while completing an intensive cardio workout.
| The Good | The Bad |
| --- | --- |
| Gloves are included | Heavy when plastic tank is full |
| Bag pump included | Emit low-level noise |
| High quality material used | Assemble time 10-15 minutes |
| Adjustable heights | Can cause facial injuries |
| Simple to assemble | More pricey compared to others |
| Enhances motor skills | |
| Intensive cardio workout | |
| Doesn't shift during workout | |
| Small footprint | |
Check price and read more reviews of the Ringside Fitness Reflex Bag on Amazon
---
4. Century BOB Body Opponent Training Bag
We earn a commission if you make a purchase, at no additional cost to you.
One of my most favorite training partners is Bob. He's a durable and one-tough son of a gun. Century Bob is a practical training bag for full body cardio workouts and a great tool for practicing martial arts with a realistic target.
Reviewers were very happy with the strength of Century Bob and preferred this over a regularly heavy bag due to his life like appearance. Many user had Bob for years and put him through the wringer, without any issues.
This is because the outer layer is made from high-strength plastisol and packed with high-density urethane foam.
Perfect for any height with 7 height adjustments from 60 to 78 inches. The base is round for easier maneuvering for storing and shifting Bob.
There are a number of drawbacks with Century Bob Training Bag: With any small apartments or home gym, space is limited. Compared to other fitness equipment Bob has a small footprint but once the base is full can be difficult to move!
With a round base, this can make it easier to maneuver but will be awkward.
A few reviewers mention the bolts that hold Century Bob to the base come loose after a few sessions. One user mention he used Loctite for the screws and doesn't have issue with bolts coming loose anymore.
One other considerable mention was the large base can get in the way of your footwork.
Why I Seriously Like Century BOB Body Opponent Training Bag: Due to Bob's life-like features, it feels more realistic and practical when training in martial arts. Bob's height is fully adjustable which is super handy as you can kick, knee and grapple all while having a full body workout.
The initial assembly is super easy but may take some time to set-up due to filling the base with water or sand. You will have a few bolts to secure Bob to his base and it's advised to use some Loctite. After the initial set-up, it requires no additional work.
Another important aspect is Century Bob emits next to no noise while in use, other than the thuds from contact. Perfect for apartment living!
| The Good | The Bad |
| --- | --- |
| Realistic training bag | The base can interfere with footwork |
| Super durable material | Awkward to move into storage |
| Emits low-level noise | Heavy once the base is filled |
| | Bolts may come loose |
| Adjustable heights | Locktite is required for bolts |
| Positive reviews from buyers | Initial assembly time required |
| Small footprint | Little on the pricey side |
| Easy to assemble | |
Check price and read more reviews of the Century Bob Training Bag Amazon
---
FINAL THOUGHTS
Deciding on what punching bag is suitable for you comes down to how much room you have available and the type of exercise you plan on doing.
In my research I found the Quiet Punch to be the most beneficial punching bag that fits the checklist of, easy set-up/removal, compact and durable, small and quiet when in use, hence the name.
However.
If you prefer a full body workout and want to go full power, the Century Bob would be the better alternative with a freestanding heavy base. Much more difficult to move and store away but has many benefits!
Hope this resource has been of some help!